The Jan. 6 committee previously recommended Trump be criminally charged. Here's why
The House panel made four criminal referrals after an 18-month probe.
A target letter special counsel Jack Smith has sent to former President Donald Trump signals he may soon be hit with another indictment -- this time with respect to his efforts to overturn the 2020 election.
But a year ago, much was already alleged about Trump's role in attempts to overturn the 2020 election in a separate investigation -- an 18-month probe by a House select committee formed to get to the bottom of what happened following the election, and on and around Jan. 6.
The lawmakers identified Trump as the "central cause" of the attack and related efforts and concluded after interviewing more than 1,000 witnesses, issuing many subpoenas and holding nine public hearings there was enough evidence to make criminal referrals against Trump to the Justice Department.
The four charges recommended were obstruction of an official proceeding, conspiracy to defraud the United States, conspiracy to make a false statement and inciting or assisting an insurrection.
Trump long lambasted the Jan. 6 panel as a partisan witch hunt and denied any wrongdoing. After members recommended charges, the Trump campaign said the committee's actions made "a mockery of our democracy" and Trump himself said it only strengthened him among his supporters. When the committee's final report was published, Trump asserted they found no proof he "intended or wanted violence at our Capitol" because "the claim is baseless and a monstrous lie."
The former president has similarly attacked Smith's probe as the product of an allegedly "politically weaponized" federal government seeking to interfere with the 2024 election. After receiving the target letter, Trump said in a campaign email to supporters he did "nothing wrong" and was "completely innocent."
The House select committee, bipartisan but not supported by most Republicans, said its work was intended to be "a roadmap to justice" for agencies and institutions responsible for upholding the rule of law, with some members decrying Trump as unfit to hold office ever again.
It's not known whether any of the committee's criminal referrals are playing a role in what the special counsel is presenting to the grand jury investigating Jan. 6 -- but here are some highlights of what lawmakers said they uncovered about Jan. 6 and Trump's efforts to stop a peaceful transfer of power.
Trump pushed false allegations of fraud: Jan. 6 committee
Various administration officials and White House staffers, including former Attorney General Bill Barr and Trump's daughter Ivanka, testified they informed Trump on numerous occasions he'd lost the election and there was no evidence of widespread fraud.
"I repeatedly told the president in no uncertain terms that I did not see evidence of fraud, you know, that would have affected the outcome of the election," Barr said.
Despite what he was told by several in his inner circle, the committee said Trump continued to push false allegations of fraud, including conspiracy theories about suitcases full of ballots and Dominion voting machines, in public and in some cases in court. The committee alleged that Trump used the false claims to raise $250 million for his post-election legal defense but little of it actually went to court battles.
Trump's involvement in 'fake electors scheme': Jan. 6 committee
Ronna McDaniel, chair of the Republican National Committee, said in a deposition that Trump called her to discuss plans for an "alternate" slate of electors who would claim Trump actually won.
Appearing to substantiate that point, the committee aired taped testimony of McDaniel being asked about the scheme to send fake electors to Congress to decertify Biden's win and responding that Trump was on a call about the plan. McDaniel said it was her understanding that the electors were being gathered as a contingency in the event that court challenges to the election results changed the outcome in any particular state, according to a transcript of her interview with the committee.
"He turned the call over to Mr. Eastman, who then proceeded to talk about the importance of -- helping the campaign gather these contingent electors in case any of the legal challenges that were ongoing change the results of any states," McDaniel recounted.
"The campaign took the lead, and we just were helping them in that role," she added, appearing to try to distance the RNC from the effort.
When asked if she had conversations about other possible uses for the alternate electors, other than as a contingency pending litigation, McDaniel said she could have but did not recall.
Officials and election workers from Arizona, Georgia and Pennsylvania testified about their experience with the 2020 election, at times becoming emotional as they recalled how Trump and his allies pressured them to declare him the winner.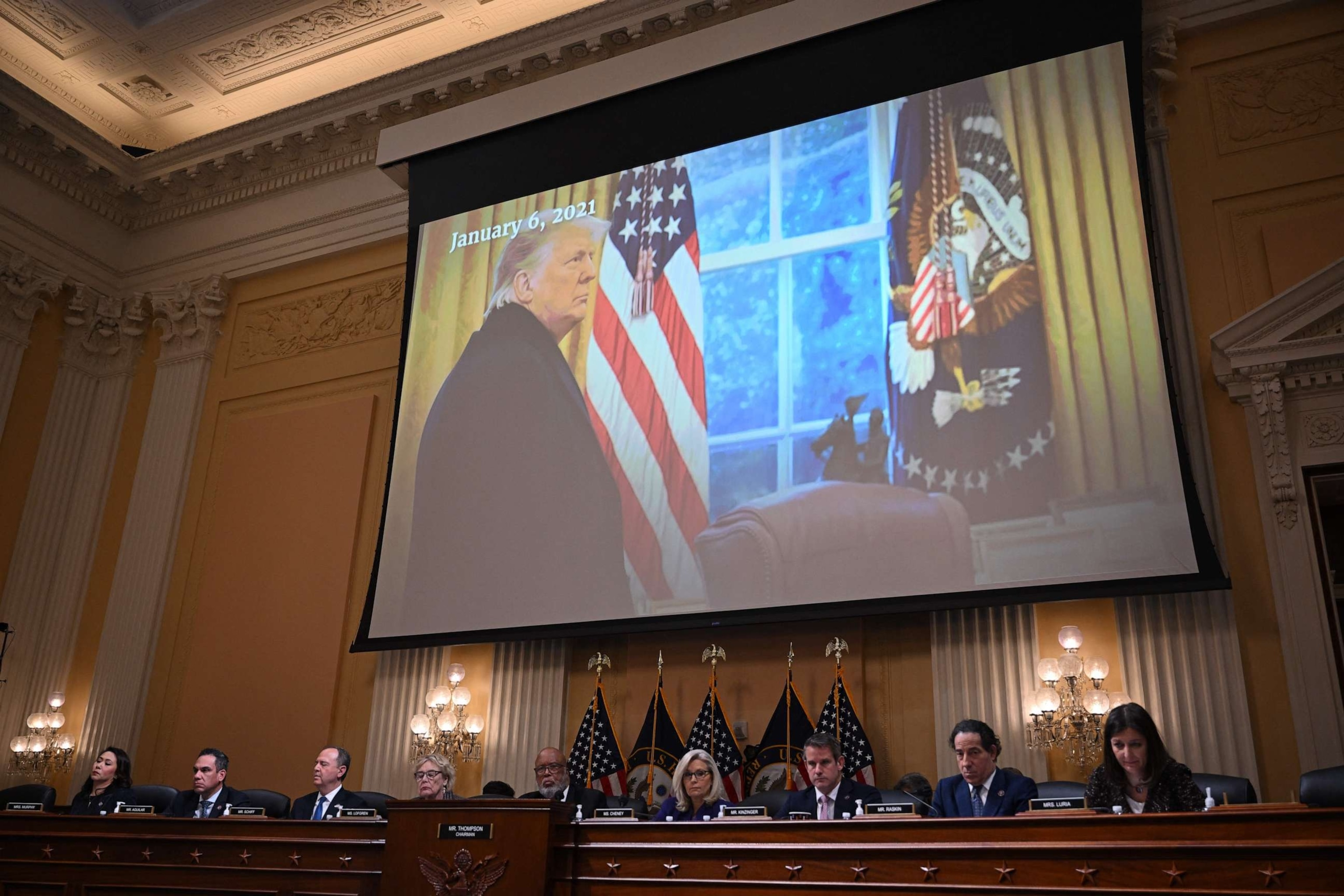 In one recording aired by the committee, Trump told a Georgia election official she'd be "praised" when "the right answer comes out."
Rusty Bowers, the former Republican speaker of the Arizona House of Representatives, testified that when he was pressured to create a false slate of electors, he told Trump: "You're asking me to do something against my oath. I will not break my oath."
One statute raised by committee vice chairwoman GOP Rep. Liz Cheney -- conspiracy to defraud the Unites States -- criminalizes the agreement between two or more persons to "impair, obstruct or defeat the lawful government functions."
As part of the "seven-point plot" she laid out, the committee argued Trump's legal team violated this federal criminal statute when instructing Republicans in battleground states to replace Biden electors with slates of Trump electors and send those votes to Congress and the National Archives. They ultimately declined to do so.
Trump's pressure on Mike Pence; Jan. 6 committee
Much discussed by the committee were the lengths Trump allegedly went to try to try to persuade former Vice President Mike Pence to reject the certification of electoral votes by Congress.
Evidence presented included multiple social media posts in the days leading up to Jan. 6, a heated phone call between the two men on the morning of Jan. 6 and several references to Pence during his speech on the Ellipse.
Trump also took aim at Pence while the riot was unfolding in a Twitter post that read: "Mike Pence didn't have the courage to do what was necessary."
The committee also pointed to exchanges they said showed Trump's legal team was aware the strategy wasn't viable.
An email exchange dated Jan. 6, 2021, between Pence aide Greg Jacob and Trump election attorney John Eastman showed Trump had already been advised that the former vice president could not overturn the 2020 election results.
"Did you advise the President that in your professional judgment the Vice President DOES NOT have the power to decide things unilaterally?" Jacob said in a text sent to Eastman.
"He's been so advised," Eastman replied.
Trump summoned supporters, march on Capitol was planned: Jan. 6 committee
The committee said a tweet sent by Trump in December 2020 announcing a "big protest in D.C. on Jan. 6" amounted to summoning a mob to Washington.
Members also said he tried to make his call on rally-goers to march to the Capitol during his speech appear spontaneous, but documents they obtained, they said, showed otherwise. An undated Twitter post, obtained from the National Archives, showed Trump planned to alert his millions of followers about the march in advance.
One witness, Cassidy Hutchinson, a former top aide to White House chief of staff Mark Meadows, also testified Trump was warned by a Secret Service official some people in the crowd that day were armed. Hutchinson said Trump planned to join them the Capitol but was told he couldn't go.
The committee alleged there were 187 minutes of inaction on Trump's part as witnesses testified he watched the riot unfold on television before being convinced to issue a social media post urging rioters to go home.
"President Trump did not fail to act during the 187 minutes between leaving the Ellipse and telling the mob to go home. He chose not to act," Rep. Adam Kinzinger, R-Ill., said at the time.
ABC News' Libby Cathey contributed to this report.