Jeb Bush Trails Hillary Clinton Among Hispanics, Polls Show
It's nearly the same margin by which Hispanics supported Obama over Romney.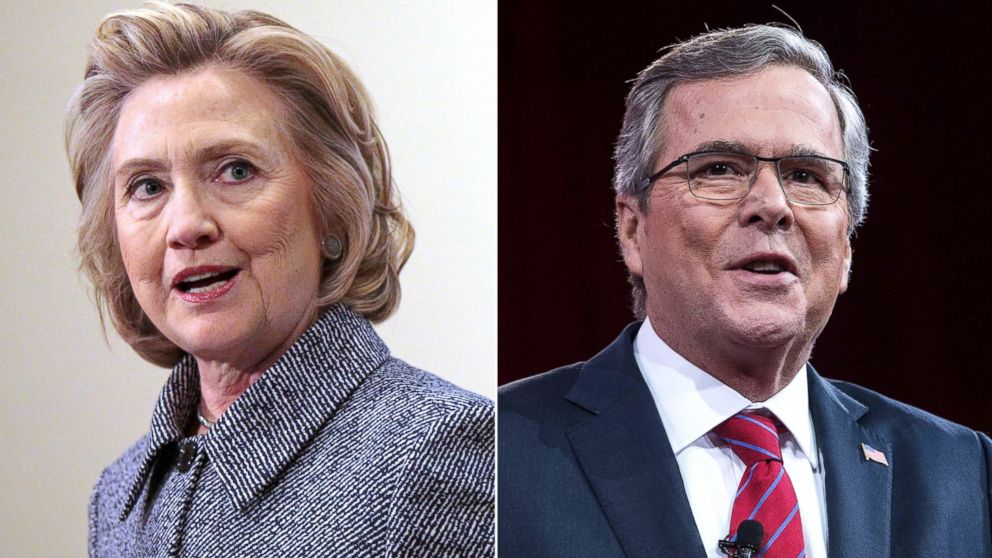 — -- He speaks Spanish flawlessly, has personal ties to Central America, and raised his family in the diverse melting pot of South Florida, but Jeb Bush trails Hillary Clinton among Hispanic voters in a possible 2016 presidential match up, according to ABC News/Washington Post polling.
According to the last two ABC News/Washington Post polls, conducted by Langer Research Associates, the former Florida governor trails Clinton with registered Hispanic voters 71-26, a margin of 3-1 -- nearly the same margin by which Hispanics supported President Obama over Mitt Romney in 2012.
Jeb Bush Apologizes for Marking 'Hispanic' on Voter Identification: 'My Mistake!'
Clinton's Popularity Declines - But Still Beats her GOP Rivals' (POLL)
While Bush might have the credentials to woo Hispanic voters compared to the rest of the Republican field, Hispanics identify as Democrats rather than Republicans by 45-15 percent. Of those who don't identify with either party, most are Democratic-leaning independents.
In 2004, Bush's elder brother, former President George W. Bush, lost Hispanics to Democratic presidential candidate John Kerry by 18 percentage points, 58-40 percent, a result likely narrowed, in part, because of Bush's status in Texas and Kerry's lackluster challenge.
Former President Bush's 40 percent was the high-water mark for any Republican presidential candidate among Hispanics in exit polls back to 1976. George W. Bush won 35 percent of Hispanics in 2000.
Jeb Bush's Hispanic ties are strong -- he even misidentified himself as a member of the Hispanic community in a 2009 voter application -- but he shouldn't expect to win Hispanic support over Clinton easily should he meet her in the 2016 general election.
ABC News' Ben Siegel contributed to this report.