Fresh off his much-anticipated entry into the 2020 presidential contest, former Vice President Joe Biden, opened his third campaign for the White House by joining ABC's "The View" on Friday for the first television interview of his candidacy.
"What took so long?" asked "The View" co-host Meghan McCain.
"It's a long road," he said. "I think it's plenty of time."
Shortly after his appearance on The View, the Biden campaign sent an email to supporters touting their self-reported fundraising totals from the first 24 hours of the campaign.
"Our campaign raised $6.3 million in its first 24 hours!! That's more than any other presidential campaign so far!!" the email reads.
The campaign says 96,926 people donated to the campaign from all 50 states. The average amount of online donations was $41, and 97% of online donations made were less than $200.
In the lead up to his formal entry, Biden faced controversy after several women accused him of making them uncomfortable with what they considered inappropriate touching. He posted a video acknowledging that "social norms are changing" and promising he would be "much more mindful," calling it his "responsibility."
On Friday, Biden was asked about the allegations.
"Here's the deal. I have to be much more aware of the private space of men and women," he said on "The View" Friday. "And I am much more cognizant of that."
Biden said he even considered it as he walked out at the start of the show and contemplated whether he should hug "The View" co-hosts.
"I actually thought in my head when I walked out here. I mean, do I? We're friends you know?" he said. "I have to be more cognizant."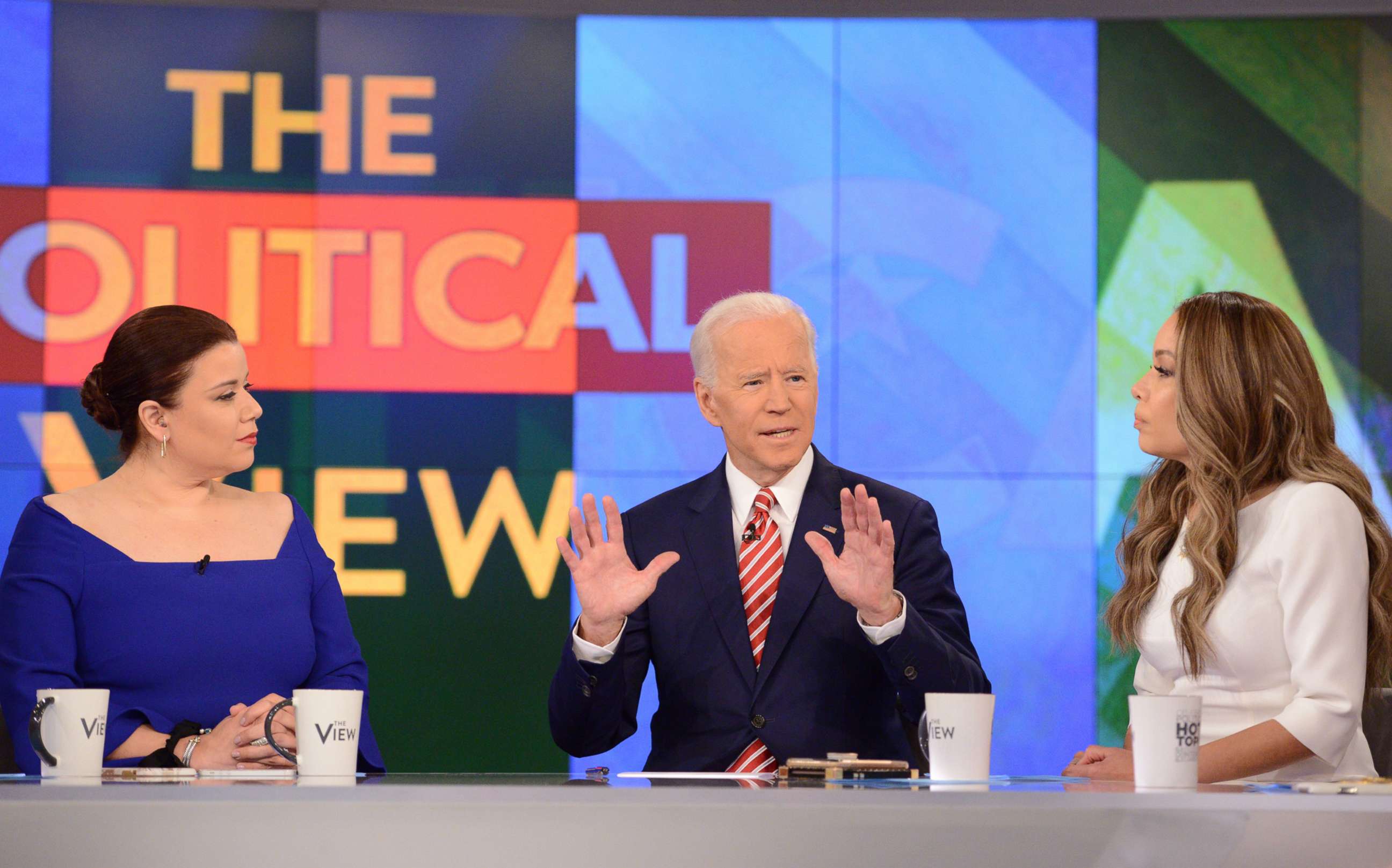 He has also recently contended with questions over his handling of the confirmation of Supreme Court Justice Clarence Thomas, when Anita Hill testified before the Senate Judiciary Committee, which Biden chaired at the time.
Biden has publicly apologized to Hill, and said in March, at the Biden Courage Awards, that he regrets that he "couldn't come up with a way to get [Hill] the kind of hearing she deserved."
A spokesperson for the former vice president told ABC News on Thursday that he expressed his regret directly to Hill.
"Vice President Biden has spoken with Anita Hill," the spokesperson said. "They had a private discussion where he shared with her directly his regret for what she endured and his admiration for everything she has done to change the culture around sexual harassment in this country."
On Friday, he said of the apology, "Since I had publicly apologized for the way she was treated ... I didn't want to, quote, invade her space."
Biden added, "I was grateful she took my call."
Hill spoke to the New York Times Thursday, and told the paper the discussion with the former vice president did not do enough to satisfy her.
"I cannot be satisfied by simply saying, 'I'm sorry for what happened to you,'" Hill said.
"The View" co-host Joy Behar pressed Biden on his apology, "You know, I think what she wants you to say is I'm sorry for the way I treated you, not for the way you were treated."
But Biden said he didn't believe he treated Hill badly.
"If you go back and look what I said and didn't say, I don't think I treated her badly. I took on her opposition. What I couldn't figure out how to do -- and we still haven't figured it out -- how do you stop people from asking you inflammatory questions? How do you stop these character assassinations outside?"
His appearance on "The View" comes a day after Biden formally entered the race through a video posted on social media, in which he sought to carve out his own lane amid a crowded Democratic primary by taking direct aim at President Donald Trump and staking his candidacy on a "battle for the soul of this nation."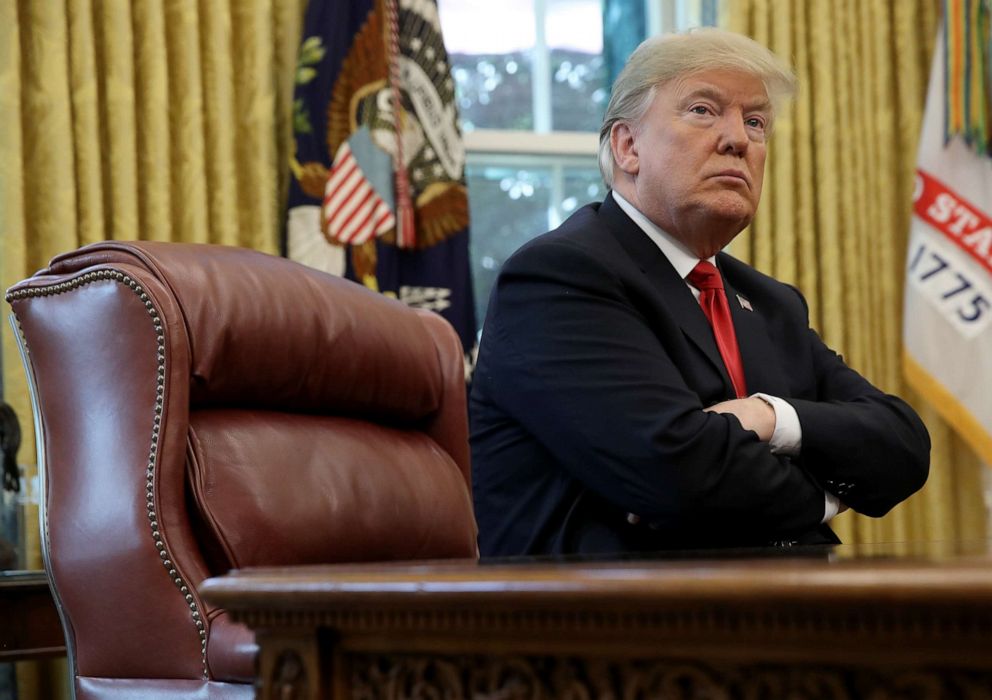 Earlier Friday, Trump expressed confidence should he face-off with Biden, saying, "I think we beat him easily."
The 72-year-old president also took a swipe at the 76-year-old former vice president's energy level.
"I am a young, vibrant man," Trump said. "I look at Joe. I don't know about him. I don't know."
Asked how old is too old to be president, Trump said, "I would never say anyone is too old, but they're making me look young, both in terms of age and energy. I think you people know that better than anybody."
On "The View," Biden was asked to respond to the president's comment.
"Look, if he looks young and vibrant next to me I should probably go home," he joked. "Everybody knows who Trump is and the best way to judge me is to watch, see if I have the energy in that capacity."
But Biden, who would be the oldest person elected to the office at 78, flatly ruled out only seeking one term as president.
"Hopefully I can demonstrate not only with age comes wisdom and experience that can make things a lot better," Biden said.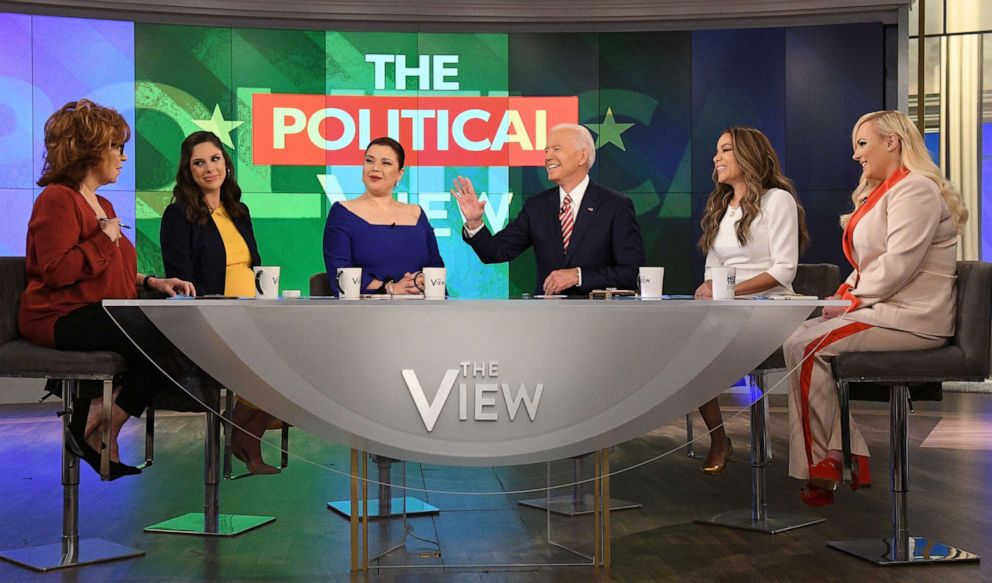 The former vice president was also asked why he told former President Barack Obama not to endorse him when he announced his 2020 candidacy.
"I didn't want it to look like he was putting his thumb on the scale," Biden said. "I'm going to do this by who I am."
And on his working relationship with Obama as his vice president, Biden said they got along because they were philosophically in the same place, but said a Biden presidency wouldn't be a replication of the Obama years.
"The philosophical basis -- it's about moving to the future, not recreating what we did," Biden said.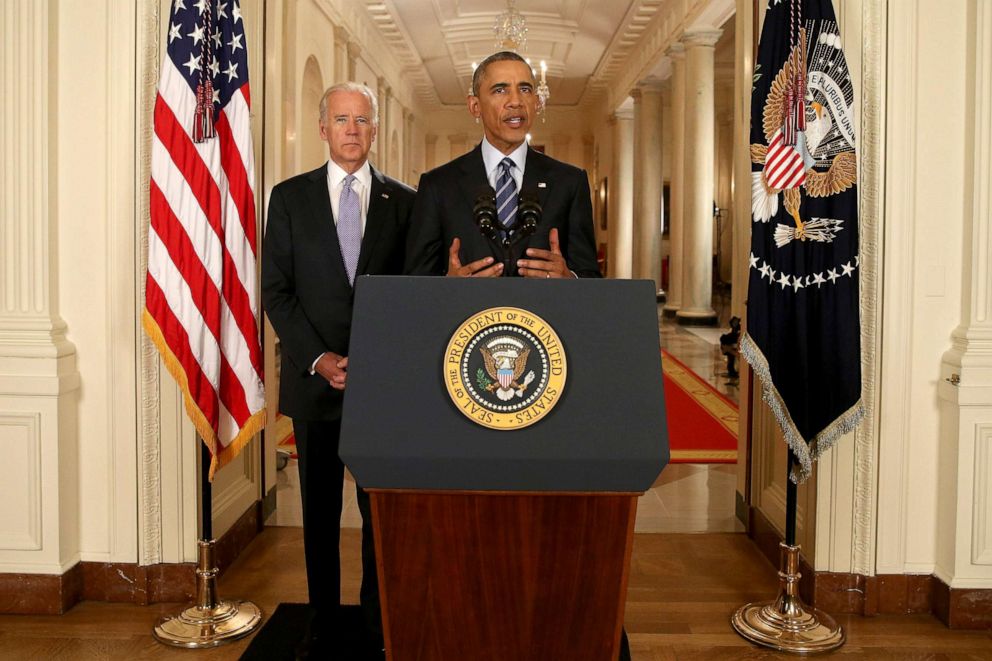 Biden seriously considered running for president in the 2016 election, but ultimately decided not to pursue a run so soon after the passing of his son, Beau Biden from brain cancer at the age of 46.
Biden wrote about the loss of his son in his 2017 book, 'Promise Me, Dad' -- named after a promise Beau made his father take before he passed.
"He didn't want me to withdraw from the things that have motivated my whole life about trying to get engaged and change things and try to make things better," Biden said of his late son.
Biden said while Beau was not the reason he was running for president, he hopes his son is proud of the decision.
"When I get up in the morning, I think about you know--I hope he's proud of me. I hope he's proud," he said, getting emotional.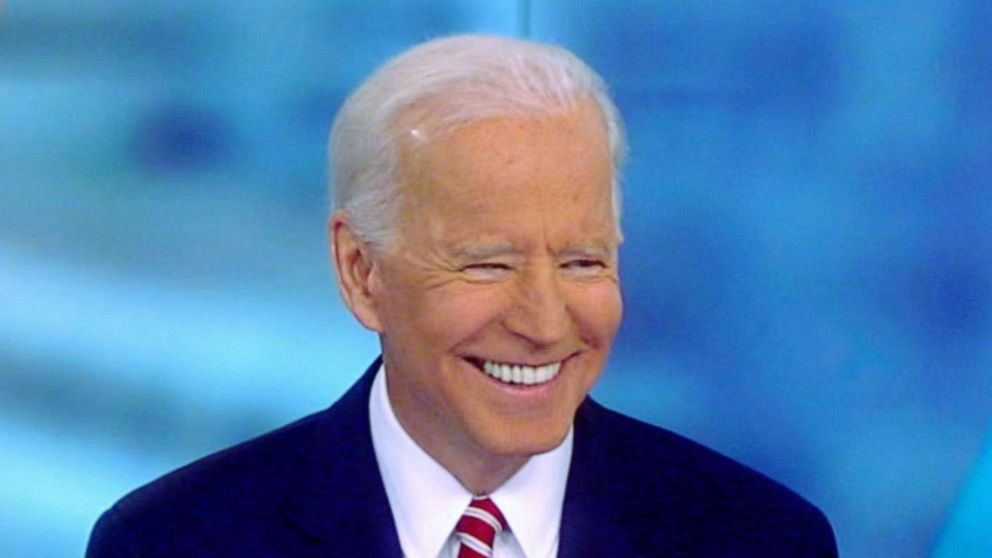 Over the next few weeks, Biden is expected to roll out his message on the road across several early voting states, including Iowa, South Carolina, Nevada, California and New Hampshire, before returning to Pennsylvania for a final kickoff event on May 18 in Philadelphia, with remarks focusing on "Unifying America, according to Biden's campaign website.
He will hold his first event as a candidate at a union hall in Pittsburgh on Monday and alongside his wife, Dr. Jill Biden, he will sit down with Robin Roberts, co-anchor of ABC's "Good Morning America," ahead of his Pittsburgh event for an exclusive interview that will air on GMA Tuesday.
ABC News' Jordyn Phelps and Christopher Donato contributed to this report.