Pennsylvania Senate candidate John Fetterman told the hosts of ABC's "The View" on Friday he's thrilled about receiving Oprah Winfrey's endorsement over his Republican opponent, and her former TV sidekick, Dr. Mehmet Oz.
"She's an icon. It's unbelievable," Fetterman said. "It's an honor and I'm so grateful that she understands what's at stake here in this race."
Winfrey, whose hit daytime show gave Oz national attention as "America's Doctor" in the 2000s, announced Thursday night she's supporting Fetterman in the highly contested Senate race that could determine which party wins control of the chamber.
"If I lived in Pennsylvania, I would have already cast my vote for John Fetterman, for many reasons," Winfrey said during an online discussion about the importance of voting.
For months, Winfrey had been silent about Oz's candidacy. The Oz campaign responded to her endorsement of Fetterman late Thursday night.
"Doctor Oz loves Oprah and respects the fact that they have different politics," said spokesperson Brittany Yanick. "He believes we need more balance and less extremism in Washington."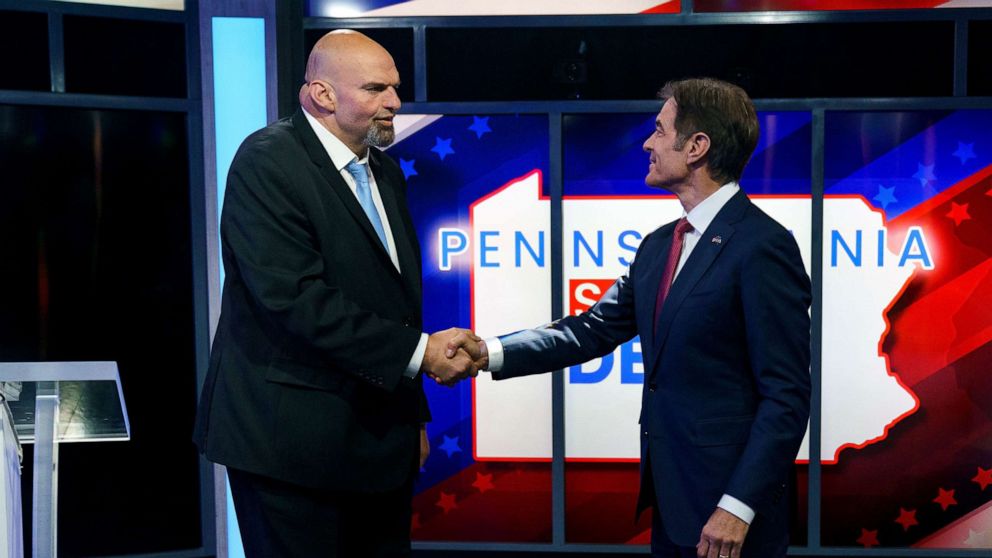 Fetterman suffered a stroke in May and has since worked with a speech therapist. As an aid for Fetterman's auditory processing issues during his debate with Oz last week, two monitors were hung above moderators' heads to transcribe both the questions and Oz's answers in real time.
A week before his debate with Oz, Fetterman's doctors said he was ready for "full duty" in office. Still, he declined to release his medical records.
Fetterman addressed his health on "The View."
"I continue to get better and better every day," he said. "I really do fundamentally believe that both our doctors believe we're fit to serve, and we've been able to maintain the ... rigors of running a campaign going all across Pennsylvania, and spending thousands and thousands of miles all across the state."
"The View" co-host Ana Navarro pointed out that while senators in the past have faced serious health challenges in office, none have had these health issues before being elected. With only having released two letters from his doctor and failing to share his medical records, Navarro questioned if Fetterman owes voters full transparency regarding his health.
"I really feel that we have been leaving the same equivalent, kind of, medical information that Dr. Oz did," he said. "We have been very transparent in all our doctors' beliefs, both from June, and also in October, all agree that I am fit to serve."
"I believe in the team of my doctors, and believe that we're here today, right now on live TV, being able to have this conversation," he added. "I feel that we're running a very transparent race about health issues."
Fetterman addressed his debate with Oz last week, saying that "it certainly wasn't an even event" for him, but he thought it was "critical" that he "showed up."
"I was proud to show up," he continued. "It was much more pleasant being with all of you today than it was on the stage with Dr. Oz."
During his debate with Oz, Fetterman pressed him on his wealth, including the number of mansions he owns. Acknowledging that he has a privileged upbringing himself, Fetterman explains the difference between him and his opponent in that regard.
"It's not necessarily a full equivalence in terms of the money involved, but I really dedicated my career to help young people get their GEDs; to run for mayor of the community; to fight against gun violence as they try to create economic development," Fetterman said.
"Dr. Oz chose to really fight for his bank account," he added.
During last week's debate, Oz made a controversial comment about a woman's choice to have an abortion when he said, "I don't want the federal government involved with that at all. I want women, doctors, local and political leaders leading the democracy ... to put the best ideas forward so states can decide for themselves."
On "The View," Fetterman said that "as a local political official" himself, it's not his decision to make. "I've always believed that the choice is always between a woman and their doctor," he said. "I've always believed in Roe v. Wade."
Another hot button issue during the debate was fracking. While Fetterman previously opposed it, he came out in support of it during his debate.
He told co-host Alyssa Darah Griffin on Friday, "Any of the issues I ever had with fracking is really around environmental regulations. Once those were passed and they were addressed, you know, I support fracking."
"I'm absolutely supporting energy independence as well, too, and making sure we can never be held by a country like Russia, and making sure we produce as much American energy as possible," he continued. "I fully support fracking."
Fetterman added that he thinks it's important "to walk that line between ... making sure we produce as much energy from traditional sources here, but we also make the kind of investment to make sure we make the transition to more and more green energy."
On "The View," Fetterman acknowledged that inflation is "really critical" to voters and "a tax on working people," something he believes Oz couldn't relate to.
"To really fully understand how to fight inflation, you have to understand how it works and how it impacts working people, as well. And I just fundamentally believe Dr. Oz doesn't really understand that," Fetterman said, adding that it's "critical that we step up and fight against" corporate greed and price gouging.
"Inflation, as we know, hurts working families all across Pennsylvania. And I think that leads to, you know, record profits for corporations," he continued. "It is more critical we stand with American workers and making sure that we manufacture more and more things here, both in Pennsylvania and in America.
Closing out his interview on the daytime talk show, Fetterman shared his message with Pennsylvania voters, calling out his opponent for "using Pennsylvania" in the process.
"I believe that I'm running to serve Pennsylvania because I've made that long career serving Pennsylvania, and I believe Dr. Oz is essentially using Pennsylvania," he said. "[Oz] is attempting to buy the seat here, and he is gonna be spending over $20 million of his own money."
"I really want to fight for every person in Pennsylvania that ever got knocked down, that had to get back up," Fetterman continued. "I fundamentally believe that I'm always gonna keep getting better and better, and Dr. Oz is gonna remain to be the kind of fraud in the kind of career, lying and kind of selling these kinds of magic pills, and enriching himself."