— -- Two days before Israeli Prime Minister Benjamin Netanyahu is set to speak to a joint session of Congress, Secretary of State John Kerry said the prime minister is welcome to speak in the U.S. but worries it injects far too much politics into the relationship.
"The prime minister of Israel is welcome to speak in the United States, obviously," Kerry said today in an exclusive interview on ABC's "This Week." "I talk to the prime minister regularly, including yesterday."
But, Kerry added, "we don't want to see this turned into some great political football."
Kerry echoed frustrations expressed by the White House that House Speaker John Boehner's invitation to Netanyahu was inappropriate.
"It was odd, if not unique, that we learned of it from the speaker of the House and that an administration was not included in this process," he said. "But the administration is not seeking to politicize this."
But Kerry's remarks were far more measured than those of National Security Advisor Susan Rice, who said last week that the speech would be "destructive to the fabric of the relationship."
The White House has expressed anger with both the Republican-led House of Representatives and with Netanyahu's office, not only for excluding them from the invitation process, but also for making the invitation so close to Israel's elections on March 17 and the final stages of a potential American nuclear weapons deal with Iran.
Yet, while departing Israel for Washington, D.C., on Sunday morning, the prime minister seemed to be brimming with confidence. Speaking in Hebrew to reporters at the airport, Netanyahu called it a "crucial and even historical mission."
"I feel I am representing all the citizens of Israel, even those who do not agree with me," Netanyahu said. "I feel a deep and sincere concern for the safety of all the citizens of Israel and the fate of the state and the fate of our people. I will do everything in my power to secure our future."
The prime minister's critics say he's too hawkish on Iran and that he's been warning for decades they are on the cusp of building a bomb. His supporters say a U.S. nuclear deal with Iran won't work and that the only way to stop them is to punish them with further economic sanctions. Even many House Democrats say that they will vote for further sanctions if a deal isn't reached by the end of the month.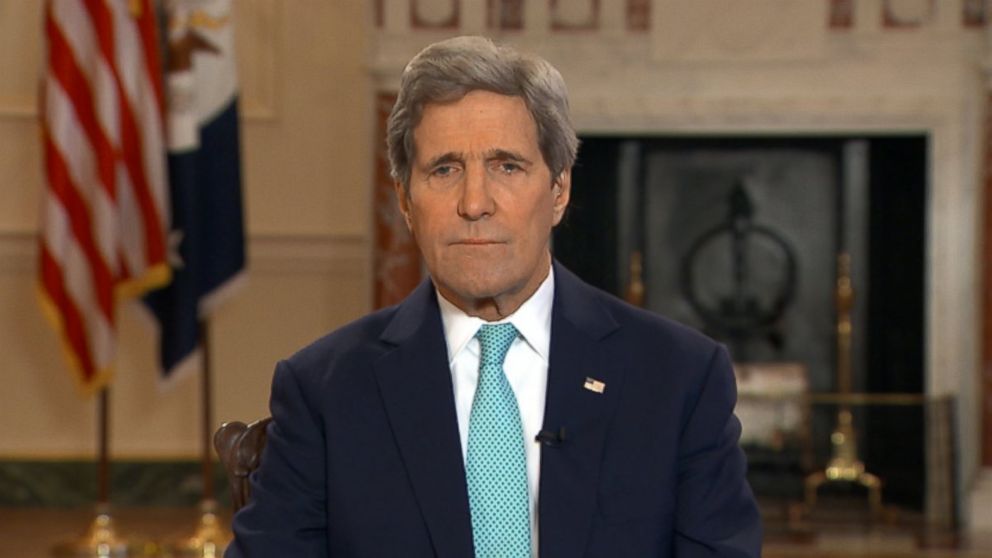 Kerry told "This Week" that the negotiations with Iran have benefited Israel.
"Israel is safer today because of the interim agreement that we created," he said. "The 20 percent enriched uranium has been reduced to zero. We have stopped the centrifuge production. We are inspecting inside of their facilities. We have stopped the Arak plutonium reactor in its tracks."
Kerry also said the defense relationship with Israel has never been stronger.
"We have a closer relationship with Israel right now in terms of security than at any time in history," he said. "I was reviewing the record the other day - we have intervened on Israel's behalf, in the last two years, more than several hundred - a couple of hundred times in over 75 different fora in order to protect Israel."
After the interview, Kerry left Washington for Geneva, Switzerland, where he'll be attempting this week to finalize and nuclear deal with Iran.
The Associated Press contributed to this story.