The Justice Department is conducting a review of the handling of the case against retired Lt. Gen. Michael Flynn, a person familiar with the matter confirmed to ABC News Friday.
A DOJ official said that the U.S. Attorney in St. Louis Jeff Jensen is "assisting" prosecutor Brandon Van Grack in the review. Jensen and Van Grack, who served as a prosecutor for former special counsel Robert Mueller's office, are working "hand in glove" and Jensen is not in a supervisory role, the official added.
The DOJ declined to comment further on the matter.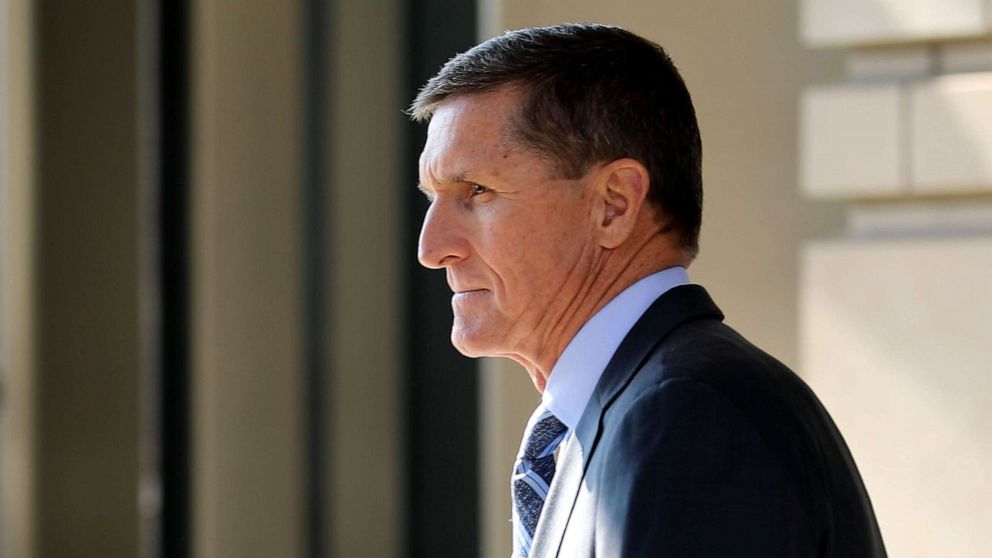 Flynn, President Donald Trump's former national security adviser, pleaded guilty to lying to the FBI, resigning in February 2017 just weeks after Trump took office.
The New York Times first reported that Attorney General William Barr had installed an outside prosecutor to review the case against Flynn.
In October, Trump tweeted that Flynn had been the target of a "setup."
Flynn was the first of five high-ranking advisers to Trump who pleaded guilty and offered his cooperation during the investigation by special counsel Robert Mueller into Russian meddling in the 2016 campaign.
But in a surprise move last month, Flynn's defense team filed a motion to withdraw his guilty plea citing "the government's bad faith, vindictiveness and breach of the plea agreement." Flynn's team also subsequently filed a motion to dismiss the case alleging "egregious government misconduct."
The move came just after federal prosecutors recommended a sentencing of up to six months in prison for Flynn, reversing their initial recommendation that the president's former national security adviser be spared jail time.
The relationship between the government and Flynn soured when Flynn changed his legal team and accused the government of demanding a false testimony from Flynn as a government witness in a separate case involving his former lobbying partner Bijan Kian. Flynn did not end up testifying at Kian's trial, Kian who was found guilty of violating foreign lobbying laws by a jury before a judge later threw out the verdict for lack of evidence.
Flynn's defense team said in court filings that the testimony would lead him to "breach his plea agreement by not telling the truth" and called the prosecutors' reversal in sentencing recommendations vindictive. Flynn's team in court papers also blamed his former attorney for his criminal conviction, claiming that he was "misled, misinformed and betrayed" by his lawyer and so should be allowed to withdraw his guilty plea for lying to federal agents.
The government dismissed claims by Flynn's counsel as "false allegations," stressing that the government "explicitly stated that it did not want the defendant to lie and was only interested in presenting the defendant's truthful testimony" in the Kian case. Prosecutors later softened the sentencing recommendation, saying they would not object to Flynn being granted probation.
Flynn's attempt to backtrack from the plea deal marks the latest in a series of moves Flynn has made aimed at staving off a jail sentence. In December 2018, prison time appeared all but unavoidable for the retired three-star general -- U.S. District Court Judge Emmet Sullivan criticized Flynn for lying to the FBI while serving in the White House. Flynn's attorney at the time, Robert Kelner, immediately requested and received a sentencing delay. Flynn has used the ensuing year to change attorneys and re-tool his approach.
Flynn's sentencing has been delayed multiple times since, with no new sentencing date scheduled since Flynn moved to withdraw from his guilty plea.
ABC News' Soorin Kim contributed to this report.