Kamala Harris: Everything you need to know about the new vice president
Harris becomes the first woman to serve as vice president.
Former California Sen. Kamala Harris is making history Wednesday as the first woman and first woman of color to serve as vice president.
A former prosecutor and ground-breaking attorney general in California, Harris broke barriers throughout her career. She launched an unsuccessful bid for president in 2020, but captured national attention with her debate performances. One of the factors that drew Joe Biden to her as a running mate was her strong friendship with his late son Beau.
Here is what to know about Harris:
Name: Kamala Devi Harris
Party: Democrat
Date of birth: Oct. 20, 1964
Hometown: Oakland, California
Family: Husband Douglas Emhoff, stepchildren Cole and Ella Emhoff; father Donald Harris and late mother Shyamala Gopalan
Education: Howard University (1981, political science and economics) and the University of California, Hastings College of the Law (1989, J.D.)
What she used to do: U.S. senator representing California starting in 2016, serving on Homeland Security and Governmental Affairs Committee, the Select Committee on Intelligence, the Committee on the Judiciary and the Committee on the Budget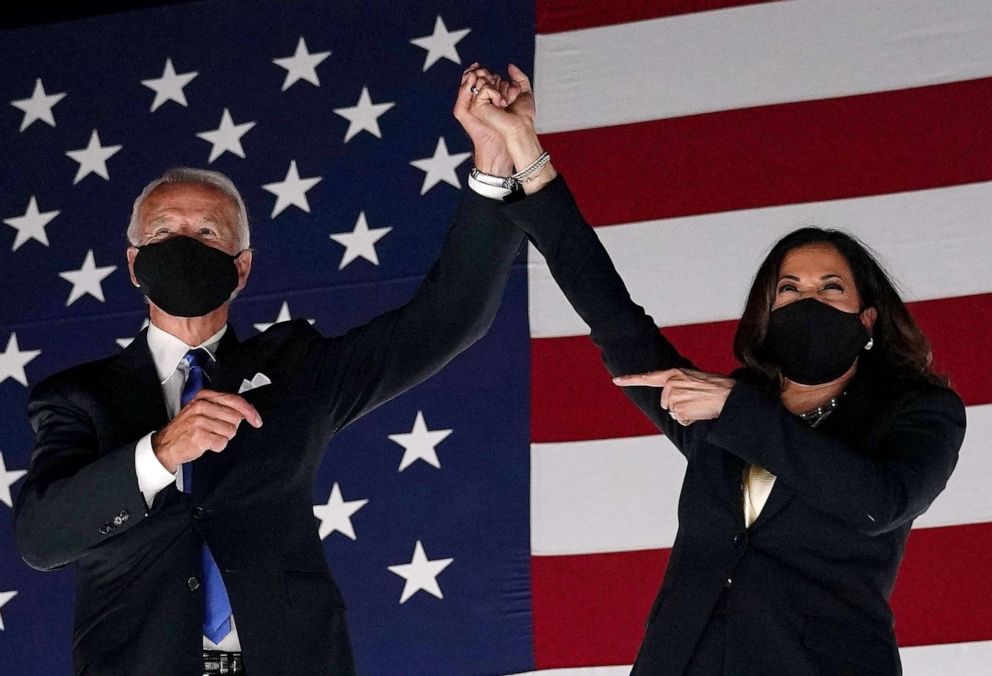 Key life/career moments:
Beginning her career as the deputy district attorney in Alameda County, Harris worked for San Francisco's City Attorney Louise Renne as the chief of the Community and Neighborhood Division, where she specialized in prosecuting child sexual assault cases.
She was the first Black woman to be elected district attorney of San Francisco and served from 2004 to 2010.
She served as the attorney general of California from 2011 to 2017, becoming the first woman, first Black and South Asian American to serve as California's attorney general. She refers to herself as a "progressive prosecutor."
While Harris personally opposes the death penalty, she promised to defend it as California's attorney general in 2014 and appealed a federal judge's decision that it was unconstitutional. Harris also won a $25 billion settlement for California homeowners hit by the foreclosure crisis, but refused to prosecute Steven Mnuchin's OneWest Bank for foreclosure violations in 2013.
While in the U.S. Senate, Harris drew attention for her focused questioning during the Supreme Court confirmation hearings for Justice Brett Kavanaugh.
Where she stands on some of the issues:
Coronavirus: Harris has condemned President Donald Trump's handling of the COVID-19 pandemic and on the campaign trail she has repeatedly called for leaders to "listen to the scientists and the experts" on how to proceed. Harris has called for what she describes as a "national standard" for wearing masks.
Race and policing: On matters of racial discrimination in policing and use of force, Harris has called for the rooting out of racial discrimination. In the aftermath of George Floyd's death in police custody in 2020, she participated in protests in Washington, D.C. After the shooting of Jacob Blake, she met with Blake's family in Wisconsin and spoke with Blake over the phone. She also told NBC News, "I think that there should be a thorough investigation, and based on what I've seen, it seems that the officer should be charged."
Harris has called for economic and educational investment in communities of color to create safer, healthier communities. She and Biden have called for an end to no-knock warrants, chokeholds and carotid holds. They want to create a national excessive force standard and a database to track cops who use excessive force and break the rules. The pair also wants to end cash bail and private prisons.
In her 2009 book "Smart on Crime," Harris wrote, "If we take a show of hands of those who would like to see more police officers on the street, mine would shoot up."
Despite these statements, Harris has taken flack from progressives for her former roles as both a prosecutor and the California attorney general, she's has repeatedly defended her record.
Gun rights: During her unsuccessful presidential campaign, Harris proposed executive actions to counter gun violence, including banning assault weapons and near-universal background checks administered by people who sell over five guns a year. Gun manufacturers and dealers who fail to comply would have their licenses revoked. As the vice presidential nominee, she has called for the renewal of the assault weapons ban and has called for the elimination of the "boyfriend loophole" in addition to her avid support of universal background checks.
"Before somebody can buy a lethal weapon, you might want to know if they've been found by a court to be a danger to themselves or others. You just might want to know," Harris told a crowd in Philadelphia in September. "These are the things about background checks, you just might want to know certain things before you give somebody something that can kill other human beings."
Harris told reporters in April 2019 that she owned a gun for "personal safety," but says it's a "false choice ... to suggest you're either in favor of the Second Amendment or you want to take everyone's guns away."
Health care: Harris was initially a supporter of "Medicare for All" and a backer of Sen. Bernie Sanders' plan that would get rid of private health insurance. During the presidential primary, Harris changed her position, instead calling for an expansion of health care access while still allowing for private health insurance. Harris, in an interview with Axios in October 2019, acknowledged she'd been "called a flip-flopper for that."
As the Democratic vice presidential nominee, Harris has backed Biden's health plan, which would provide a public option for Americans seeking health care and aim to lower costs.
Reproductive rights: Harris has defended reproductive rights and the right to abortion and, in the wake of Justice Ruth Bader Ginsburg's death, has argued that Trump's Supreme Court Justice Amy Coney Barrett (a nominee at the time) could reverse Roe. v. Wade, which Harris would not approve.
Harris said in remarks during a September speech in North Carolina. "There is no other issue that so disrespects and dishonors the work of Justice Ginsburg's life, then undoing the seminal decision in the court's history that made it clear -- a woman has a right to make decisions about her own body."
Marijuana: Harris is in favor of decriminalizing marijuana at the federal level and has proposed regulating marijuana and expunging prior marijuana convictions. This is in contrast to her previous positions on the issue. From 2011 to 2017, under her purview as attorney general of California, tens of thousands of residents in the state were arrested annually for marijuana infractions, according to a 2016 Drug Policy Alliance report. She said "times have changed."
What you might not know about her:
Harris is the daughter of an Indian mother and Jamaican father and is the second Black woman and first South Asian American senator in history.
In Sanskrit, her name means "lotus."
She is the author of a memoir, "The Truths We Hold: An American Journey," and a children's book, "Superheroes Are Everywhere." Harris credits her late mother, Shyamala Gopalan Harris, with empowering her to look for solutions.
"I was raised that, when you see a problem, you don't complain about it, you go and do something about it," Harris said in a "Good Morning America" interview.
Harris chose to announce her presidential campaign on Martin Luther King Jr. Day, citing the civil rights leader as an inspiration. Her campaign colors -- yellow, red and blue -- are a homage to the campaign of Shirley Chisholm, the first Black woman to run for president from a major party.