Texas AG Ken Paxton goes on trial after being impeached: What to know
The state's top lawyer denies abusing his office.
On Tuesday in Austin, on the tail end of a blazing Texas summer, subpoenaed witnesses, dozens of senators and a significant gaggle of reporters and citizens alike are queuing up to enter the state Capitol for the first day of a historic impeachment trial that will determine the fate of suspended Attorney General Ken Paxton.
Paxton -- the state's top lawyer, who has long fended off other scandals -- has been accused of abuse of office by a bipartisan group of Texas House managers. They recently submitted nearly 4,000 pages of documents as evidence of claims that Paxton misused his position in a mutually beneficial relationship with campaign donor and real estate investor Natin "Nate" Paul.
The case was overwhelmingly backed by members of the state House, including most of the chamber's Republican majority. The state House impeached Paxton in a 121-23 vote in May.
Both Paul and Paxton have denied any wrongdoing and the latter has denounced the impeachment altogether, calling it a personal "plot" and "politically motivated sham."
If found guilty, Paxton, a Republican, will be removed from his office and potentially permanently barred from serving in future public office in his state.
Here's what to know ahead of the proceedings.
The trial format
The trial will begin Tuesday morning in Austin and is expected to last a few weeks. It will start with pre-trial motions, where Paxton is seeking to dismiss the impeachment articles against him.
Republican Lt. Gov. Dan Patrick will serve as the presiding officer over the trial and 12 Democratic and 19 Republicans senators will act as jurors.
Lana Myers, a former North Texas judge, has been selected as Patrick's counsel. She is Patrick's second choice, after his first, Marc Brown, declined to advise due to a campaign donation he made to Paxton's opponent in 2021.
Over 100 witnesses have been called to testify -- including the former Paxton employees-turned-whistleblowers who first spoke out about his alleged actions in a 2021 lawsuit and the woman with whom Paxton allegedly had an affair. Paxton's legal team has said he will not testify.
Each side has renowned Texas lawyers: Paxton is being represented by Tony Buzbee, while the House managers hired Dick DeGuerin and Rusty Hardin.
Each side will be given 60 minutes for opening statements, 24 hours of witness testimony, 60 minutes of rebuttal evidence and 60 minutes of closing arguments.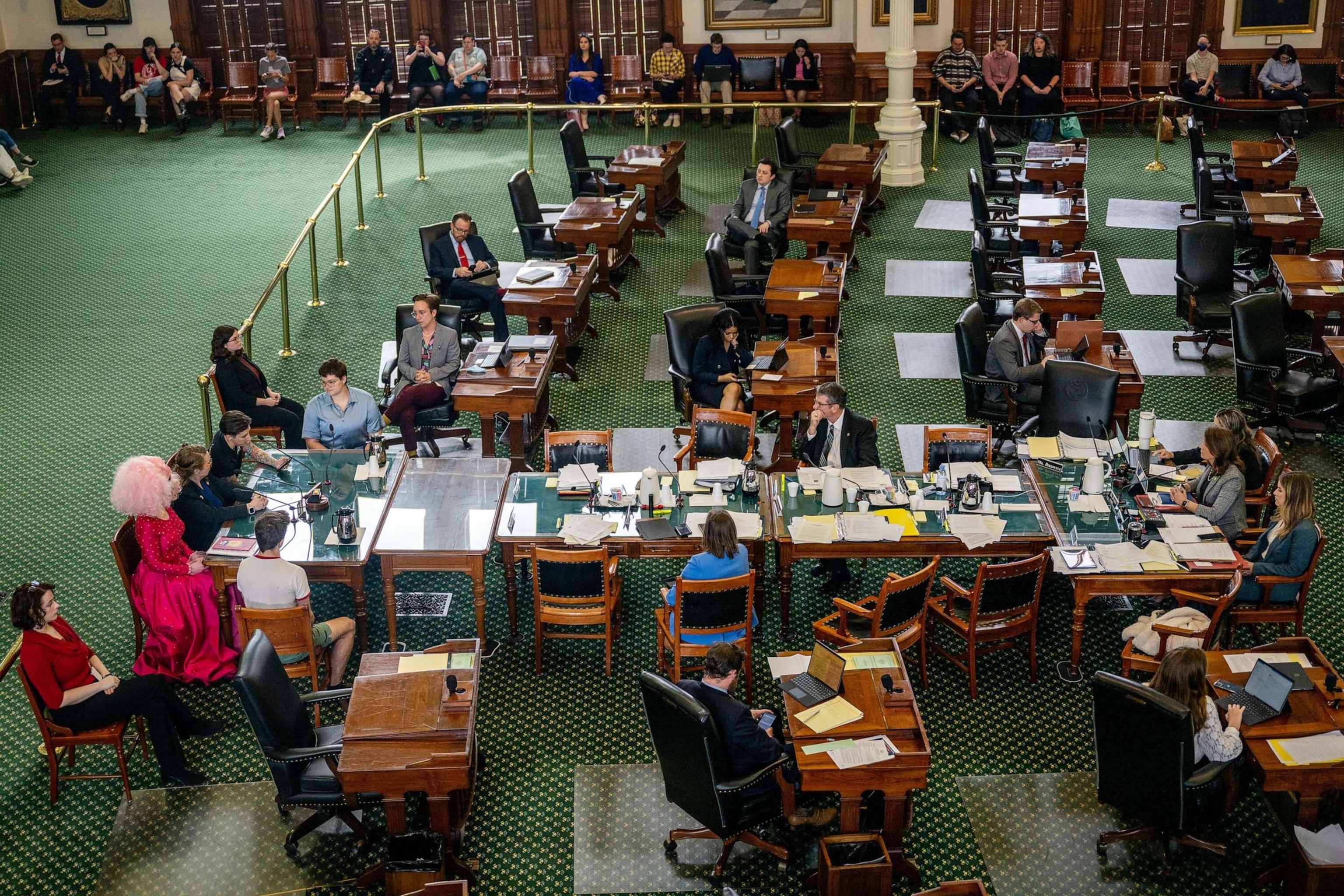 While deliberations will be closed to the public, the vote for conviction or acquittal will be open. Convicting Paxton will require a two-thirds majority vote, or 21 out of the 31 senators present.
While the attorney general's wife, state Sen. Angela Paxton, is required to be present for the trial and thus her head will be counted, she will not vote, nor will she take part in deliberations.
If Ken Paxton is convicted, 15 minutes will then be given to each side to argue disqualification from future public office, which also requires a two-third majority vote in the Senate.
The evidence includes some 4,000 pages
Shortly after Ken Paxton's lawyers called for the articles of impeachment to be dismissed based on what they contended was a lack of evidence, the impeachment managers presented nearly 4,000 pages of material that they said support their case, including an interview with a key witness, text messages, emails and memos, among other documentation.
Many of the pages' contents center around Paxton's relationship with Paul, though it's ambiguous how the two first met. It is known the then 20-something Paul made a $25,000 donation to Paxton's campaign in 2018.
Impeachment managers say that Paxton allegedly used his position to benefit Paul and mitigate Paul's financial and legal troubles and that the investor, in return, among other things, hired the woman with whom Paxton was allegedly having an affair and renovated the attorney general's home.
Some observers have raised concerns that Paxton's conservative Christian base could falter as details of the suspected affair emerge during the trail.
Chad Wilbanks, former executive director of the Republican Party of Texas, said he doesn't believe this will happen.
"The thing about Christianity is we're all sinners, and Christianity is based on forgiveness," he told ABC News. Still, he added, "If you're going to have an affair on your spouse, what else are you going to do in business or politics? And I think that's really what the jurors have to look at as this trial moves forward in the Senate."
Matt Angle, director of the Lone Star Project, a Democratic research and communications political group, said he also "doubts" the allegations of an affair will affect Paxton's support from his religious supporters. Angle said these voters could persuade themselves by citing the fact that "Paxton repents and reasserts his faith, and the fact that his wife has not left him."
The stakes: 2024 and beyond
As the trial's presiding officer, Patrick will oversee the impeachment proceedings of a close ally. He and Paxton share many of the same voters and are both allies of former President Donald Trump. In June, Patrick accepted a $3 million campaign donation from a pro-Paxton group, drawing accusations of a conflict of interest.
He has dismissed that, saying, "The citizens of Texas can count on the Senate of Texas to have a fair and just trial."
"They both come from the same kind of grassroots, conservative, Tea Party wing of the party. They have both been at odds in their primaries over the years with the more so-called establishment Republicans," Texas GOP strategist Brendan Steinhauser said of Patrick and Paxton. "They have a lot of commonalities in terms of activists who supported their campaigns, donors who funded their campaigns, especially some of the bigger donors out there."
Should Paxton be convicted, given Patrick's role at the trial "I do think it'll make a lot of the Patrick/Paxton conservative grassroots activists upset," Steinhauser told ABC News. "There might be a backlash from the right, and perhaps from some of Patrick's big donors, as well. So I think he's got to be aware of that."
Either result could shake things up in Texas, according to Steinhauser.
"I think if Paxton is acquitted, then it means that, first of all, the kind of conservative base still prevails in Texas politics for now, that the Texas Senate is still a body that is more connected to that conservative grassroots, that the senators are still more fearful of that base than they are of the so-called establishment. It signals that the senators and the lieutenant governor believe that Paxton is still politically popular in Texas, which I think he is, but it's slipping, and it may also just signal that they don't think that they should do this here, that may not believe that they should convict him or there's not enough evidence to convict him for a removal. ... That may be the kind of thing where they say, 'Let the process play out in the court of public opinion,' kick it back to the voters to decide and to the legal processes that are happening."
In 2015, Paxton was charged with securities fraud related to investments in a tech company and has pleaded not guilty, though he has yet to stand trial. That case is referenced in the impeachment charges against him.
Paxton is also the subject of an ongoing FBI probe related to the accusations in his impeachment.
Separately, last year, Paxton was also sued by the state bar over alleged professional misconduct for backing a pro-Trump lawsuit against the 2020 election results. "Texas Bar: I'll see you and the leftists that control you in court," he said then.
If Paxton is found guilty at his impeachment trial, Steinhauser said, "The removal of Paxton permanently might actually make the Democrats' chances of picking up that [attorney general] seat less likely, in some ways. If you have Paxton get acquitted, and he goes into his next election with that kind of process hanging over him, and the criminal cases hanging over him, you could argue he's the preferred candidate eventually for the Democrats to run against."
Angle, the Democratic operative, told ABC News: "Ken Paxton being removed from office is good for the state. It's good for all Texans. I could argue that the Republicans failing to take out their most prominent and most corrupt member would benefit Democrats, but as a Democrat, I'm not hoping for that. ... His removal doesn't remove the stain of corruption from Republicans."
After the state House voted to impeach, the state GOP "condemned" what they contended was a "politically motivated impeachment," echoing the attorney general's sentiment.
More broadly, Angle argued that an acquittal would indicate that Paxton and Trump have "become the face of the Republican Party."
"It's a party that's empowered to hold power, and that, not only issues are irrelevant, but also personal behavior is irrelevant," he said.
The role of fundraising?
Ethics laws in Texas are notably lenient, and while Patrick, the House impeachment managers, as well as the Republican and Democratic Senate caucuses have said they will not fundraise during the trial, individual jurors can continue to accept funding.
Steinhauser nonetheless told ABC News that he thinks fundraising can have "an impact on the psychology of these senators."
"Conversely, if they, some of the big donors, threatened to hold fundraising ... or threatened to cut off funds to senators who vote to convict, even if it's not an overt statement, but if it's kind of an understanding," that could also be a factor, Steinhauser said.
Wilbanks, disagreed, telling ABC News, "I think with the Senate members, directors, jurors -- I think fundraising will play zero role in the decision-making process." He cited their "moral character values."
In recent election years, Democrats have increasingly sought to flip Texas blue. The state sits at the heart of the modern Republican Party, but it has increasingly voted less and less conservative in presidential races and some other marquee contests, as during Ted Cruz' 2018 reelection bid.
Democrats have been aggressive -- although unsuccessful --- in seeking to win.
"I think that effort to focus or at least see Texas as a possibility operates apart from Paxton's corruption and the effort to remove him," Angle said, "but it certainly helps."
The Paxtons stay strong in public
Paxton and his wife spoke Saturday at a Republican gathering just days before the start of his trial.
Hand in hand, the couple maneuvered their way through a sea of enthusiastic red, white and blue-clad supporters at a picnic organized by the Collin County Republican Party. For approximately an hour, a steady stream of supporters surrounded the Paxtons, snapping photos and chatting with the couple.
Angela Paxton spoke before her husband and announced her own campaign for reelection.
"You may have noticed that there are some who want to silence me. There are some who want to shut me up and shut me down. But I'm not going to let them silence my voice, because my voice isn't just mine. My voice is yours and I'm not going to keep quiet," she told the audience.
The attorney general did not discuss his trial due to a gag order. "But," he continued, "I can talk about something that I think is has become maybe the leading issue that we need to deal with as a county and the state needs to deal with it -- and that is something known as the Texas House of Representatives."
"Let's clean house," he concluded his address, to a roar of supportive applause and standing ovations.