Texas AG Ken Paxton impeached: What to know about the controversy and what comes next
Paxton, dogged by scandal, is accused of bribery and more; he denies wrongdoing.
Texas Attorney General Ken Paxton was impeached on May 27, becoming the state's first statewide official to be impeached since 1917.
The proceedings were sparked by claims from former employees in Paxton's office that he was misusing his power to aid a friend and donor. The impeachment also underlines the conflict between Paxton and a number of other Republicans, many of whom voted in the state House for his impeachment.
In a defiant statement last month, Paxton called the proceedings "unjust" and a partisan "sham," labeling the state House Speaker Dade Phelan a traitor.
Phelan, for his part, has defended the process. "What happened this week is nothing I take pride in. It is not anything I was proud of. But it was necessary," he said before the impeachment vote.
Who is Ken Paxton?
Paxton was suspended while serving his third term as Texas attorney general, the state's top law enforcement officer, after holding office in the Texas House and Senate for approximately 10 and two years, respectively. Before that, he worked as a corporate lawyer and in private practice.
During his career as attorney general, Paxton has brought several significant lawsuits against both the Obama and Biden administrations, including an effort to end the Deferred Action for Childhood Arrivals program, which shields some immigrants from deportation if they were brought to the U.S. as kids.
As an outspoken supporter of former President Donald Trump, Paxton led an unsuccessful lawsuit contesting the 2020 presidential election results in four states.
While Paxton easily won two of his three attorney general elections, his time in office has also been marred by scandal.
When did the impeachment begin and what is Paxton accused of?
The case for Paxton's impeachment traces back to 2020, when top aides accused him of abuse of office to benefit donor Nate Paul, himself and Paxton's alleged mistress. That led to an ongoing FBI probe and multimillion-dollar whistleblower lawsuit, with some of those Paxton staffers claiming they were fired for speaking out.
An attorney for Paul declined to comment to ABC News. Paul has previously denied any wrongdoing.
Earlier this year, Paxton agreed to a $3.3 million settlement with the former staffers and to apologize for calling them "rogue," but he said he was settling in order to move past the allegations and that he'd done nothing wrong. He also sought to have the state -- taxpayers -- cover the cost. After that, state House lawmakers began looking into him, they have said.
On May 24, the state House's investigative committee brought 20 articles of impeachment against Paxton alleging misconduct, including bribery, obstruction of justice and misappropriation of public resources.
By that Saturday, he was impeached and temporarily suspended from office, as required under state law, pending his trial in the state Senate.
He faces other legal troubles, too.
In 2015, he was charged with securities fraud related to investments in a tech company and has pleaded not guilty, though he has yet to stand trial. That case is referenced in the impeachment charges against Paxton.
Separately, last year, Paxton was also sued by the state bar over alleged professional misconduct for backing the lawsuit against the 2020 election results. "Texas Bar: I'll see you and the leftists that control you in court," he said then.
The state House investigating committee, which recommended the impeachment, held a public forum in May detailing the whistleblower claims. The evidence presented to legislators included three hours of testimony from investigators.
Afterward, the House voted to impeach Paxton in a bipartisan 121-23 majority vote.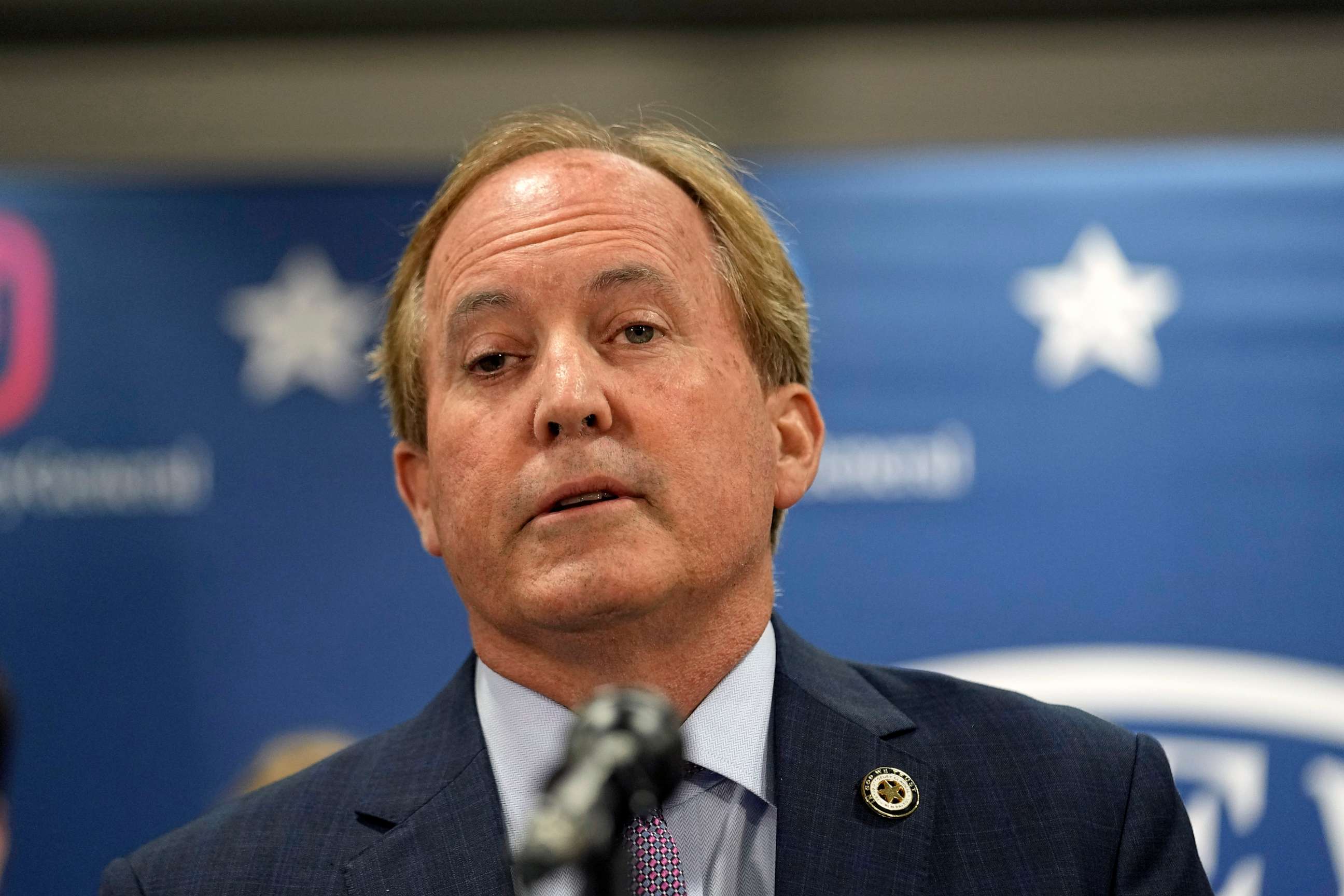 What's next?
Paxton awaits trial in the state Senate, which must start by Aug. 28. The chamber will review a set of trial rules on Tuesday, to be proposed by a seven-member committee chosen by Lt. Gov. Dan Patrick who, like Paxton, has historically aligned himself with Trump.
One rule the committee will determine is whether the attorney general will be allowed to present a defense, which is an allowance that was not made for the state House proceedings and that Paxton criticized.
"My office made every effort to present evidence, testimony, and irrefutable facts that would have disproven the countless false statements and outright lies," Paxton wrote on Twitter in May.
Where do legislators stand?
While a majority overwhelmingly supported Paxton's impeachment in the state House, the Republican-controlled upper chamber requires two-thirds support to convict him, which would permanently remove him and could then lead to him being barred from holding future Texas office.
State senators have largely remained mum on the pending trial, likely because of a commitment to protect the integrity of the proceedings, where they will essentially function as jurors, as stressed by the lieutenant governor, who presides over the Senate. In a streamed event with the Texas Public Policy Foundation, Patrick spoke directly to the press, saying he couldn't speak further on the case and asking for privacy as the trial proceeds.
"This is very serious. These are very serious people, and the Senate is going to do our job in a professional way," he said.
The potential jurors include one unusual member, should she not recuse: the attorney general's wife, state Sen. Angela Paxton. The Paxtons have long supported one another's political endeavors: She could be found with a guitar in hand singing at his events and he gave a $2 million loan toward her state Senate campaign in 2018. She has not yet commented on the impeachment and has not been accused of doing anything wrong.
Texas Sen. Ted Cruz, a Republican, has called the impeachment a "travesty" and defended the attorney general on Twitter. "Virtually all of the information in the articles was public BEFORE Election Day, and the voters chose to re-elect Ken Paxton by a large margin," Cruz wrote.
Most state House Republicans voted for the impeachment. One of them, Rep. Stan Kitzman, issued a statement calling the charges "a slap in the face to every Texan who believes in the rule of law and the integrity of our public offices."
In the legislative session that recently ended, the state House was able to pass multiple conservative priorities it set forth, like banning hormonal treatments for children under the age of 18. But it also failed to agree on other proposals, like more stringent immigration legislation -- an example of the disagreements between the party's more centrist and more hard-line wings.
The state GOP chair, Matt Rinaldi, alluded to that tension in a statement about Paxton: "The impeachment proceedings against the Attorney General are but the latest front in the Texas House's war against Republicans to stop the conservative direction of our state."
What could happen to Paxton?
Until Paxton's trial, while he remains suspended, John Scott has been appointed interim attorney general by Gov. Greg Abbott.
Should the state Senate not reach a two-thirds majority to remove Paxton, he will continue to serve in his role as before, albeit alongside legislators, many from his own party, who voted to impeach him.