First Lady Melania Trump set off on her first overnight domestic trip on Monday to promote her "Be Best" campaign across three states.
On Monday, the first lady traveled to Oklahoma to meet with school children and to Microsoft headquarters in Washington state to see demonstrations for new technology and safety programs. Tomorrow, the first lady heads to Las Vegas, Nevada to participate in a town hall on opioids.
Her "Be Best" platform, introduced last year, is aimed at three pillars: well-being, social media use, and opioid abuse.
As she boarded her plane for her tour, the first lady ignored a question shouted by a reporter about accepting Michael Cohen's apology.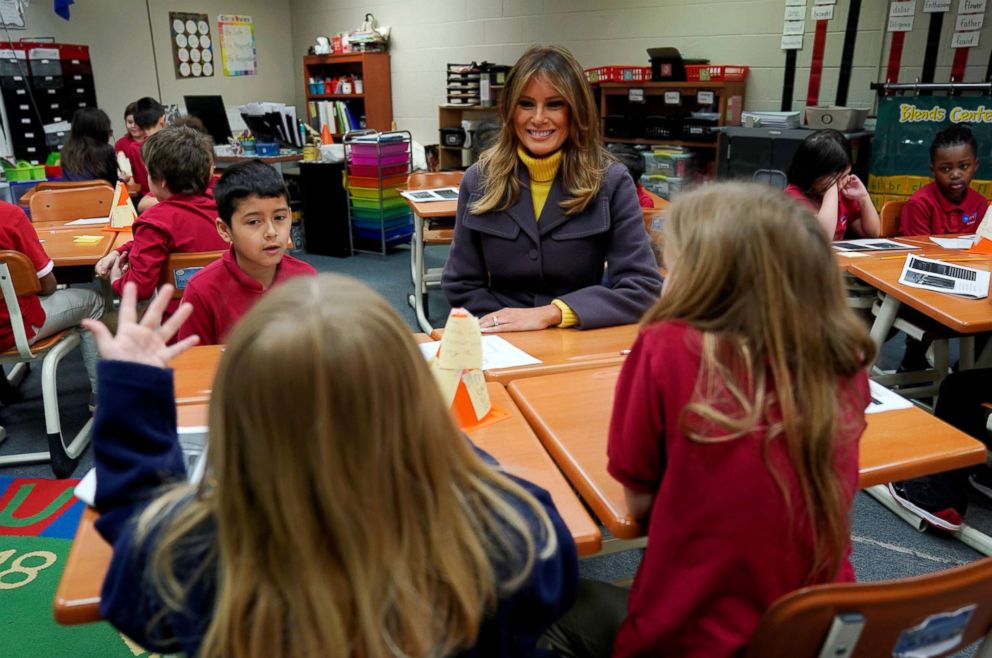 The president's former fixer told the House Judiciary Committee last week he regretted lying to the first lady about an affair the president allegedly had with an adult film star.
President Trump "asked me to pay off an adult film star with whom he had an affair, and to lie to his wife about it, which I did," Cohen said. "Lying to the first lady is one of my biggest regrets. She is a kind, good person. I respect her greatly — and she did not deserve that."
The president has denied the affair.
At the first stop of her three-state tour, the first lady visited Dove School of Discovery in Tulsa, which incorporates character development through its curriculum.
The first lady visited three different classrooms and sat down at the kid-sized tables to speak with students about teamwork and kindness.
"I'm sure you're working hard and studying hard," the first lady said.
"Yeah, but I wish homework wasn't a thing. Like, come on!" One particularly chatty 2nd grade student replied.
"Oh, you wish to not have homework? I'm sure everybody wishes that. But you need to study," the first lady replied. "You want to be smart and you want to read a lot and study so that's very important. You take an hour at home and study and do homework so you prepare for the next day."
Later on Monday at Microsoft, the first lady learned about X-Box parental controls and adaptive controllers for disabled kids from Dave McCarthy, the General Manager of Microsoft Games.
A Microsoft employee demonstrated the new X-Box adaptive controller for the first lady.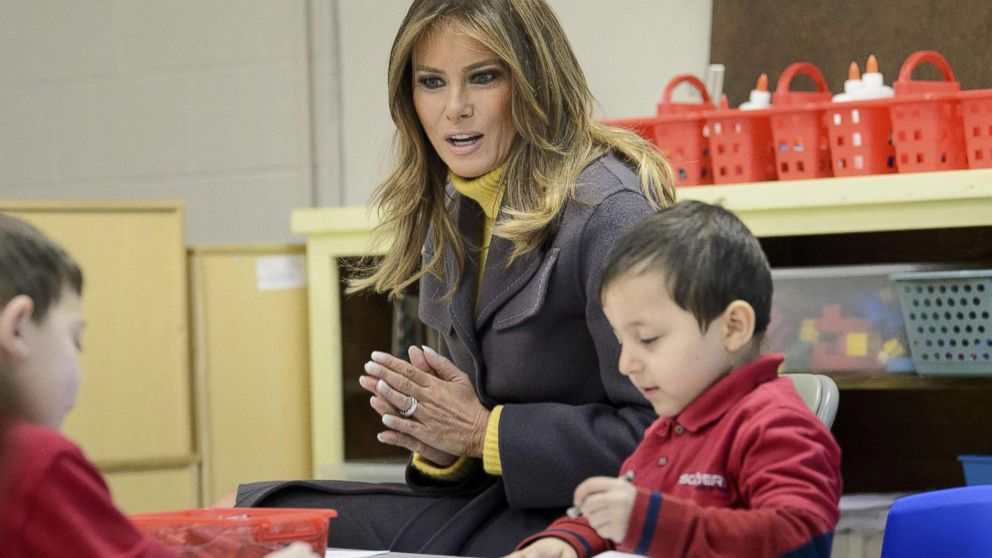 The first lady's "Be Best" program has faced criticism because of President Donald Trump's behavior and penchant for attacking political enemies behind the podium and via Twitter.
"Whether it is social media and technology or drug and alcohol abuse, children in our country and around the world are faced with many challenges," the first lady said in a statement.
"Through Be Best I will continue to shine a spotlight on the well-being programs that provide children the tools and skills required for emotional, social and physical well-being and promote successful organizations, programs, and people who are helping children overcome some of the issues they face while growing up in the modern world."