Lindsey Graham takes a dig at Trump over 'genius' claim
The South Carolina senator also spoke at length about special counsel Mueller.
— -- Sen. Lindsey Graham took a dig at President Donald Trump during an appearance on "The View" today, saying that the reason why Trump calls himself smart is "if he doesn't call himself a genius nobody else will."
The comment came when Graham, R-S.C., was asked if he thinks Trump is "like, really smart," as the president called himself on Twitter this weekend.
Graham went on to qualify his response, noting that he has had some harsh words for Trump in the past, including during the campaign when they were competitors.
"You can say anything you want to say about the guy, I said he was a xenophobic, race-baiting, religious bigot — I ran out of things to say!
"He won. Guess what: He's our president," Graham said.
During the interview, Graham repeatedly defended special counsel Robert Mueller, who is investigating alleged Russian interference in the 2016 election and possible collusion by Trump associates.
"I think he's the right guy at the right time," the senator said of Mueller. "Let Mr. Mueller do his job and make sure next time we defend ourselves against the Russians."
When asked about the meeting with a Russian lawyer that Donald Trump Jr. had in Trump Tower during the campaign, which former White House chief strategist Steve Bannon was quoted as calling "treasonous" in a new book, Graham said the meeting itself wasn't illegal.
"That's a dumb meeting. I wouldn't have took it," Graham said. But, he added, "That's not a crime. The crime would be taking something of value from a foreign government."
He added, "We have yet to find out if they [Trump Jr. and others] took up" the offer by the Russian lawyer to give information to help the Trump campaign.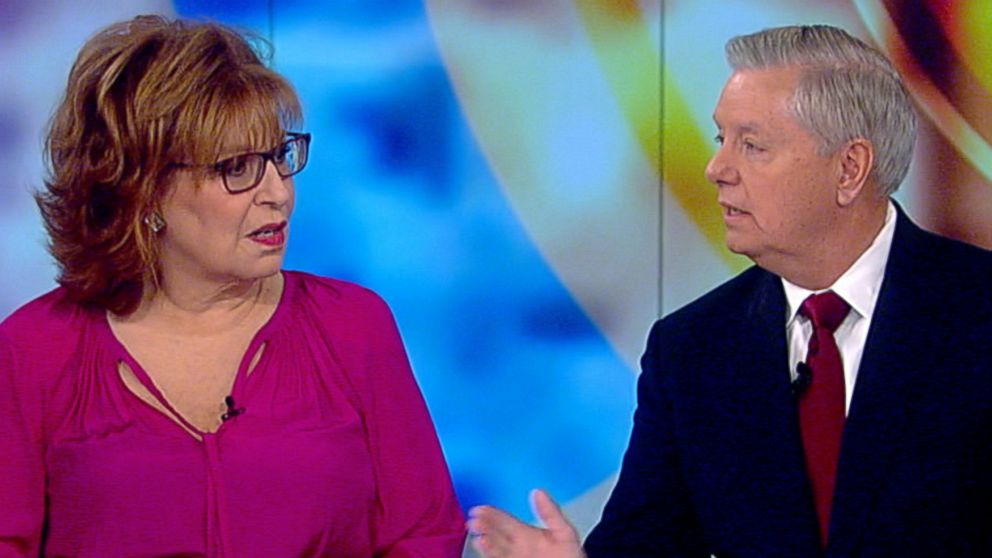 The South Carolina senator also dismissed criticism of Mueller by some Republicans.
"The View" co-host Joy Behar said, "It seems as though there's drumbeat from some in your party trying to discredit Mueller to bring him down."
Graham responded, "That happened with Ken Starr," the prosecutor who investigated then-President Bill Clinton in the 1990s. "That's the way the game is played."
"There's reason to look at what Russia did," Graham added, noting that although it was the Democratic National Committee's emails that were hacked and leaked in the 2016 election, the Republican Party could be targeted in the future.
"In a democracy, if you don't have each other's backs in stuff like this, then you lose control of democracy," he said.
Graham is close with "The View" co-host Meghan McCain because of his longtime friendship with her father, Sen. John McCain, R-Ariz.
At the beginning of the interview, Graham shared a story of how Meghan McCain helped point her father in the right direction when he faced a decision during his 2008 presidential bid. Graham said that the McCain campaign debated whether or not to "go after" then-candidate Sen. Barack Obama for controversial comments made by his pastor, Rev. Jeremiah Wright.
"Meghan said, 'Dad, don't do it. It's not right,' and all the smart people shut up, and John said 'Yeah, you're right Meghan," Graham said.
"She was brave enough to say something," Graham said.
ABC News' Allie Yang contributed to this report.