— -- Donald Trump's campaign had its fair share of staff shake-ups before the election and that continued into his administration.
Now more than a year into the Trump administration, over a dozen notable members of both the White House and the administration at large have left their posts.
Here are the departures of White House staffers and other administration officials, starting with the most recent:
David Shulkin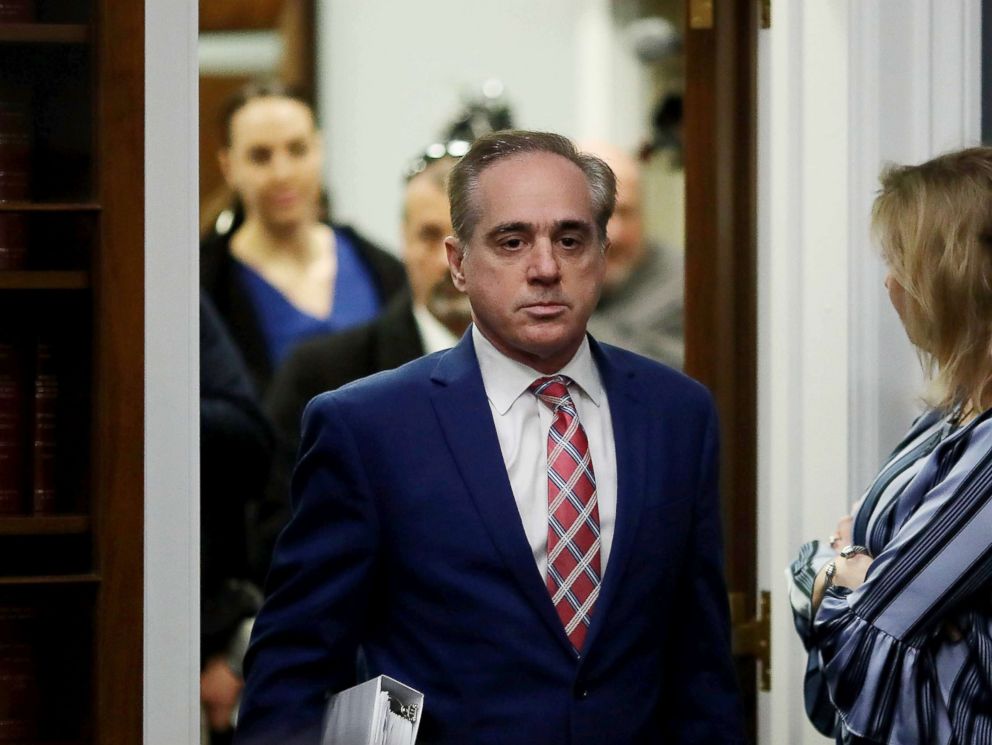 Role: Secretary of Veterans Affairs
Officially started: Feb. 14, 2017
Left: March 28, 2018
408 days in his tenure
A lone holdover from the Obama administration, Shulkin has butted heads with Trump over issues of veterans' care, but it was an internal investigation alleging ethics violations and a misuse of taxpayer dollars that helped seal Shulkin's fate.
Trump announced Shulkin's departure via tweet, after declaring that Adm. Ronny L. Jackson, who has been serving as the president's physician, will be replacing him to head the agency.
The day after reports of his departure, Shulkin penned an op-ed in The New York Times criticizing the "toxic, chaotic, disrespectful and subversive" environment in Washington that he says prevented him from accomplishing work veterans need and deserve.
He wrote that his character had been attacked by politically motivated people "who wanted me out of the way."
H.R. McMaster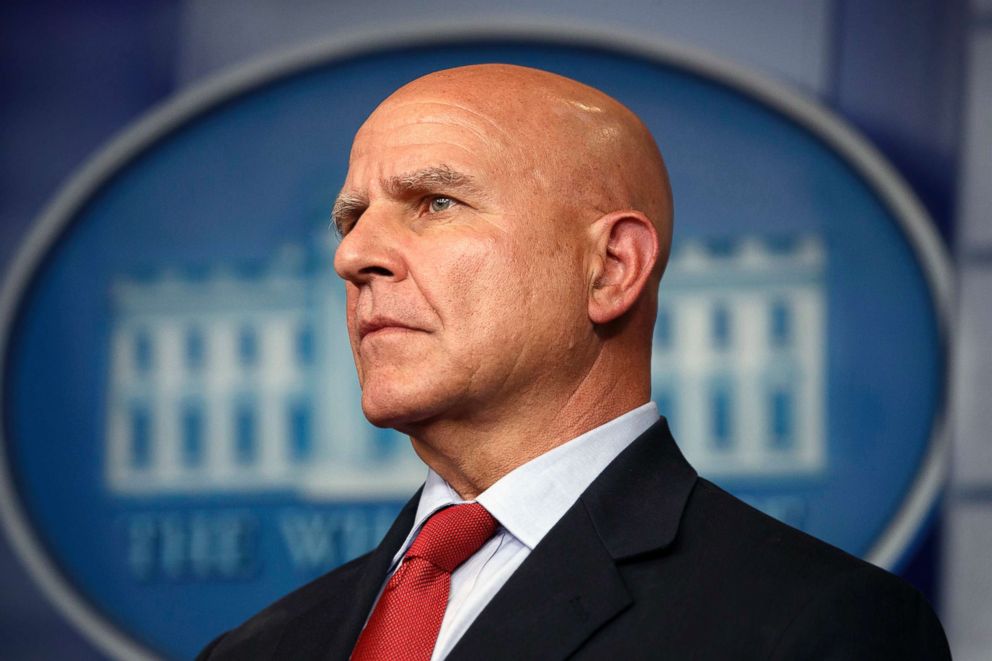 Role: National Security Adviser
Officially started: Feb. 20, 2017
Left: His resignation was announced on March 22, 2018, and will become effective on April 9, 2018
413 days in his tenure
The White House confirmed that Gen. H.R. McMaster's departure from the administration was mutually agreed upon.
McMaster's departure in early 2018 had been planned and expected, especially as Trump re-tools his team ahead of historic talks with North Korea, sources with direct knowledge told ABC News.
He was seen as adding a steady and intellectual voice to Trump's security team, but the president chafed at his style and disposition in Oval Office briefings, the sources said. He also clashed with former Trump adviser Steve Bannon and other top military brass, including Defense Secretary Jim Mattis.
He is being replaced by John Bolton, who served as one of former President George Bush's ambassadors to the United Nations.
Rex Tillerson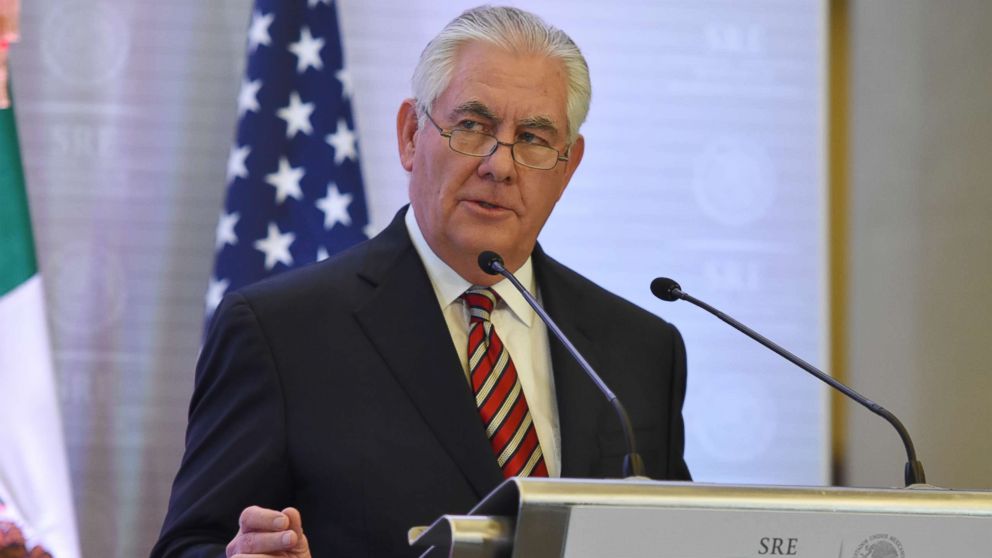 Role: secretary of state
Officially started: Feb. 1, 2017
Left: March 13, 2018 (though remaining during the transition, the White House said)
406 days in his tenure
Rex Tillerson became the second agency secretary to leave Trump's Cabinet after the president announced he was being replaced by CIA Director Mike Pompeo.
Tillerson and Trump have had tumultuous points in their relationship in the past. One public dispute came in October amid reports that Tillerson called the president a "moron."
"We got along quite well but we disagreed on things," Trump told reporters shortly after tweeting his decision to replace Tillerson with CIA Director Mike Pompeo, noting how he and Tillerson "felt a bit differently" on the Iran nuclear weapons deal.
John McEntee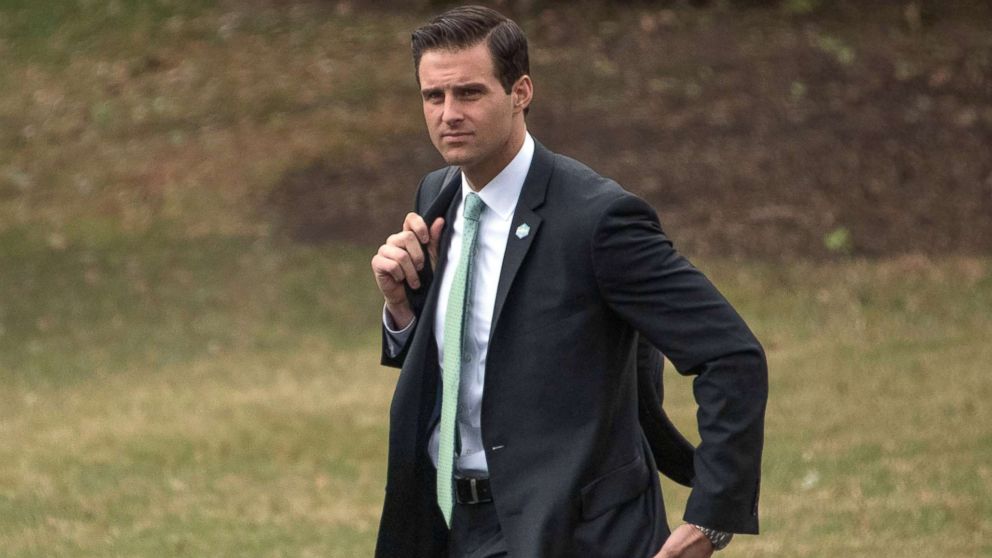 Role: personal aide
Officially started: Jan. 20, 2017
Left: March 12, 2018
417 days in his tenure
John McEntee was escorted out of the White House March 12, 2018, sources told ABC News. There were issues with his background clearance, according to the sources.
The review of White House staffers security clearance was ordered by the White House Chief of Staff John Kelly after staff secretary Rob Porter's departure. That list, a source told ABC News, followed standard procedures that included such options as considering whether the individual should be relieved of duty or reassigned to another administration post.
McEntee is the latest original Trump campaign aide to depart the White House.
Gary Cohn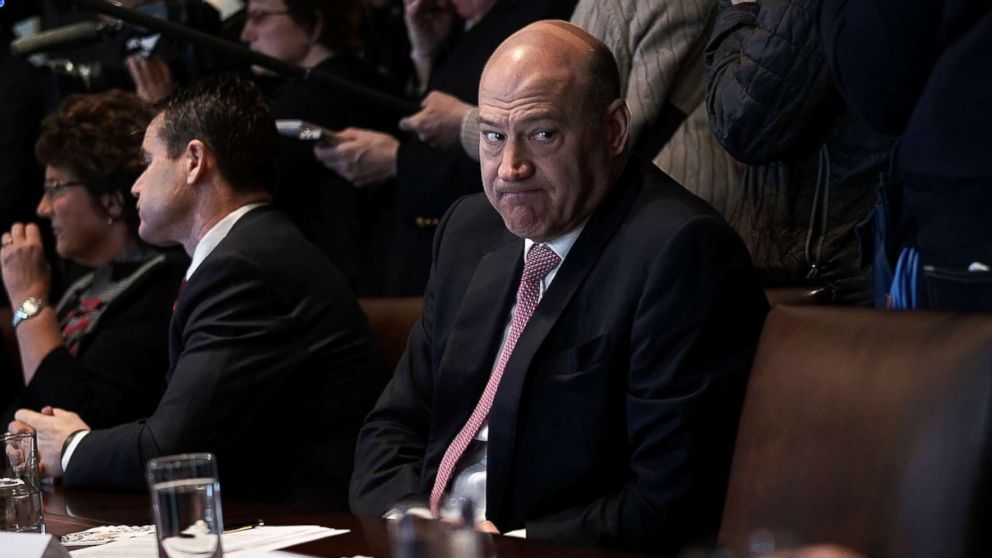 Role: Director of the National Economic Council and the chief economic adviser to the president
Officially started: Jan. 20, 2017
Left: His resignation was announced on March 6, 2018, and his last day was on March 8, 2018
411 days in his tenure
Cohn announced his resignation amid reported ongoing debate inside the White House about the taxes Trump proposed on aluminum and steel imports. Cohn was believed to be against the tariffs.
Trump issued a statement confirming the departure, calling Cohn "a rare talent" who "did a superb job in driving our agenda, helping to deliver historic tax cuts and reforms and unleashing the American economy once again."
Cohn did not explicitly say why he was leaving, saying in a statement that it was "an honor to serve my country" and thanking Trump "for giving me this opportunity."
Hope Hicks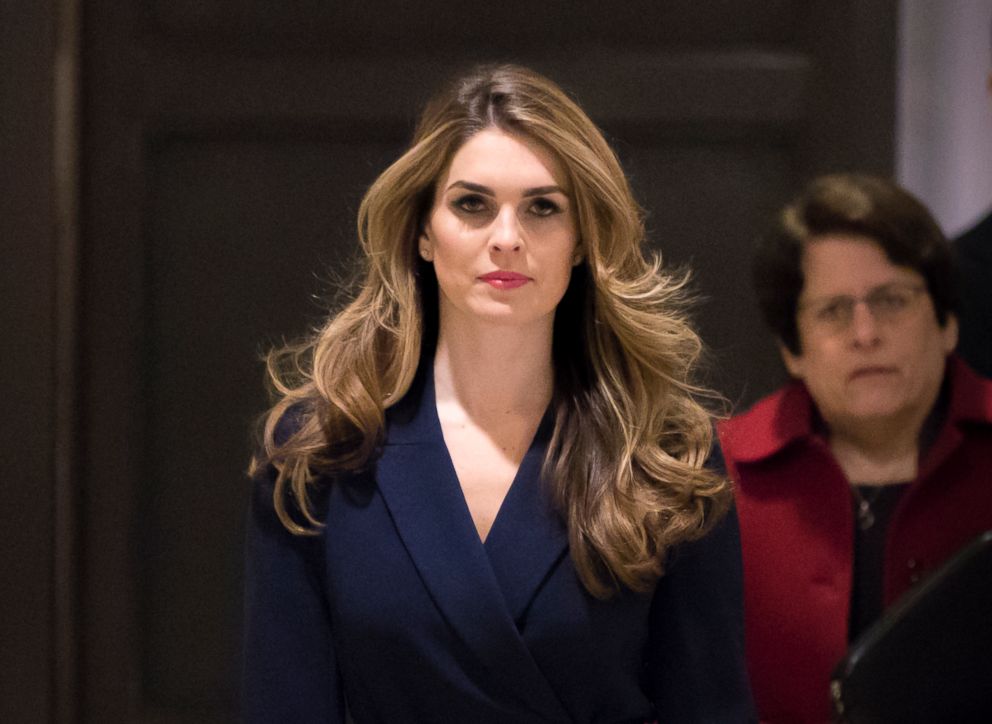 Role: Her most senior title was communications director
Officially started: Jan. 20, 2017
Left: Her resignation was announced on Feb. 28, 2018, and her last day was March 29, 2018
405 days in her tenure
Hicks was Trump's longest-serving aide when she announced that she will resign her post in the coming weeks.
Her announcement came the day after she was interviewed by the House Intelligence Committee during which she said she had occasionally told white lies on Trump's behalf, according to a source familiar with the interview. That said, White House press secretary Sarah Sanders said that her decision to resign was not related to the interview, saying that it's "something she's been thinking about for a while."
After the news broke, Trump said he "will miss having her by my side."
"Hope is outstanding and has done great work for the last three years. She is as smart and thoughtful as they come, a truly great person," the president said in a statement provided to the media by Sanders.
Rob Porter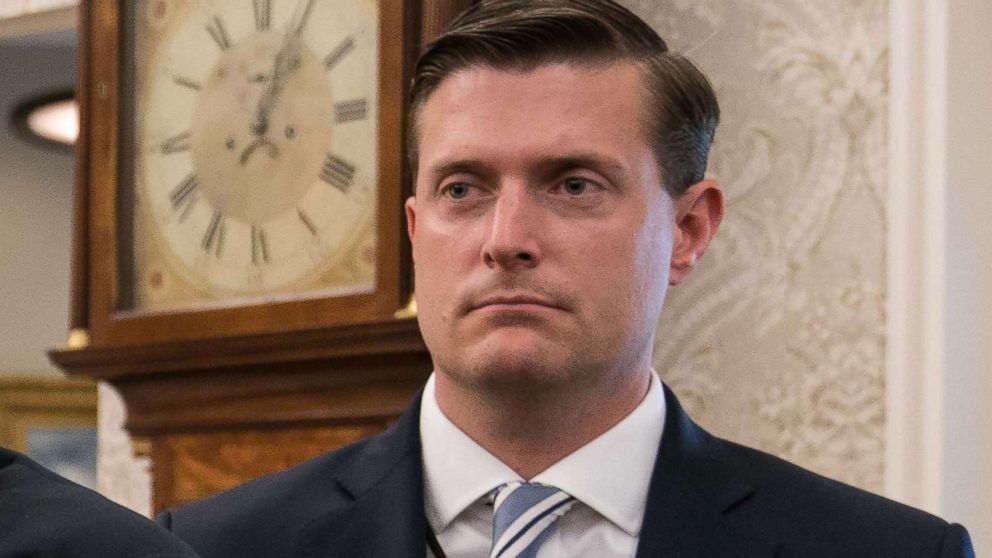 Role: White House staff secretary
Officially started: Jan. 20, 2017
Left: Feb. 7, 2018
384 days in his tenure
Porter resigned amid multiple allegations of domestic violence from two ex-wives. Porter has denied the accusations.
While senior White House staff were aware for months of the domestic abuse allegations by Porter's ex-wives, they were not aware of the full extent of those allegations, senior administration officials told ABC News.
Even as news of the scandal broke, White House officials initially defended Porter, with chief of staff John Kelly calling him a "man of true integrity and honor."
Deputy press secretary Raj Shah said Trump did not know that Porter was operating under a temporary clearance during his time at the White House and said the president was "saddened" by the news and for all the individuals involved.
Omarosa Manigault-Newman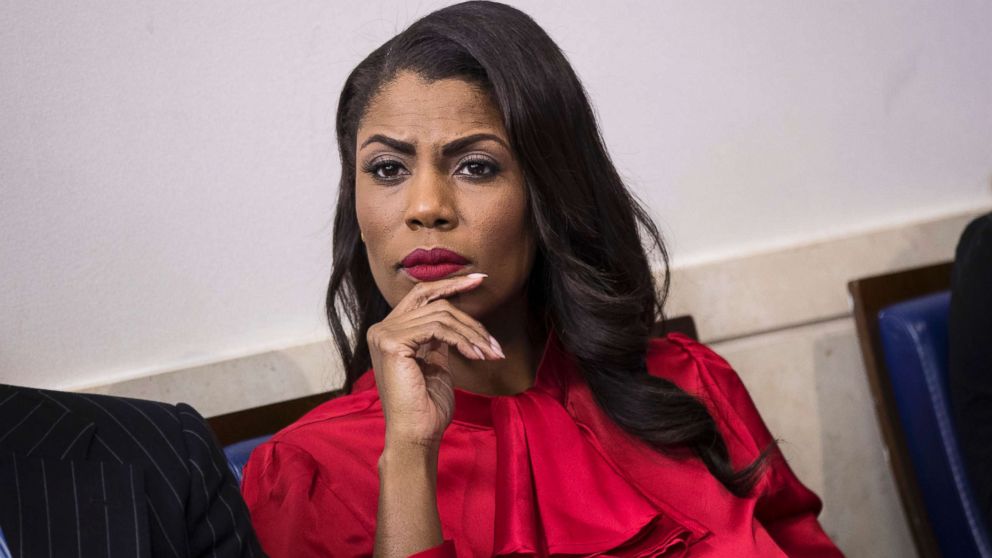 Role: Director of communications for the Office of Public Liaison
Officially started: Jan. 20, 2017
Left: She resigned on Dec. 13, 2017, but remained a White House employee until Jan. 20, 2018.
366 days in her tenure
She was fired three times from various seasons of "The Apprentice," but former reality star and Trump confidante Manigault-Newman said that she resigned, denying reports that she was fired and had to be removed from the White House.
A White House official said in a statement on Dec. 13, 2017, that Manigault-Newman resigned "to pursue other opportunities."
Manigault-Newman spoke about her departure on "Good Morning America" the next day, saying that she and Kelly "had a very straightforward discussion of concerns that I had, issues that I raised and, as a result, I resigned."
Manigault-Newman, 43, stayed on until Jan. 20, 2018.
She was in charge of outreach to the leaders of HBCUs (historically black colleges and universities) and also oversaw the president's visit to the Smithsonian's African American Museum in Washington, D.C. But Manigault's day-to-day duties could not be pinpointed and, according to Politico, she used the White House as a backdrop for her 39-person bridal party to take wedding photos.
Dina Powell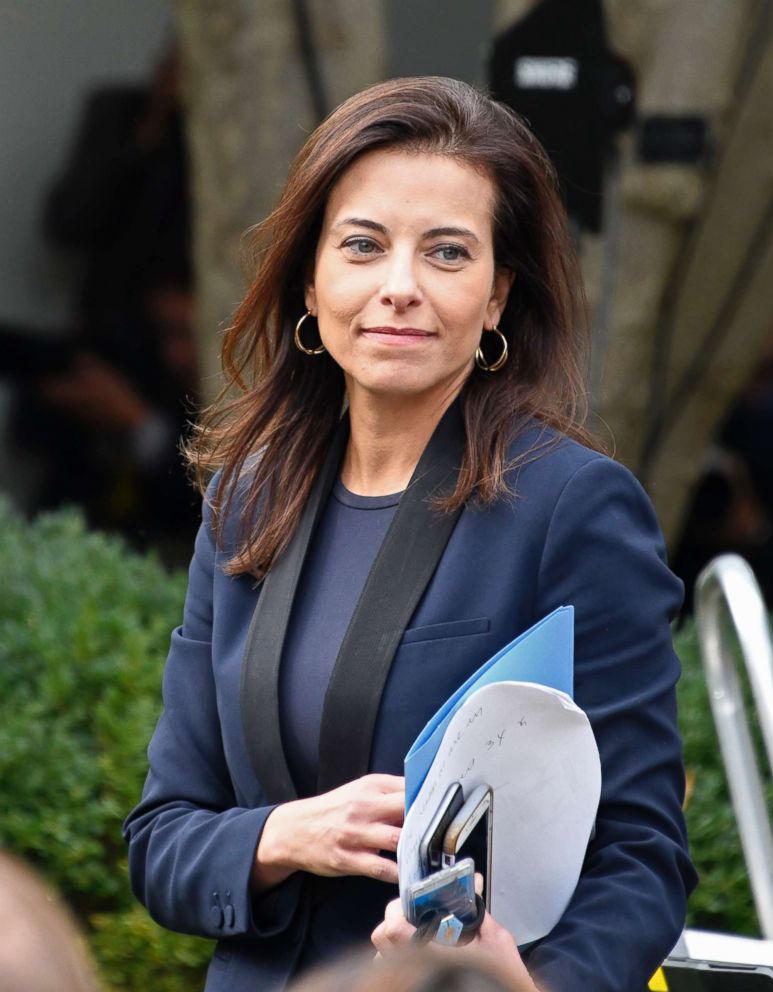 Role: Deputy national security adviser
Officially started: Jan. 20, 2017
Left: Her departure was announced on Dec. 8, 2017, but she continued to serve in the White House until Jan. 12, 2018, according to Bloomberg.
358 days in her tenure
The announcement of her departure came on Dec. 8, 2017, and her final day of work in the administration was not been publicly released.
Powell has been a key player in the administration's Middle East policy, with senior adviser Jared Kushner releasing a statement saying that she "has been a valued member of the Israeli-Palestinian peace team."
White House press secretary Sanders released a statement saying Powell has been "a key, trusted adviser" and "has always planned to serve one year before returning home to New York, where she will continue to support the president's agenda and work on Middle East policy."
The kind words didn't end there, as national security adviser H.R. McMaster also released a statement asserting that "she is one of the most talented and effective leaders with whom I have ever served."
The Associated Press reported in mid-February that Powell is going to teach seminars and study groups as a non-resident senior fellow at Harvard University. And on Feb. 27, CNBC reported that a Goldman Sachs memo said that she would be returning to the bank.
Tom Price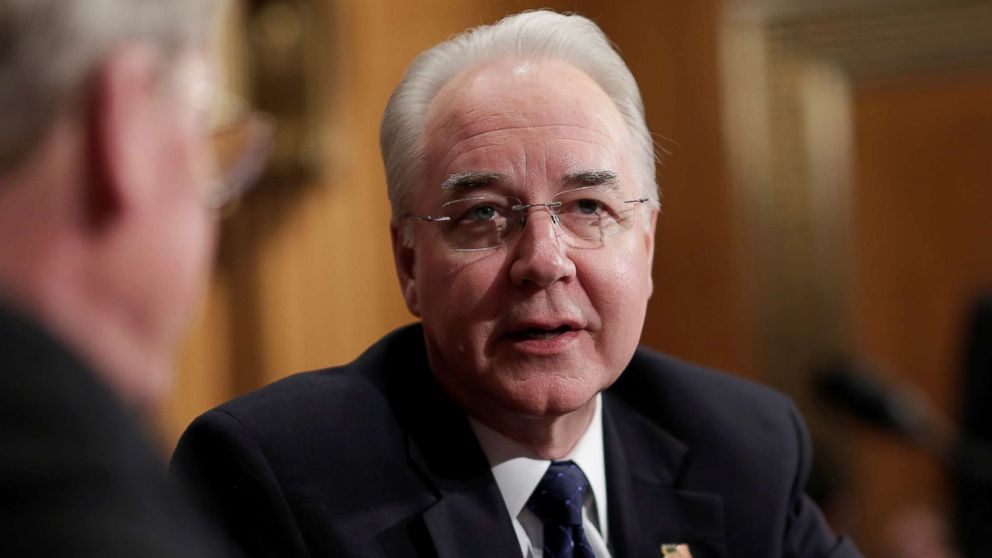 Role: Secretary of Health and Human Services
Officially started: Feb. 10, 2017
Left: Sept. 29, 2017
232 days in his tenure
Price resigned in the midst of a controversy over his use of private jets for government travel. The former congressman and orthopedic surgeon took as many as 26 chartered planes during his short tenure a spent an estimated $1 million of taxpayer money on both the domestic trips and military flights to Africa, Asia and Europe.
"I have spent forty years both as a doctor and public servant putting people first," wrote Price to Trump in his resignation letter. "I regret that the recent events have created a distraction from these important objectives."
The HHS Office of Inspector General launched an investigation into the matter a week prior to the resignation. He was the first Cabinet member to leave his post.
Sebastian Gorka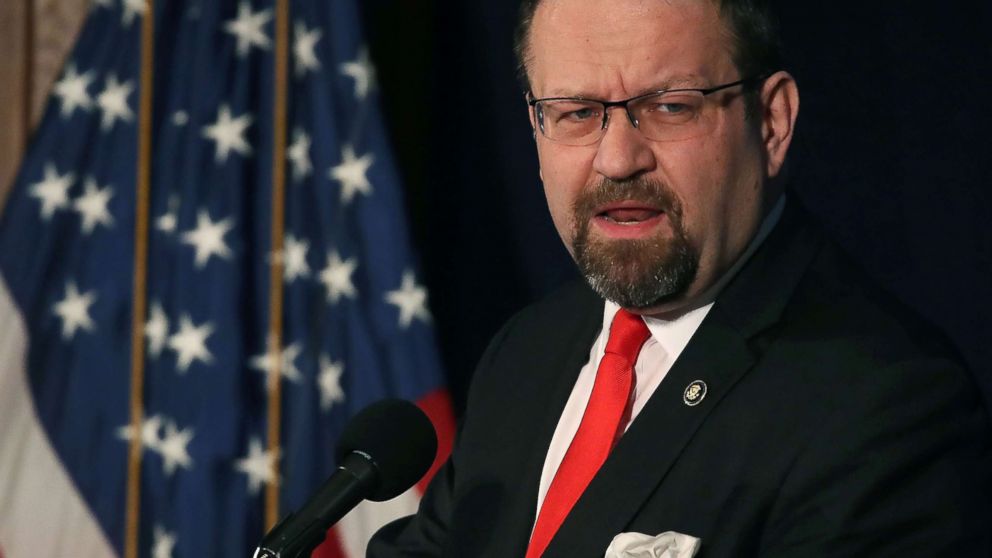 Role: Deputy assistant to the president
Hired: Jan. 30, 2017
Left: Aug. 25, 2017
208 days in his tenure
Gorka was a deputy adviser focused on national security and counterterrorism who had worked as a paid policy consultant for Trump's campaign.
Web magazine The Federalist obtained and posted what it says is Gorka's resignation letter. "[G]iven recent events, it is clear to me that forces that do not support the MAGA promise are -- for now -- ascendant within the White House," the Federalist quotes Gorka as saying. "As a result, the best and most effective way I can support you, Mr. President, is from outside the People's House."
The White House, however, disputed the claim that Gorka had tendered his resignation. A White House official told ABC News, "I can confirm he no longer works at the White House."
What he's doing now: Gorka will return to Breitbart News.
Steve Bannon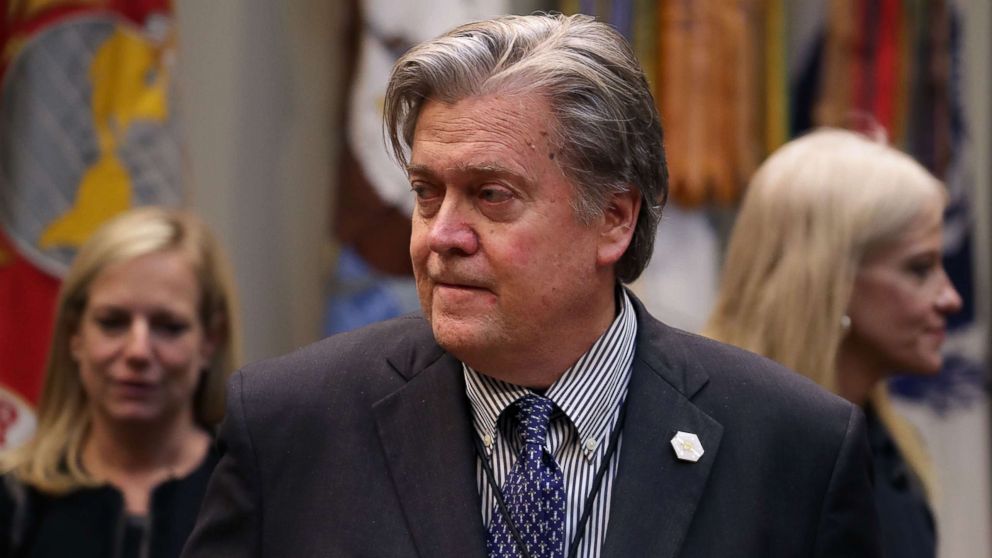 Role: Chief strategist and senior counselor
Hired: Nov. 13, 2016
Officially started: Jan. 20, 2017
Left: Aug. 18, 2017
211 days in his tenure
After working as the CEO of the Trump campaign since August 2016, Bannon was appointed to a role in the White House. Trump's announcement that Bannon would be his chief strategist was met with backlash. Critics opposed Bannon's purported nationalist views and former position as executive chairman of the website Breitbart News, which published articles that promoted the so-called alt-right movement. Bannon's firing came as a result of Trump's increasing frustration with Bannon, according to one senior White House official. A source close to Bannon told ABC News that he resigned with an effective date of Aug. 14.
What he's doing now: Bannon has returned to Breitbart News.
Anthony Scaramucci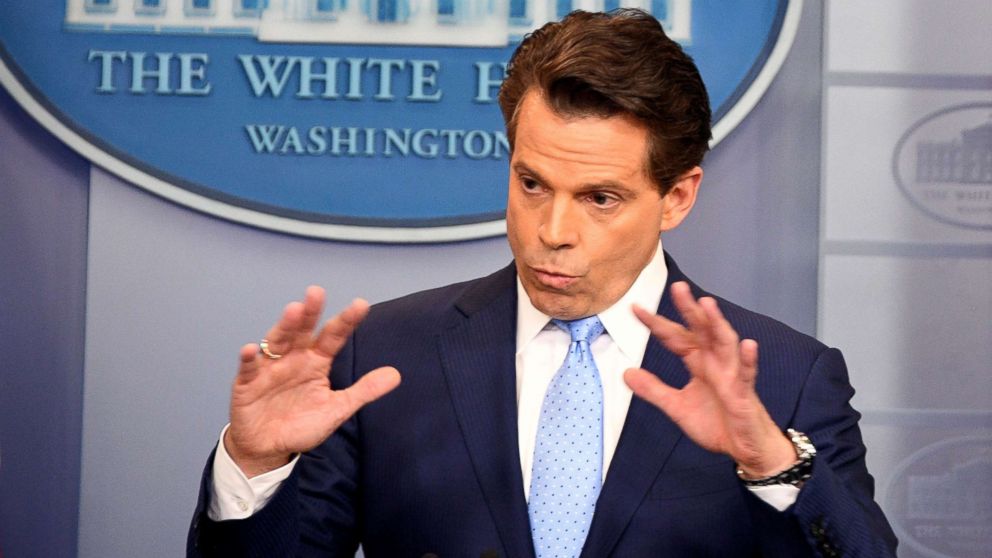 Role: White House communications director
Hired: July 21, 2017
Officially started: July 26, 2017
Left: July 31, 2017
6 days in his tenure
Scaramucci didn't officially start in his position until July 26, so he was on the job for only six days. When his role was announced, however, he took questions from White House reporters during a press briefing.
Almost a week after he was hired, The New Yorker's Ryan Lizza published a detailed account of an expletive-ridden phone conversation he had with Scaramucci. Scaramucci was pushed to resign the Monday after the article's publication.
"Mr. Scaramucci felt it was best to give chief of staff John Kelly a clean slate and the ability to build his own team," White House press secretary Sanders said in a statement.
"The president certainly felt that Anthony's comments were inappropriate for a person in that position, and he didn't want to burden Gen. Kelly," Sanders told said at a press briefing the day Scaramucci resigned.
What he's doing now: Having sold his stake in the hedge fund SkyBridge Capital to join the White House, Scaramucci has turned to doing media appearances. His first televised interview since leaving the White House was with ABC News.
Reince Priebus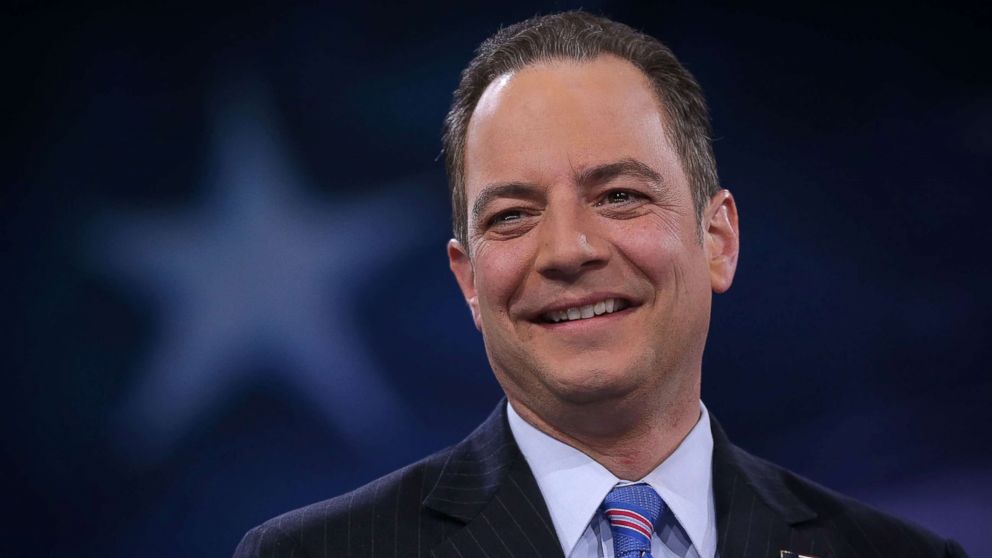 Role: White House chief of staff
Hired: Nov. 13, 2016
Officially started: Jan. 20, 2017
Left: July 28, 2017
190 days in his tenure
Trump announced on Twitter that he was replacing Priebus as his right-hand man with Homeland Security Secretary John Kelly. According to senior White House officials, Trump told Priebus he wanted to make a change two weeks before he was fired.
What he's doing now: Despite being out of the White House, Priebus told Fox News he's going to be "Team Trump all the time."
"I'll always be out there trying to help the president, advance his goals, support him as a friend too," Priebus said.
Sean Spicer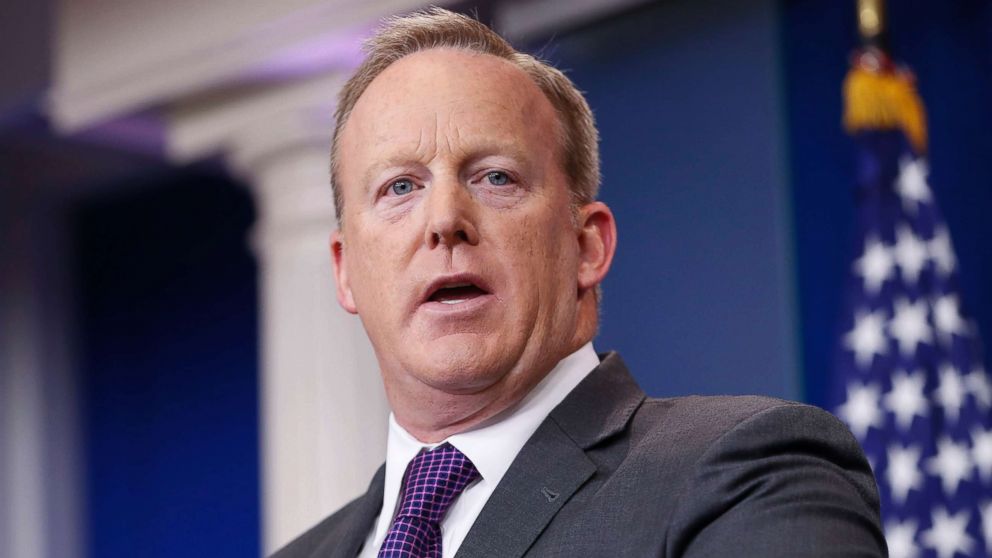 Role: White House press secretary
Hired: Dec. 22, 2016
Officially started: Jan. 20, 2017
Left: July 21, 2017
183 days in his tenure
Spicer officially took on the role the day Trump was sworn in as president. But Spicer was named incoming press secretary on Dec. 22, 2016, during the presidential transition. A few hours after Anthony Scaramucci was brought on the team as communications director, Spicer resigned. Spicer told ABC News that he felt "relieved" and that "organizationally" the White House communications team needed a "fresh start." Though he's no longer the press secretary, Spicer is still assisting the communications office.
What he's doing now: After he resigned, Spicer declined to comment on his next steps or formal plans to ABC News, saying only that he would be spending a lot of time with his family. There were rumors that Spicer would join "Dancing With the Stars" or "Saturday Night Live," on which he was famously parodied by Melissa McCarthy.
Mike Dubke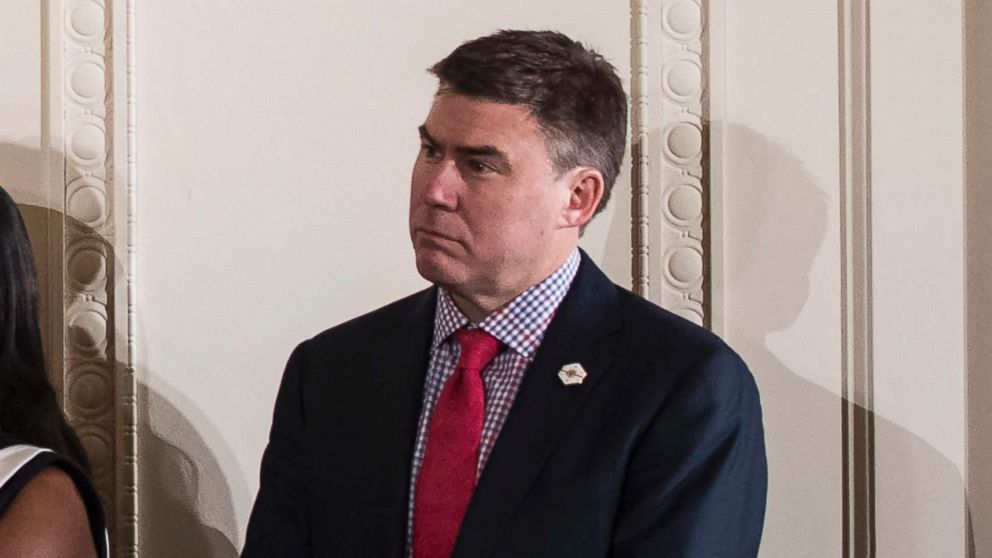 Role: White House communications director
Hired: March 6, 2017
Left: May 18, 2017
74 days in his tenure
According to Axios, Dubke left on good terms, but during his time in the White House he didn't gel with those who had been with Trump since the campaign. After he resigned, Dubke offered to stay on until the end of Trump's first foreign trip and "until a transition is concluded," then–chief of staff Priebus said. Dubke's last day was June 2, 2017.
What he's doing now: Dubke has returned to his work at the strategic communications and public affairs firm he co-founded, Black Rock Group.
James Comey
Role: FBI director
Hired: June 21, 2013
Officially started: Sept. 4, 2013
Left: May 9, 2017
1,344 days in his tenure
Comey was dismissed by Trump, who the White House originally said was acting on the counsel of Attorney General Jeff Sessions and Deputy Attorney General Rod Rosenstein, after they criticized Comey's handling of the investigation into Hillary Clinton's emails. Trump later portrayed the decision as his alone and said that he was thinking about the FBI's Russian election interference probe when he resolved to fire Comey.
What he's doing now: Comey testified before the Senate Intelligence Committee on June 8, when he detailed his interactions with Trump before his firing. In early August, Flatiron Books announced a deal to publish a book by Comey in the spring of 2018.
Mike Flynn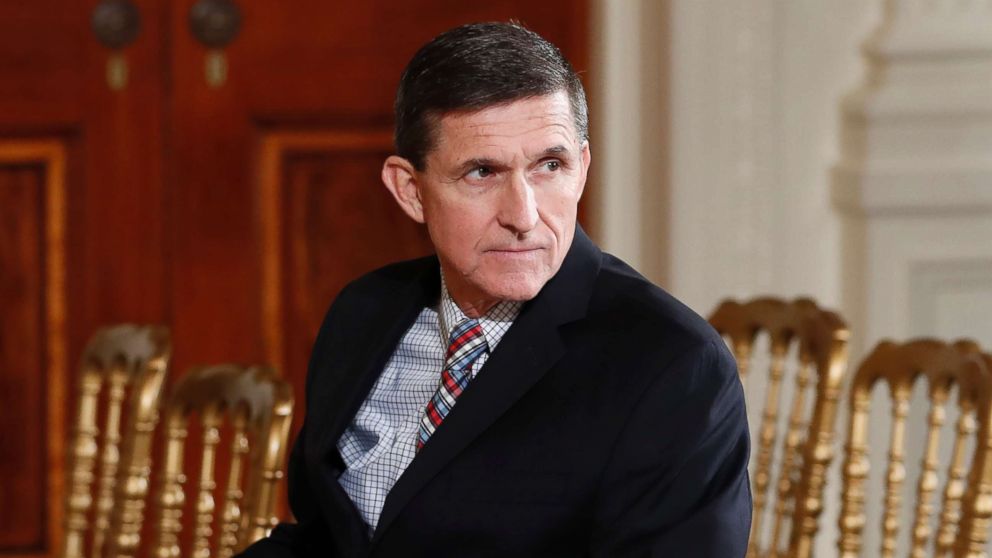 Role in the Trump administration: National security adviser
Hired: Nov. 18, 2016
Officially started: Jan. 20, 2017
Left: Feb. 13, 2017
25 days in his tenure
Flynn, who spent much of 2016 on the campaign trail supporting Trump at rallies and events, was rewarded with the national security adviser position shortly after the election. He lasted just over three weeks before being forced to resign after it was revealed that he misled Vice President Mike Pence about the nature of multiple meetings with Russian Ambassador to the U.S. Sergey Kislyak before Trump's inauguration.
What he's doing now: Flynn and his business ties to Turkey have been part of special counsel Robert Mueller's investigation into Russia's interference in the 2016 election and possible connections to the Trump campaign.
Sally Yates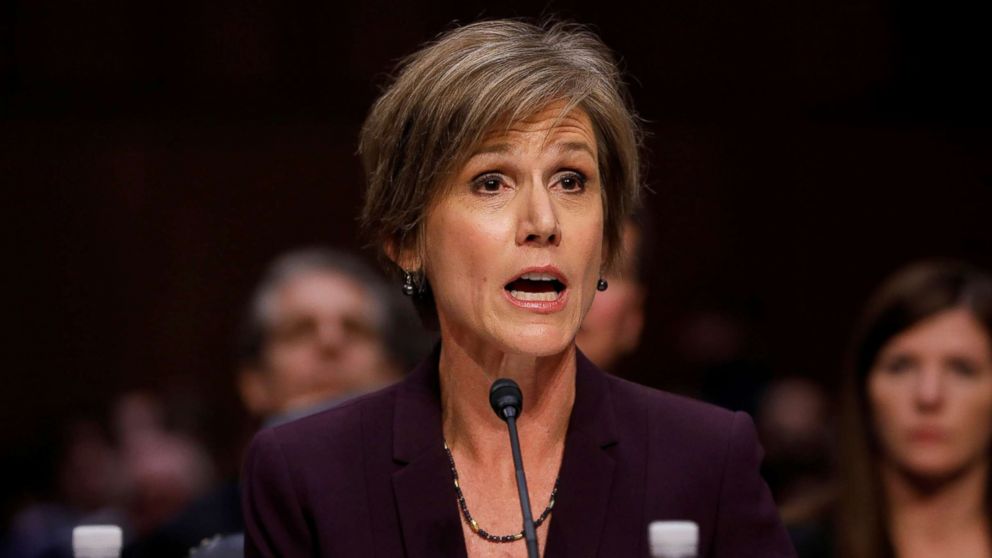 Role: Acting attorney general
Promoted: Jan. 20, 2017
Left: Jan. 30, 2017
11 days in her tenure
After nearly three decades in a career with the Department of Justice, Yates took the reins of the department with the resignation of Barack Obama's Attorney General Loretta Lynch. Yates was fired for instructing DOJ lawyers not to defend Trump's Jan. 27 executive order barring immigration from seven predominantly Muslim countries.
"For as long as I am the acting attorney general, the Department of Justice will not present arguments in defense of the executive order, unless and until I become convinced that it is appropriate to do so," Yates wrote in a letter to DOJ lawyers. She was fired hours after sending the letter. In a statement, the White House said Yates "betrayed the Department of Justice."
What she's doing now: Since she left the Department of Justice, Yates has penned two op-eds in The Washington Post and The New York Times that are critical of Trump and Attorney General Jeff Sessions.
Other notable departures:
Steven Goldstein: Under Secretary of State for Public Diplomacy and Public Affairs
Josh Raffel: Deputy communications director
Rick Dearborn: deputy chief of staff
George Sifakis: director, Office of Public Liaison
Ezra Cohen-Watnick: senior director for intelligence programs, National Security Council
Michael Short: senior press assistant
Walter Shaub: director, Office of Government Ethics
Vivek Murthy: surgeon general
Angella Reid: chief usher, White House
Katie Walsh: deputy chief of staff
Preet Bharara: U.S. attorney, Southern District of New York
ABC News' John Parkinson, Justin Fishel, Katherine Faulders, John Santucci and Alexander Mallin contributed to this report.