McConnell says it's up to McCarthy and Biden to negotiate a deal on the debt ceiling
Schumer, meanwhile, said Democrats will be a unified front in the talks.
The debt ceiling debate continues to loom large on Capitol Hill as both sides prepare for a showdown that the Treasury Department has said could throw the U.S. economy into a tailspin if it isn't able to borrow more money.
Senate Minority Leader Mitch McConnell on Tuesday made it clear that his chamber will play a backseat role in the process, telling reporters that he "can't imagine" a debt ceiling proposal that could first pass in the Senate and then in the House.
"In this current situation, the debt ceiling fix -- if there is one or has to be dealt with -- has to come out of the House," he said.
"I think the final solution to this particular episode lies between Speaker McCarthy and the president," McConnell said.
With his new Republican majority, House Speaker Kevin McCarthy has vowed to try and bring what he calls fiscal discipline to Washington, though congressional Democrats and the Biden White House have rejected the push for spending cuts as a partisan tactic that could "wreck" numerous livelihoods while weakening popular programs like Social Security.
It's not yet entirely clear what McCarthy and his conference hope to reduce -- which Senate Majority Leader Chuck Schumer seized on in a Wednesday floor speech.
He said he agreed with McConnell that the House must lead the way. "And not only should the House go first, but they must quickly show the American people what their plan actually is for avoiding a first-ever default on the national debt. So far we haven't heard anything beyond vague and troubling talking points about the need to cut federal spending. ... Well, what are they?" Schumer said.
On Tuesday, the speaker told ABC News Senior Congressional Correspondent Rachel Scott "no" when asked if he will change his mind on negotiating the debt ceiling with the White House.
"For the president to say he wouldn't even negotiate -- that's irresponsible. We're going to be responsible. We're going to be sensible, and we're going to get this done together. So the longer he waits, the more he puts the fiscal jeopardy of America up for grabs," McCarthy said. "We should sit down and get this done and stop playing politics."
The debt ceiling is a cap set by Congress on the amount of money the federal government can borrow to pay its current bills. The limit, now set at about $31.4 trillion, doesn't authorize new spending.
The Treasury Department has said the U.S. hit that limit last week but that it can likely keep the government funded through early summer, though "extraordinary measures" and its standard cash flow.
McConnell said Tuesday that it was "entirely reasonable" for McCarthy to put spending cuts on the table and said he "wished him well" in talking with President Joe Biden.
"That's where a solution lies," said McConnell -- whose been in such negotiations before. In 2011, he cut a last-minute deal with then-Vice President Biden to save the nation from debt default.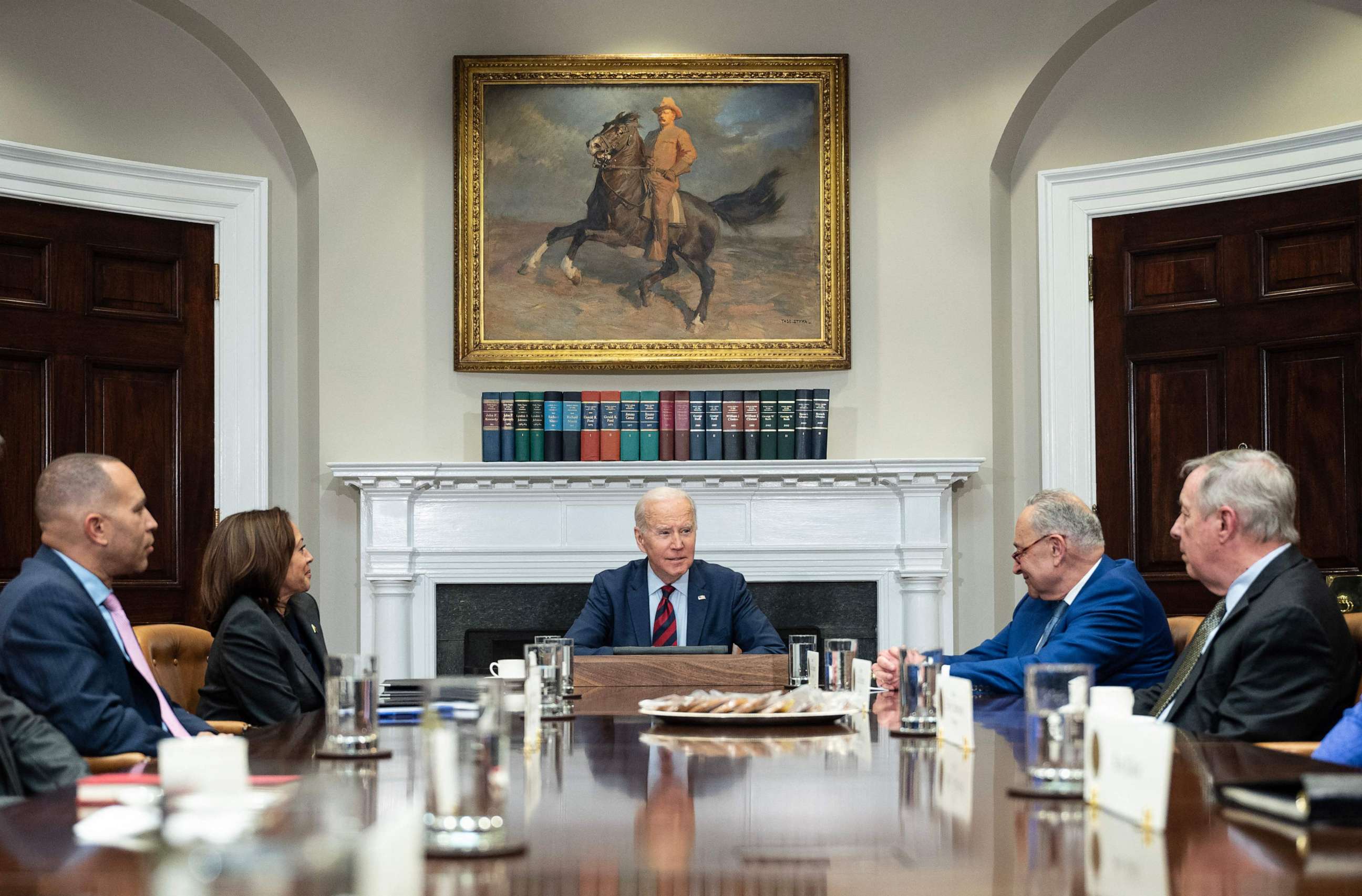 But the White House has repeatedly said raising the debt ceiling is non-negotiable and should be done without related cuts, especially on programs like Social Security and Medicare.
Biden said Tuesday, as he met with the new Democratic leadership at the White House, that he had "no intention of letting the Republicans wreck our economy."
"Apparently, they're genuinely serious about cutting Social Security, cutting Medicare," Biden said of some of the measures proposed by Republican members, adding with a hint of sarcasm: "And I love their 30% sales tax."
McCarthy last week said that he agreed to meet with Biden to discuss the debt ceiling, and while White House press secretary Karine Jean-Pierre has said Biden looks forward to sitting down with the new speaker, she reiterated their position on the issue was not up for debate.
"If you look at the debt ceiling right now, 90% of it was before the president walked in," she told reporters on Tuesday. "So this is their duty."
Schumer said this week that Democrats are going to present a collective front.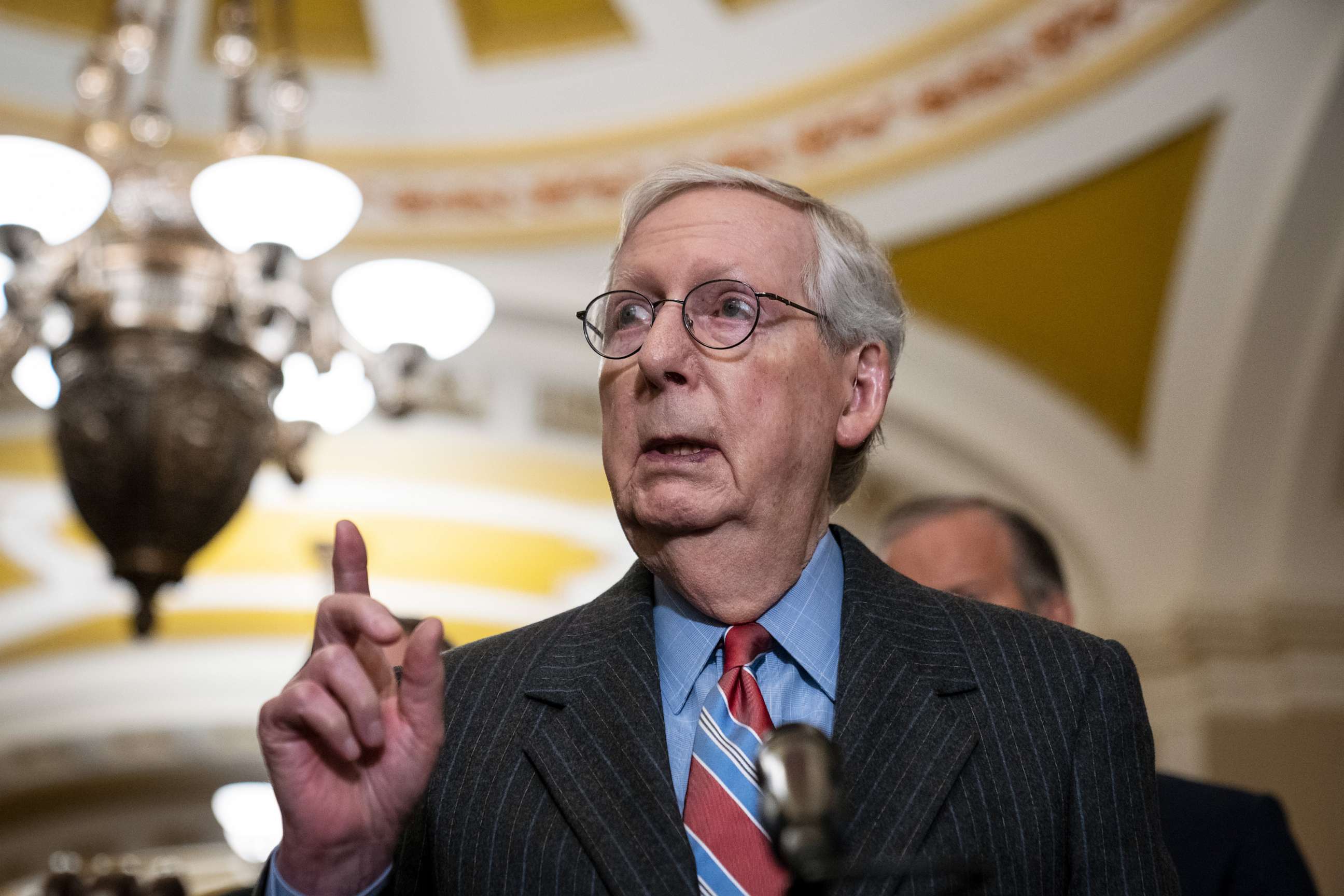 "The bottom line is that we said that our unity is our strength," Schumer told reporters after meeting with Biden Tuesday. "The president, the House, the Senate are going to be on the same page talking about what we should do," he said.
"And one of the things we want to do on the debt ceiling is tell Republicans, 'Tell us your plan,'" Schumer said.
One thing most Senate Republicans seem to agree on is avoiding cuts to defense spending.
"I think that I've always said that if you don't get national security right, the rest is conversation. That's the job -- job #1. So, I hope that as they have conversations over there [in the House] about this year's funding levels that national security won't be part of that," Senate Minority Whip John Thune told ABC News.
In the meantime, the Treasury Department is employing "extraordinary measures" to stave off a debt crisis. The latest measure announced by Treasury Secretary Janet Yellen is an alteration as of Monday to the investments in government-run funds for retirees.
"I respectfully urge Congress to act promptly to protect the full faith and credit of the United States," Yellen wrote.
She previously wrote to McCarthy that she didn't expect the department's "cash and extraordinary measures will be exhausted before early June."
ABC News' Sarah Kolinovsky contributed to this report.