MANCHESTER, N.H. -- After a recent campaign event in New Hampshire, Hillary Clinton slipped backstage at the Nashua Radisson where 18 of her biggest fans were waiting.
"I'm so happy you all could come," Clinton said after posing for a photo with the group who had traveled from Arkansas to be there. "Thank you, thank you."
For the next five minutes or so, Clinton chatted with them about life: the Razorbacks, her granddaughter, husband Bill, general happenings on the campaign trail. They updated her on their plans. She then hugged each of them and said goodbye. It was back to work -– for everyone.
But this was no ordinary group of supporters. These were the "Arkansas Travelers," a cadre of loyal Democrats – some of whom are longtime friends and colleagues of the Clintons – who got together in 1992 to travel the country to campaign for the future president's first White House bid.
In 1992, the group's efforts turned out to be a real boon for Bill Clinton, who was still relatively unknown to many across the country ("Travelers" recall knocking on doors in Iowa and meeting person after person who had never even heard of him).
Ever since, the group has become a staple part of a Clinton presidential campaign –- reuniting for Bill Clinton in 1996, for Hillary Clinton in 2008, and now in 2016. And in an election year that's never seen more of an emphasis on digital campaign strategies, these "Travelers" are doing things the old-fashioned way. After all, it's worked for them before.
When Hillary Clinton greeted them in Nashua, members of the group had already been out campaigning for five straight days -- door knocking, canvassing, attending house parties and dinners all across the Granite State on behalf of the former secretary of state. And this visit was just the beginning; the "Travelers" plan to campaign for Clinton in additional states over the next year.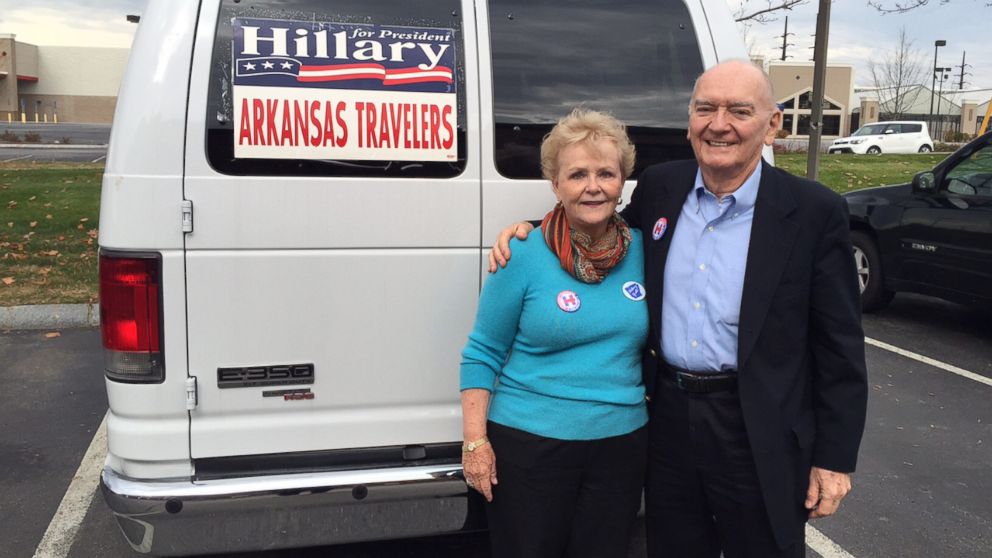 The job of getting the band back together fell to Sheila Bronfman, the founder and organizer of the "Arkansas Travelers," who got to work rallying the troops in April after Clinton officially announced her candidacy. By November, she had recruited more than 400 volunteers -- many of them first-timers.
But some of the old-timers are on the move this year too, including Bronfman, who wears a whistle around her neck, which she uses to gather up her fellow "Travelers." Ann Henry, 76, and her husband, Morriss, 83, — the couple who hosted the Clintons' wedding reception in Fayetteville, Ark., in 1975 – are also back on the campaign trail.
"We're people that have met her, we know her personally, and the other people around here perhaps have only seen her on TV," Morriss Henry, a physician who served in the Arkansas state legislature, told ABC News in an interview. "They're interested in finding out who she really is in person, and to talk to somebody that has had that experience, like we have, of knowing both Bill and Hillary. And I've known them for a long time."