Just before midterm elections, Trump claims he'll propose cutting middle class taxes 10 percent
The president claimed the 10 percent tax cut would be just for the middle class.
Nearly one year after he signed the Republican tax cuts into law, President Donald Trump has now repeatedly floated another round of tax cuts -- this one just for middle-income Americans, he claims -- just two weeks from the midterm elections.
While he acknowledged at the White House on Monday that the proposal wouldn't receive a vote from Congress before the midterms, Trump said he would send the proposal to Capitol Hill before the midterms.
"We're putting in a resolution sometime in the next week-and-a-half, or two weeks," he told reporters as he left for a campaign rally in Texas.
Trump said the proposal would aim to give "a middle-income tax reduction of about 10 percent. We're doing it now for middle income people. This is not for businesses."
"We will do the vote after the election," Trump said, after reporters questioned how he could make the claim when neither the House nor the Senate will be in session until one week after the midterm elections on Nov. 6.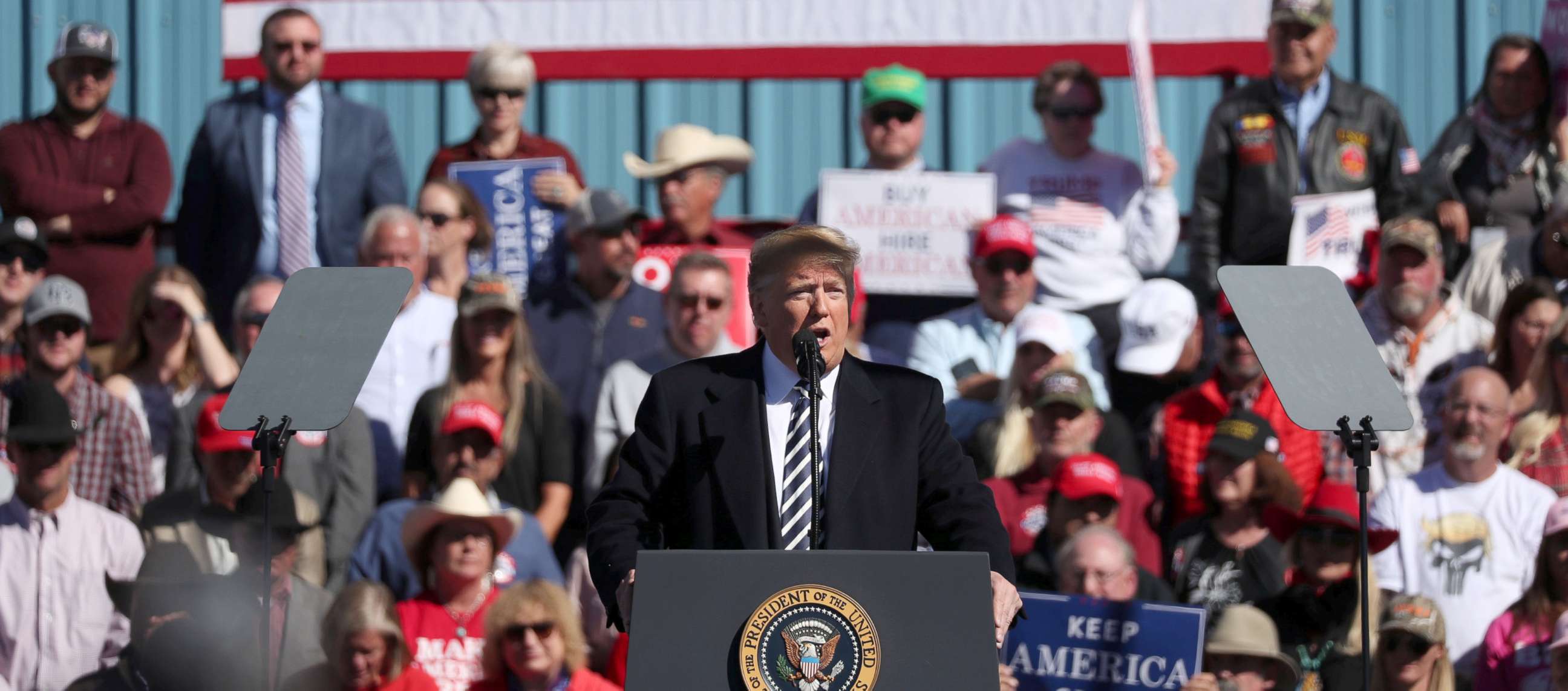 Trump's remarks – coming after saying he and GOP lawmakers were working on "a very major tax cut" in Nevada on Saturday – appeared to catch Capitol Hill off guard.
Aides to House Speaker Paul Ryan and Ways and Means Committee Chairman Kevin Brady referred questions about Trump's comments and any proposal back to the White House.
Nicole Hager, a spokesperson for Senate Finance Committee Chairman Orrin Hatch, R-Utah, said in a statement to ABC News that the senator "welcomes efforts to build on tax reform's success and will work with the administration and Finance Committee members about how to best proceed."
Democrats criticized Trump's comments, with Sen. Bernie Sanders, I-VT, suggesting on Twitter that the president was making up the tax proposal.
The top Democrat on the Senate Finance Committee, Sen. Ron Wyden of Oregon, blasted the president's tax cut talk.
"This empty rhetoric is an admission by Donald Trump that his tax law only helps corporations and the donor class. The middle class will see straight through this scam just like they did with Trump's broken promise to deliver $4,000 wage increases."
Other Democrats took Trump to task on Twitter.
The $1.5 trillion tax cut passed by Congress and signed into law by Trump last December.
Republicans and the administration have said the cuts would pay for themselves over time through economic growth. The Treasury Department said last week that the federal budget deficit reached $779 billion in fiscal year 2018, up from $666 billion in 2017.
ABC's Ali Rogin contributed to this report.