A swath of candidates broke down barriers with victories in Tuesday's midterm elections -- sending seismic shifts through the halls of Congress and across state-level contests.
In January, both the U.S. Senate and U.S. House will feature a far different makeup than previous years, as voter turnout surged this cycle. In the early exit polls, nonwhites accounted for 29 percent of voters nationally, surpassing the previous record of 25 percent in 2014, which includes 12 percent blacks and 12 percent Hispanics.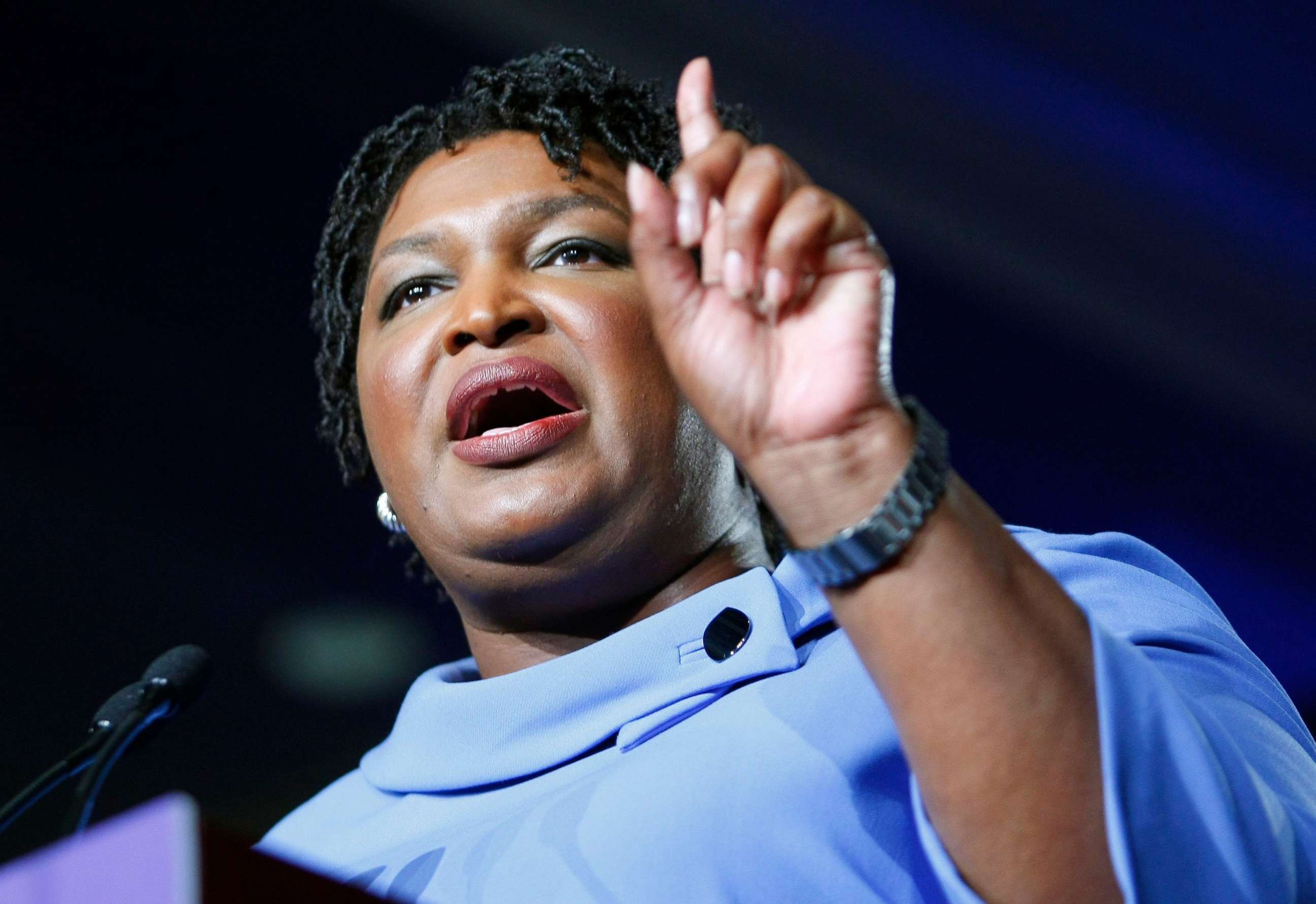 Those numbers led to history on several fronts Tuesday.
At least 98 women will be elected to the House of Representatives -- 84 Democrats, 14 Republicans -- and 12 will join the Senate -- 10 Democrats, two Republicans -- according to the latest projections by ABC News. Of the House winners, 42 identify as non-white, as does one of the Senate winners.
With black candidates in several high-profile races -- including gubernatorial candidates Andrew Gillum of Florida and Stacey Abrams in Georgia -- voters nationally said by 71-24 percent it's important to elect more racial and ethnic minorities to public office and 44 percent say it's very important.
Here is a look at some of 2018's history-making winners:
First Muslim women will serve in Congress
Democrats Rashida Tlaib of Michigan and Ilhan Omar of Minnesota will be the first Muslim women to serve in Congress.
Amid a wave of female candidates running for office, Tlaib scored a victory in Michigan's 13th Congressional District, setting her up to be the first Muslim-American woman in Congress.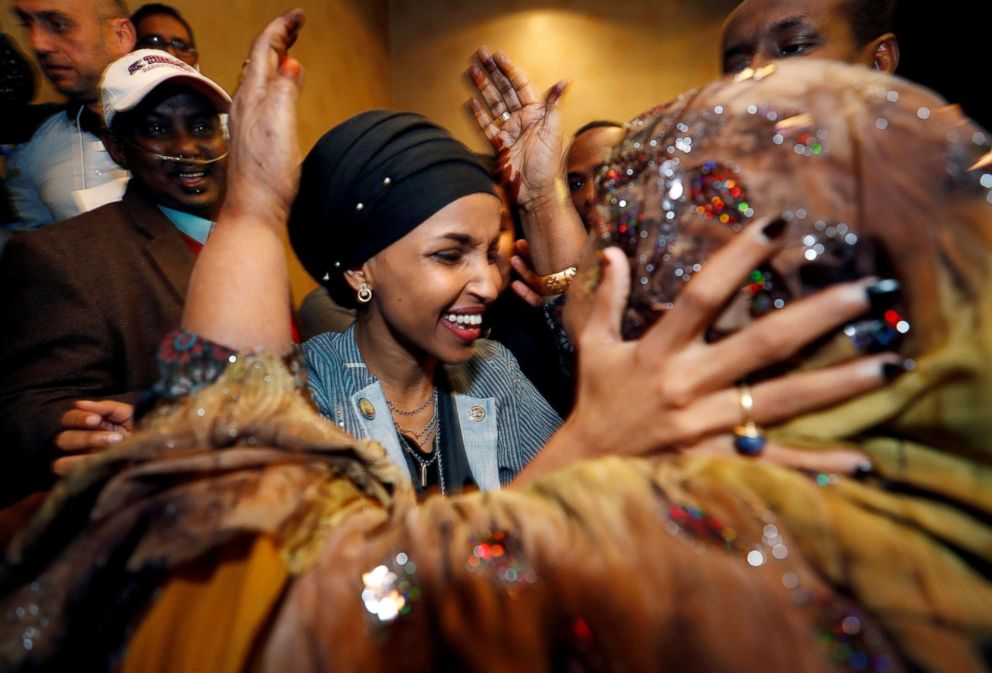 The resignation of former Rep. John Conyers Jr. due to health concerns triggered an open seat, and Tlaib was unopposed in her contest.
Joining Tlaib's place in history is current Minnesota state Rep. Ilhan Omar, who is poised to become the first Somali-American in Congress.
The former refugee, who won in Minnesota's left-leaning 5th Congressional District, defeated Republican candidate Jennifer Zielinksi.
Before scoring her party's primary victory in August, she made history in Minnesota when she was elected to the state House in 2016, becoming the nation's first Somali-American legislator.
Polis gives LGBTQ community a boost
Colorado voters delivered a historic win Tuesday with Rep. Jared Polis projected to be the country's first openly gay male governor.
"Tonight, we reaffirm what an amazing state that we live in," he said in his victory speech. "In Colorado, we dream, we dare and we do, whether it's embracing big ideas or hiking our amazing mountains. We don't back down when something is challenging. We see problems as opportunities in our state of Colorado."
The five-time congressman ran against Colorado's Republican state Treasurer Walker Stapleton to succeed Gov. John Hickenlooper, a popular Democrat who can't be re-elected because of term limits.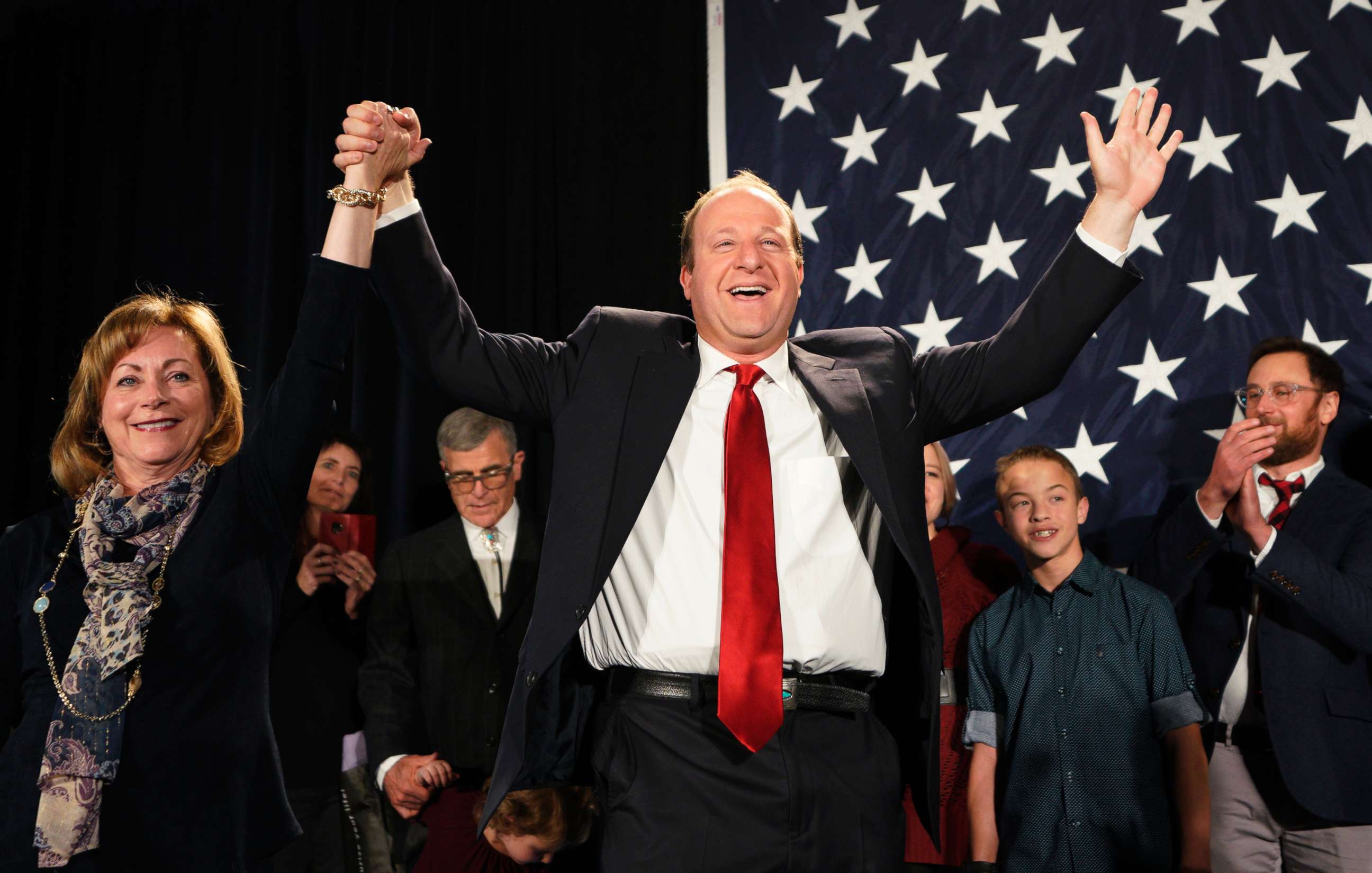 Polis, who is in a same-sex marriage, chose not to make his sexual orientation a talking point on the campaign trail, but his history-making run for governor came as part of this year's "rainbow wave," an influx of LGBTQ candidates across the country who are running for office.
Native American candidates alter makeup of Congress
Seizing on the momentum of the "pink wave," Kansas Democratic candidate Sharice Davids surged to victory, becoming the first Native American woman elected to Congress.
Davids mounted a longshot bid, challenging four-term Republican Rep. Kevin Yoder. In successfully overtaking the incumbent in the state's 3rd Congressional District, Davids also becomes Kansas's first openly LGBT candidate to win a major office.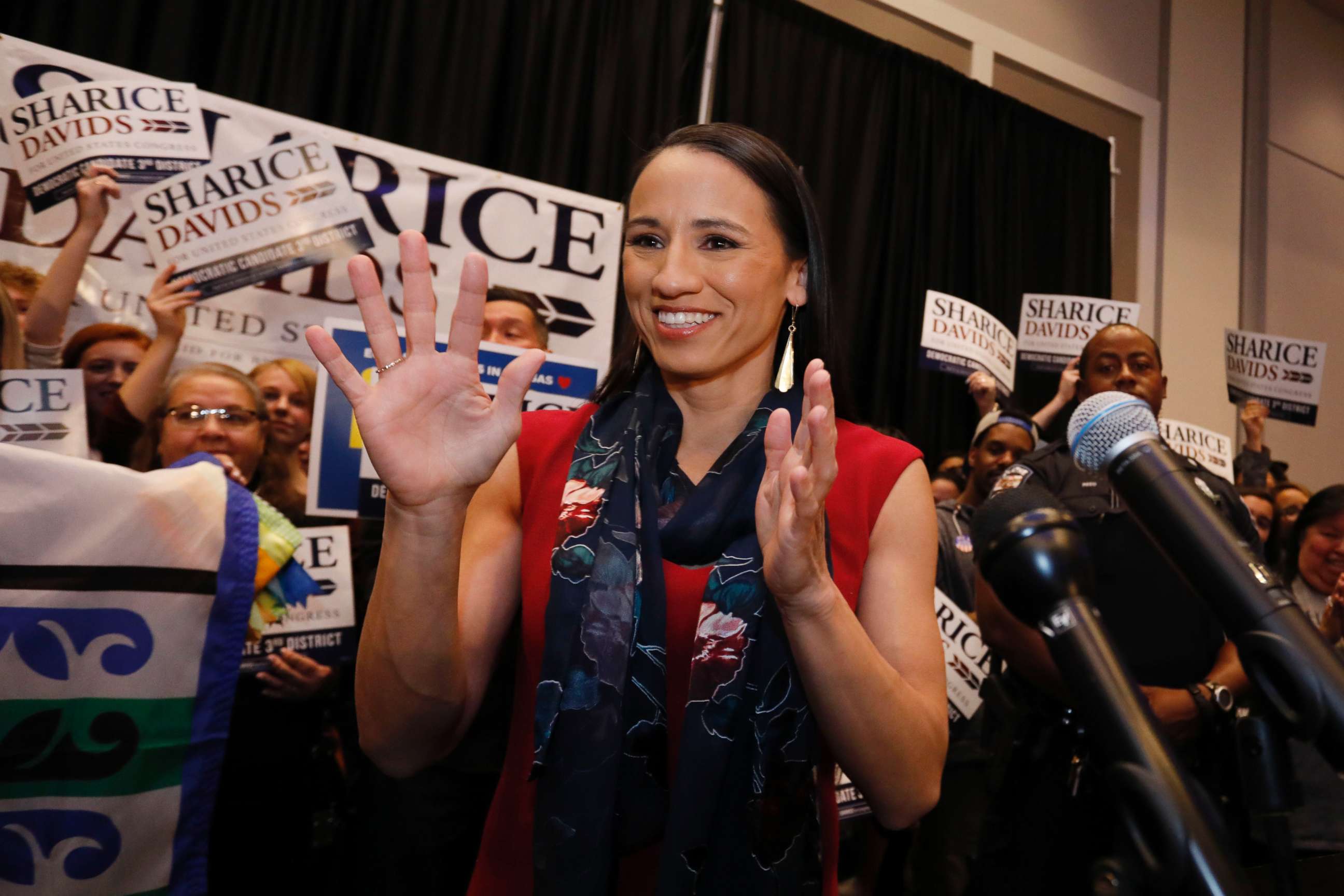 Davids is from the Ho-Chunk Nation in Wisconsin and has focused her career on the advancement of Native Americans. Shortly after her victory, New Mexico's Deb Haaland, who won in the 1st Congressional District, became the second Native American woman to win Tuesday night.
Other major wins for diversity
Progressive insurgent Alexandria Ocasio-Cortez, 29, who overtook goliath Rep. Joe Crowley in the Democratic primary for New York's 14th Congressional District in a stunning upset, became the youngest woman elected to Congress in the nation's history.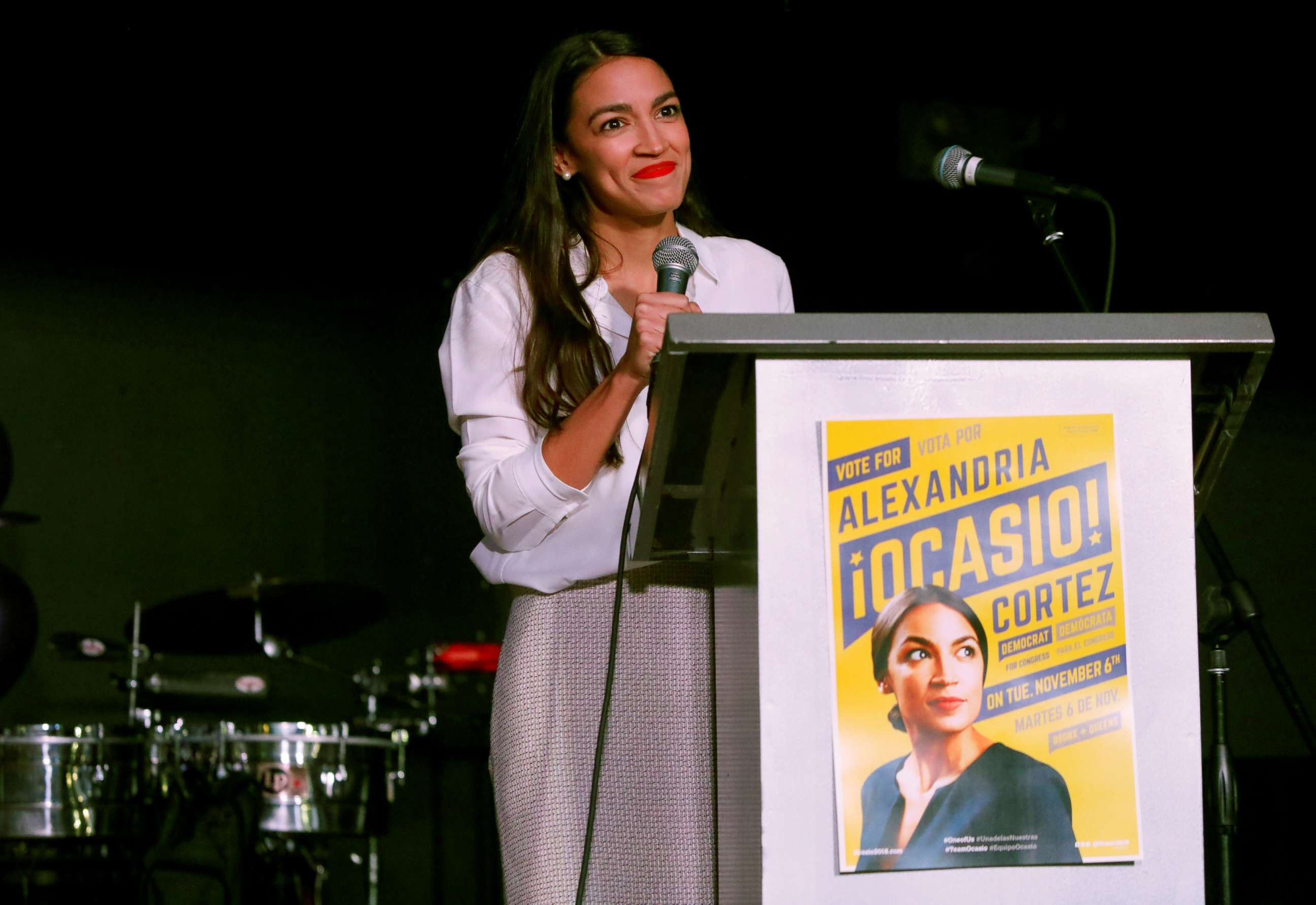 In defeating Democrat Phil Bredesen, GOP Rep. Marsha Blackburn will become Tennessee's first woman senator, Massachusetts sent the state's first black woman to Congress in Democrat Ayanna Pressley and Texas elected their first two Latinas to Congress, sending Democrats Veronica Escobar of El Paso and Sylvia Garcia of Houston to the House.
In races still too close to call, Abrams, if elected, would become the first female African-American governor in U.S. history, and in Arizona's competitive Senate race, the state will elect either Republican Martha McSally or Democrat Kyrsten Sinema as the state's first woman to serve in the chamber.
ABC News' William Hutchinson and Adam Kelsey contributed to this report.