Mike Pence announcing 2024 presidential bid next week in Iowa: Source
The former vice president joins Donald Trump in the GOP primary race.
Former Vice President Mike Pence will announce next week that he is running for president, giving a kickoff speech in Iowa and releasing a campaign video on June 7 ahead of a town hall with CNN later that day in Des Moines, a source familiar confirms to ABC News.
Pence will be running against Donald Trump in the Republican primary -- setting up a personal battle with the former boss he only broke from in the wake of the Jan. 6 attack.
He's expected to have a balancing act ahead of him: pitching himself as the best Republican to take on President Joe Biden while touting the same policy wins as Trump and not ostracizing Trump's supporters amid Trump's repeated criticism of him.
The June 7 timing puts Pence on track with his promise to make a decision before late June. His expected announcement will come weeks after a group of conservative allies launched a political group to support his candidacy.
That super PAC, Committed to America, hopes to both "reintroduce" Pence to voters -- who, the group believes, don't have a full sense of the former vice president -- and to catch the attention of voters perhaps stuck on other candidates as the list of 2024 hopefuls grows longer.
"People know Mike Pence, they just don't know him well," co-chair Scott Reed told a small group of reporters earlier this month. "This campaign is going to reintroduce Mike Pence to the country as his own man, not as vice president, but as a true economic, social and national security conservative -- a Reagan conservative."
The pro-Pence group said it will make significant investments in Iowa, a state critical for Republicans as it holds the first nominating contest next year.
"We're going to organize Iowa, all 99 counties, like we're running him for county sheriff," said Reed, who previously managed Sen. Bob Dole's 1996 presidential campaign.
Doug Heye, a former communications director for the Republican National Committee, said it would be premature for anyone to count Pence out.
"A whole lot can happen -- and certainly when you have the front-runner who's under indictment and facing potential other indictments, that can scramble the field before next November," Heye said. "If there's a scramble, it's not clear where that support then goes. That's why you see so many people getting in. They see a vulnerability with Trump, very clearly. And while he'll certainly have some obstacles, it's clear that Pence knows his weaknesses better than anyone else."
Weighing a run in the wake of Jan. 6
In March, during an exclusive interview with ABC News' chief Washington correspondent, Jonathan Karl, Pence said he was giving a run for the 2024 GOP nomination "serious consideration."
Pence demurred then on whether he would support Trump if Trump were to win the Republican nomination but said that he believed there would be "better choices."
At the time and in the ensuing months, Pence has held voter-facing events in the early states of Iowa and New Hampshire. He also published a memoir, "So Help Me God," in November.
"We're getting a lot of encouragement, not only here in Iowa, but all across the country," Pence told Karl in March. "We're giving prayerful consideration to what role we might play."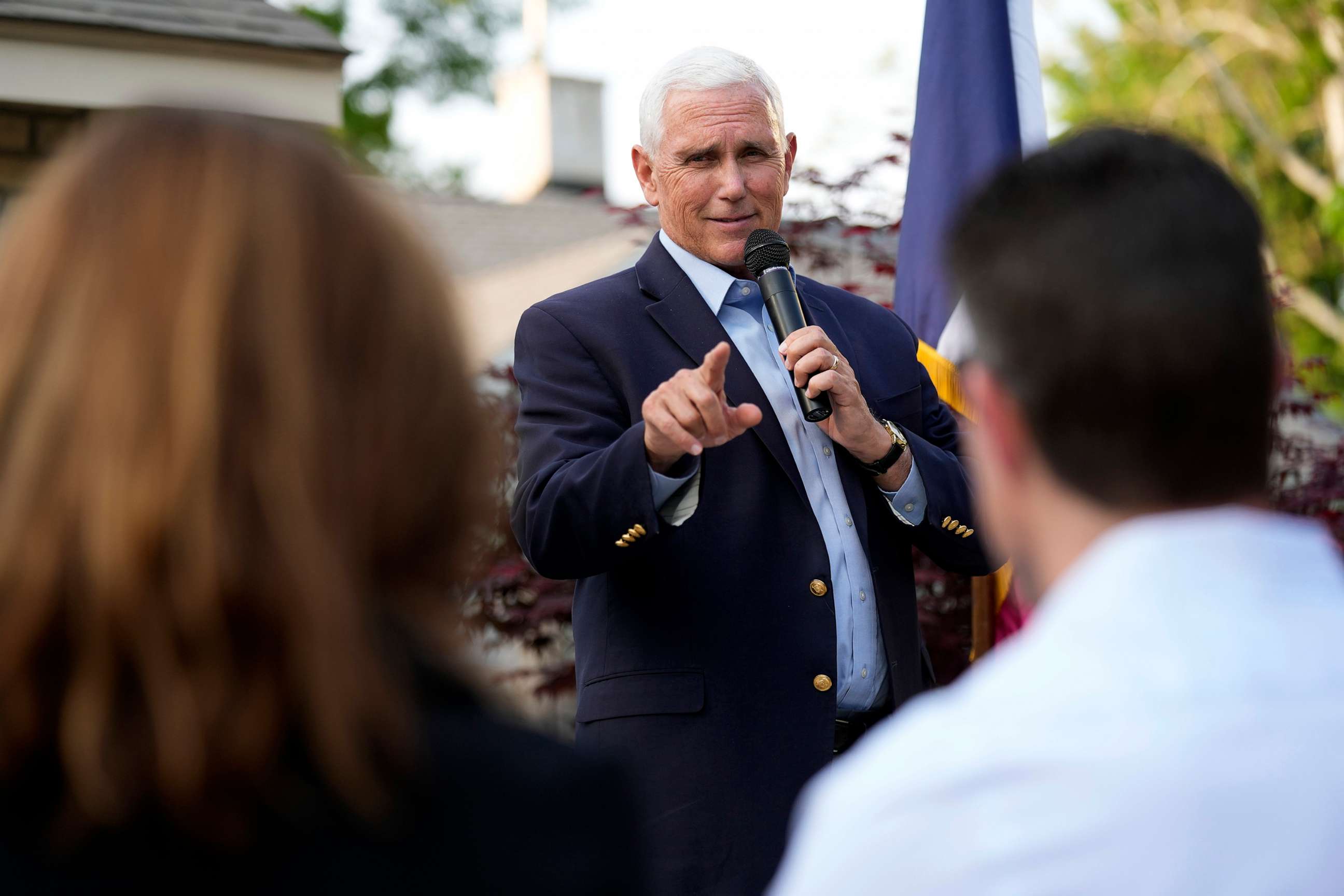 A loyal ally of Trump while they were in office, Pence has since had a notable falling out with the former president over Trump's resistance to relinquishing power -- climaxing in the deadly Jan. 6, 2021, riot at the U.S. Capitol as Trump called on Pence to try and reject the Electoral College results.
A mob of Trump supporters breached the Capitol complex that day, and Pence and lawmakers were moved to secure locations.
"We all face the judgment of history, and I believe in the fullness of time that history will hold Donald Trump accountable for the events of Jan. 6, as it will other people that were involved," Pence told Karl.
He added: "I also think the American people will also have their say. I mean, the president is now a candidate for office again, he's running for election, but as I go around the country, I'm convinced the American people have learned the lessons of that day."
Pence told Karl that he and Trump left the White House on good terms but hadn't spoken in the two years since.
"We parted amicably and respectfully, but in the months that followed, he returned to that that same rhetoric he was using before Jan. 6, rhetoric that continues much up to this day and that's why we've gone our separate ways," he said.
"They know the fact that the president's reckless words endangered people at the Capitol that day, including me and my family," Pence said of the public, "and I believe they'll factor all of that in as they make decisions going forward in this country."
While Pence has criticized Trump over the insurrection, he has sided with the former president in most other areas he could arguably challenge Trump on.
When Trump was indicted by a New York grand jury -- on charges of falsifying business records -- Pence echoed him in calling it "a politically charged prosecution" and "not what the American people want to see."
Whereas fellow presidential candidate Asa Hutchinson condemned Trump, Pence sounded similar complaints as the GOP's MAGA wing to try and delegitimize the case. He discouraged the protests the former president called for but noted the First Amendment right to peacefully assemble.
"Pence is very methodical and strategic," said Heye. "He's going to take Trump head-on on those things where, politically, he sees the best advantage -- and with an eye to history, as he's obviously trying to do."
From Indiana to Washington
Pence was born in Columbus, Indiana, to a Roman-Catholic family, one of six children to Nancy and Edward, who ran a group of gas stations and served in the Korean War.
He attended Hanover College, where he was chapter president of the Phi Gamma Delta fraternity, and Indiana University Law School. After a time in private practice and two failed congressional bids, Pence worked as a conservative radio and TV host in Indiana before he was elected to Congress in 2000, ultimately rising to become the House Republican Conference Chair.
Following four terms in Congress and one term as governor of Indiana, Pence ended his reelection campaign in 2016 when Trump tapped him as the Republican vice presidential pick.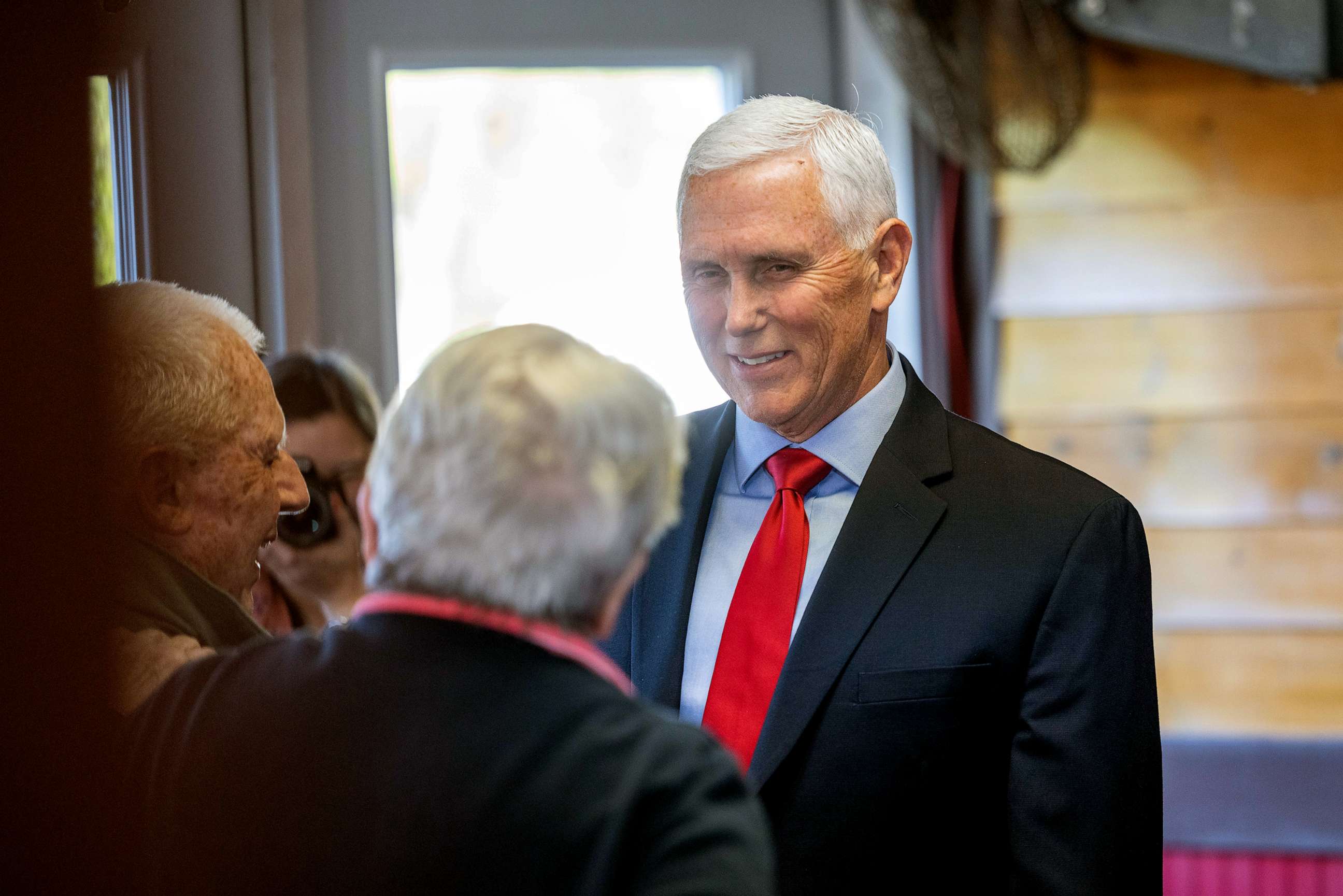 It was in college that Pence left the Catholic Church to become an evangelical Christian, which is likely to be a major theme of his 2024 campaign -- with Hutchinson and South Carolina Sen. Tim Scott positioning for those same voters.
"Trump wasn't and will never be a series of policy positions. He's an attitude. But where the Trump administration can claim success with conservatives, Mike Pence has fingerprints all over that," Heye said. "And he remains very close with the Evangelical community, which is certainly very important in the Republican primary ... It's hard to think of anybody who would have more credibility in that community than Mike Pence."
Pence has been married to his wife, Susan, whom he fondly calls "Mother," for 37 years. They met at church and when they moved to Washington, he vowed not to dine alone with another woman. They have three adult children: Michael, Charlotte and Audrey.
He will join a fast-expanding field of 2024 GOP candidates: Trump, Nikki Haley, Vivek Ramaswamy, Hutchinson, Scott, Larry Elder and Steve Laffey.
Chris Christie, who was passed over for Trump's vice president in 2016 when Pence was selected, is expected to announce his own bid next week in New Hampshire, the second state on Republicans' primary calendar. North Dakota Gov. Doug Burgum is also set to announce a bid next Wednesday.