Montana state legislator Zooey Zephyr is suing the state, House Speaker Matt Regier and Sergeant at Arms for the Montana House of Representatives Bradley Murfitt after being censured by House Republicans.
"The recent actions violate my 1st amendment rights, as well as the rights of my 11,000 constituents to representation," Zephyr said in a tweet Monday. "Montana's State House is the people's House, not Speaker Regier's, and I'm determined to defend the right of the people to have their voices heard."
Zephyr is petitioning for her legislative privileges and duties to be reinstated. Her lawsuit is backed by the American Civil Liberties Union of Montana.
Zephyr's calls to vote against a gender-affirming care ban for transgender youth on bill SB99 led to her being ignored for days by Republican leaders on the House floor in April.
Some legislators, including Regier, argued she had broken House rules of decorum when she said legislators would have "blood on your hands" if they passed the transgender youth care ban.
Demonstrators in support of the transgender lawmaker interrupted House business several days later to protest Zephyr being silenced. Zephyr showed her support by holding up her mic and failing to leave the House floor.
House Republicans then voted to censure her in response, getting just over the two-thirds needed to bar her from participating in the legislature from the House floor.
"All representatives are free to participate in House debate while following the House rules. The choice to not follow House rules is one that Representative Zephyr has made," Regier said in a statement to reporters following the censure. "The only person silencing Representative Zephyr is Representative Zephyr."
Zephyr has since participated remotely in the legislature from the public seating of the state Capitol building.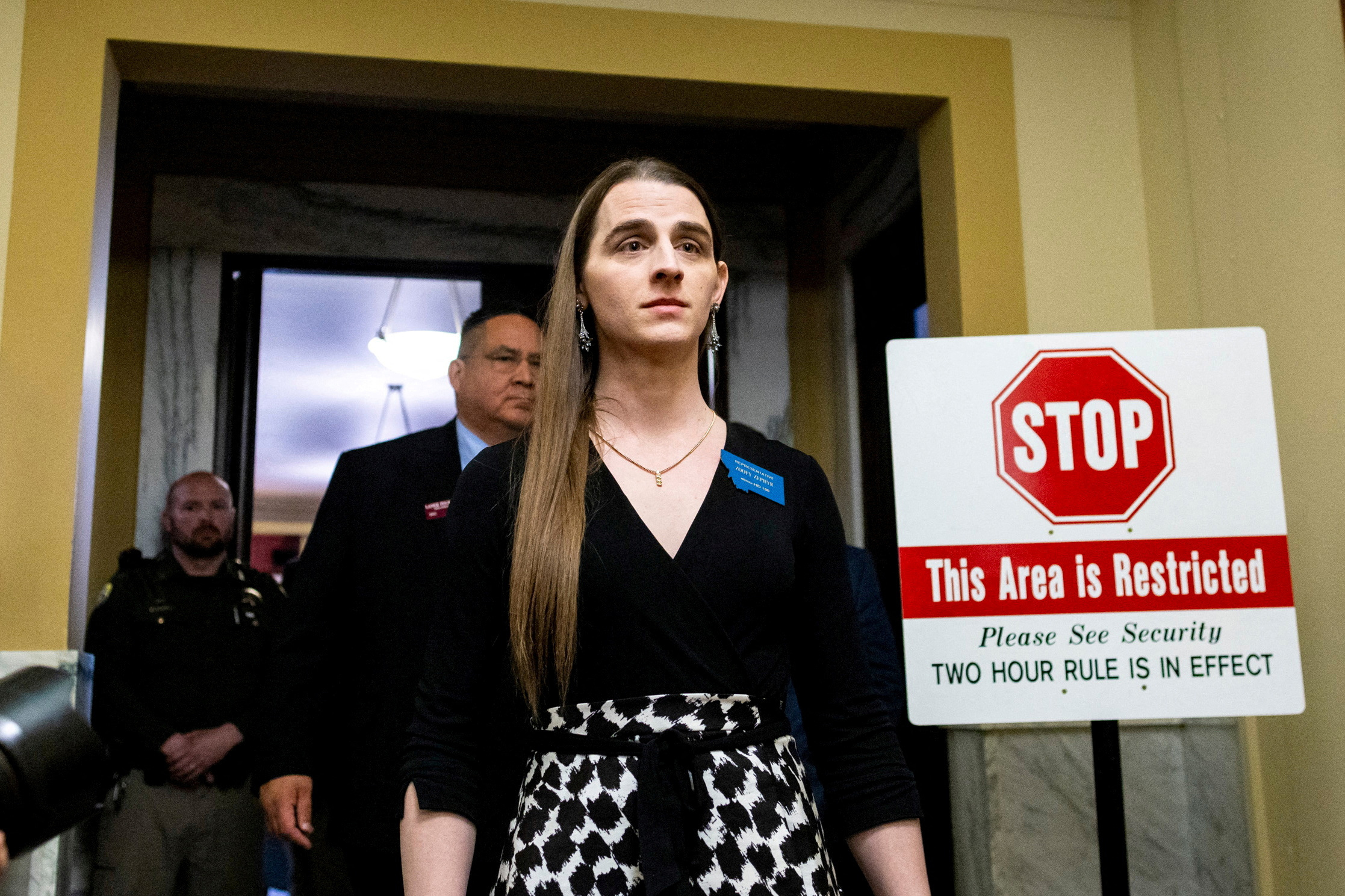 "The Republicans have used an undemocratic move to remove the ability for me to represent my constituents on the floor," Zephyr told ABC News last week. "But as I work to resolve that, I need to be as close as possible, so I can have the conversations with legislators and make sure that I can, at least in some way, make sure the voice of my constituents can be can be discussed."
Montana Attorney General Austin Knudsen's office, which says it will represent the state against the lawsuit, denounced the effort as "political activism masquerading as a lawsuit."
"The ACLU is trying to use the courts to interfere with the legislature as it carries out its constitutional duties on behalf of Montanans," said Emily Flower, Knudsen's press secretary. "Any relief granted by the court would be a gross violation of the separation of powers."
ABC News has reached out to Montana Gov. Greg Gianforte and Regier for comment.