The insurgent Republican congressional candidate in a newly competitive North Carolina district once delivered a religious sermon questioning whether it was the "healthiest pursuit" for women to prioritize their careers and independence in lieu of their biblical "core calling," comments recently uncovered by a Democratic group.
In the 2013 sermon unveiled by American Bridge, a Democratic PAC that conducts opposition research, Mark Harris, who won the North Carolina 9th Congressional District's GOP primary in May discusses "God's plan for biblical womanhood" and argues that society "created a culture and created an environment that have made it extremely difficult for any woman… to live out and fulfill God's design."
"In our culture today, girls are taught from grade school that we tell them that what is most honorable in life is a career, and their ultimate goal in life is simply to be able to grow up and be independent of anyone or anything," said Harris, then the senior pastor at First Baptist Church in Charlotte, adding, "But nobody has seemed to ask the question that I think is critically important to ask: Is that a healthy pursuit for society? Is that the healthiest pursuit for our homes? Is that the healthiest pursuit for our children? Is that the healthiest pursuit for the sexes in our generation?"
Harris drew headlines after becoming the first challenger in 2018 to upset a Congressional incumbent, defeating Rep. Robert Pittenger, R-N.C. in the recent primary. His 2013 remarks were uncovered in a year in which a record number of women are running for political office, according to the Center for American Women and Politics at Rutgers University.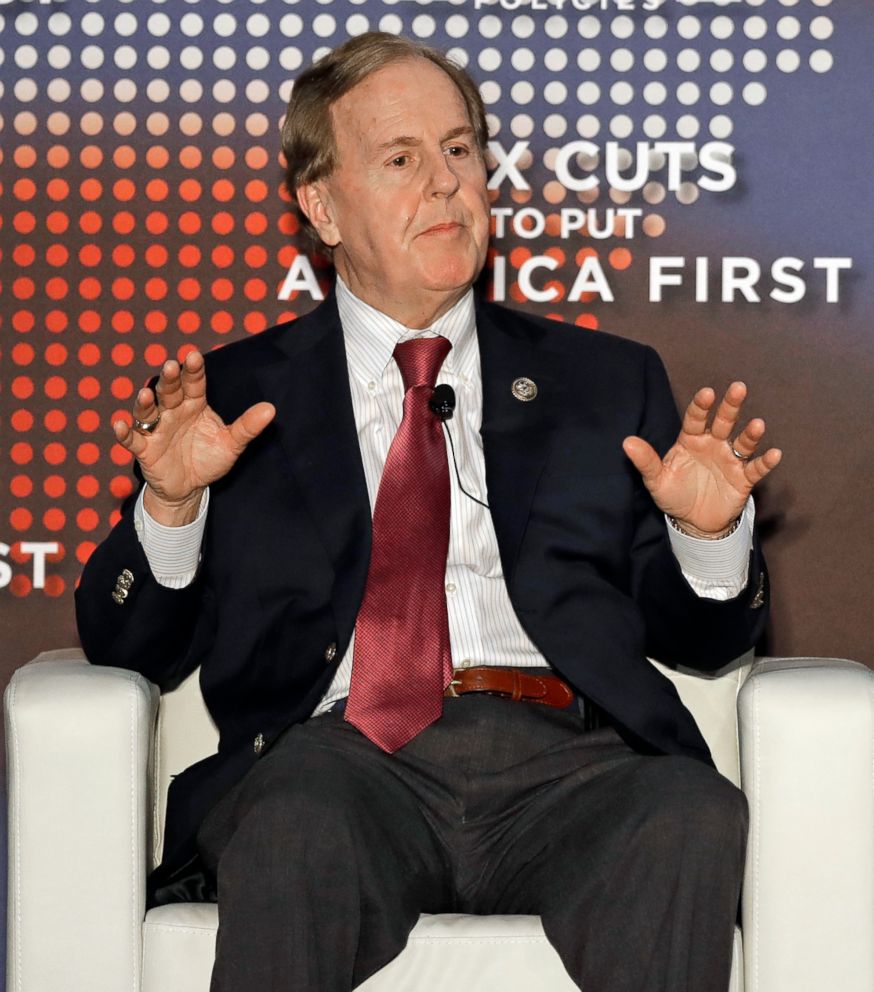 Some 468 women have filed for House of Representative races this midterm cycle and, as of July 5, 311 are still in the running for seats in the 116th Congress, including 240 running for open seats or challenging incumbents.
In an earlier portion of Harris' sermon, Harris tells parishioners that "only one title is given to a woman in all of scripture... the title given to a woman is 'helper.'" He then quotes from the Epistle of Paul to Titus, reading, "The older women likewise, that they be reverent in behavior… that they admonish the young women to love their husbands, to love their children, to be discreet, chaste, homemakers, good, obedient to their own husbands, that the word of God not be blasphemed."
After noting that he considers the verse to be "pretty important stuff" – he later characterizes the principles outlined in passage as "timeless" – Harris openly acknowledges that his commentary could be considered controversial and "not politically correct in 2013," and preemptively answers critics while recognizing he may be "taken out of context."
"When I talk about what is absolutely irreplaceable in a relationship that's to be successful, I'm not talking about that this means you're to be barefoot and pregnant," he says. "This doesn't mean that you can't be a woman going to the office, can't be a woman carrying a briefcase, doesn't mean you can't be a woman sitting at an executive board table."
"But what it does mean, is that who you are ma'am, you must understand your core calling," Harris continues. "And as long as you understand your core calling and who you are and that that guides everything you do… well you can be anything and do anything that you want to do."
Reached for comment, a spokesperson for Harris' campaign provided a statement that clarified that by "core calling," Harris meant that "there is no higher calling that a woman has than to be a helper to her husband and mother to her children."
"This statement can't exist in a vacuum. Proper context also clarifies a man's role. A man is to lead the family but to also serve his wife and children. The New Testament teaches that being a leader isn't about being a dominant figure, but also a servant to his wife as Jesus demonstrated," the statement continued.
The campaign added that Harris "has a proven history of working alongside women and men who view the world very differently than he does to strengthen his community and for the greater good" and that he "doesn't feel it's necessary to defend the statements from Scripture."
"Within the proper context, Mark absolutely stands by his personal statements and his admonition to young ladies that they can do anything they want to do and be anything that want to be while encouraging them to remember there is no higher calling than to be a mother and wife just as young men should be encouraged to remember there is no higher calling than to be a husband and father," the statement concluded.
The former pastor, who unsuccessfully sought the Republican nomination in both the 2016 9th district election and North Carolina's 2014 Senate race and left First Baptist last year as he considered his current run, is campaigning in a district that stretches along the Tar Heel State's southern border from the southeastern suburbs of Charlotte to areas south of Fayetteville. The district has been represented by Republicans since 1969, including Pittenger who is currently in his third term.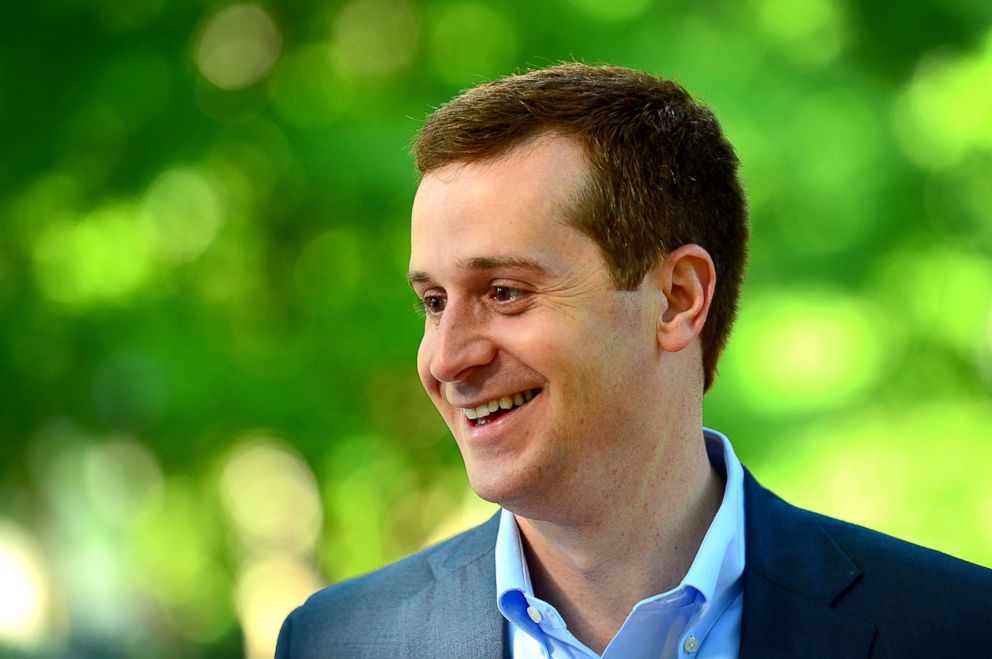 Even before Harris won the GOP nomination, Democrats were eyeing the seat a potential pick-up opportunity. The Democratic Congressional Campaign Committee named Marine Corps veteran and businessman Dan McCready to its "Red to Blue" program in November and McCready handily won the Democratic primary in May, accumulating more votes himself than the total number of ballots cast in the Republican race. For his part, Harris was added to the NRCC's "Young Guns" program last week, a group of candidates that NRCC chairman Rep. Steve Stivers, R-Ohio, called "the cream of the crop" in a statement.
In a statement, McCready noted that, as a Christian, he believes that all people are "created in God's image."
"That means men and women are equally valuable and equally capable and should be treated as such in their homes, careers, and in society," the statement continued. "Mr. Harris' comments suggest otherwise. This is just another example of how out of step Mr. Harris is – not just with this district but with this century."
Harris' history of social conservatism
In his pastoral role, Harris did not hesitate to take up public positions on socially conservative viewpoints on issues like abortion and gay marriage.
In 2012 he helped lead Vote for Marriage NC, which successfully pushed for an amendment to the state constitution to define marriage as between one man and one woman.
That amendment was found unconstitutional by a federal court in 2014, and a year later the U.S. Supreme Court ruled in Obergefell v. Hodges that there is a constitutional right to marriage for all same-sex couples in the United States.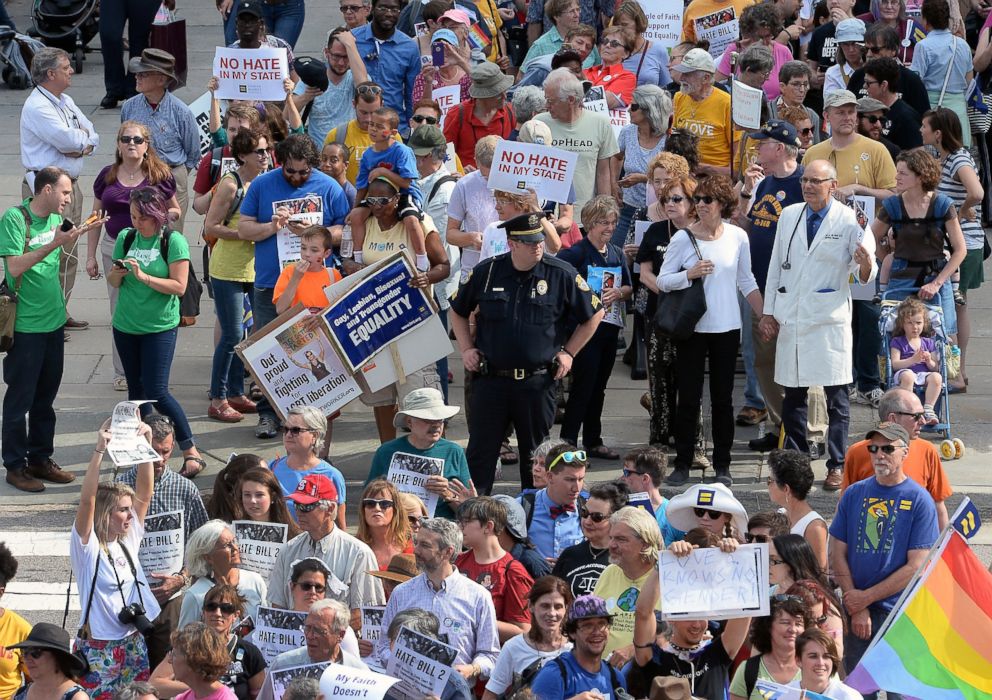 Harris decries the decision in Obergefell on his campaign website, writing: "One of the most devastating blows to the American way of life has been the breakdown the family unit. A marriage consists of one man and one woman. The Supreme Court, in a 5-4 decision decided otherwise."
The Republican said he supports the Supreme Court "revisiting" that decision, as well as its 1973 decision in Roe v. Wade.
"This issue needs to be revisited and comprehensive biological and medical evidence be presented to the Supreme Court so that babies lives can be saved," Harris writes.
Harris was also deeply involved in pushing HB-2, the controversial piece of legislation dubbed the "Bathroom Bill" by opponents that barred local municipalities from creating their own rules prohibiting discrimination in public places based on sexual orientation and gender identity.
Harris announced his 2016 campaign for Congress just days after HB-2 was passed by the state legislature and signed into law by then GOP Gov. Pat McCrory.
The bill sparked widespread backlash nationwide, including from the NCAA and major U.S. businesses like American Airlines, Apple, Bank of America, Microsoft, PayPal, Yelp and Marriott International, Uber. The protests led to a fierce debate over whether or not the law should be repealed, a debate that intensified after the election of Democrat Roy Cooper as the state's governor in 2016.
Harris adamantly argued against repealing HB-2, warning Christian conservatives, "We must be engaged and involved," regarding other pro-LGBT efforts in the state.
A compromise was reached and the law was eventually repealed by the state legislature and Cooper in March 2017.