It's the second high-profile Twitter hack this week and precisely the type of incident that officials fear could lead to actual military and financial miscalculations, with potentially devastating effects.
The Twitter accounts of the New York Post and United Press International (UPI) were hacked today and falsely reported the Chinese military had fired on the USS George Washington, a Navy aircraft carrier stationed in the Pacific, authorities said.
At 1:04 p.m. today, UPI tweeted that a "Chinese anti-ship missile was fired at the USS George Washington."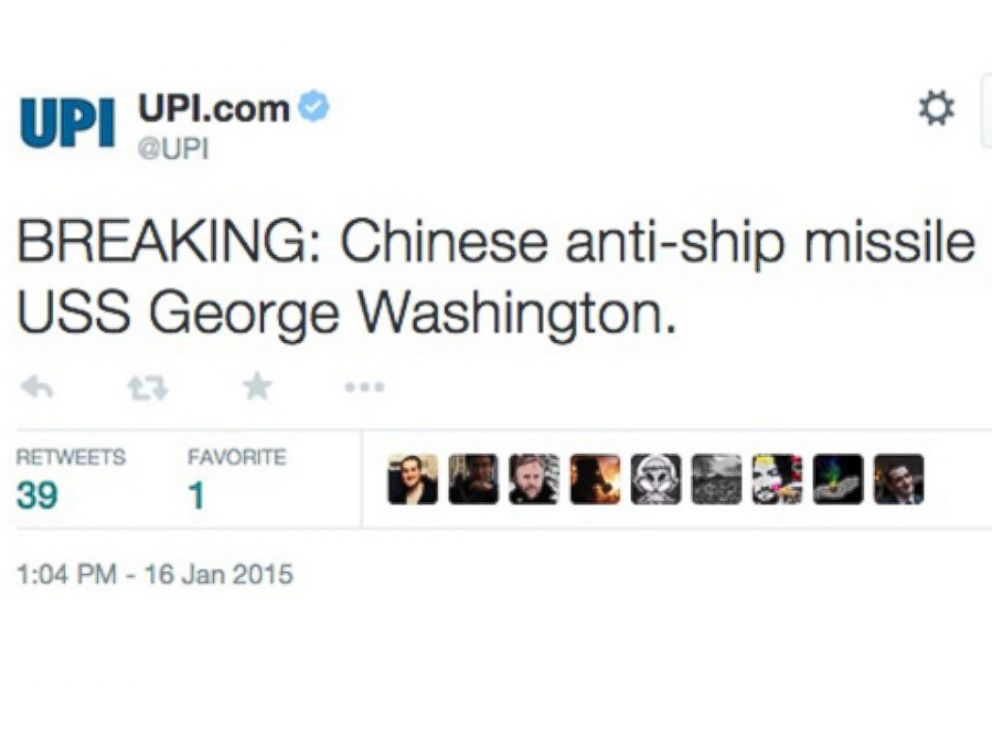 At 1:08 p.m., the New York Post account posted the same thing.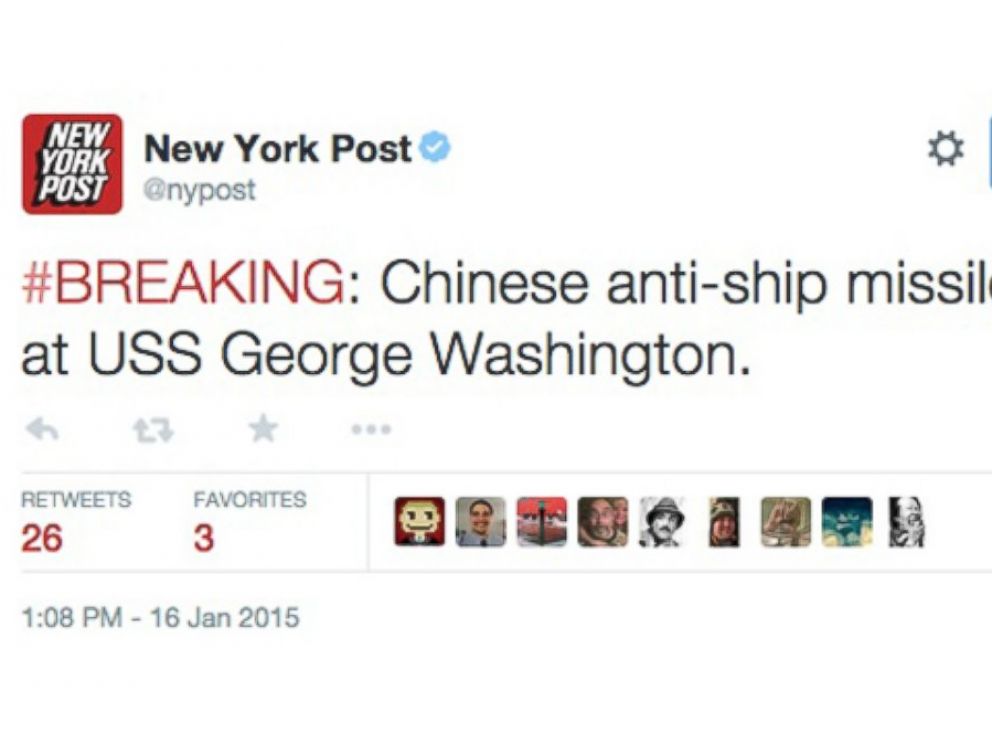 The verified New York Post business account later tweeted "our twitter feed has been hacked."
The Pentagon quickly confirmed to ABC News that the tweets -- taken down almost immediately -- were false, but not before dozens of followers retweeted them, causing alarm within newsrooms and government offices in Washington, D.C.
False tweets subsequently suggested the U.S. Navy had fired back and was engaged in "active combat" with the Chinese military.
"Any time there is bad information out there you've got to be mindful of the repercussions," Rear Adm. John Kirby said during a Pentagon briefing today. "It's a terrific platform to share information. It's also, regrettably, a platform for foolish people to do foolish things."
In this case, Kirby said, the U.S. military was able to quickly confirm that there was no threat and that the USS George Washington was in fact safely dry-docked in Yokusuka, Japan, outside Tokyo. "We checked and rechecked information sources from all different strands."
But the incident prompted questions of whether the Chinese military would act as responsibly if, for instance, news reports suggested its military was under attack.
Gordon Chang, author of "The Coming Collapse of China," said misinformation could lead to all sort of bad outcomes.
"The problem is that the communications between the U.S. Navy and Chinese Navy are not very good," Chang said. "The U.S. military has tried to establish military hotlines, but the Chinese don't answer the phone."
In this particular case, Chang said it was implausible to think the Chinese would have fired an anti-ship missile at the U.S. military unprovoked, but, he said, the Chinese have been emboldened to misbehave in recent years.
In March 2009, the Chinese harassed a U.S. Navy spy ship, the USS Impeccable, attempting cut a tow line carrying the ship's underwater surveillance equipment. The U.S. reaction at the time was muted, Chang said.
Other false tweets today appeared aimed at causing financial panic. At 10:11 a.m., the UPI.com account tweeted. "JUST IN: Bank of America CEO calls for calm: Savings accounts will not be affected by federal reserve decision." The tweet -- also determined to be false -- implied some sort of financial crisis was already unfolding.
On Monday, U.S. Central Command's twitter feed was hacked by ISIS sympathizers who published sensitive military phone lists and suggested they knew the home addresses of military families. Pentagon spokesman Col. Steve Warren later described it as "cybervandalism," saying it was "more of an inconvenience ... not anything that compromised any of our systems any of our networks or our important information."