The Note: Toll of Trump's defiance comes into view
Trump's refusal to acknowledge the election results could have consequences.
The TAKE with Rick Klein
President Donald Trump has come close to conceding defeat a few times in recent days -- if only incidentally or inadvertently.
But the focus on Trump's tweets misses the point. The president's refusal to acknowledge that he lost the election has now extended into a second full week, and now come warnings of more significant consequences.
The political fallout is almost predictable, but no less severe for that. Protesters' clashes in Washington over the weekend gave dramatic and even dangerous evidence about what it means when virtually an entire political party and many millions of its followers defy the basic facts of what happened in an election.
As for policy, warnings are coming into view along with new grim realities of the COVID-19 pandemic. Dr. Anthony Fauci wants to be able to coordinate with the incoming Biden administration team, and President-elect Joe Biden wants to be able to be in touch with career officials; those contacts can't take place until the Trump administration allows it.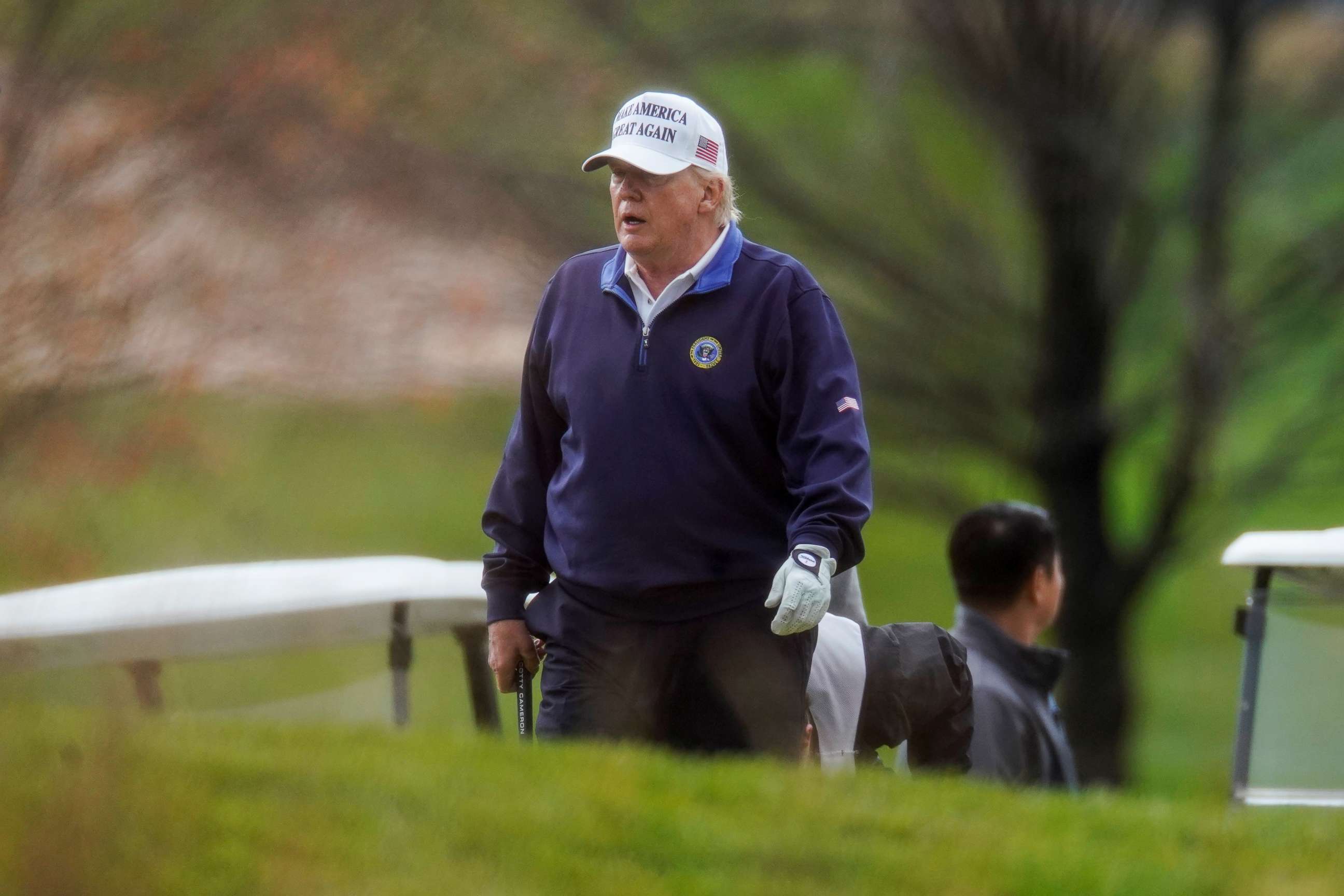 "I want to be as transparent as possible with everybody -- this is not a political issue," White House coronavirus task force member Adm. Brett Giroir said on ABC's "This Week."
The post-election period, though, has been dominated by political considerations. The question of when Republicans on Capitol Hill will lose patience with far-flung Trump legal efforts is relevant, though still not determinative.
This week will almost certainly bring more legal clarity, if not finality, to the results of the election. The bigger questions, though, will come around governance -- with challenges for the incoming administration only growing with any delays.
Election latest: Joe Biden leads the popular vote total with 78,679,763 votes and is projected to have 306 electoral votes. President Donald Trump follows with 73,116,708 popular votes and is projected to have 232 electoral votes.
The RUNDOWN with MaryAlice Parks
It's off to the runoff races in Georgia. Last week, Republican star power landed in the state while Democrats doubled down on fundraising and voting registration efforts too.
It's hard to imagine a split decision here in January. Likely either the two Republican or the two Democratic candidates will win and decide the fate and majority of the Senate. For base voters in both parties the high stakes are clear, powerful and motivating. Two more senators on either side of the aisle could mean either a green light for President-elect Joe Biden to get to work, or a major check on his new administration.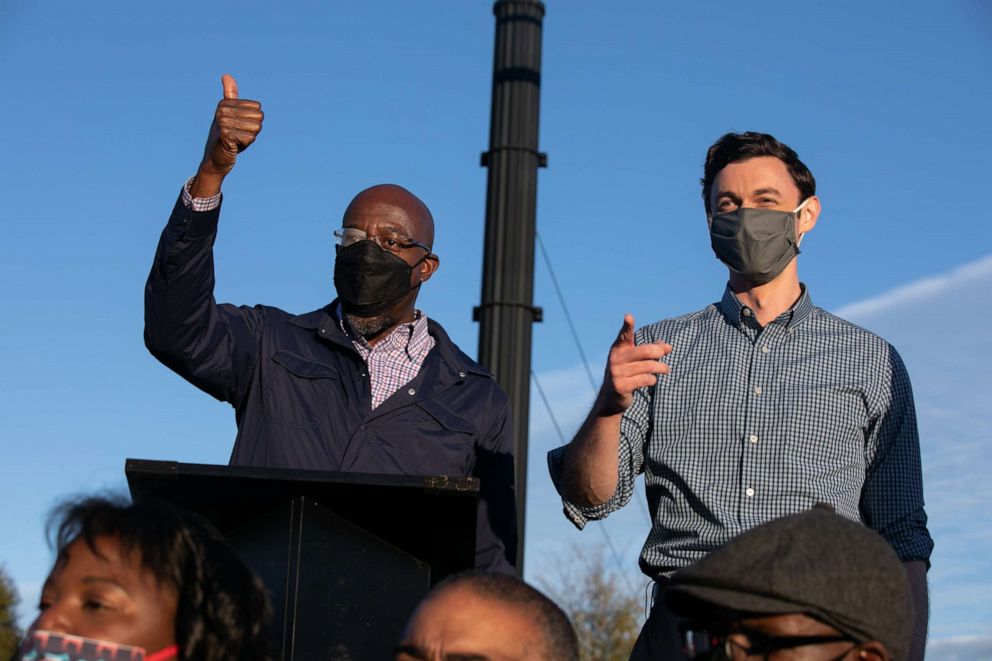 "Trump is leaving, whether he knows it or not. And the question now is how we're going to contain this pandemic, which is raging out of control and spreading at an accelerating rate," Democratic candidate Jon Ossoff told ABC's Martha Raddatz Sunday. Sticking to message and pivoting to national politics, he added, "That's why it's so important to win these two Senate races so that the incoming presidential administration can govern, can lead and can enact the solutions necessary to contain this virus and invest in economic recovery."
Ossoff, who first ran and organized in a traditionally conservative Atlanta suburb, has a very different background and profile than his Democratic colleague Rev. Raphael Warnock, a senior pastor at Martin Luther King Jr.'s Ebenezer Baptist Church. In simple terms they almost represent the coalition between urban and suburban voters that propelled the Biden campaign in the state, and if they can successfully complement each other's strengths and weakness they stand a chance at cementing new Democratic leadership in Washington.
The TIP with John Verhovek
As Joe Biden enters his second full week as president-elect, he remains confronted with both economic and public health challenges that grow more dangerous by the minute, and more daunting with each day that passes while his team is unable to formally begin its transition work.
"What we really want to see this week ... is the General Services Administration issue that ascertainment so we can ... meet with these vaccine officials [and] get the intelligence briefings for the president-elect [and] the vice president-elect," incoming White House Chief of Staff Ron Klain said of the key procedural step still holding Biden and his team back.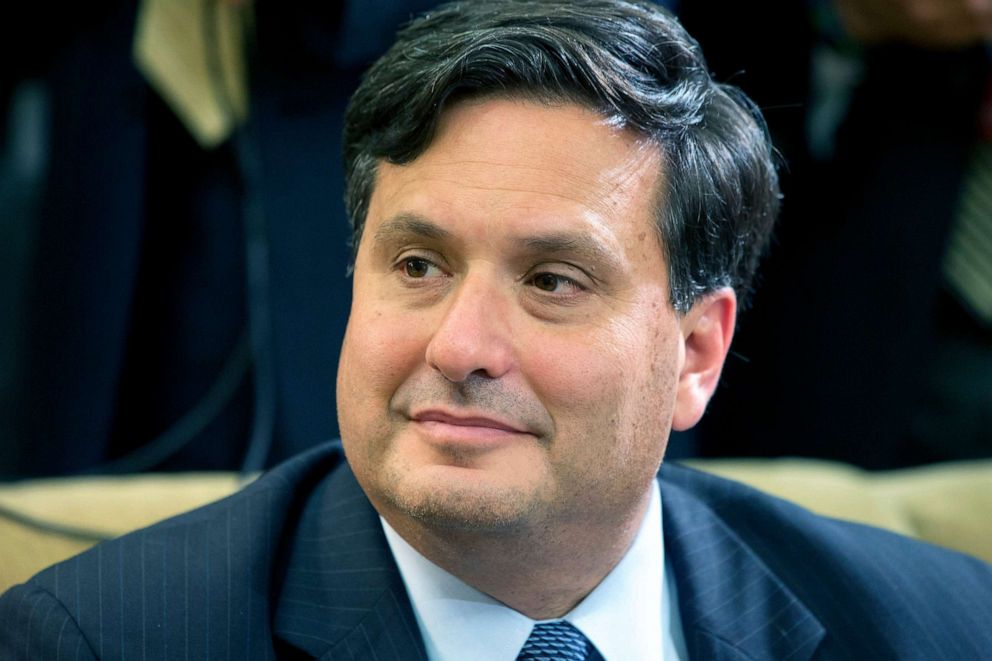 But even with the roadblocks and the lack of a concession from Trump, Biden is poised this week to continue the work of building the team that will take the reins of government in just over two months and confront the nation's most pressing challenges. The president-elect begins his week with a speech on one of those challenges: rebuilding an economy devastated by a virus that shows no signs of slowing down, with a political environment that remains as divisive as it was when Trump took office four years ago.
THE PLAYLIST
ABC News' "Start Here" podcast. Monday morning's episode features former Trump administration Homeland Security Adviser and ABC News contributor Tom Bossert, who explains just how dire this moment is when it comes to COVID-19. ABC News' Stephanie Ramos tells us why we could soon see shortages at the grocery store. And ABC News Senior Investigative Reporter Matthew Mosk details the various legal setbacks the Trump campaign has suffered as it continues to contest election results. http://apple.co/2HPocUL
WHAT YOU NEED TO KNOW TODAY
President-elect Joe Biden and Vice President-elect Kamala Harris deliver remarks in Wilmington, Delaware, at 1:45 p.m. on the economic recovery and their Building Back Better plan.
President Donald Trump has lunch with Vice President Mike Pence in the White House at 12:30 p.m.
Sen. Chris Coons (D-Del.) and Cindy McCain speak at noon at the "American Global Leadership in the Time of COVID-19" summit hosted by the U.S. Global Leadership Coalition.
Download the ABC News app and select "The Note" as an item of interest to receive the day's sharpest political analysis.
The Note is a daily ABC News feature that highlights the key political moments of the day ahead. Please check back tomorrow for the latest.