Bill de Blasio, the mayor of the most populated city in America, is not one to shy away from crowds and has joined the biggest Democratic presidential field in recent history. New York City's mayor announced his campaign launch on ABC's "Good Morning America." He joined more than 20 Democratic candidates in the race for the White House.
Name: Bill de Blasio
Party: Democrat
Date of Birth: May 8, 1961
Age: 58
Hometown: Born in New York City; raised in Cambridge, Massachusetts
Family: Husband to Chirlane McCray; son of Maria Angela de Blasio and Warren Wilhelm; brother of Steven and Donald
Education: He graduated from New York University and Columbia University's School of International and Public Affairs
What he does now: De Blasio has been New York City's mayor since January 2014, stepping into the role after Michael Bloomberg.
What he used to do: De Blasio served as Housing and Urban Development regional director, as a Brooklyn School District school board member and as a New York City councilman for the 39th district. He also headed Hillary Clinton's successful 2000 U.S. Senate bid. De Blasio started his public service career in 1989 working on New York City Mayor David Dinkin's campaign.
Key life/career moments:
He's perhaps most notably known for implementing universal pre-kindergarten in New York City.
Crime rates are also at record lows, though critics have questioned if crime is going unreported.
In January, De Blasio also talked on ABC's "The View" about his plan for comprehensive health care for all New Yorkers, including 300,000 undocumented residents.
Where he stands on some of the issues:
De Blasio has staked his campaign on issues that most directly affect working families. Chief among them: income inequality.
"The real issue in this country is that working people are stuck economically," he said to ABC News Chief Anchor George Stephanopoulos on "This Week."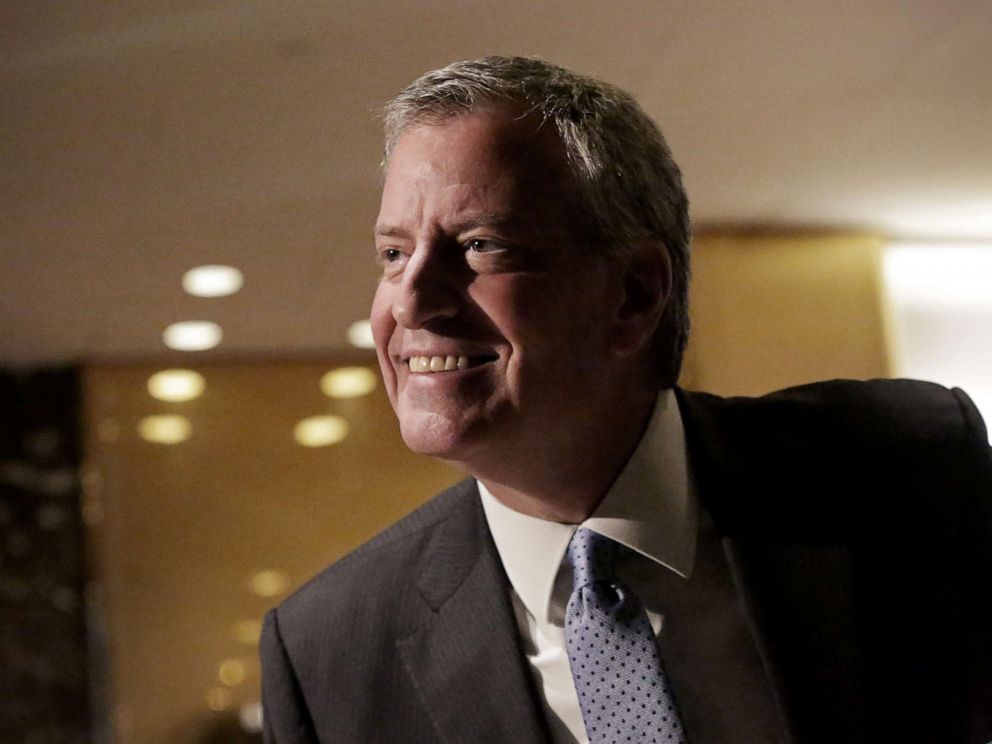 De Blasio said he believes everyone should have a right to health care.
"Let's face it, the emergency room is the family doctor now for millions and millions of Americans," de Blasio said. "And tax dollars pay for it. It is expensive, it's backwards and it means people get really, really sick before they ever seek help."
That's why de Blasio said he unveiled a new health care program in New York City that would guarantee health care to all city residents, regardless of their ability to pay or immigration status.
"If they get sick, everyone gets sick. If the whole community isn't healthy, then we all suffer," de Blasio said of including about 300,000 undocumented New Yorkers. "That's the blunt reality of this country -- undocumented immigrants are part of our economy."
Fundraising:
According to his campaign, de Blasio raised about $1 million during the second quarter of 2019, finishing with $728,000 on hand. Over 90 percent of the contributions -- from 6,700 total donors -- were $50 or less, the campaign said.
De Blasio entered the race six weeks before the close of the second quarter. The campaign said $630,000 was raised in the wake of the first Democratic presidential debates in June.
What you may not know about him:
De Blasio, a graduate of NYU and Columbia University, was elected New York City mayor twice in landslide victories.
His wife, Chirlane, is a poet and activist. They met while working in Dinkin's administration, according to a piece she wrote on Refinery29. They have two kids: Chiara and Dante.
In his 20's, he changed his last name to his mother's, saying that she had been the most important influence in his life.
According to the New York Times, he is the tallest mayor in the city's history, standing at nearly 6 feet, 6 inches.