— -- President Obama and Cuban President Raul Castro will likely interact at the Summit of the Americas in Panama later this week, but no formal bilateral meeting between the two leaders has been scheduled, according to the White House.
"I'm sure President Obama will be interacting with President Castro at the summit events and as the leaders gather on the margins of those events," Ben Rhodes, deputy national security advisor for strategic communications, said on a conference call this morning.
Rhodes said that while no formal meeting is scheduled, it's likely the two will interact on the sidelines of the event. It's still unclear whether any interaction or meeting between the two leaders will be caught on camera.
If Obama and Castro do have any substantive talks in Panama, this would be the first meeting between a U.S. president and Cuban president in nearly 60 years. In December, Obama announced a historic decision for the United States to move forward in normalizing relations with Cuba. Obama and Castro discussed the move in a "substantive" 45-minute phone call one day before the announcement was made last year.
"I was very insistent with him that we would continue to promote democracy and human rights and speak out forcefully on behalf of the freedom of the people of Cuba," Obama told ABC News "World News Tonight" anchor David Muir in December.
The agreement between the United States and Cuba included the swap of a U.S. intelligence informant in exchange for three convicted Cuban agents. At the same time, Cuba agreed to release American contractor Alan Gross on humanitarian grounds.
Obama and Castro briefly interacted in person in late 2013 when they shook hands at a memorial service for Nelson Mandela in South Africa.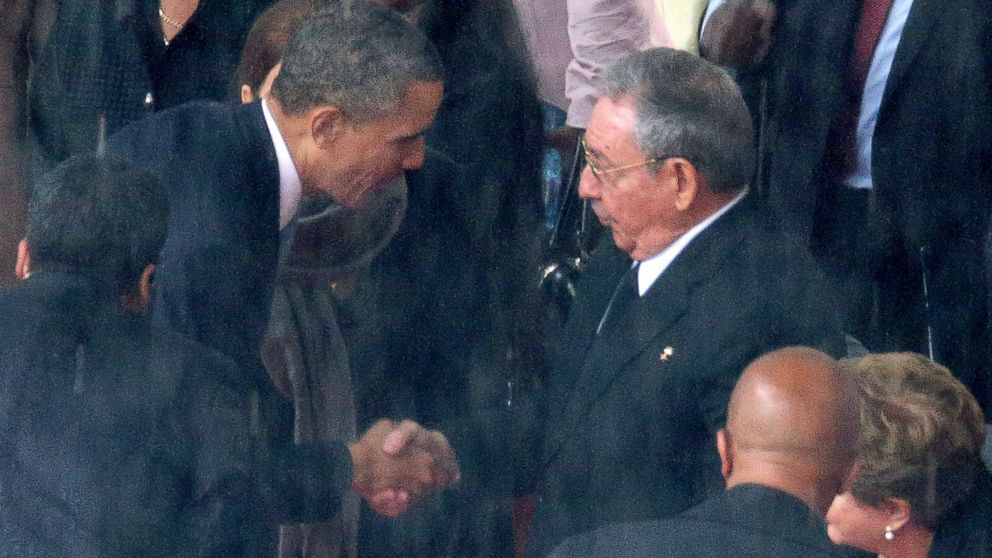 In addition to a possible run-in with Castro in Panama, the White House is not ruling out that the president could make an announcement at the summit about Cuba's presence on the state sponsored terrorism list. The State Department has been conducting a review of the issue and, while the president has not yet received their recommendations, Rhodes noted that the White House expects that review is nearing its conclusion.
The Seventh Summit of the Americas will take place Friday and Saturday in Panama City. This will be the first time Cuba will attend the summit.
"That in its own right is an important step forward in our view," Rhodes said, adding that it was not "constructive" for the United States to prevent Cuba from attending.
This is also the first time all 35 countries in the Western hemisphere will attend the summit.
ABC News' Mary Bruce contributed to this report.