Former top White House aide Omarosa Manigault Newman has released new audio that she says is a recording of President Donald Trump's telephone call to her after Chief of Staff John Kelly fired her.
In the brief recording, which aired on NBC's "Today" show Monday, the voice Manigault Newman identified as Trump's appears to be surprised and upset about news of her departure.
"Omarosa, what's going on? I just saw in the news you're thinking about leaving. What happened?" the voice asks Manigault Newman.
"General Kelly – General Kelly came to me and said that you guys wanted me to leave," Manigault Newman answers in the exchange.
"No. Nobody even told me about it," the person responds. "You know, they run a big operation but I didn't know it. I didn't know that. God [expletive]. I don't love you leaving at all."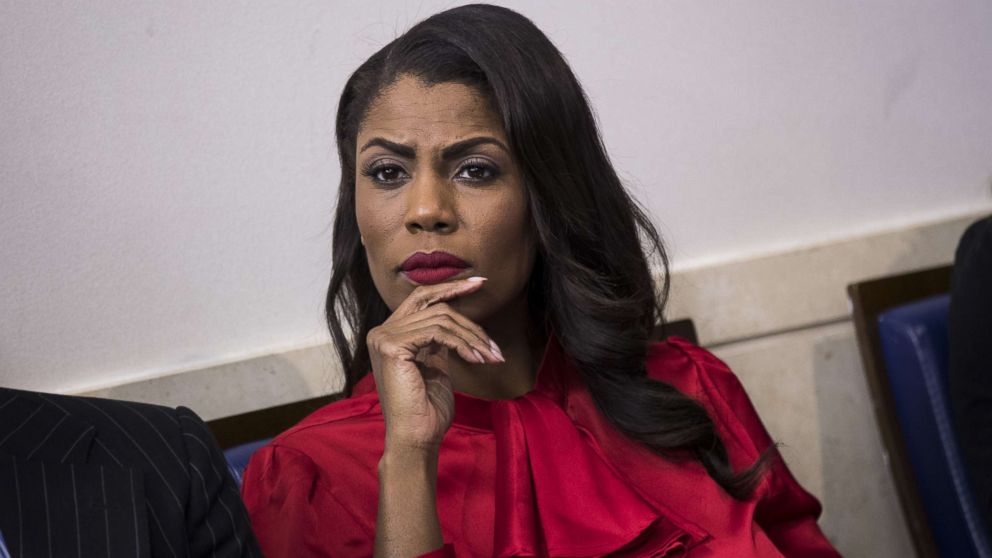 Trump lashed out against Manigault Newman over Twitter after the release of the audio, calling her "wacky" and "vicious," though also acknowledging he had initially resisted Kelly's previous attempts to oust her from the West Wing.
Earlier in the morning, White House deputy press secretary Hogan Gidley declined to "talk about what [Trump and Manigault Newman] talked about on the phone," but said the "thought of doing something like that to a fellow employee, not to mention, the leader of the free world is completely disgraceful."
"Her character and her integrity have been impugned beyond measure," Gidley said in an interview with "Fox and Friends" Monday.
The audio release comes a day after Manigault Newman released audio she said was of her firing by Kelly inside the White House Situation Room.
Manigault Newman served as the White House director of communications for the Office of Public Liaison from January to mid-December of 2017 but has been unsparing in her criticism of the president since her departure.
In recent interviews, she has described her former boss and "Apprentice" co-star as "unhinged" and "racist."
Trump reacted Saturday to Manigault Newman's media tour before the release of her coming tell-all book, calling her a "low-life."
In a sit-down interview after the release of her new audio, Manigault Newman took on a defensive posture, fashioning herself as a whistleblower and warning her former White House colleagues "they should be concerned" about revelations still to come out of her book and media tour.
"There's a lot of very corrupt things happening in the White House, and I am going to blow the whistle on a lot of this," Manigault Newman said.
Manigault Newman said she didn't know whether the president was as genuinely surprised by her firing as he appeared to sound on the tape but also said it should be alarming to Americans if the president truly didn't know whether his chief of staff is ousting a top member of the White House without first informing him.
"As we heard on the recording you just played, he doesn't even know what's happening in the White House," Manigault Newman said. "General Kelly, John Kelly is running the White House and Donald Trump has no clue what's going on. He's being puppeted. That's very dangerous to this nation."
Gidley, when asked on "Fox and Friends" Monday whether the president was as unaware of Manigault Newman's firing as he appeared to sound on the tape, the deputy press secretary declined to comment on the "tick tock" of how she was dismissed.
The president later retweeted his now-estranged former fixer and lawyer Michael Cohen, who says a claim by Manigault Newman that the president ate a note from him is false.
Trump and his legal team have also recently disputed Cohen's claim that then-candidate Trump knew in advance of a 2016 Trump Tower meeting between his son Donald Trump Jr and Russians promising dirt on Hillary Clinton.
Melania Trump's office Monday evening issued its own response to Omarosa, saying the first lady had little interaction with the former aide and is disappointed to see her "lashing out and retaliating in such a self-serving way."
"Mrs. Trump rarely, if ever, interacted with Omarosa. It's disappointing to her that she is lashing out and retaliating in such a self-serving way, especially after all the opportunities given to her by the President," the first lady's communications director Stephanie Grisham said in a statement.
Among the claims Manigault Newman makes in her new book: that Melania Trump is eager for the president to leave the White House so that she can divorce him and that she believes the first lady uses her fashion to punish the president.