Ousted Tennessee House Democrat Justin Jones speaks about 'unconstitutional' expulsion
"We broke House rules, but we were obedient to our oath," Jones told ABC News.
Former Tennessee state Rep. Justin Jones, the youngest of two Black lawmakers expelled from the Republican-controlled state House of Representatives, spoke out in a new interview with ABC News.
Jones slammed Republicans for their partisan vote and described the unprecedented move as a "lynching of democracy."
"I believe that this whole process has been unconstitutional," Jones said, calling the GOP lawmakers out by name for what he believes was a racially motivated political attack.
"There are crimes against democracy happening in Tennessee being led by House Speaker Cameron Sexton," Jones said.
"They killed democracy in Tennessee … Their action was meant to intimidate. It was meant to humiliate, but what it did was put the state of Tennessee on trial for the world to see," he continued.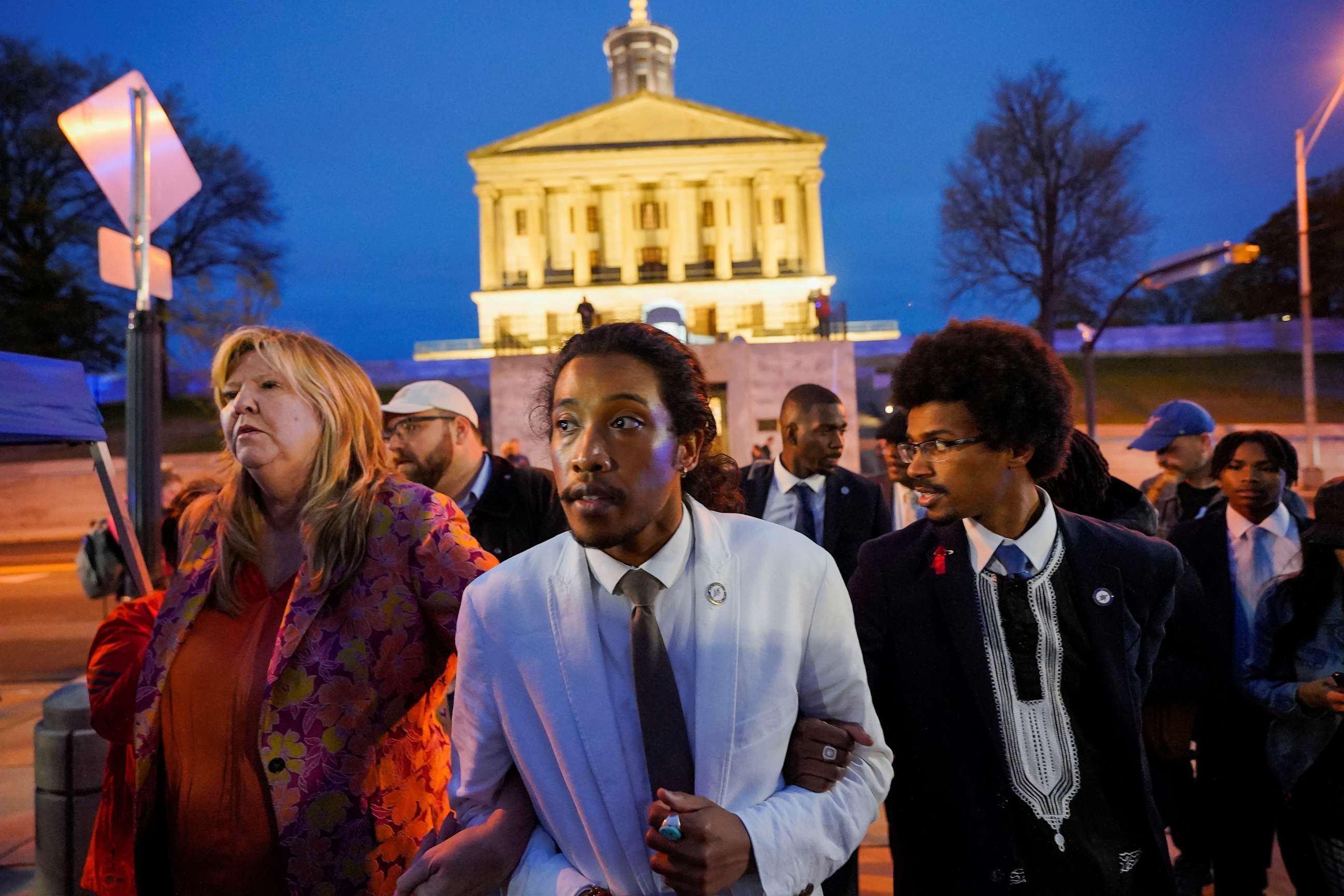 Sexton pushed back on the characterization in a Friday interview with "Fox & Friends."
"We have decorum. We have process and procedure. Imagine if that happened on the congressional floor during his state of the union address and people took over in front of him, pulled out a bull horn and started leading the people in chants and protest from the congressional floor?" he said.
Sexton denied that race played a factor as to why Johnson was not expelled.
"Yeah. It's unfortunate. She is trying to cloak racism in this there was nothing on this. They were all given due process," he said.
Despite criticism from Republican house leaders, the 27-year-old Jones said he did not believe he did anything wrong when he broke decorum alongside state former Rep. Justin Pearson and state Rep. Gloria Johnson on the House floor to protest the state's gun laws following the deadly Covenant school shooting that killed six people, including three children.
"We broke House rules, but we were obedient to our oath," Jones said. "I think that what we did was the only human response to a community grieving. It was the only human response to the thousands of young people who were at the Capitol saying, 'please do something. Please hear us. We don't want to be shot or massacred in our schools. Enough is enough.'"
The ousted lawmaker added, "What is wrong is to be silent."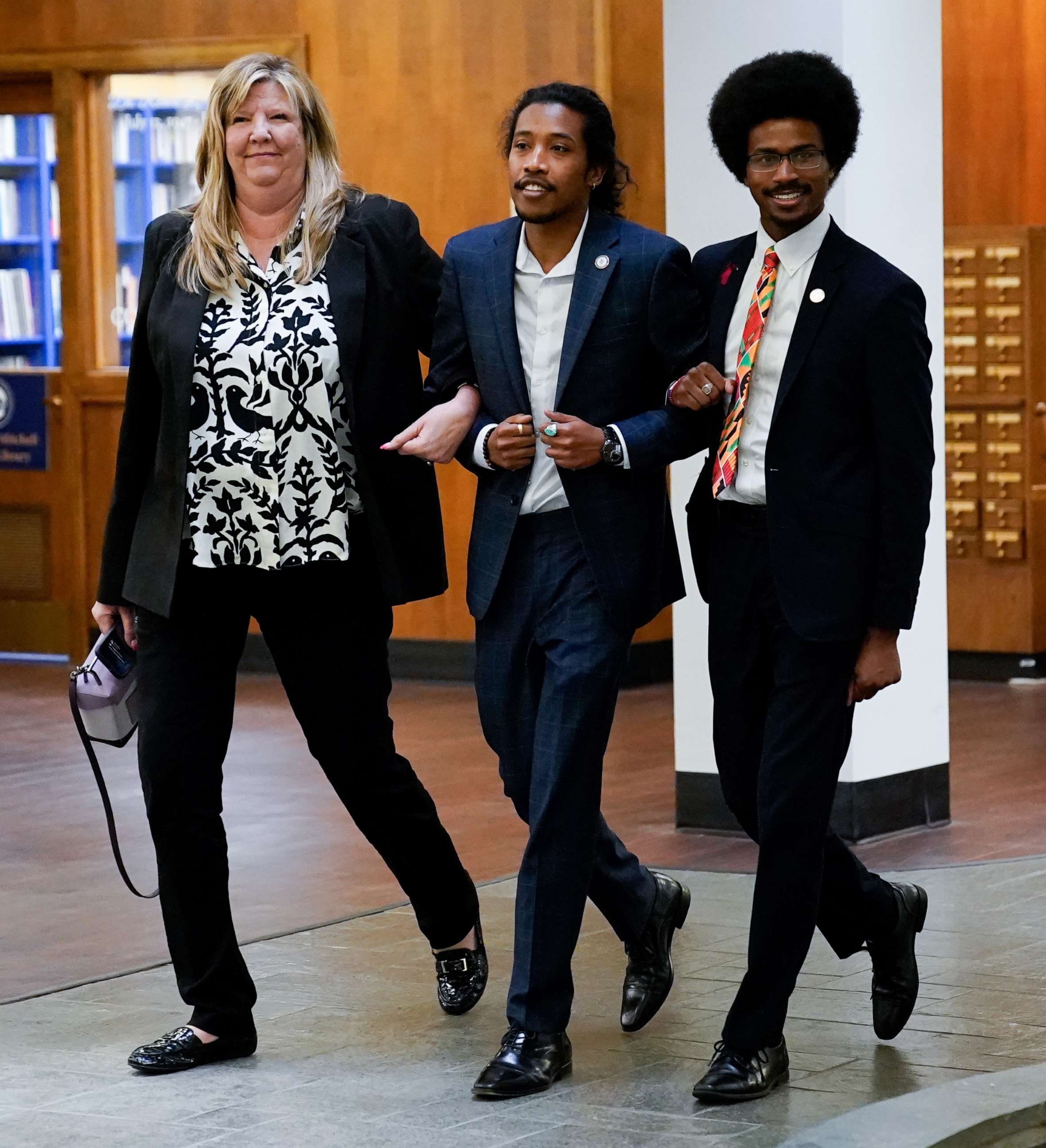 Nashville Vice Mayor Jim Shulman told ABC News the consequences of the lawmakers' expulsion go beyond partisan politics, as thousands of Tennesseans are now without representation.
Shulman said the Nashville Metro Council will move swiftly on Monday to suspend rules in order to vote Jones back to his House seat.
"We're getting hundreds of emails and lots of phone calls. People want us to send them right back up," Shulman said. "This is how our democracy works -- proper representation. I think there's an understanding that we need to move promptly and quickly, and we'll see if we can do that on Monday."
Jones said if given the opportunity to return to his seat, he will continue to fight for gun reform legislation in Tennessee.
"I will proudly walk back into that chamber if I'm if I'm given the opportunity either through a special appointment, or through running through a special election to fight for my constituents because that's what I took an oath to do," Jones said.
"Until we take action on common sense gun laws, we have unfinished business," he added.
Johnson, who is white, was spared from expulsion by one vote.
"It might have to do with the color of our skin," Johnson said after the vote.
Republican Rep. Bryan Richey told CNN in an interview Friday that their expulsion "had nothing to do with race."
"[It] had nothing to do with the color of their skin," Richey said. "I respect all three of them ... I felt that they should stay."