In her 2008 book "Know Your Power," then-House Speaker Nancy Pelosi described coalition building as a "giant kaleidoscope."
Interested in
Democratic Party?
Add Democratic Party as an interest to stay up to date on the latest Democratic Party news, video, and analysis from ABC News.
"With one turn of a dial, some of us will form a coalition for success. With another turn, a different group will come together on an issue," she wrote.
Working relentlessly since election night, the California Democrat, now the House minority leader has whipped her members for their support for House speaker, meeting with veteran lawmakers and every incoming freshman, along with the members of each major caucus across the committee spectrum.
On Wednesday, she moved one step closer to becoming speaker, winning 203 votes in a closed-door Democratic caucus vote, with 32 members voting against her.
"It's going to be necessary to have someone who has the experience to take on this administration, and fight back and make sure we have the checks and balances that are needed," progressive Rep.-elect Ilhan Omar, D-Minn., told reporters after backing Pelosi.
Dangling committee assignments, office budgets and promises to address certain issues in committee and on the House floor, Pelosi secured the support of the majority of the caucus and its new freshman class, from suburban moderates to fiery progressives supported by party activists.
Pelosi offered Rep.-elect Ayanna Pressley, D-Mass., a seat on the Gun Violence Prevention Task Force and a commitment to take up gun violence legislation in exchange for her support. She won over Rep.-elect Tom Malinowski, D-N.J., with a commitment to revisit the state and local tax deductions in the GOP tax reform bill, and secure federal funding for the Gateway Tunnel project linking New Jersey and New York City.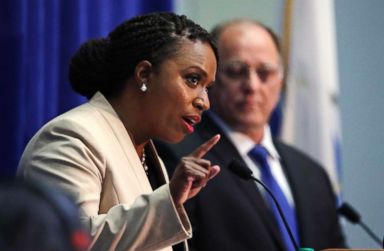 But the 78-year-old Pelosi needs 218 votes on the official speaker vote on the House floor in January, and to get there, she'll have to convince a sizeable group of 32 mostly moderate Democrats and freshmen to support her on the floor -- members who have a different view of the party's agenda.
That balancing act could complicate Pelosi's commitments to delivering an agenda suitable to progressives.
"I think Nancy understands that we have some expectations that we have to address," Rep. Raul Grijalva, D-Ariz., a co-chair of the Congressional Progressive Caucus, said in an interview.
"She understands that there's a progressive base in this party that is very energized and is going to be very demanding."
As she's campaigned for speaker, Pelosi has shown a willingness to bring progressives into the fold. When Rep.-elect Alexandria Ocasio-Cortez, D-N.Y., joined climate activists in a protest in Pelosi's office two weeks ago, Pelosi encouraged the demonstration and reaffirmed her support for a committee focused on climate change.
On Wednesday, Ocasio-Cortez was one of the many freshmen who supported Pelosi, flashing a thumbs up to reporters when asked if she voted for her in the caucus vote.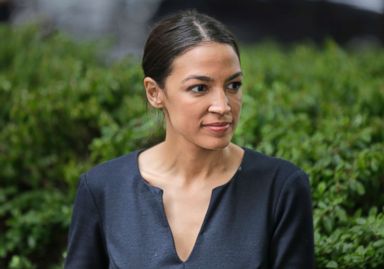 Rep. Stephen Lynch, D-Mass., a former ironworker withholding support for Pelosi, told reporters that he's concerned that the party is becoming "elitist" and abandoning traditional Democrats.
"I'm a moderate Democrat and I'd like to see us move to the middle a little bit," he said. "We need to return to some of our blue-collar grassroots, lunch-bucket issues to get those people to feel like we really represent them here."
But Lynch, despite signing a letter vowing to oppose her on the floor, spoke with Pelosi briefly on Wednesday, telling her he's "persuadable."
Pelosi has made some inroads with moderates, striking a deal with nine Democrats who wanted changes to House rules to help facilitate bipartisan legislation.
The proposed changes, which include giving preferential treatment to amendments with bipartisan support and the creation of a "consensus calendar" to bring up select bipartisan legislation stalled in committee, take little floor authority away from majority leadership.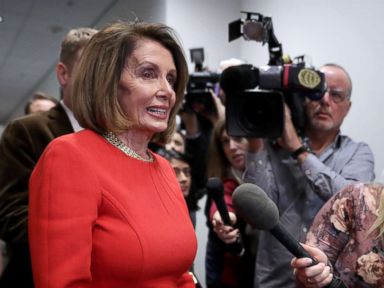 After the vote, Pelosi said her current speaker campaign is "no different than anything ever before."
"Every Congress I spend a lot of time listening to Members, new Members and Members who are returning, to hear what their prospects are for the future," she said. "So, when people say, 'You're so busy,' I say, 'No busier than ever,' because every Congress I listen, I learn, we incorporate, we are invigorated by new Members coming in."
But her allies acknowledge that she faces a challenge in balancing the competing pressures of satisfying party progressives and the majority-making suburban moderates.
"You're going to need a Toscanini to conduct this orchestra," former congressman Steve Israel, a Pelosi ally who chaired House Democrats' congressional campaign committee, told ABC News.
"Democrats, in order to maintain this majority in 2020, will have to satisfy progressive constituents, and more moderate constituents."