— -- Three star Philadelphia Eagles players have preemptively declined the inevitable post-Super Bowl invitation to the White House.
The formal invitation has yet to be extended, but three people who won't be responding favorably are Malcolm Jenkins, Chris Long and Torrey Smith.
Long and Smith made that clear before the first Super Bowl play unfolded, and Jenkins detailed his decision during a post-game interview this morning.
Chris Long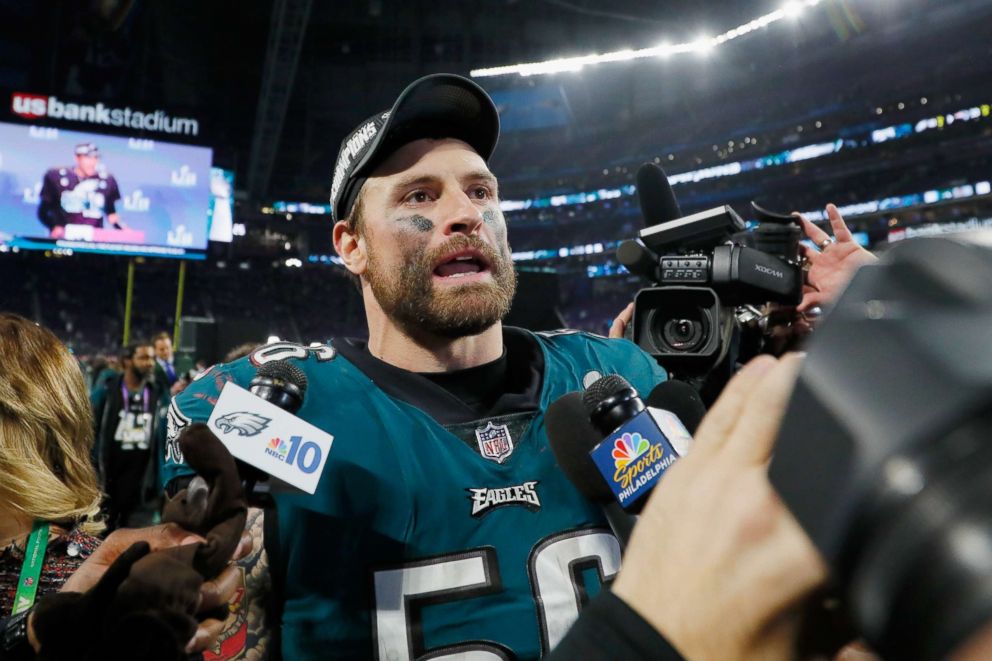 This won't be the first time the defensive end will have skipped a trip to 1600 Pennsylvania Avenue.
Long played for the Patriots last year when they were invited to the White House to celebrate their 2017 win, and he opted out.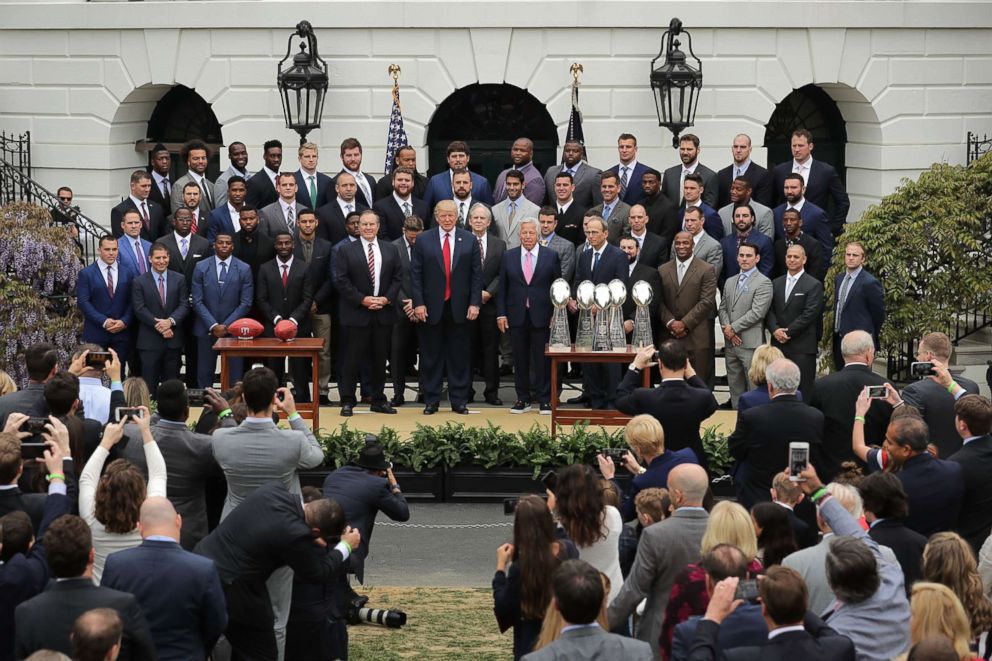 He's continuing his now-annual tradition. During an interview on Barstool Sports' podcast "Pardon My Take," which was published Sunday but recorded in advance of game day.
"No, I'm not going to the White House," Long said on the podcast. "Are you kidding me?"
Long has been praised for his off-field activism in the past.
He gave the paychecks from his first six games of the season to cover scholarships for students in his hometown of Charlottesville, Virginia, in the wake of the violent protests that broke out in the town in August.
"Our hometown is a wonderful place and I feel like people got the wrong idea about what the residents of Charlottesville are all about," Long told The Associated Press.
The move earned the praise of former President Obama, who highlighted Long's donation as part of a series of stories of good that he shared at the end of 2017.
Long, 32, later extended his charitable giving to include the rest of his salary from the year to a group dedicated to increasing education equality, The Associated Press reported in October.
Torrey Smith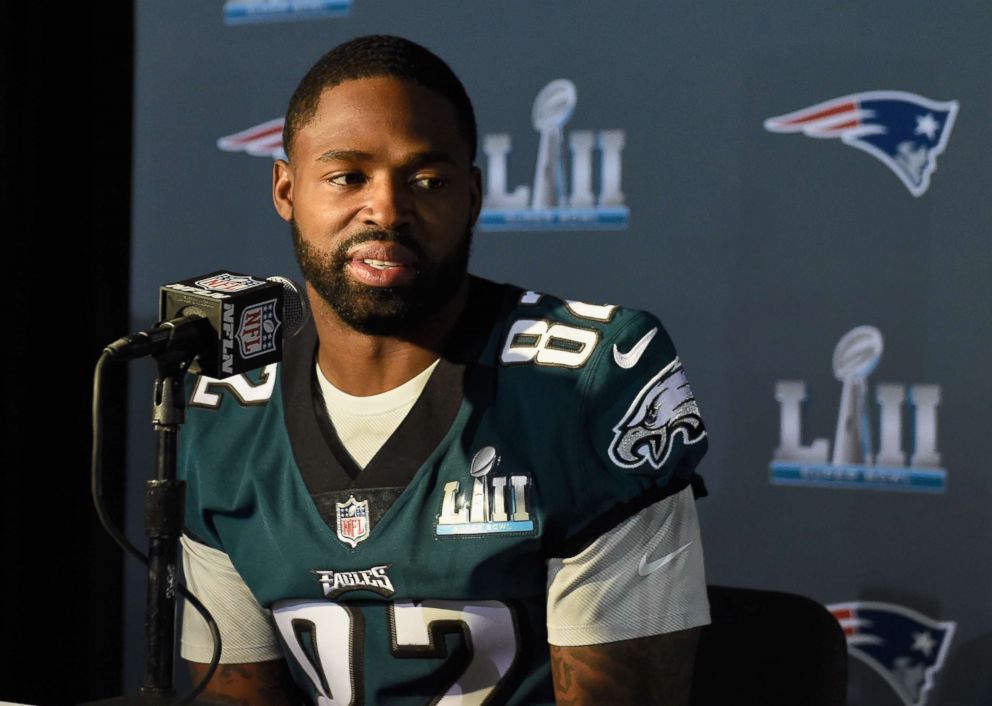 During a news conference at Minneapolis' Mall of America on the Wednesday before the Super Bowl, Smith said he would turn down any White House invitation if they won.
"We read the news just like everyone else," Smith said, according to NJ Advance.
"You see Donald Trump tweet something ... We have those conversations in the locker room, just like everyone else does in the workplace. We're very informed about what goes on, and we're trying to continue to educate ourselves. It's pretty special to have a group like that of folks that aren't just socially conscious, but folks who genuinely care about people and care about learning more," the wide receiver said.
"I'm not saying we're right about everything, but we're willing to figure out what is right. We're willing to work with people to find the best way to move forward, because there are problems and we're not shy about speaking up about them," he added.
Smith responded today to Twitter comments about why he won't go to any White House celebration. One Twitter user asked Smith why he wouldn't go, and Smith responded: "It goes beyond politics. ... I don't think he is a good person."
Another user defended Trump by writing, "the man you are protesting has brought black unemployment to its lowest levels ever recorded, while soldiers stand post thousands of miles away from their families so that you can get paid a lofty salary to catch a football."
To that, Smith responded: "HE DIDN'T DO ANYTHING! Stop giving credit when it's not true. That trend started under Obama and continued to drop. Our soldiers have nothing to do with my feelings towards the president. I show every soldier I meet love. Real heroes!"
Malcolm Jenkins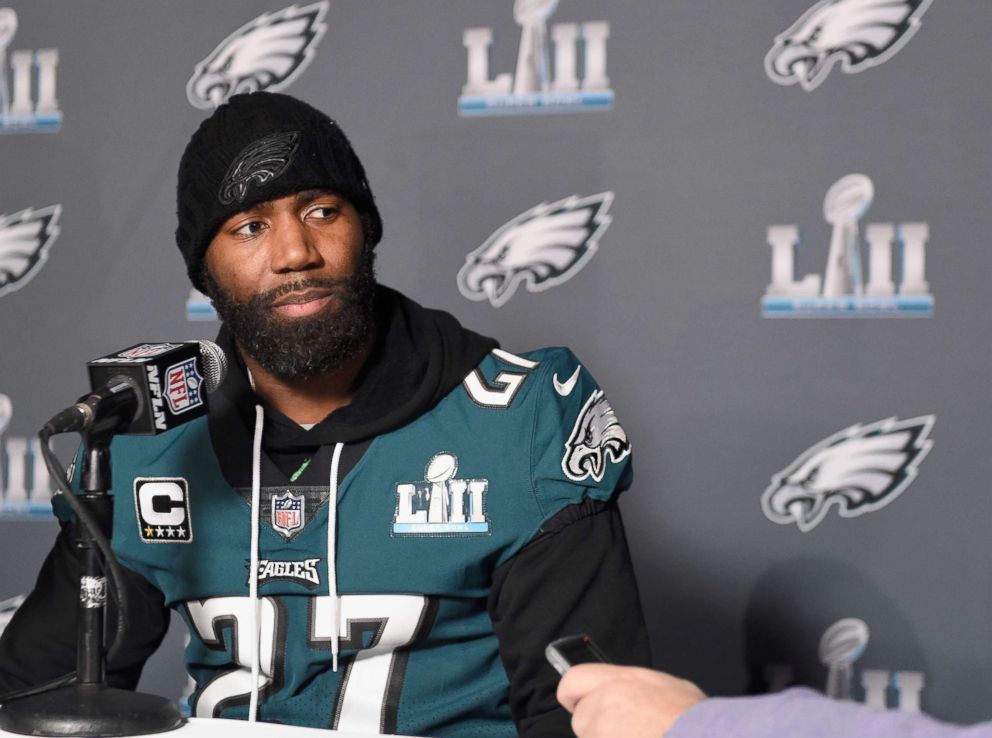 Jenkins told CNN this morning, "I personally do not anticipate attending" if asked to the White House.
Jenkins, a 30-year-old safety, was then asked whether he had a message for President Donald Trump.
"I don't have a message for the president. My message has been clear all year. I'm about creating positive change in the communities that I come from, whether it be Philadelphia, New Jersey, Ohio, Louisiana or this entire country. I want to see changes in our criminal justice system. I want to see us push for economical and educational advancement in communities of color and low-income communities and I want to see our relationships between our communities and our law enforcement be advanced and that's what myself and my peers have been pushing for the last two years and that's what I'll continue to do," the New Jersey native, who played at Ohio State before being drafted by the New Orleans Saints, said.
Jenkins is a co-founder of the Players Coalition, which is made up of NFL players hoping to improve the U.S. criminal justice system and led about 40 NFL players in negotiations with the league about protests during the national anthem.
The negotiations led to an $89 million dedication by the NFL to address criminal justice reform, improving law enforcement and community relations and education, ESPN reported.