'My plan is to support the Republican nominee': Texas Rep. Will Hurd
Hurd was one of four Republicans to vote yes on the resolution condemning Trump
Rep. Will Hurd, R-Texas, said President Donald Trump's recent tweets about Rep. Elijah Cummings were different from his "go back" ones two weeks ago.
"When he tells someone to go back to Africa or whatever country, that's in essence telling someone because you don't look like them, that you are not American and that you do not have self worth," he said on ABC's "This Week" Sunday, noting that he was among the first Republicans to criticize Trump for those tweets.
ABC News Chief Anchor George Stephanopoulos pressed, "But to focus on an entire city, calling it 'rat and rodent infested,' you see no problem with that?"
"Well of course, he shouldn't. You know, I don't think they're going to invite him to throw out the first pitch at a baseball game anytime soon," Hurd said. "You know, one of the things that we should be doing is talking about those things that bring us together."
He then added they should be talking about bringing "opportunity zones" to Baltimore, which give investors tax breaks when they put money into impoverished areas around the country.
Focusing on those things provides "a better opportunity" for Republicans to talk about their message, he added.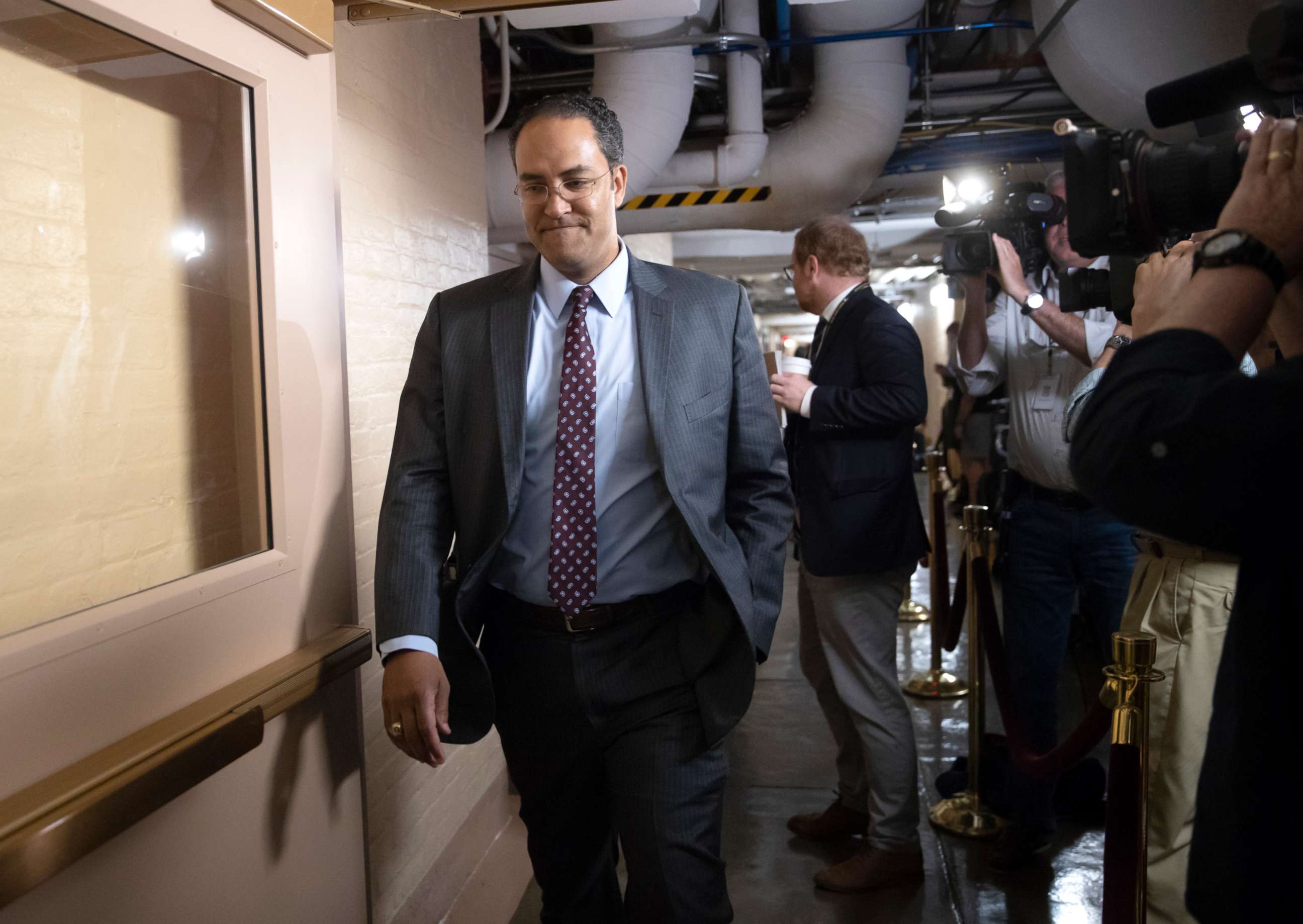 On Saturday, however, Trump called Cummings a "brutal bully" on Twitter and went on to describe Baltimore, part of which the House Oversight Committee chairman represents, as "a disgusting, rat and rodent infested mess." The president singled out Cummings' district as "the Worst in the USA."
Trump's attacks on Cummings come two weeks after he tweeted attacks against four Democratic congresswomen of color, asking, "why don't they go back and help fix the totally broken and crime infested places from which they came. Then come back and show us how it's done."
The controversy led to a House resolution formally condemning the president. Hurd was one of only four Republicans to vote yes on the resolution.
"I wouldn't be tweeting this way. But I think they're different," Hurd said, also mentioning Cummings' work for his community and adding that he can defend himself.
Hurd also touched on the hearings with former special counsel Robert Mueller and election security, saying that his report and testimony identified "behavior that was unbecoming of an occupant of the White House."
During Mueller's testimony before the House Select Intelligence Committee on Wednesday, Hurd asked Mueller if he believed Russians would attempt to interfere in our elections again.
"It wasn't a single attempt. They are doing it while we sit here. And they expect to do it during the next campaign," Mueller said in response.
According to an ABC News/Ipsos poll administered after Mueller's testimony, 54% of Americans said that they are not confident in the capability of the U.S. to effectively defend itself from potential foreign government interference in the 2020 presidential election.
Despite Mueller's warnings, Senate Majority Leader Mitch McConnell blocked two bills on election security on Thursday, calling the legislation partisan.
Hurd has been talking about the threat of foreign interference in elections recently, making similar comments on ABC News' "The Briefing Room" Thursday and voting for an intelligence authorization act that requires the FBI to notify congressional intelligence committees when they open an investigation into a campaign for federal office. However, he voted against the Securing America's Elections Act, which ultimately passed the House in late June.
On "This Week," Hurd called for people to pay as much attention to the threat of foreign interference in elections as they paid to Mueller.
"When we don't focus on dealing with the strategy on how to prevent that, then we are letting Vladimir Putin win and so that's why we should be talking about how do we fix it," he said.
When Stephanopoulos asked Hurd if that focus begins with Trump, Hurd pivoted to the CIA and FBI's focus on protecting elections.
Stephanopoulos then asked more explicitly why Hurd supports Trump's reelection. Hurd said, "my plan is to support the Republican nominee."
"I believe that the way you help people move up the economic ladder is through free markets and not socialism," he added.