President Donald Trump praised former President George H.W. Bush as a "very fine man" on Saturday and said that he had talked to the late president's sons Jeb and George W. Bush to express his sympathies.
"I met him on numerous occasions. He truly loved his family. One thing that came through loud and clear, very proud of his family, very much loved his family. He was a terrific guy. He will be missed. And he led a full life and exemplary life too, I will say," Trump said as he sat with German Chancellor Angela Merkel for a meeting at the G-20 summit in Buenos Aires, Argentina.
President Trump announced in a tweet earlier on Saturday that he would be canceling a scheduled G-20 press conference until after Bush was laid to rest.
Trump also released a statement on Saturday morning reflecting on the passing of Bush, describing him as a leader "who set the stage for decades of prosperity that have followed" his time in office.
"President Bush always found a way to set the bar higher," Trump said. "And through all that he accomplished, he remained humble, following the quiet call to service that gave him a clear sense of direction."
While the multiple statements from Trump have offered solemn messages of respect, they have also run counter to the long-running personal feud between Trump and the Bush family that reached its pinnacle during the 2016 campaign.
Trump and Bush's political stories intersected as far back as 1988. Bush claimed that Trump floated the idea of becoming a vice presidential pick to one of Bush's longtime political advisers — an overture reportedly described as "strange and unbelievable."
In a 2015 interview, however, Trump told ABC's George Stephanopoulos that Bush's adviser Lee Atwater was actually the one to approach him about the idea of Trump joining the ticket.
"He said, what do you think about that idea?" Trump said. "I said I don't know, Lee, you can check it out if you want, but it doesn't sound right, because at that time, I had no political aspirations."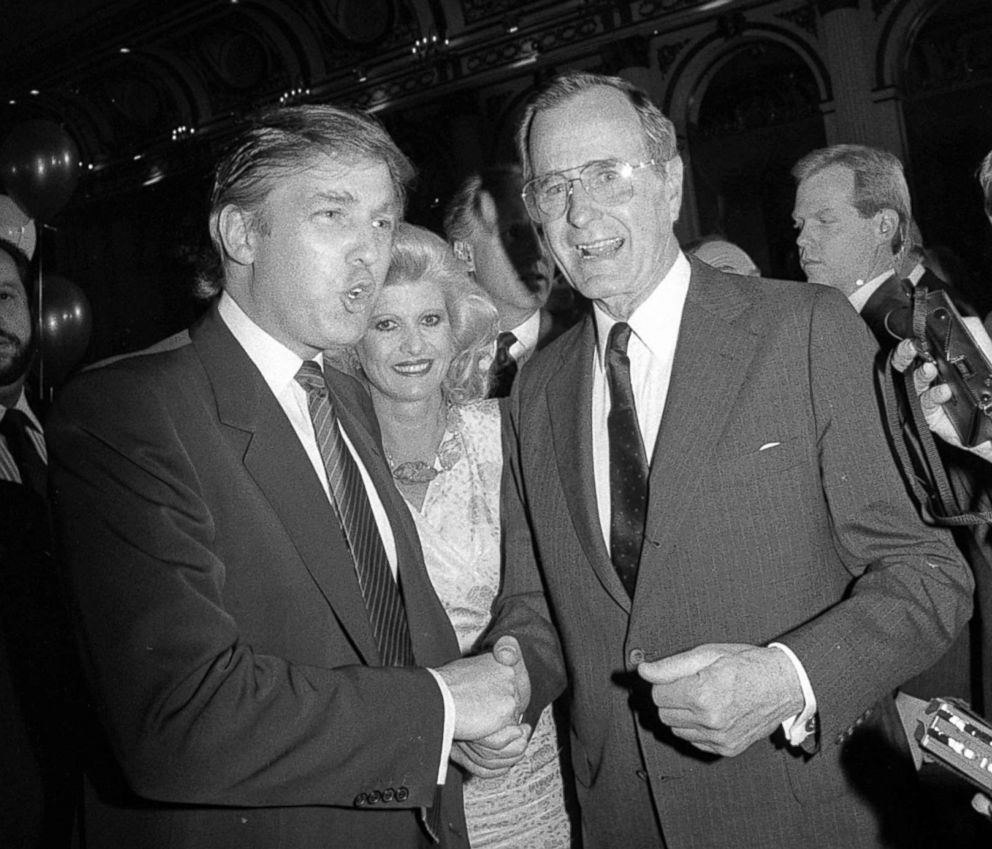 Trump's statement honoring Bush acknowledged his "thousand points of light" mantra, which was intended to recognize the service of volunteer organizations across the country. Yet, in July, Trump had mocked the phrase in a campaign rally.
"Thousand Points of Light. What the hell was that by the way?" Trump said. "Make America great again, we understand. Putting America first, we understand. Thousand Points of Light, I never quite got that one."
Though President Trump drew far more controversy prior to his presidential run for his criticisms of former President Barack Obama and attempts to fuel the "birther" conspiracy theory, he was similarly relentless in his cable news appearances trashing the presidency of George W. Bush.
Trump has described Bush Jr. as the "worst president ever," citing the U.S. decision to invade Iraq and remove Saddam Hussein from power, a war Trump initially supported before he expressed opposition.
In a 2008 interview with CNN, Trump told Wolf Blitzer that he would have supported Democrats initiating impeachment proceedings against Bush.
"Personally, I think it would have been a wonderful thing," Trump said. "Look at the trouble Bill Clinton got into with something that was totally unimportant. And they tried to impeach him, which was nonsense. And, yet, Bush got us into this horrible war with lies, by lying, by saying they had weapons of mass destruction, by saying all sorts of things that turned out not to be true."
But Trump seemed to spare his most taunting insults for George Bush's younger brother, Jeb, as the two faced off in the GOP primary for the 2016 presidential election.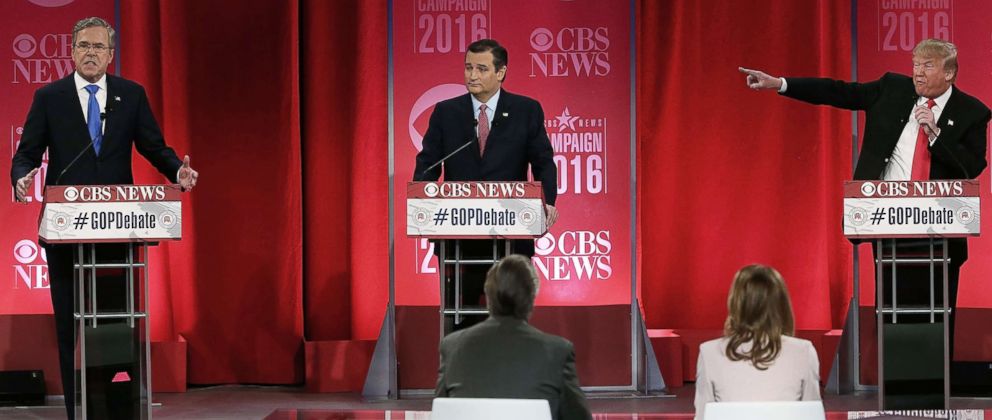 With Jeb initially viewed as a presumptive frontrunner among establishment conservative circles, Trump stunned much of the mainstream media and set himself apart from the GOP field by dodging attacks on policy and focusing instead on labeling Jeb as a "low-energy" candidate.
He was also persistent in seizing on the Bush legacy both in rallies and over Twitter, saying in late 2015, "The last thing our country needs is another BUSH!"
When a pool reporter asked Trump on Saturday if he regretted past comments about the Bush family, Trump sought to end the questioning altogether.
"Do you regret comments about the Bush family in the past?" the reporter asked.
"Thank you very much," Trump responded.
Trump's unstoppable surge to the top of the GOP field, accompanied by a series of insults and targeted attacks toward the Bush family legacy, once led Jeb Bush to reveal in a New Hampshire rally how incensed his father would get at the sight of Trump on his television.
"He is throwing shoes at the TV when his son gets attacked and insulted by our favorite candidate," Bush said.
In February 2016, as Jeb Bush's candidacy continued to falter, he sought to enlist his mother, Barbara Bush, and brother, George W. Bush, to join him at the various stops on the campaign stump.
Trump again showed no hesitation in engaging both, taking on the Bush administration's handling of 9/11, the Iraq War and the 2008 economic collapse. He even threw in a jab at Jeb Bush to "bring in mommy to take a slap at me."
Even after Jeb Bush's exit from the campaign, the Bush family never publicly expressed support for Trump. Jeb Bush himself declared in a May Facebook post that despite Trump achieving status as the presumptive nominee for the GOP, he still could not support his candidacy.
"Donald Trump has not demonstrated that temperament or strength of character," Bush said. "He has not displayed a respect for the Constitution. And, he is not a consistent conservative. These are all reasons why I cannot support his candidacy."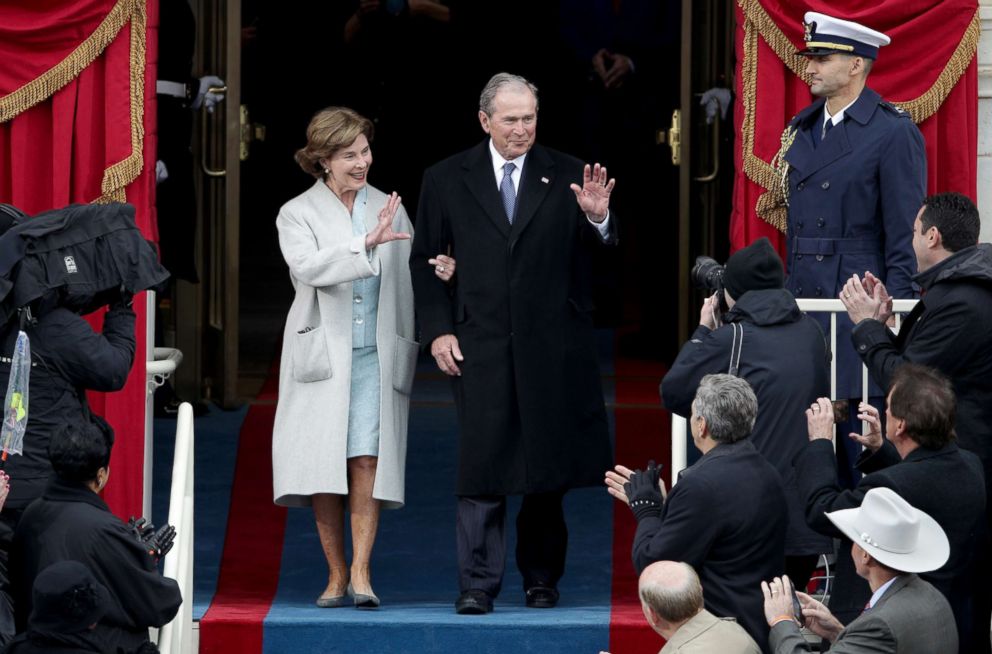 According to historian Mark Updegrove, George H.W. Bush not only didn't cast a vote for Trump on Nov. 8, he also broke ranks with the rest of the family in voting for Hillary Clinton.
"I don't like him," Updegrove quoted Bush as saying in his book "The Last Republicans." "I don't know much about him, but I know he's a blowhard. And I'm not too excited about him being a leader."
Even so, in the week after Trump's historic surprise victory, Trump tweeted that he had received calls from the Bush family to congratulate him on the win.
George H.W. Bush was the only living president not to attend Trump's inauguration, citing a doctor's recommendation. Instead, he sent the incoming president a gracious note.
"We will be with you and the country in spirit," Bush wrote. "I want you to know that I wish you the very best as you begin this incredible journey of leading our great country. If I can ever be of help, please let me know."
Instead of embracing his predecessors for advice and counsel, though, President Trump showed himself to be unsparing early in his presidency by repeatedly casting each of the former presidents as either corrupt or inept dealmakers on issues like trade, North Korea and Middle East affairs.
When former first lady Barbara Bush passed away in April, President Trump and first lady Melania Trump issued a respectful statement. Only the first lady would go on to attend the funeral. The White House cited President Trump's desire not to disrupt the funeral with a greater Secret Service presence than the one already in place for the four former presidents who were in attendance.
On Saturday, the White House announced that President Trump and the first lady plan to attend the former president's funeral at the National Cathedral in Washington, and that Trump has declared Dec. 5 a National Day of Mourning.
ABC News' Ali Rogin contributed to this report.