— -- Protesters in wheelchairs were removed from a hearing on the Republican health care bill Monday afternoon after disrupting the session with chants of "No cuts to Medicaid! Save our liberty!"
The disruption prompted Senate Finance Committee Chairman Orrin Hatch, R-Utah, to adjourn the session until the protesters could be cleared out.
"If you want a hearing -- if you want a hearing, you better shut up," Hatch said.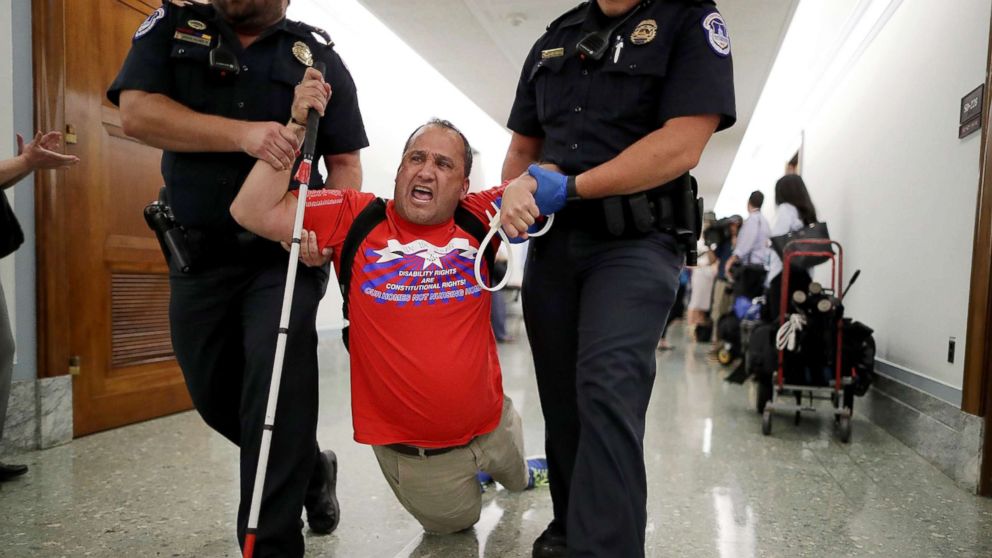 Capitol Police officers struggled to remove people, with some sliding out of their wheelchairs and onto the floor.
Eva Malecki, a spokesperson for Capitol Police, said in a statement 181 protesters were arrested Monday afternoon.
"Fifteen demonstrators were arrested and charged with disruption of Congress," Malecki said, adding, "143 individuals were arrested after refusing to cease and desist with their unlawful demonstration activities in the hallway. Twenty-three individuals were charged with crowding, obstructing, or incommoding and resisting arrest."
People from all over the country and all of walks of life lined up as early as 5 a.m. ET, to urge lawmakers to oppose the latest Republican health care bill, known as the Graham-Cassidy bill.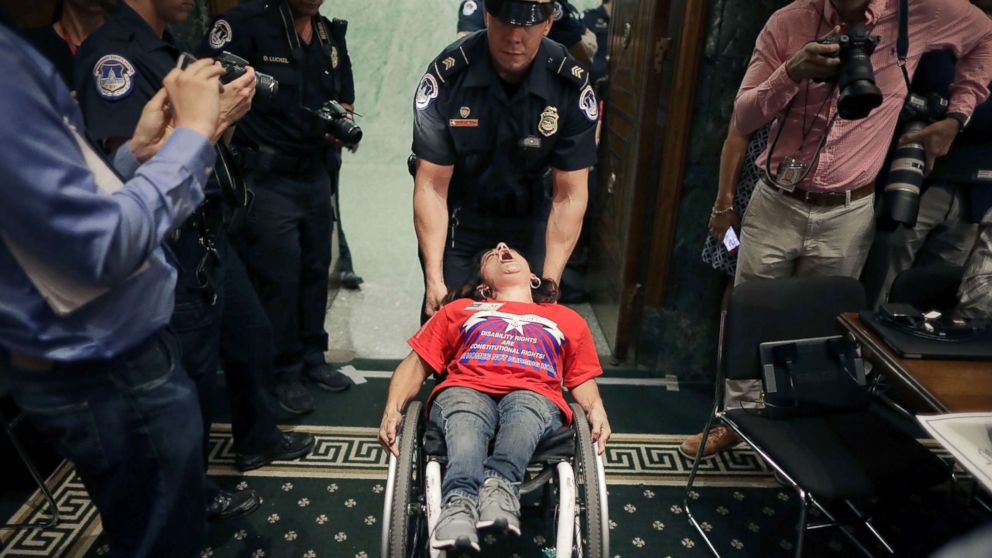 The chambers of Finance Committee is set to consider health care legislation proposed by Sens. Lindsey Graham, R-S.C., Bill Cassidy, R-La., Dean Heller, R-Nev., and Ron Johnson, R-Wis.
This is the one and only open hearing scheduled on the Graham-Cassidy bill, an unusual process that opponents of the bill, like Sen. John McCain, have objected to.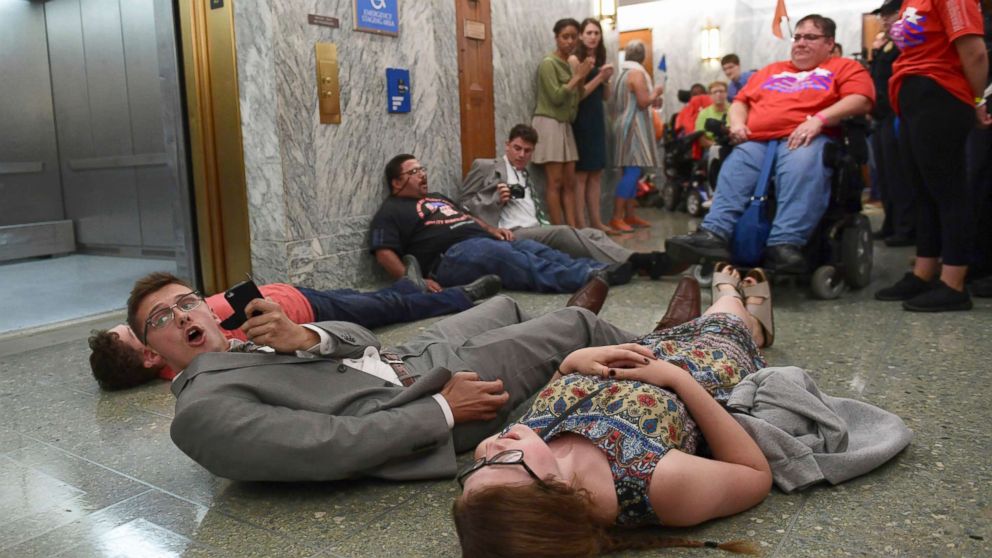 An army veteran who came all the way from Atlanta called the hearing a "fake" and a "facade," accusing lawmakers of not listening to real Americans.
Through tears, Pam Willis of Wyoming told ABC News' Mary Bruce that this is a matter of "life and death."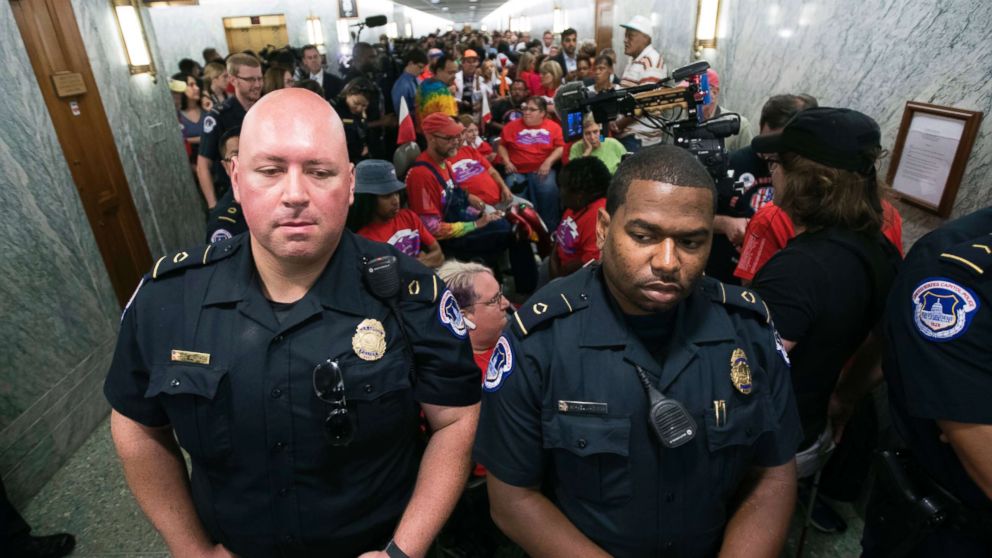 "My daughter's coming in a wheelchair and it means her life, the insurance. And my daughter in law has cancer, her fourth cancer and it means her life too," Willis said. "It means a lot."
Graham and Cassidy will speak in favor of their bill and are expected to discuss the latest revised version of their health care legislation. The newest draft rearranges how changes in federal funding provided to the states for health care would be phased in over time.
Republicans are hoping to push the Graham-Cassidy bill quickly through the Senate as the Sept. 30 deadline that allows them pass health care on a party-line simple majority vote is rapidly nearing.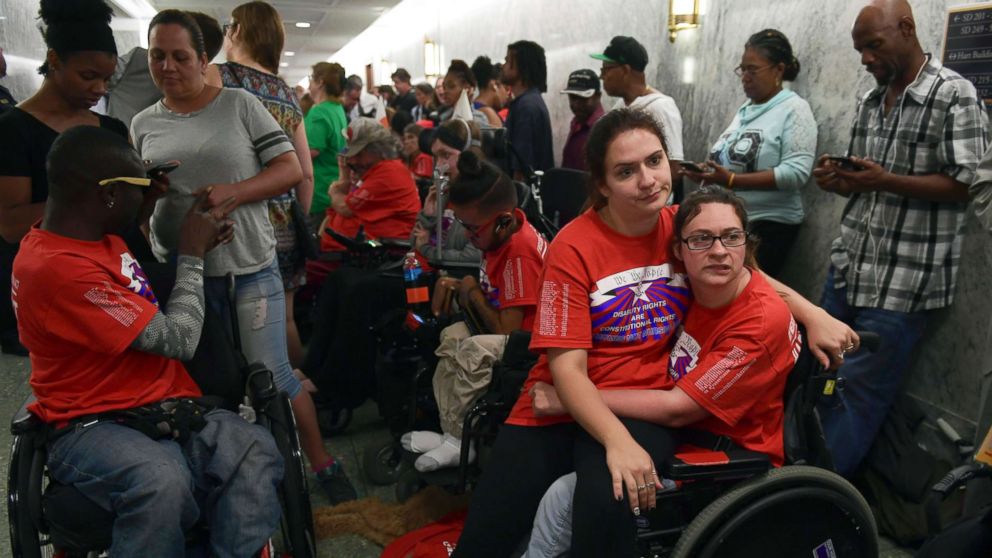 ABC NEWS' Mariam Khan contributed to this report.