Romney and Santos get into a back-and-forth at State of the Union
"If he had any shame at all, he wouldn't be there."
Sen. Mitt Romney, R-Utah, and embattled Republican Rep. George Santos got into a verbal altercation at the State of the Union address Tuesday night as the New Yorker's presence in Congress continues to rankle some of his GOP colleagues.
The incident began after Romney came across Santos while walking down the aisle of the House chamber, engaging in what appeared to be a testy exchange.
"You should be embarrassed ... you shouldn't be here," Romney appeared to say to Santos, who was sitting off the center aisle of the chamber.
Santos could then be seen repeatedly saying "what an a------" to his seat mate, Rep. Thomas Massie, R-Ky., in apparent reference to Romney.
Romney's criticism comes as Santos has faced mounting controversy and scrutiny over a string of falsehoods and embellishments about his background as well as multiple investigations. He denies wrongdoing.
The falsehoods and exaggerations Santos has told include where he went to college, his religion, his business experience and more.
Sources previously told ABC News that federal prosecutors were looking at Santos' financial filings, which show he became wealthy between 2020 and 2022. Complaints have been made against him to the House Ethics Committee and New York prosecutors have said they are also examining him. He told The New York Post in December that he wasn't a "criminal" and would "be effective" in Congress.
Several other New York Republican House members have called for Santos' resignation, and he recused himself from the two committees he was named to, though he's said he won't step down until he is voted out of office -- or reelected.
Talking to reporters after the State of the Union address finished Tuesday, Romney explained to reporters that "I didn't expect that he would be standing there trying to shake hands with every senator and the president of the United States."
Given the cloud of ethical concerns, Romney said, "I think he should be sitting on the back row and staying quiet instead of parading in front of the president and the people coming into the room."
Santos "shouldn't be in Congress," Romney added. "If he had any shame at all, he wouldn't be there."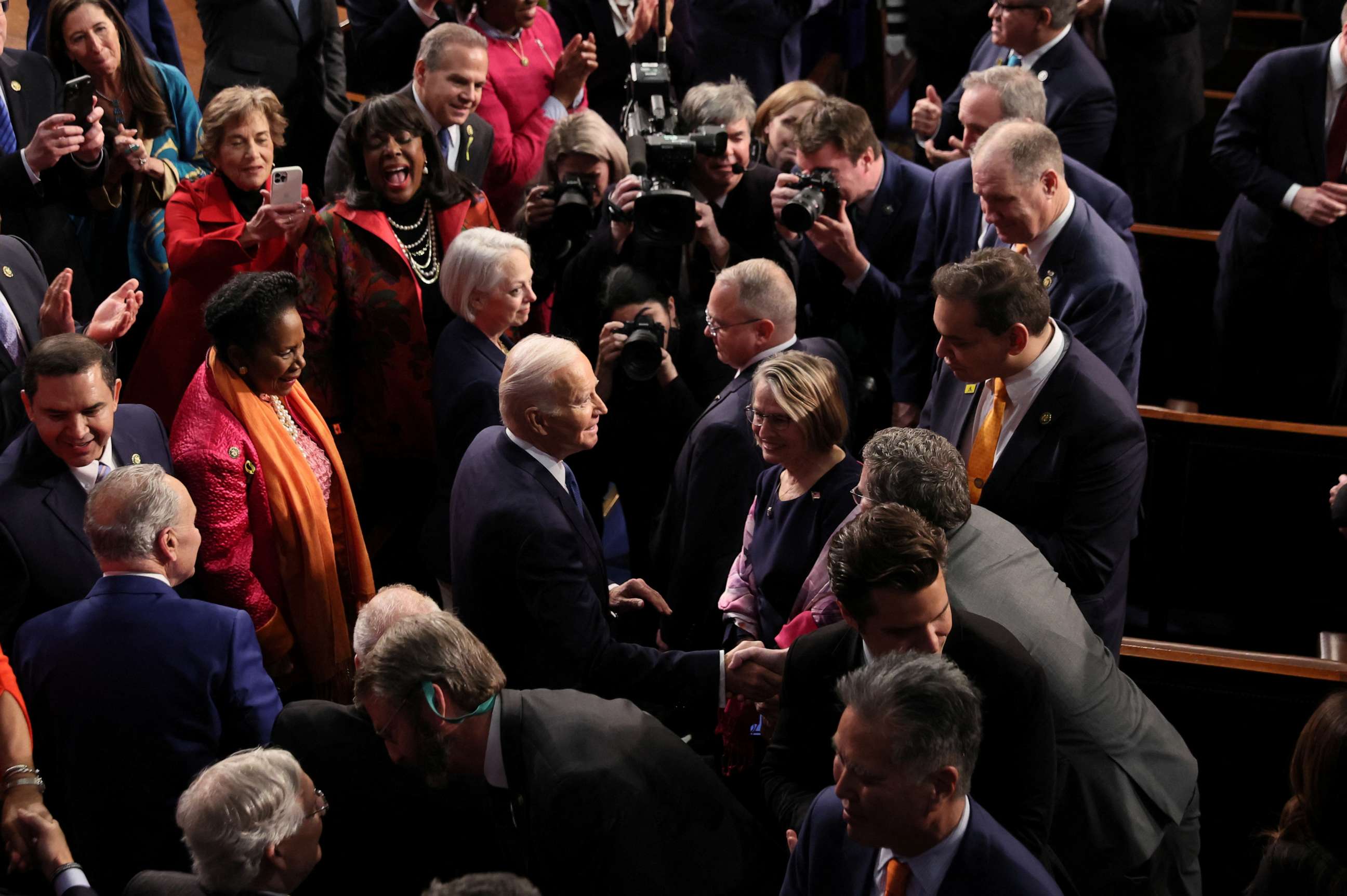 In response to the spat, Santos tweeted that Romney would "NEVER" be president, a seeming reference to Romney's failed 2012 presidential campaign.
Santos told ABC News Senior Congressional Correspondent Rachel Scott on Wednesday that Romney had been "demeaning."
"I think it's reprehensible that the senator would say such a thing to me in the demeaning way he said. It wasn't very Mormon of him, that's what I can tell you," Santos said.
"It's not the first time in history that I've been told to shut up and go to the back of the room," he said.
Their back-and-forth was not the only time tensions flared on Tuesday, as President Joe Biden's address was punctuated by heckles from Republicans.
Biden drew jeers when he accused conservatives of seeking to cut funds for Social Security and Medicare, an apparent referencing Sen. Rick Scott's, R-Fla., plan to sunset all federal funding after five years and make money for the program repeatedly subject to renewal.
However, Speaker Kevin McCarthy, R-Calif., has said such cuts are "off the table" in the future, and Biden's remarks were met with boos and Rep. Marjorie Taylor Greene, R-Ga., calling him a "liar."
One Republican also shouted "it's your fault" when Biden lamented the spread of fentanyl, seemingly referencing drugs crossing the southern border.
ABC News' Justin Fishel, Benjamin Siegel and Trish Turner contributed to this report.