'Very unlikely' Russia can recover anything useful from downed US drone, Pentagon says
It also defended declassifying video of the collision with a Russian fighter.
The Pentagon on Thursday said it's "very unlikely" that Russia would be able to recover anything useful from the U.S. drone brought down into the Black Sea after a collision with a Russian fighter jet.
Although Russian ships were said to be in the area, Brig. Gen. Pat Ryder gave no update on Russian efforts to recover the drone at an afternoon news conference, but said it's doubtful anything useful could be salvaged.
"We assess it's very unlikely that they would be able to recover anything useful given a couple of factors. One, the fact -- and I'm not going to go into details -- but that we took steps to protect information aboard that aircraft. And two, the fact that it crashed in extremely deep water," he said.
When ABC News asked Ryder whether the U.S. has or will ask that Russia return any salvaged pieces of the drone, or if there have been any discussions about possible compensation for its cost, the press secretary responded, "Not to my knowledge."
Ryder also was asked whether the choice to declassify and release video of the incident risks helping Russia frame the war in Ukraine as one between the West and Russia.
"It's not unusual for us to release imagery of unsafe, unprofessional incidents. We've done that in other situations," Ryder said. "And so particularly in this case, given the reckless and dangerous behavior, and to demonstrate publicly what type of actions the Russians had taken, we felt that it was important to provide this imagery."
The video shows a Russian Su-27 aircraft first approaching closely at high speed and appearing to attempt to spray it with fuel. Then, in a second pass, the U.S. says a fighter jet struck the drone, bending its rear propeller, saying that can be seen in images from the MQ-9 Reaper's camera.
The Kremlin has previously denied there was any collision.
When a reporter asked why the U.S. has called the incident unsafe and reckless, but hasn't overtly condemned the Russian action, Ryder called it "an unacceptable act."
"I'm not sure what your question is. I think we were pretty vocal that the conduct of the pilots was unsafe and unprofessional, it was reckless, it was dangerous ... We have highlighted that it is an unacceptable act. But if you if you're looking for hyperbole, we'll leave that to you," Ryder said.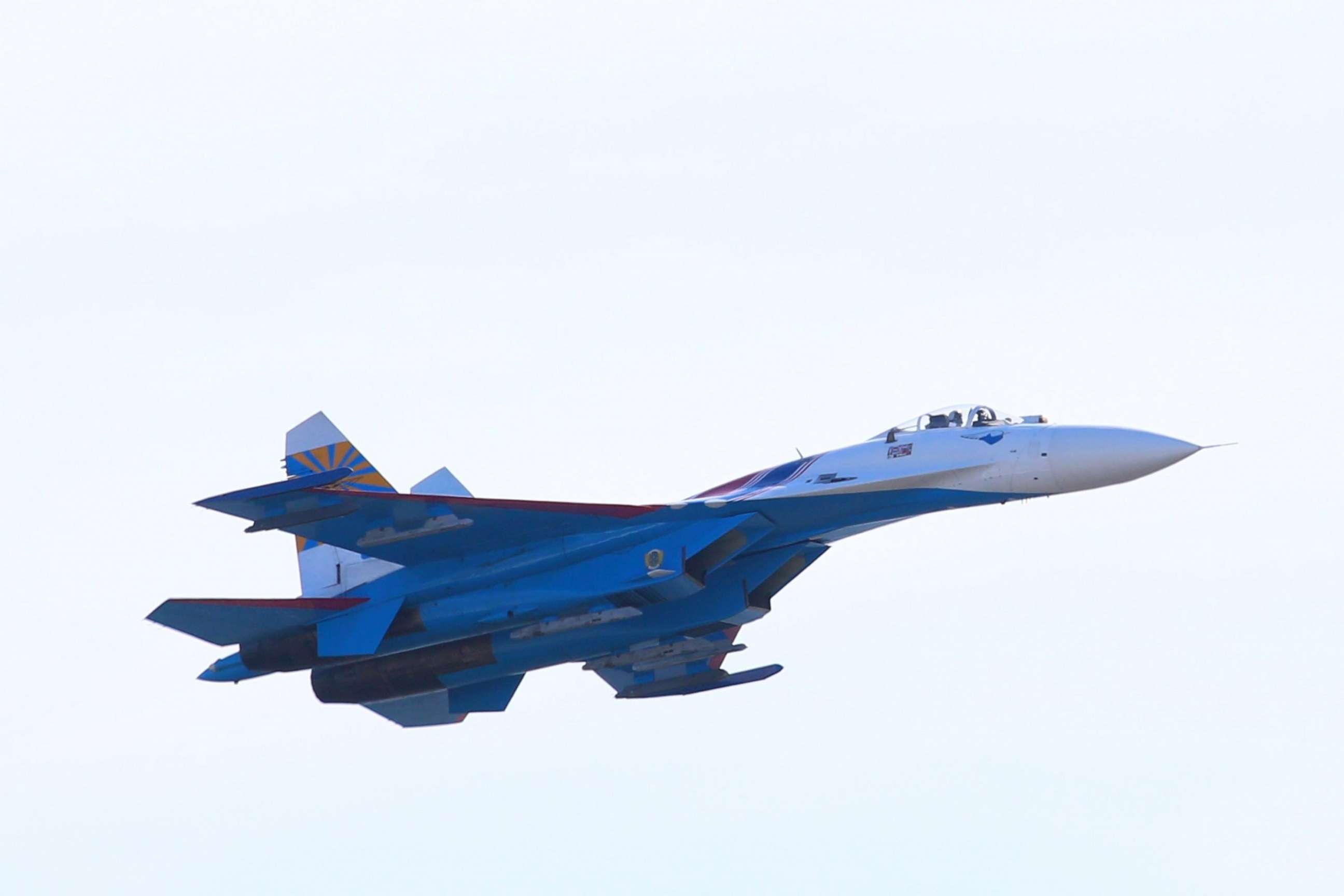 Ryder also said the U.S. did not ask for an apology for the incident.
"No, we did not ask for an apology," he said.
ABC News also asked whether this and other actions by Russian pilots are being coordinated or encouraged at high levels of the Russian government.
"We've seen an uptick in this type of aggressive behavior, but whether or not this is a coordinated effort, I couldn't tell you. What I can tell you is that it's totally inappropriate. It's unsafe and it's unprofessional. The stakes are high. This is why it's important to keep the lines of communication open to prevent potential miscalculation," Ryder said.