Sean Spicer defends brief WH tenure: I don't think I lied to American people
The former press secretary spoke out in an interview with ABC News' Paula Faris.
September 21, 2017, 7:31 AM
— -- Former White House press secretary Sean Spicer acknowledged that he "made mistakes" but said that for those who "want some blanket apology — that's not happening."
"I made mistakes," Spicer, who has been out of the White House for less than a month, told ABC News' Paula Faris. "There's no question. I think we all do."
He said that he "tried to own" some of his mistakes but that "the personal attacks, questioning my integrity ... what my intentions were, I think, were really over the top."
Asked if he ever lied to the American people, Spicer responded, "I don't think so."
"I have not knowingly done anything to ... do that, no," he said when pressed.
Spicer touched on some of the most notable moments during his short tenure as President Donald Trump's spokesman, including his first appearance in the White House briefing room, when he read a statement to the press about the size of the crowd at the inauguration.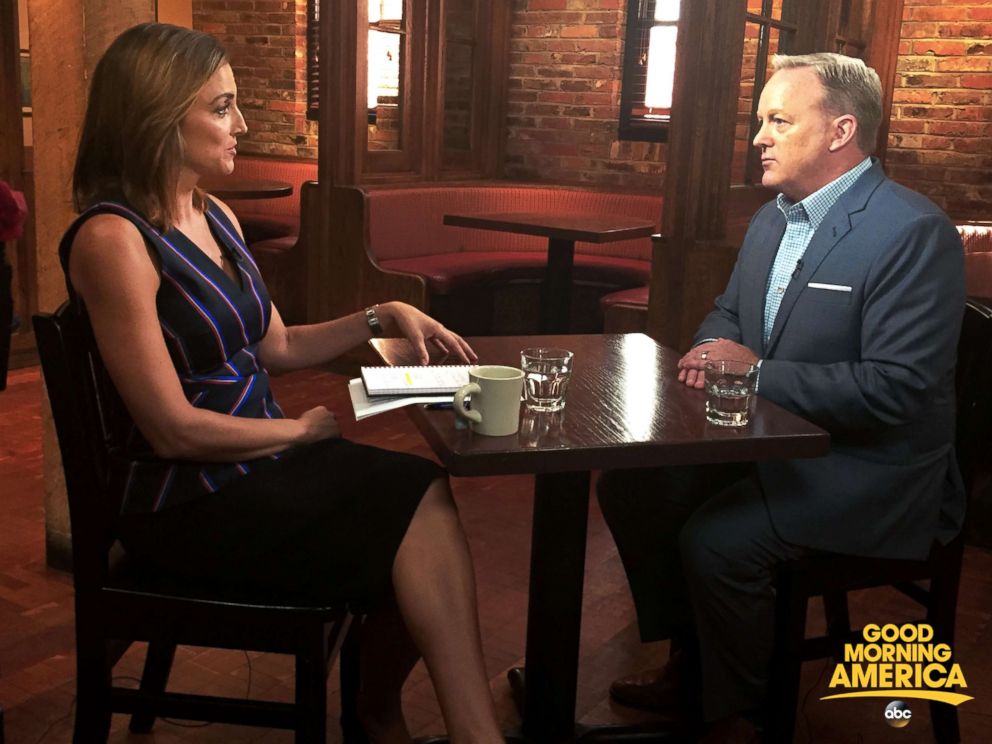 His comments sparked widespread criticism, with photos surfacing that contradicted him.
"I think it might've been better to be a lot more specific with what we were talking about in terms of the universe, not focus so much on photographic evidence, et cetera," Spicer said. "I could've probably had more facts at hand and been more articulate in describing ... the entirety of what that day was about."
He added that many people viewed the inauguration online, saying, "There are more social platforms, more online platforms to view things ... than existed eight years prior."
Spicer acknowledged the controversy that ensued after Trump fired then–FBI Director James Comey.
Asked repeatedly if it was his obligation as press secretary to set the record straight regarding contradictory information that emerged after Comey's firing, Spicer said Trump accomplished that himself.
"He set it straight," Spicer said. "My job is to help ... give voice to, to what his thinking is when he can't do it himself. In that case, he did it himself."
Spicer opened up about the time Trump contradicted his statements on an executive order barring citizens of six majority-Muslim countries from entering the U.S., tweeting about a "ban" shortly before Spicer told reporters, "It's not a travel ban."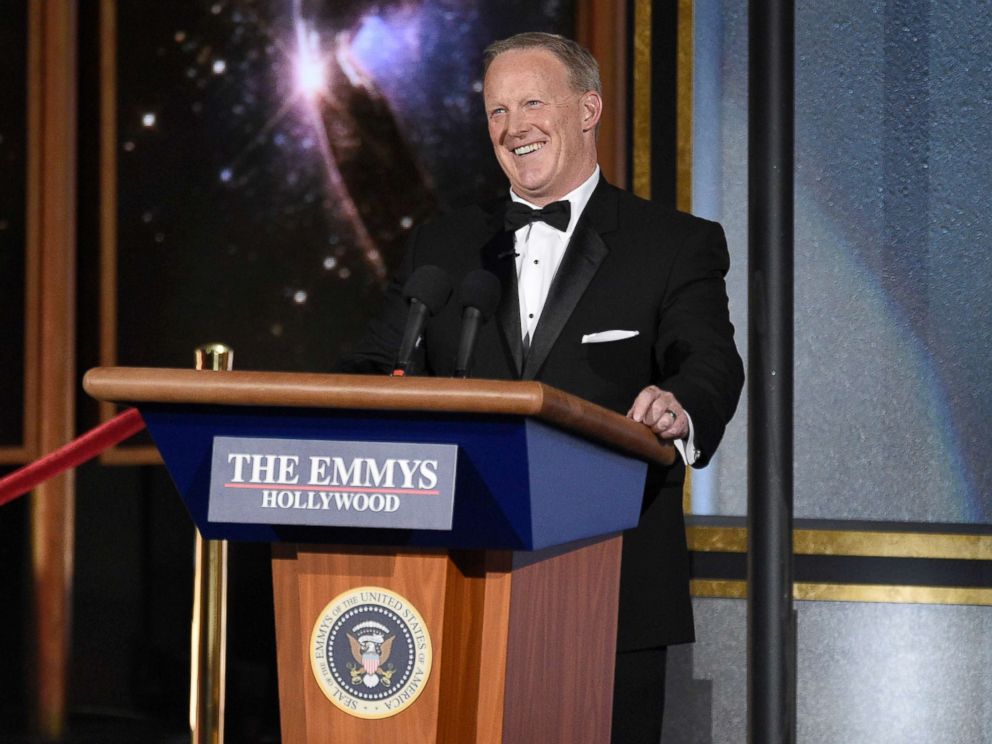 "I would definitely say that I wish we had been more consistent from the beginning, in terms of the terms that we would use and the goals that we were trying to achieve," Spicer said.
When asked about the ongoing investigations into whether there was Russian interference in the 2016 presidential election, he said, "I'm not going to discuss ... that issue at all," even after Faris pressed him on it.
"There's an issue of executive privilege. And as long as that's not invoked, I will do everything ... to do my part to further ... this investigation coming to a swift conclusion," he added.
Spicer again made headlines during a surprise appearance at the 2017 Emmy Awards on Sunday, going onstage behind a mock White House lectern and poking fun at his infamous inauguration claim, saying, "This will be the largest audience to witness an Emmys — period."
He said Trump was "very supportive" of the Emmy cameo when they spoke on the phone.
"He thought I did a great job ... It was very reassuring," Spicer added.
Despite Trump's positive feedback, Spicer acknowledged the criticism of his appearance on the show.
"I feel very good with my image. I'm very happy with myself," he said. "I am able to go out and explain a lot of things now. But I'm not on a tour. I'm out having some fun."
Reflecting on his time in the White House, he said, "There are things that I did during my time there that ... I needed to go out and correct. I did that. Where there were mistakes that were made that I got something wrong, I think I've owned that."
"I know that there are some folks that, no matter what we say or do ... some folks in the media ... think that, you know, everything that we did was wrong and want some blanket apology — that's not happening," Spicer said.