Sen. Dick Durbin says Democrats 'can't stop the outcome' of Supreme Court nomination
Durbin said the former Democratic nominee was "flat out wrong."
A key member of the Senate Judiciary Committee and the number two Democrat in the Senate acknowledged Sunday that Democrats have no real power to stop a vote on President Donald Trump's nominee to the Supreme Court before November's election.
"We can slow it down perhaps a matter of hours, maybe days at the most," Illinois Sen. Dick Durbin told ABC News Chief Anchor George Stephanopoulos on "This Week." "But we can't stop the outcome."
Republicans are pushing for a quick confirmation process for Trump's nominee, Judge Amy Coney Barrett, to replace the late Justice Ruth Bader Ginsburg. Senate Judiciary Chairman Lindsey Graham, R-S.C., said hearings would begin Oct. 12, and that he hoped the nomination would be out of committee by Oct. 26, a timeline Democrats have criticized.
While denouncing her nomination, Durbin said he would meet with Barrett, and rejected calls to boycott her confirmation hearings. Several Judiciary Committee Democrats, including Connecticut Sen. Richard Blumenthal and Hawaii Sen. Mazie Hirono, have announced they will not meet with Barrett.
"I've met with every Supreme Court nominee since I've been in the Senate. I will extend that courtesy, if she requests it, for at least a socially distanced, safe meeting, perhaps over the phone," Durbin said. "I want to be respectful. We disagree on some things. And in terms of participating in the Senate Judiciary Committee hearing, I'll be there to do my job."
Durbin also dismissed concerns about legitimizing Barrett's confirmation process when pressed by Stephanopoulos.
"We're talking about someone who will be on the highest court in the land for the remainder of her life, and I take that seriously," he said.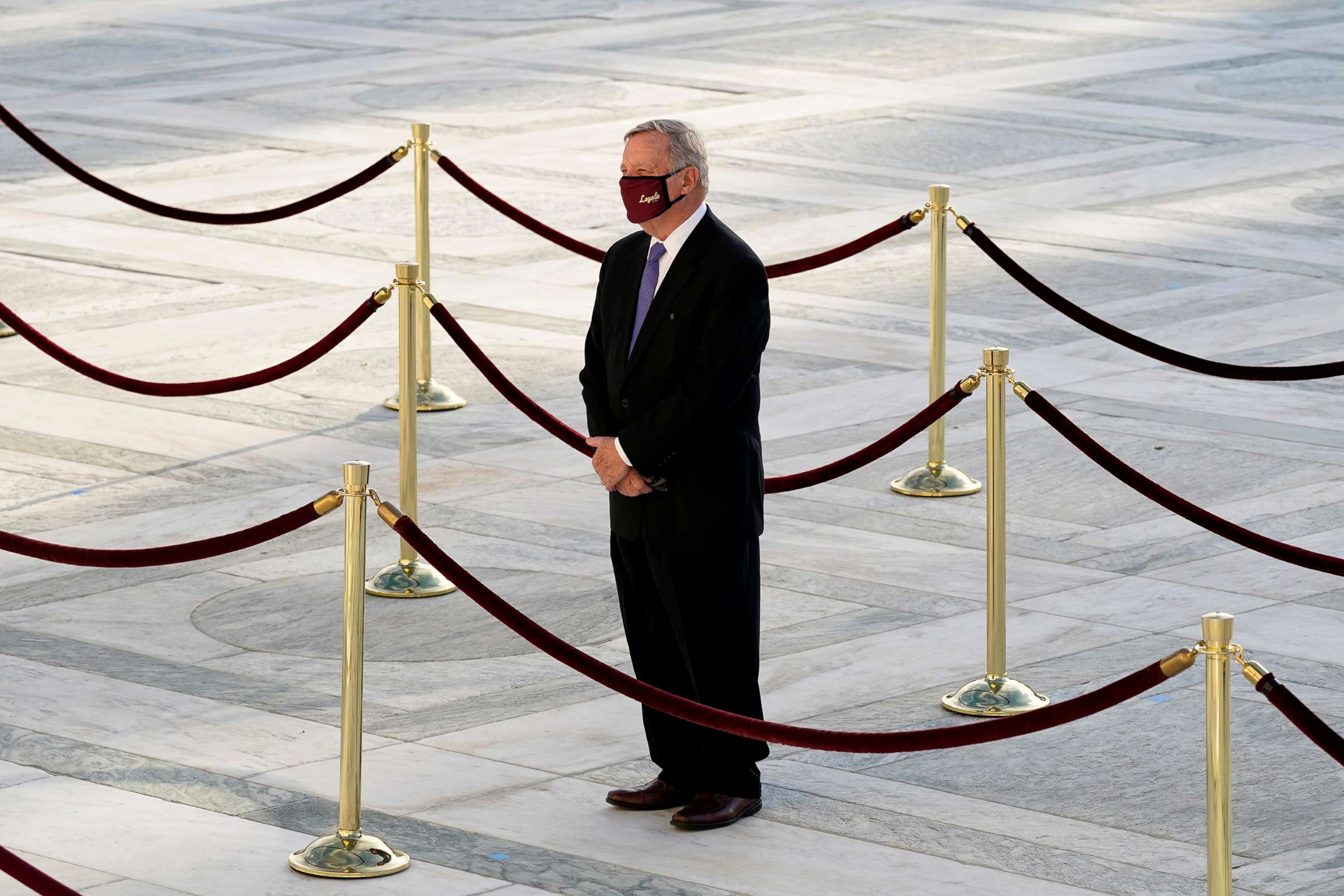 Durbin said he wants to ask Barrett "point-blank" about her position on ending the Affordable Care Act, a concern many Democrats share, citing her criticism of Chief Justice John Robert's opinion in a previous case on the health care bill.
The senior Illinois senator also told Stephanopoulos that a change to rules was on the table if Democrats won back the Senate in November. Some, most vocally Massachusetts Sen. Ed Markey, have called for the elimination of the filibuster and adding seats to the Supreme Court, because Republicans blocked Obama's nominee Judge Merrick Garland and are now demanding a vote on Barrett.
"Mitch McConnell has taken the Senate and turned it into something that is not even close to a deliberative and legislative body," Durbin said. "We need to make sure that whatever the procedure is in the future, that we get down to business, roll up our sleeves, and address the issues that affect this country."
After Trump said this week he wanted his nominee on the Supreme Court by the election so they could rule on potential challenges, Durbin echoed calls by many in his party for Barrett to recuse herself in the event that situation arose.
"I certainly wish she would, it would help matters," he said. "And it would evidence the fact that she wants to be fair in addressing this."
But when Stephanopoulos challenged him on former Democratic nominee Hillary Clinton's call for Joe Biden to not concede the election, he strongly disagreed with Clinton's comments.
Clinton's advice to Biden came after she told Showtime's "The Circus" last month she thought the president would use absentee ballots to discredit the election results.
"Joe Biden should not concede under any circumstances because I think this is going to drag out, and eventually I do believe he will win if we don't give an inch and if we are as focused and relentless as the other side is," she in the interview.
"I respect her, I like her. But I think she's just flat-out wrong," Durbin said. "The election itself is going to be announced, the winner will be announced at some point."
"If we are going to maintain a democracy, peaceful transition through an election is the only way to do it," Durbin said. "Whoever the winner is, if it is clear and legal, that should be announced and the other party should concede."