Sen. John McCain's daughter Meghan pens moving tribute to father 'who taught me how to live'
Everyone from President to Trump to former President Obama offered condolences.
As condolences poured in for Sen. John McCain from his political allies and foes alike, the Arizona Republican's daughter, Meghan McCain, offered a heartfelt tribute to a father who "taught me how to live."
"I was with my father at his end, as he was with me at my beginning," Meghan McCain wrote in a statement. "In the thirty-three years we shared together, he raised me, taught me, corrected me, comforted me, encouraged me, and supported me in all things. He loved me, and I loved him.
"He taught me how to live. His love and his care, ever-present, always unfailing, took me from a girl to a woman -- and he showed me what it is to be a man."
She said now that her dad is gone, she is motivated more than ever to spend her life living up to "his example, his expectations, and his love."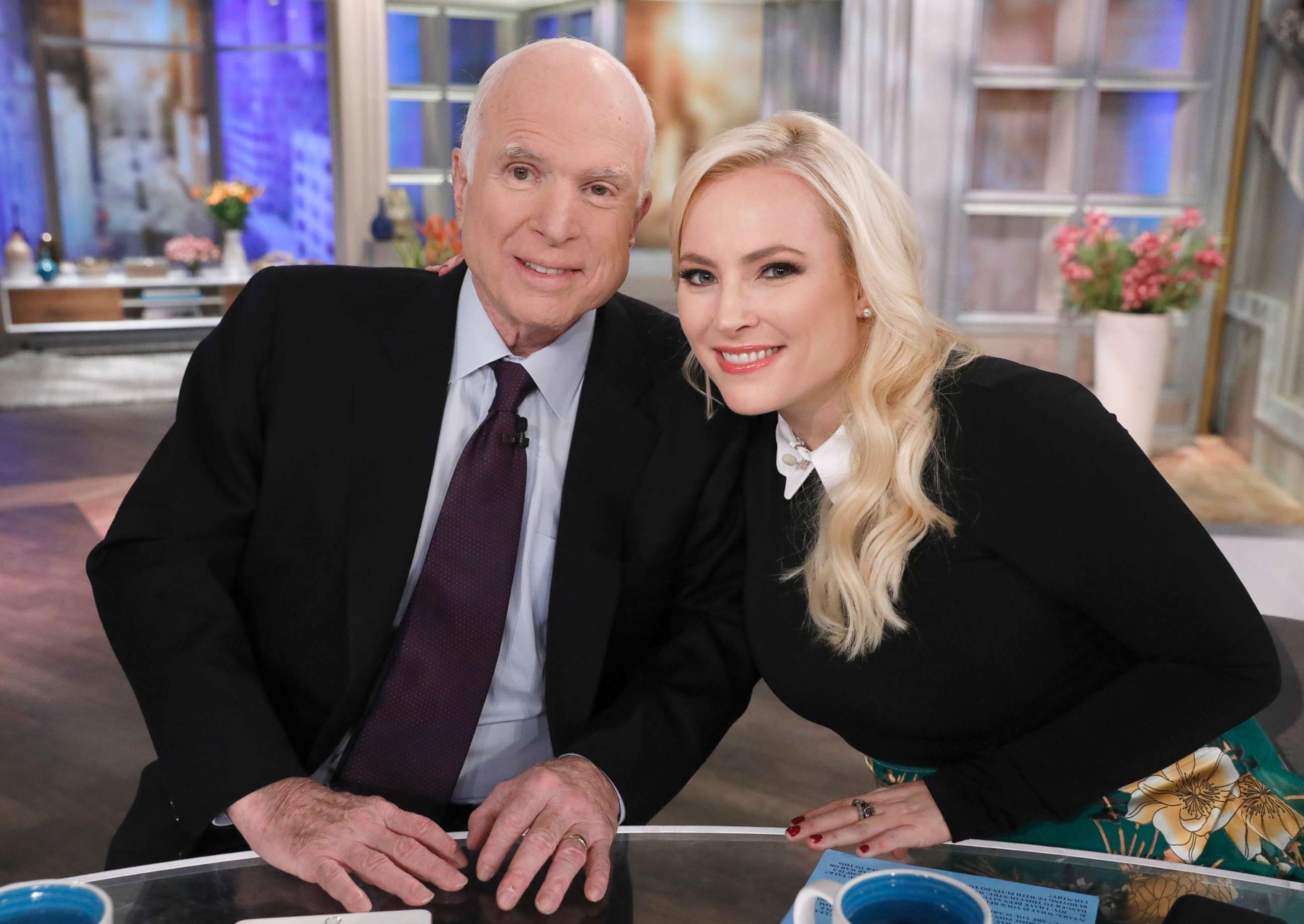 "My father's passing comes with sorrow and grief for me, for my mother, for my brothers, and for my sisters," wrote Meghan McCain, a co-host on ABC's "The View." "He was a great fire who burned bright, and we lived in his light and warmth for so very long. We know that his flame lives on in each of us. The days and years to come will not be the same without my dad -- but they will be good days, filled with life and love because of the example he lived for us."
She thanked admirers of her father for their prayers, well-wishes, and remembrances of the American war hero who became a straight-shooting politician and reveled in being a maverick.
"My father is gone, and I miss him only as an adoring daughter can," she wrote. "But in this loss, and in this sorrow, I take comfort in this: John McCain, hero of the republic and to his little girl, wakes today to something more glorious than anything on this earth. Today the warrior entered his true and eternal life, greeted by those who have gone before him, rising to meet the Author of All Things: The dream is ended: this is the morning."
Everyone from President Donald Trump, who had a rocky relationship with the longtime senator, to former President Barack Obama, his opponent in the 2008 presidential campaign, to Sarah Palin, his former running mate, were saddened by McCain's death.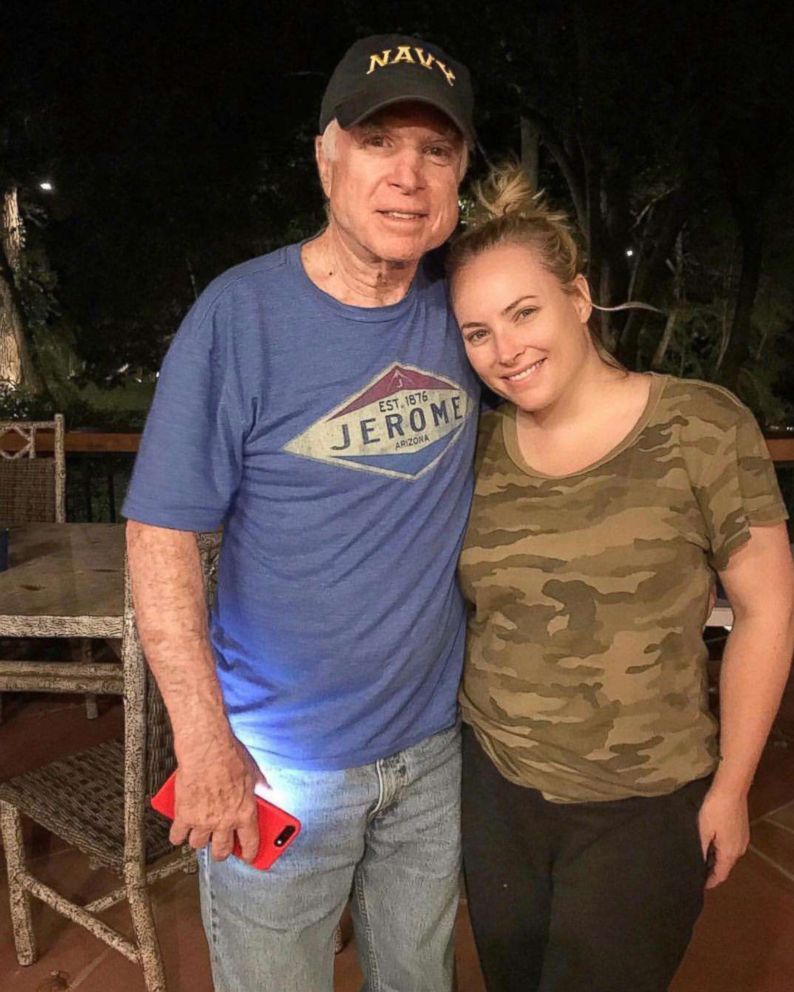 "My deepest sympathies and respect go out to the family of Senator John McCain," President Trump tweeted. "Our hearts and prayers are with you!"
First lady Melania Trump also took to Twitter to express condolences, writing, "Our thoughts, prayers and deepest sympathy to the McCain Family. Thank you Senator McCain for your service to the nation."
First daughter Ivanka Trump, added: "Honoring the memory and legacy of Senator John McCain, an American patriot, who served our great nation with distinction. My prayers are with Senator McCain's family and loved ones as our nation mourns his passing."
Obama said he and McCain competed "at the highest level of politics."
"But we shared, for all our differences, a fidelity to something higher -– the ideals for which generations of Americans and immigrants alike have fought, marched, and sacrificed," Obama said in a statement. "We saw our political battles, even, as a privilege, something noble, an opportunity to serve as stewards of those high ideals at home, and to advance them around the world.
"We saw this country as a place where anything is possible –- and citizenship as our patriotic obligation to ensure it forever remains that way," the statement continued.
Palin, whom McCain later said he regretted selecting as his vice presidential running mate, said the country lost "an American original."
"Sen. John McCain was a maverick and a fighter, never afraid to stand for his beliefs," she said in a tweet. "John never took the easy path in life -- and through sacrifice and suffering he inspired others to serve something greater than self.
"John McCain was my friend," she continued. "I will remember the good times. My family and I send prayers for Cindy and the McCain family."
The 81-year-old Republican senior senator from Arizona and Vietnam War veteran revealed last summer that he had been diagnosed with glioblastoma, a fast-growing, aggressive type of brain tumor. In a statement released Friday morning, the McCain family said he has "surpassed expectations for survival" in the past year, but that the "progress of the disease and the inexorable advance of age render their verdict."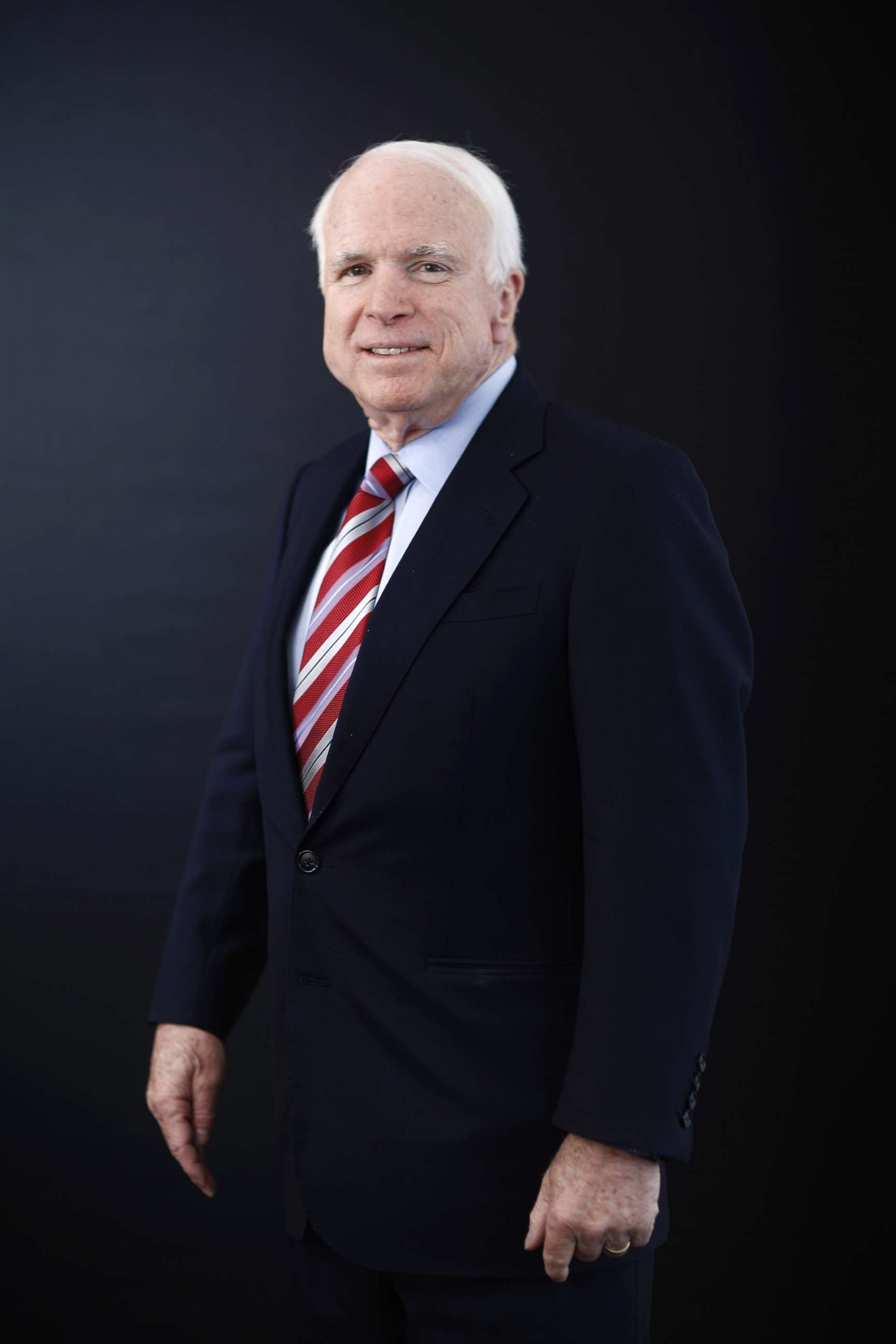 His wife Cindy McCain tweeted after his passing that her "heart is broken."
"I am so lucky to have lived the adventure of loving this incredible man for 38 years," she said. "He passed the way he lived, on his own terms, surrounded by the people he loved, in the place he loved best."
Earlier in the day, she thanked well-wishers for their support.
"The entire McCain family is overwhelmed by the outpouring of love and support from around the world. Thank you," Cindy McCain, who has been married to her husband for 38 years, wrote on Twitter Saturday morning.
Former President George W. Bush issued a statement saying, "Some lives are so vivid, it is difficult to imagine them ended. Some voices are so vibrant, it is hard to think of them stilled. John McCain was a man of deep conviction and a patriot of the highest order."
"He was a public servant in the finest traditions of our country. And to me, he was a friend whom I'll deeply miss. Laura and I send our heartfelt sympathies to Cindy and the entire McCain family, and our thanks to God for the life of John McCain."
Bush's father, former President George H.W. Bush, added that McCain was "a public servant of rarest courage."
"Few sacrificed more for, or contributed more to, the welfare of his fellow citizens -- and indeed freedom-loving peoples around the world," Bush Sr. wrote in a statement. "Another American maverick and warrior, General George Patton, once observed: 'We should thank God that men such as these have lived.' To that, I can only add my gratitude to John's wife Cindy, his wonderful family, and the people of Arizona who permitted this great and good man to serve with such distinction in the world's greatest deliberative body."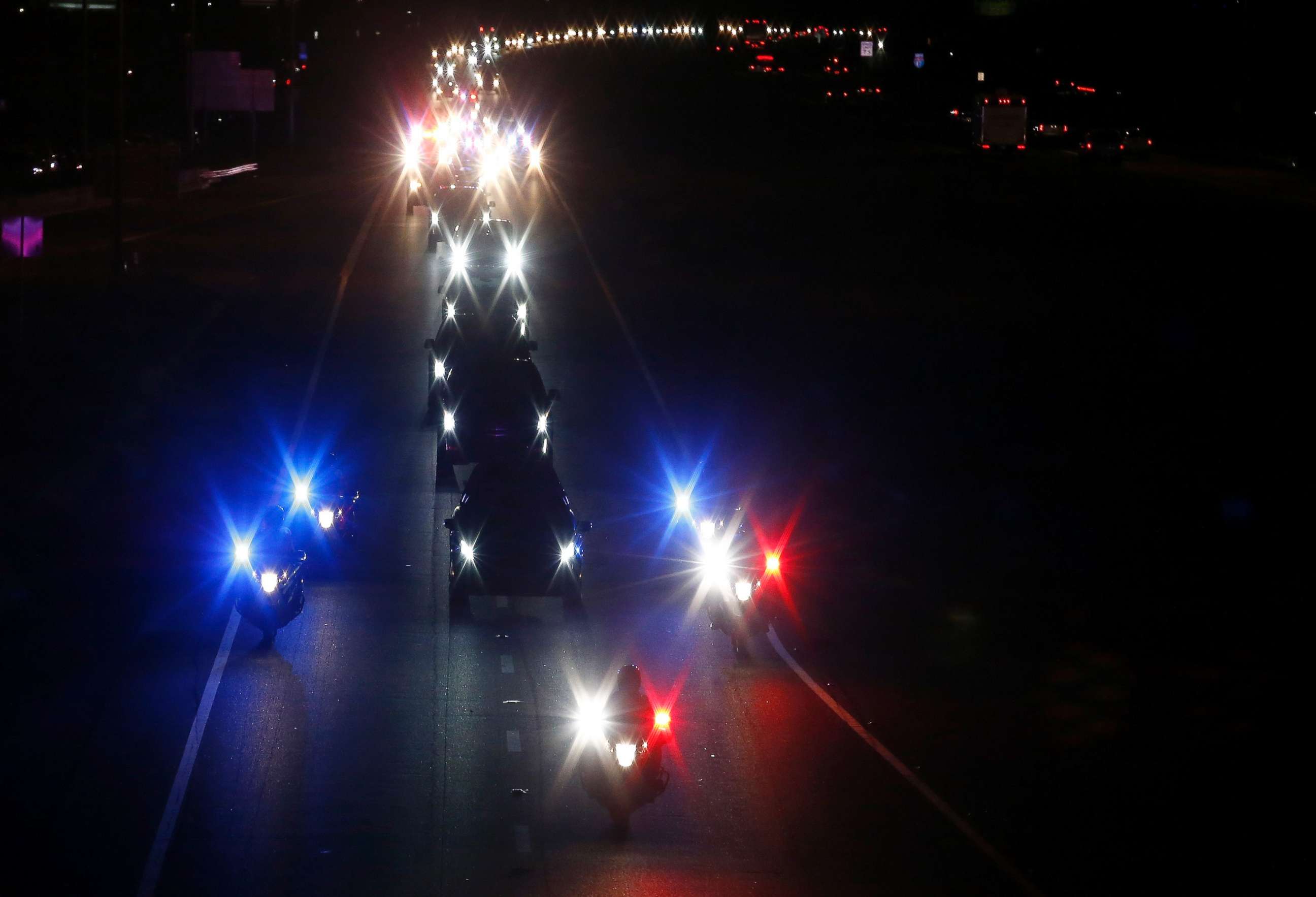 Former President Bill Clinton described McCain as a "skilled, tough politician," who was willing to work with colleagues on both sides of the political aisle.
"Senator John McCain believed that every citizen has a responsibility to make something of the freedoms given by our Constitution, and from his heroic service in the Navy to his 35 years in Congress, he lived by his creed every day," Clinton said in a statement.
Clinton said his wife, former Secretary of State Hillary Clinton, was honored to serve with McCain in the Senate and considered him a "trusted colleague."
"He frequently put partisanship aside to do what he thought was best for the country, and was never afraid to break the mold if it was the right thing to do," Clinton said.
Former President Jimmy Carter called McCain "a man of honor, a true patriot in the best sense of the word."
"Americans will be forever grateful for his heroic military service and for his steadfast integrity as a member of the United States Senate," Carter wrote in a statement. "Rosalynn and I extend our sincere condolences to Senator McCain's family and to the people of Arizona whom he represented so forthrightly for so many years."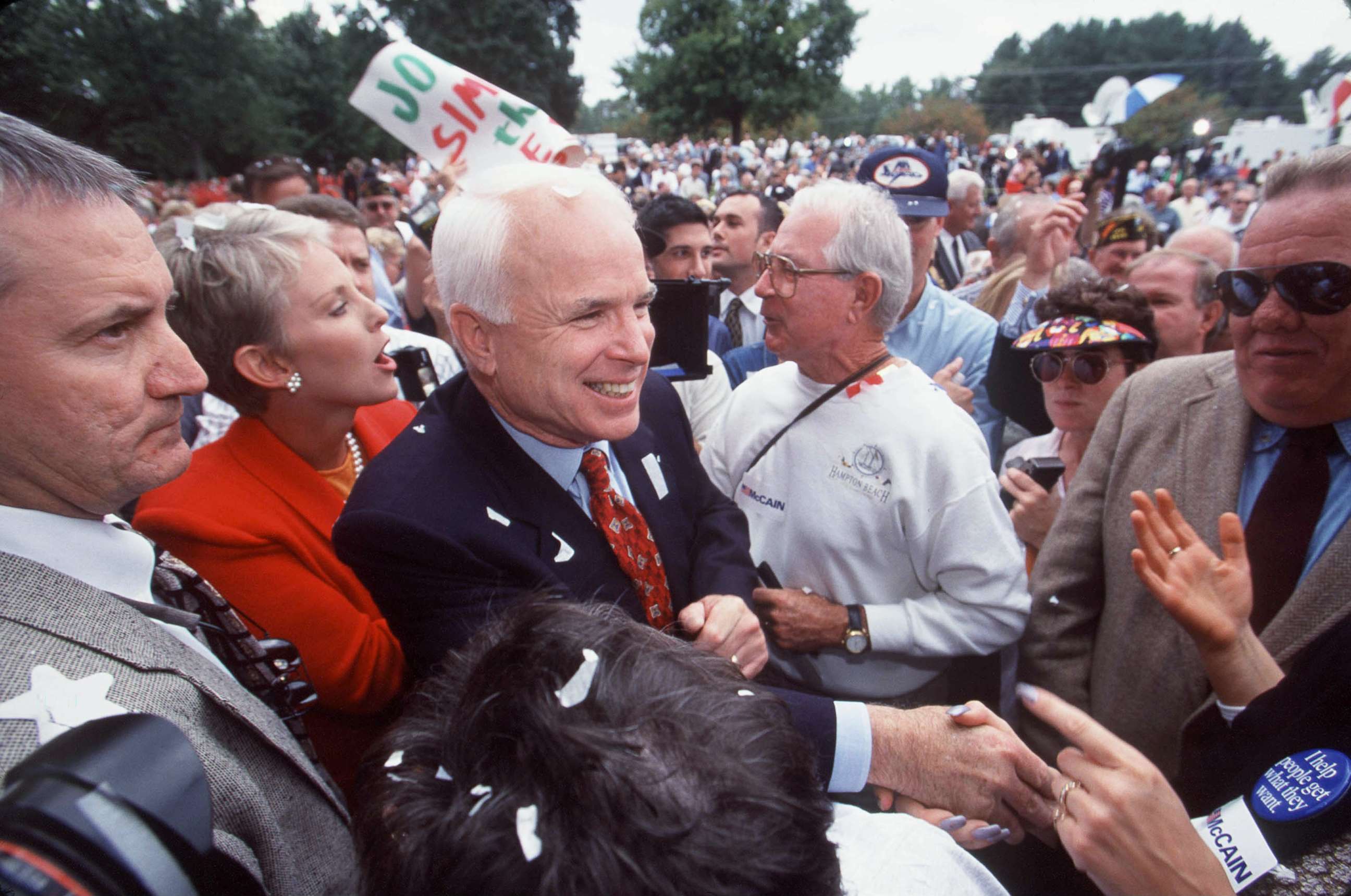 Former Vice President Joe Biden, who forged a close friendship with McCain, said McCain "is proof that some truths are timeless. Character. Courage. Integrity. Honor."
"A life lived embodying those truths casts a long, long shadow. John McCain will cast a long shadow. His impact on America hasn't ended. Not even close," Biden said. "It will go on for many years to come."
Another close friend of McCain, Sen. Lindsay Graham, R-S.C., tweeted that "America and Freedom have lost one of her greatest champions. ....And I've lost one of my dearest friends and mentor."
Sen. Chuck Schumer, D-N.Y., said he would introduce a resolution to rename the Russell Senate Office Building after McCain.
"As you go through life, you meet few truly great people. John McCain was one of them," Schumer wrote in a statement. "His dedication to his country and the military were unsurpassed, and maybe most of all, he was a truth teller -- never afraid to speak truth to power in an era where that has become all too rare. The Senate, the United States, and the world are lesser places without John McCain."
In the hours following McCain's death, accolades continued to come from national Republican and Democratic leaders, many of them also McCain's closest friends, and celebrities:
-- Sen. Jeff Flake, McCain's Republican Senate colleague from Arizona, said, "Words cannot express the sorrow I feel at John McCain's passing. The world has lost a hero and a statesman. Cindy and the McCain family have lost a loving husband and father. I have lost a wonderful friend.

-- House Speaker Paul Ryan, R-Wisc., called McCain "a giant of our time, not just for the things he achieved but for who he was and what he fought for all his life." Ryan said. "John put principle before politics. He put country before self. He was one of the most courageous men of the century. He will always be listed among freedom's most gallant and faithful servants."

Senator John McCain through the years
Serving as a Navy pilot in the Vietnam War, John McCain III, was held as a prisoner of war for years after his warplane was shot down. Upon being released, he returned home and continued to serve his country through politics; first in the House of Representatives and then in the Senate. McCain also ran for president in 2000 and 2008, unsuccessfully, but still remains active in the Senate for the state of Arizona. <br><br>John S. McCain III, center, as a young boy with his grandfather Vice Admiral John S. McCain Sr., left, and father Commander John S. McCain Jr. in family photo, 1940's.
Terry Ashe/The LIFE Images Collection/Getty Images
-- Rep. Nancy Pelosi, D-Calif., simply said, "The nation is in tears." Pelosi added, "Compelled by his unshakeable faith and deep love of country, he dedicated his life to defending both America and the American idea -- fighting tirelessly to ensure that our nation always remains a land of justice, freedom and hope."
-- Senate Majority Leader Mitch McConnell, R-Ky., said of McCain, "In an era filled with cynicism about national unity and public service, John McCain's life shone as a bright example. He showed us that boundless patriotism and self-sacrifice are not outdated concepts or clichés, but the building blocks of an extraordinary American life."

-- Former Sen. Joe Lieberman of Connecticut, who McCain said was his first choice as a running mate in his 2008 presidential run, said that although McCain's death was expected, the loss still hurts. "America has lost one of the greatest patriots and public servants in our history. And I have lost a dear friend. I was lucky to know him and work with him and am comforted now by great memories of our times together and by the words he spoke to me last summer when he was recovering from the brain cancer surgery: 'I want to live as long as I can but if my life ends soon as a result of this cancer, I will have been blessed to have lived a great life. So I am going to go forward with a lot of gratitude and joy every day I can.'"

-- Ellen Degeneres said she was "honored to have met" McCain. "He always stood up for what he believed was right. Sending love to his family on this very sad day for our country."

ABC News' Meghan Keneally contributed to this report.