— -- The day after he sparked outrage among free trade advocates by announcing tariffs on steel and aluminum imports, President Donald Trump doubled down on his decision by tweeting his rationale for imposing them.
During a cable news appearance this morning, Commerce Secretary Wilbur Ross didn't go as far as Trump did, but he did defend the tariffs by saying steel imports are a national security issue.
"Economic strength is military strength," Ross, himself a former steel magnate, said.
He also downplayed the effect on domestic markets that the new tariffs will have, saying they are "no big deal" and bringing props along to make his point.
Ross held up cans of soup, beer and soda, which he said he had bought that morning, saying the tariffs would only increase the cost of those products by tenths of a cent. He added the case would be similar for the steel in cars.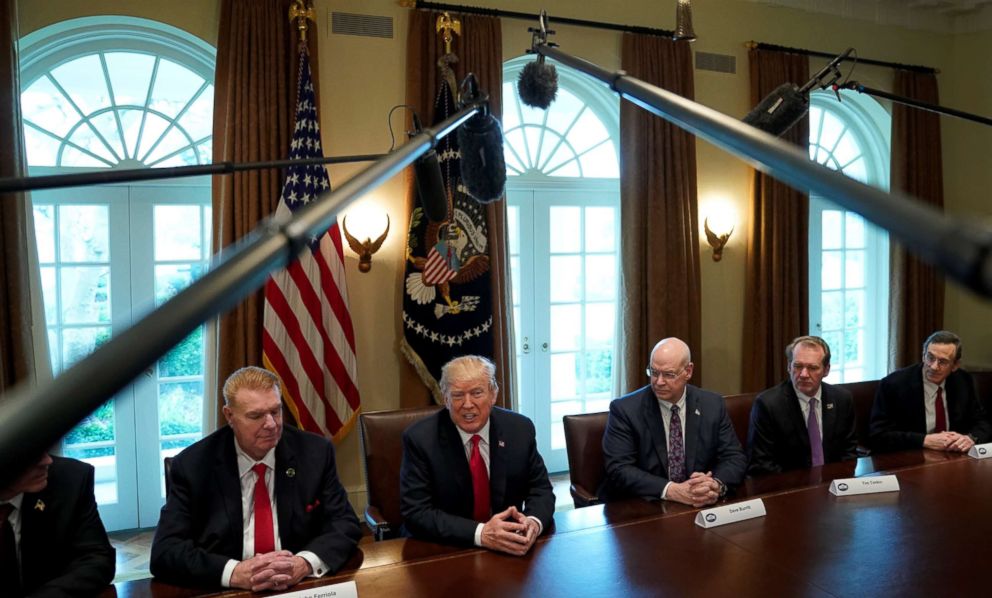 "Who in the world is going to be too bothered?" he asked of the potential new cost.
But this position isn't sitting well with many members of Trump's own party, including those on Capitol Hill.
Sen. Ben Sasse, R-Neb., released a statement shortly after the president's early morning tweet, pushing back on his assertion that "trade wars are good."
"Trade wars are never won. Trade wars are lost by both sides. Kooky 18th-century protectionism will jack up prices on American families -- and will prompt retaliation from other countries. Make no mistake: If the president goes through with this, it will kill American jobs -- that's what every trade war ultimately does."
Playing on one of Trump's frequent campaign slogans about winning, Sasse concluded his statement by saying, "So much losing."
Sasse was not alone in his criticism, as many other Senate Republicans urged the president to reconsider his decision Thursday.
"Tariffs on steel and aluminum are a tax hike the American people don't need and can't afford. I encourage the president to carefully consider all of the implications of raising the cost of steel and aluminum on American manufacturers and consumers," Sen. Orrin Hatch, R-Utah, the chairman of the Senate Finance Committee, said in a statement.
Sen. Pat Toomey, R-Pa., issued a statement calling the decision "a big mistake."
Republicans found a sympathetic voice on the other side of the aisle in Senate Democratic Leader Chuck Schumer, D-N.Y., who seemed to respond to Trump's tweet Friday by saying on a cable news show, "To say that trade wars are a good thing is just wrong."