What's at stake: Biden to visit India for G20 summit
He'll appear on the world stage as former President Trump faces criminal trials.
President Joe Biden will travel to India next month to attend this year's Group of 20 leaders' summit, potentially placing him in the same venue as Russian President Vladimir Putin, the White House said Tuesday.
Biden will travel to New Delhi, the site of this year's gathering, from Sept. 7 to 10, according to the White House.
Russia's invasion of Ukraine is expected to continue to take center stage at the gathering, just as members of Congress return to Washington and consider approving Biden's request for billions in additional military and economic aid for Kyiv.
The G20 meeting could also lead Biden to come into close proximity to Putin, who reportedly has not ruled out attending.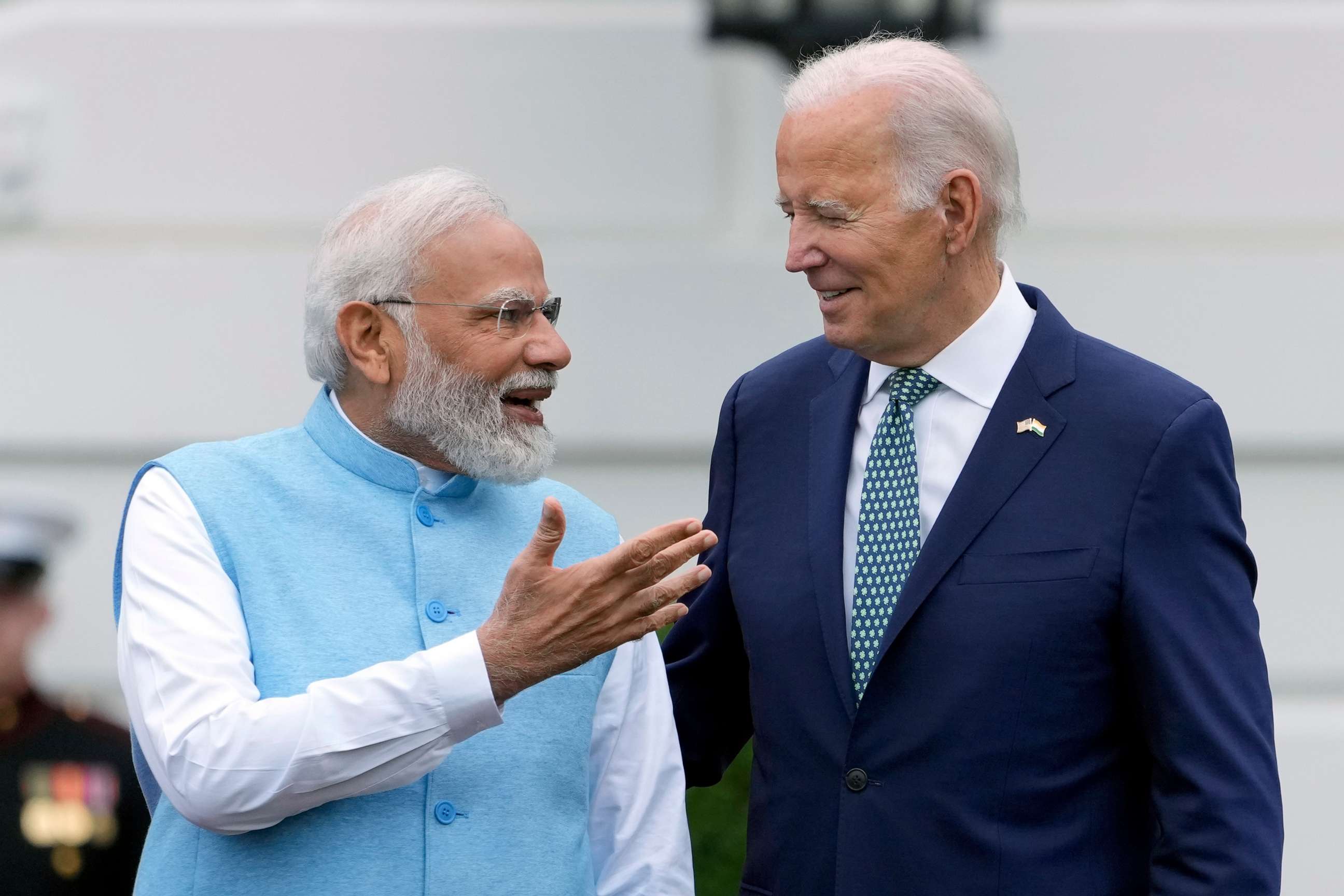 This week, Putin is skipping attending a summit in South Africa in person while a warrant for his arrest from the International Criminal Court remains outstanding. India, though, is not a party to the ICC.
Other potential attendees could include Chinese President Xi Jinping and Saudi Crown Prince Mohammed bin Salman.
In New Delhi, Biden will also focus on climate change, clean energy, and reforming multilateral development banks, including the World Bank and International Monetary Fund, according to the White House.
His attendance will place him in a preferable position -- leading on the world stage -- as compared with that of his potential 2024 Republican presidential challenger, former President Donald Trump, who is facing a spate of criminal cases that will pull him from the campaign trail.
The week Biden is scheduled to depart for India is the same week the district attorney in Fulton County, Georgia, proposed arraigning Trump and other defendants charged with counts related to interfering with Georgia's 2020 election. Trump is expected to enter a plea of not guilty.
The White House also announced that Vice President Kamala Harris will attend two summits in Jakarta, Indonesia, in the days before Biden departs for New Delhi.
Harris will travel to Indonesia's capital from Sept. 4 to 7 to attend the East Asia Summit and the U.S.-ASEAN summit, according to the White House.
In Jakarta, Harris will turn her attention to the climate crisis, maritime security, infrastructure, economic growth, and upholding international rules and norms, the White House said.