When more than 2,000 students receive their diplomas at the University of Notre Dame Sunday, there will be familiar graduation weekend sights -- students in cap and gowns, proud parents snapping photographs and celebrations.
But there also will be protests from anti-abortion activists who are furious at Notre Dame for inviting President Obama to deliver the commencement address and awarding him an honorary degree because of his positions on abortion and his announcements on stem cell research and international family planning.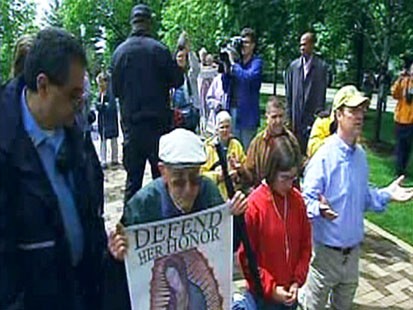 The protests first flared up in March, when the White House announced that Notre Dame, in South Bend, Ind., would be one of three schools where Obama would deliver a commencement address, and have continued for weeks, with students and outside activists staging demonstrations just off campus.
This year, for the first time in more than 100 years, Notre Dame will not present its most prestigious award, the Laetare Medal, because the Catholic scholar who won it, Mary Ann Glendon, turned it down.
As was the case at Arizona State University this week, Obama will not shy away from addressing the controversy surrounding his visit. White House press secretary Robert Gibbs said the president will mention the debate that has occurred over the commencement.
"I think the president is somebody who's taught in a university setting and would understand that this is exactly the type of give-and-take that's had on college campuses all over the country," Gibbs said.
Notre Dame president, the Rev. John I. Jenkins, C.S.C., has stopped commenting on the issue.
Officials at the university refer back to his initial statement March 23 where he said that the invitation does not mean Notre Dame supports all of Obama's decisions, nor should it be taken as condoning or endorsing his positions on issues like abortion and embryonic stem cell research.
"Presidents from both parties have come to Notre Dame for decades to speak to our graduates -- and to our nation and world -- about a wide range of pressing issues -- from foreign policy to poverty, from societal transformation to social service. We are delighted that President Obama will follow in this long tradition of speaking from Notre Dame on issues of substance and significance," Jenkins said.
Obama won the Catholic vote in last year's election, 54-45 over Sen. John McCain, R-Ariz. Twenty-seven percent of voters identified themselves as Catholic, according to national exit polling.
Obama also won Indiana, the first time the Hoosier State had gone to a Democrat since 1964, and he won Notre Dame's home county, St. Joseph, 58-41 percent.
Some Students to Boycott Ceremony
Victor Saenz is a graduating senior, but he will not go to Sunday's ceremony to protest the university awarding Obama an honorary degree.
"This is not just about commencement, but this is about upholding who I am as a Catholic and what this institution is as a Catholic institution," he told ABC News. "If this was just a regular old secular institution -- UCLA, whatever -- it would be different, but this is the University of Notre Dame, Our Lady's university."
Saenz does not have a problem with Obama as president, but he said the president's positions were at odds with fundamental Catholic teachings.
Notre Dame student Michele Sagala said that she would have no problem with Obama coming to campus for a forum or dialogue, but took issue with the university honoring him at the commencement.
"We would hope that honoring someone at commencement would mean that we were upholding someone who adheres to our Catholic values as much as possible," she said.
The Rev. Richard McBrien, a Notre Dame theology professor, called the honorary degree a "red herring."
"If he were not getting an honorary degree, but were speaking at the commencement, there would still be the same protest," he said. "It's a custom of Notre Dame to give an honorary degree to all commencement speakers, whether they're president of the United States or anybody else."
It is not just students who are boycotting the ceremony. Bishop John D'Arcy of the Diocese of Fort Wayne-South Bend, Ind., where Notre Dame is located, said in March that he will not attend Sunday's commencement because of Obama's "long-stated unwillingness to hold human life as sacred."
"While claiming to separate politics from science, he has in fact separated science from ethics and has brought the American government, for the first time in history, into supporting direct destruction of innocent human life," D'Arcy said in a statement. "My decision is not an attack on anyone, but is in defense of the truth about human life."
This will be the first Notre Dame commencement D'Arcy will miss in his 25 years as head of the diocese.
Some students are choosing to attend the ceremony, but stage a silent protest.
"We are planning on putting a symbol on top of our mortarboards with a cross and a pair of baby feet, just as a silent witness of our disagreement with the university's decision to bring Barack Obama as the commencement speaker and to give him an honorary degree," said Stephen Govea. "As the president of the United States, he is an exciting person to have in any capacity. Unfortunately, as I said, he is just tragically opposed to us on some very fundamental issues."
Earlier this week, the White House aggressively pushed back against the notion that the opposition of one group at Notre Dame is representative of widespread feelings on campus or among Catholics in general.
"I think there's one group organizing a boycott," Gibbs said. "And, as best I can understand it, there are 23 groups that have formed in support of the president's invitation."
On Saturday, ND Response, the group leading the anti-Obama demonstrations, planned to hold a candlelight vigil and Sunday planned to stage a meditation ceremony and a rally to pray for graduates.
ND Response is a coalition of 11 anti-abortion groups, including the Notre Dame Right to Life organization and the Notre Dame College Republicans.
Part of all three events, according to an organizer, is a protest of the university honoring "a political figure who supports abortion and stem cell research."
The group said it is not a Democratic or Republican issue, but about Catholic doctrine: "Our objection is not a matter of political partisanship, but of President Obama's hostility to the Catholic Church's teachings on the sanctity of human life at its earliest stages."
Professor: Campus 'Overwhelmingly Supportive' of Obama
But many students said ND Response's very vocal and public demonstration is not indicative of the overall enthusiasm and excitement of having the president speak at their commencement.
E. Brennan Bollman, who will deliver Sunday's valedictory address, said that the "sensationalism" over the president's speech is coming from outside the campus.
"I think the feeling overwhelming[ly] is one of excitement and enthusiasm," she said. "[That] is just the general pulse on campus, that the president is coming to speak to us."
McBrien reiterated that point and said that the reaction on campus has been "overwhelmingly supportive."
"The campus cannot be more tranquil," he said. "Almost all of the opposition has been generated from groups outside the university, not internally."
The White House has pointed to a group of 23 campus organizations, including the African Student Association, the College Democrats and Notre Dame Peace Fellowship, that have written a letter to Jenkins expressing their concern with the singular focus on the president's views on abortion.
"We are concerned that in narrowing the focus to one aspect of life that has often proven polarizing and divisive, many have lost the ability to recognize the other aspects of President Obama's work that continue to uphold the principles of justice and solidarity," the coalition stated.
Bollman said she and many students share the view of university president Jenkins, that giving the president an honorary degree does not mean the university backs every position he holds.
"We're simply saying he is in an office that deserves a great deal of respect, whoever is in the office as president," she said. "As an individual, President Obama has in his short time in office pushed forth policies that are very strongly in line with policies [the] university holds dear."
According to a recent poll by Quinnipiac University, 56 percent of Americans said Notre Dame should not rescind its invitation to Obama and even more Catholics, 60 percent, hold the same view.
Opposition Began Immediately After Announcement
Opponents of Notre Dame's decision point to a 2004 statement from the U.S. Conference of Catholic Bishops as justification for their protest.
That year, the conference approved a policy statement called "Catholics in Political Life," which would prohibit awards or honors to individuals who "act in defiance" of the Catholic Church's "fundamental moral principles."
"They should not be given awards, honors or platforms, which would suggest support for their actions," the paper said.
Controlling the Focus on Graduation Day
In March, the Cardinal Newman Society, an organization whose stated purpose is "renewing and strengthening Catholic identity" at the nation's 224 Catholic universities and colleges, created a Web site and an online petition to try to push Notre Dame into rescinding the invitation.
More than 300,000 signatures have been added to the online petition, which calls the invitation "an outrage and a scandal" and charges Notre Dame with choosing "prestige over principles, popularity over morality."
The Cardinal Newman Society has repeatedly stressed that the organization was not protesting or attacking Obama, but rather was directing its criticisms at Notre Dame.
"This is not a referendum on President Obama, this is a referendum on Notre Dame," said Patrick Reilly, president of the Cardinal Newman Society. "And that's why 360,000 Catholics have spoken out publicly. They're outraged at Notre Dame's betrayal of its own accepted Catholic values that it claims is the basis for what they do."
Yet the society's online petition decried Obama's recent policy decisions as "some of the most anti-life actions of any American president."
"If, in a very public way, that person has acted very strongly against fundamental teachings of church, we can certainly applaud that person in other ways for their particular actions that are consistent with church teaching," Reilly said. "But you can't honor the person as a whole."
Notre Dame students want to make sure that the attention is focused where it should be on Sunday -- on the graduates.
Valedictorian Bollman said that even with all of the media attention and controversy, Notre Dame students are looking at Sunday as a day of celebration.
"That is the most important thing, and listening to what [the] president has to say, his words to send us forth," she said.
The White House is on the same page.
Gibbs said the students will hear from "a president and a commencement speaker that's quite cognizant of the fact that this is a commencement ceremony.
"This is a special occasion for families to celebrate the conferring of degrees in this ceremony and that the president will understand that's the most important aspect of the day," he said.
Obama will be the ninth U.S. president to receive an honorary degree from Notre Dame and the sixth sitting president to address graduates. He will be awarded an honorary doctor of laws degree at the commencement ceremony.
He also will deliver the commencement address at the U.S. Naval Academy May 22.
 ABC News' John Hendren contributed to this report.