In a turnaround, North Korean leader Kim Jong Un has said to President Donald Trump that the rogue nation will not carry out nuclear and missile tests during the two months that the U.S. and South Korea will conduct their annual large-scale military exercises on the Korean peninsula. In the past, the exercises have often drawn North Korea's ire and prompted provocative North Korean missile and nuclear tests.
South Korean National Security Advisor Chung Eui-yong announced at the White House Thursday night that the president had accepted to meet with Kim Jong Un by May. Chung also briefed Trump that in his meeting this weekend with Kim, the North Korean leader "pledged that North Korea will refrain from any further nuclear or missile tests."
And he added that Kim "understands that the routine joint military exercises between the Republic of Korea and the United States must continue."
The U.S. and South Korea postponed this year's annual "Foal Eagle" and "Key Resolve" exercises until after the Winter Olympics and Paralympic Games being held in South Korea. The exercises typically involve additional air, sea and ground forces beyond the 28,500 American troops regularly deployed to South Korea.
"The focus during this time is the security and success of the Olympics," said Lt. Colonel Christopher Logan, a Defense Department spokesman. "We will release additional information about future exercises after the Olympics."
The Paralympic Games end on March 18, but the Pentagon has not officially announced a start date for both exercises that are typically held every March and April.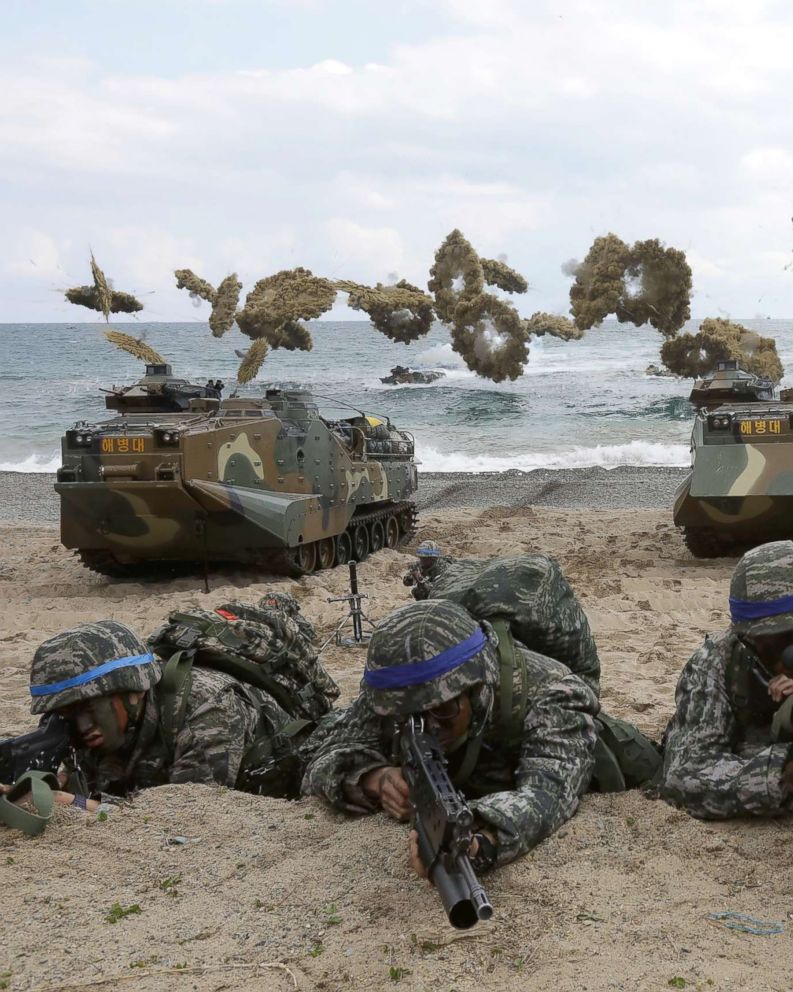 According to a U.S. official, though, the Foal Eagle exercise will begin on March 31 and last for two months. The Key Resolve exercise will begin in mid-April and extend through the first week in May, the official said.
During Foal Eagle, large numbers of U.S. and South Korean military personnel carry out realistic training scenarios throughout South Korea. But Key Resolve involves only headquarters units reacting to computer simulations.
North Korea has often condemned the Foal Eagle exercise and used it as an excuse for its provocative missile and nuclear tests.
"North Korea objects to Foal Eagle because it involves U.S. troops coming to South Korea, and participating in realistic joint training, said Steve Ganyard, ABC News contributor. "It directly counteracts North Korean propaganda and points out the strength of the U.S. and South Korean military alliance."
But North Korean leader Kim Jong Un may have softened that stance with his recent overture for denuclearization talks with the United States.
South Korean officials who met with Kim this past weekend said he told them he understood why South Korea holds the exercises and said they would be hard to cancel anyway.
"If Kim sticks to his playbook, ceasing field exercises like Foal Eagle will be among the first North Korean demands," said Ganyard. "He sees it as a way to weaken the South's military defense and thereby divide the alliance."
Ganyard said the first test of the strength of the U.S.-South Korean alliance will be if Kim's demand gains popular support in South Korea while the U.S. would probably want to see North Korea make concrete proposals, particularly about doing away with its nuclear weapons program.
Traveling in Ethiopia, Secretary of State Rex Tillerson tempered expectations about North Korea's offer of talks with the United States, noting it's still too soon to tell if they are possible.
Prior to Chung's dramatic announcement at the White House, Secretary of State Rex Tillerson had tempered expectations about possible talks with North Korea.
While he acknowledged discussions about talks are "potentially positive signs," Tillerson cautioned, "we're a long way from negotiations."
"We just need to be very clear-eyed and realistic about it," said Tillerson. "I think the first step, and I've said this before is to have talks, to have some kind of talks about talks because I don't know yet until we are able to meet ourselves face to face with representatives of North Korea whether the conditions are right to even begin thinking about negotiations."
Senior Korean officials arrived in Washington on Thursday to brief top U.S. officials with the specifics of Kim's proposals for possible talks.