During Donald Trump's presidential campaign, his friend and adviser Michael Flynn enjoyed the spotlight in a way few other retired generals have. But these days, after pleading guilty to lying to the FBI, he speaks only rarely and cautiously in public as he prepares to be sentenced.
"I want to make sure that I'm very precise because I know there will be a lot of people -- especially in the back row there -- who will pay attention to whatever the heck I say, and I want to make sure that they get the words that I say right," Flynn told an audience of conservative activists in St. Louis on Friday night.
"The back row" was an apparent reference to news media at the event organized by the Gateway Pundit website and Phyllis Schlafly Eagles, a group named for the late conservative stalwart. Flynn was honored with the Gen. Jack Singlaub Award for Service to America.
Flynn's remarks on Friday were notable for what they left out. He did not mention President Trump, who fired him as national security adviser three weeks into the presidency. He said nothing about special counsel Robert Mueller's investigation of Russian interference in the 2016 election, in which Flynn became ensnared for misleading FBI agents about his contacts with Russia's ambassador during the presidential transition in late 2016.
He also made no reference to the news Friday that former Trump campaign chairman Paul Manafort made a plea deal with Mueller and agreed to be a cooperating witness.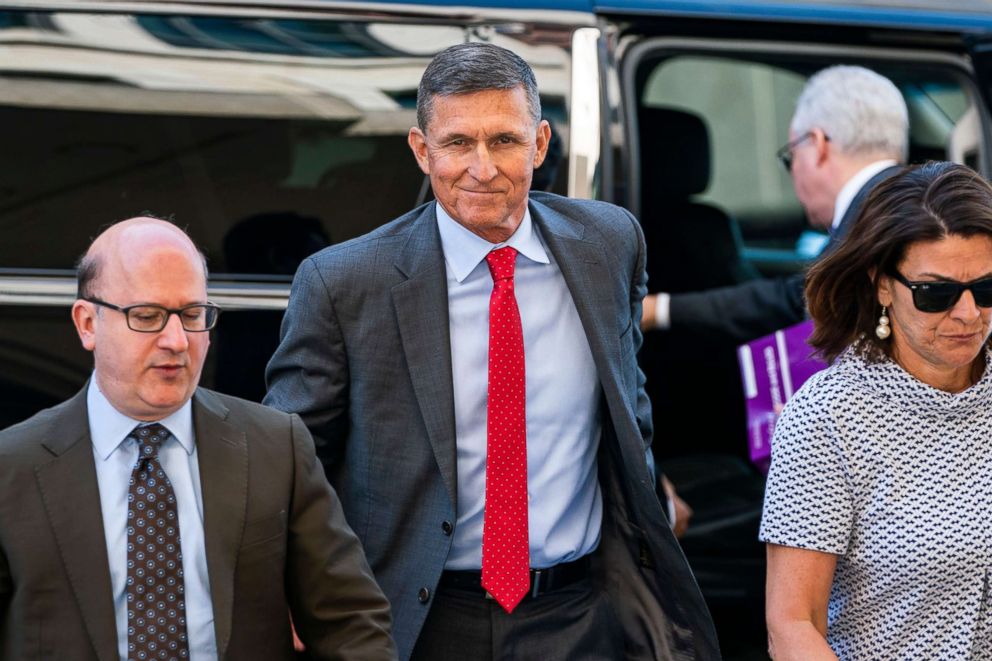 Flynn's friends say his failing to generate headlines means mission accomplished.
"He's paralyzed, he can't do anything. He just wants this to go away. So I'm sure he wants to not make news," historian and commentator Michael Ledeen, a close confidant of Flynn, told ABC News over the weekend.
Flynn's lawyer and Mueller are expected to inform U.S. District Court Judge Emmet Sullivan in a status report today whether both sides are finally ready to schedule Flynn's sentencing after its being delayed three times. If so, he could be sentenced as soon as mid-November. The judge will decide the sentencing date with the special counsel and Flynn's lawyer based on the status report.
It remains a mystery whether the special counsel will agree to set the sentencing date now.
Flynn's loyalists say he is hopeful that his pre-sentencing limbo that began more than nine months ago may soon come to a close.
He pleaded guilty in a dramatic court appearance in December to lying to the FBI and agreed to cooperate with authorities, which, a source said, he did soon afterward.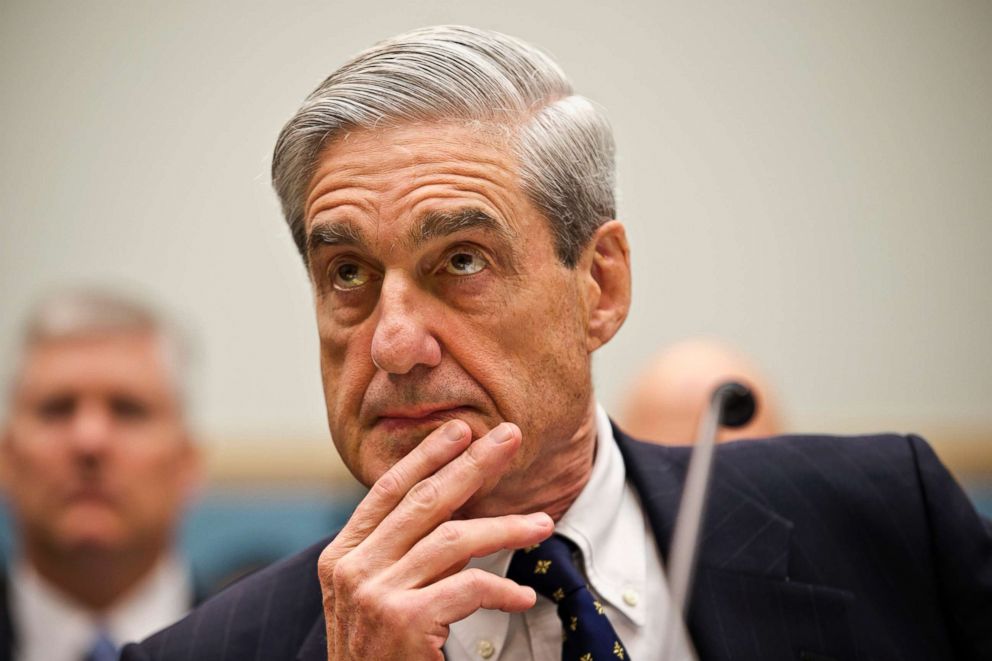 How the special counsel's office views the quality and extent of that cooperation is not clear, nor why his sentencing was delayed.
The retired three-star Army lieutenant general won fame and widespread respect inside the military as an innovative intelligence officer and Defense Intelligence Agency director before he retired and stunned many former colleagues by leading "lock her up" chants about Hillary Clinton at Trump campaign appearances.
He has been mostly out of the public view since his guilty plea, but broke his silence in March with a brief speech in support of California congressional candidate Omar Navarro, a Republican vying for Maxine Waters' seat.
"What I'm not here to do, is I'm not here to complain about who has done me wrong, or how unfair I've been treated or how unfair the entire process has been," Flynn said while introducing Navarro. "You know what it is."
Flynn, who sources say has since received many such invites to campaign for conservative candidates, has turned them all down on the advice that such public appearances will not help him ahead of sentencing.
"He felt he needed to act as a soldier and has kept his mouth shut," a source close to Flynn told ABC News over the summer. Flynn didn't want to be seen as a "whiner" or complicate his deal with Mueller, a former intelligence community peer of Flynn's, the source said. Mueller was FBI director when Flynn led the Defense Intelligence Agency, and they sat on the same panel as co-equals during worldwide-threat congressional hearings.
Two other witnesses have also pleaded guilty to lying to Mueller's agents: Trump campaign adviser George Papadopoulos and Dutch lawyer Alex van der Zwann were sentenced to 14 days and 30 days, respectively, in federal prison.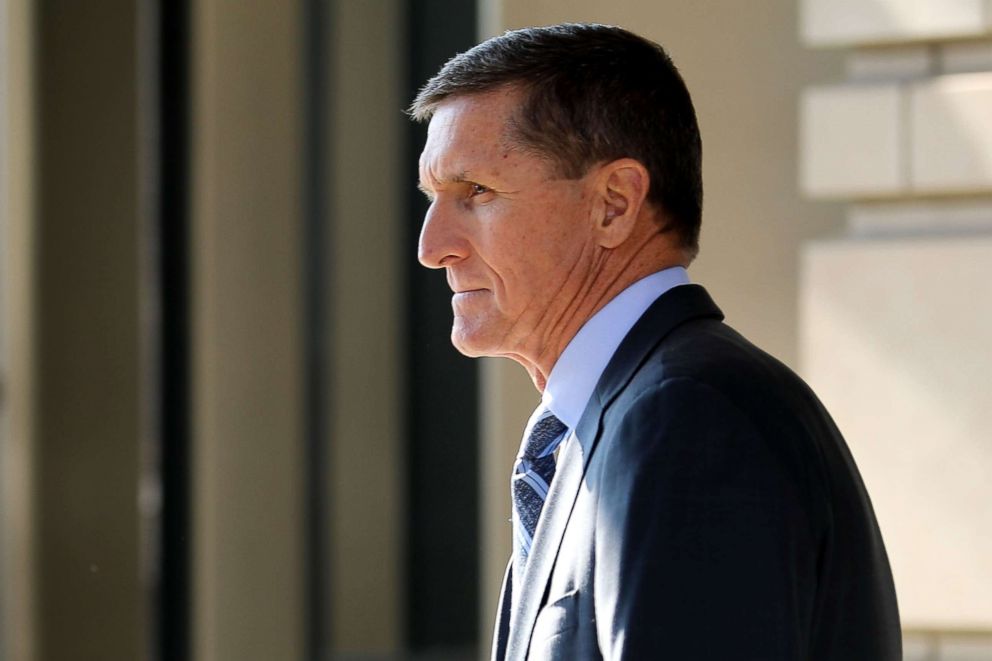 Flynn could under federal guidelines face up to six months in prison for lying to the FBI about his conversations with then-Russian Ambassador Sergey Kislyak during the transition period from the Nov. 8, 2016, election to the Jan. 20, 2017, inauguration. His cooperation with the special counsel would likely mean he receives little if any prison time.
Judge Sullivan has said once the prosecution and defense are both prepared to proceed with sentencing, he will request a pre-sentencing report, which is generally an investigation into the history of the person convicted and whether there are extenuating circumstances.
The judge also said he would set sentencing for 60 days after Mueller's team says they're prepared to move forward.
Joe Flynn told ABC News he saw his brother getting mobbed by conservative supporters before his speech in St. Louis. Many asked him to sign copies of his 2016 book, co-authored with Ledeen, "The Field of Fight: How We Can Win the Global War Against Radical Islam and its Allies," the brother said.
"His acceptance speech about service to America was met with a standing ovation, and he was happy to meet and chat with hundreds of patriotic Americans," Joe Flynn said.
Michael Flynn focused his remarks at the event on fighting for freedom and praised the namesake for his award.
Ret. Maj. Gen. Singlaub, a famed World War II spy who turned special operations into a major arm of U.S. foreign policy in the Vietnam War, was relieved of his military command in 1977 after publicly criticizing President Carter's foreign policy.
"General Flynn was humbled and honored to receive the inaugural General Singlaub award for service to America from the Gateway Eagle Council," Joe Flynn said. "General Singlaub has long been one of his heroes as they share similar backgrounds and careers in military intelligence."
In his speech, Michael Flynn quoted Patrick Henry and Abraham Lincoln and implored his audience to be "champions of freedom" and "soldiers of liberty who are on the right side of history," declaring that they are in a fight for the "heart and soul" of America against opponents he didn't identify.
"Our enemies will try to destroy us, and we cannot fail," he said to applause.
ABC News' Shannon Crawford and freelance reporter Beth Pike contributed to this report.