President Donald Trump announced an agreement with the European Union on tariffs – an effort to dial back what had been an escalating trade feud.
"We agreed today, first of all, to work together toward zero tariffs, zero nontariff barriers and zero subsidies on non-auto industrial goods," Trump said during his remarks in the Rose Garden as he stood next European Commission President Jean-Claude Juncker. "We will also work to reduce barriers and increase trade and services, chemicals, pharmaceuticals, medical products as well as soybeans. Soybeans is a big deal. And the European Union is going to start almost immediately to buy a lot of soybeans."
Trump also indicated that the U.S. will enable the European Union to import more liquefied natural gas from the United States and the creation of a dialogue on standards meant to reduce barriers to trade. As part of the agreement, the U.S. will move to end some of the retaliatory tariffs relating to steel and aluminum.
"We also will resolve the steel and aluminum tariff issues and we will resolve retaliatory tariffs. We have some tariffs that are retaliatory and that will get resolved as part of what we are doing," Trump said.
Later, he tweeted his excitement over the agreement.
Just a day before, Trump tweeted "tariffs are the greatest!"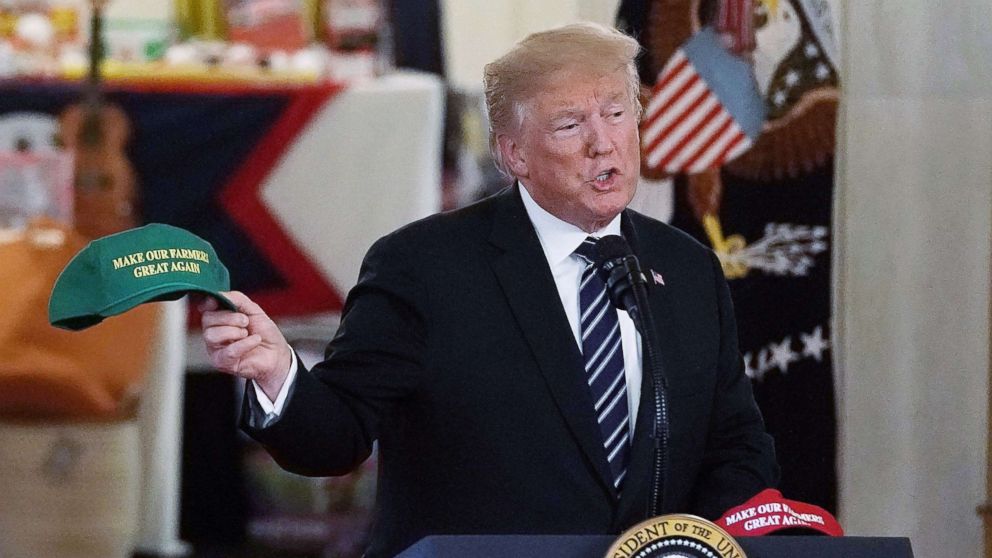 Juncker echoed Trump's description of their meeting and said that the EU would hold off on further tariffs as they work with America.
"We also agreed to work together on the reform of the WTO. This, of course, is on the understanding that as long as we are negotiating, unless one party would stop the negotiations, we hold off further tariffs and reassess existing tariffs on steel and aluminum. This was a good, constructive meeting," Juncker said.
The agreement comes amid backlash, both domestic and abroad, to multiple issues caused by the impact of tariffs on steel, aluminum and $34 billion in Chinese imports.
Many of the retaliatory tariffs other countries have implemented have impacted President Trump's political base.
China, Canada and the European Union have hit back with tariffs on a range of agricultural and industrial products – including some that have caused companies like Harley-Davidson to move production overseas.
The president urged patience in his remarks at the Veterans of Foreign Wars national convention on Tuesday.
"Just be a little patient. They are all aiming for anybody who likes me," Trump said.
President Trump also announced Tuesday that the White House would offer $12 billion in "temporary relief aid" from the Department of Agriculture to farmers affected by Chinese tariffs on soybeans.
ABC News' Stephanie Ebbs, Karolina Rivas and Tara Palmeri contributed reporting.