President Donald Trump presented the Presidential Medal of Freedom to Tiger Woods in a ceremony in the White House Rose Garden on Monday, honoring his friend and golfing icon with the highest honor the president can bestow on a civilian.
Woods, 43, is one of the sport's most decorated golfers and has captured more prize money during his career than any other rival in golf history, banking more than $118 million in winnings since he turned pro in 1996 at the age of 20.
The president called Woods a "true legend" and "an extraordinary athlete who has transformed golf and achieved new levels of dominance."
"He's also a great person. He's a great guy," Trump said. "Tiger Woods is a global symbol of American excellence, devotion and drive."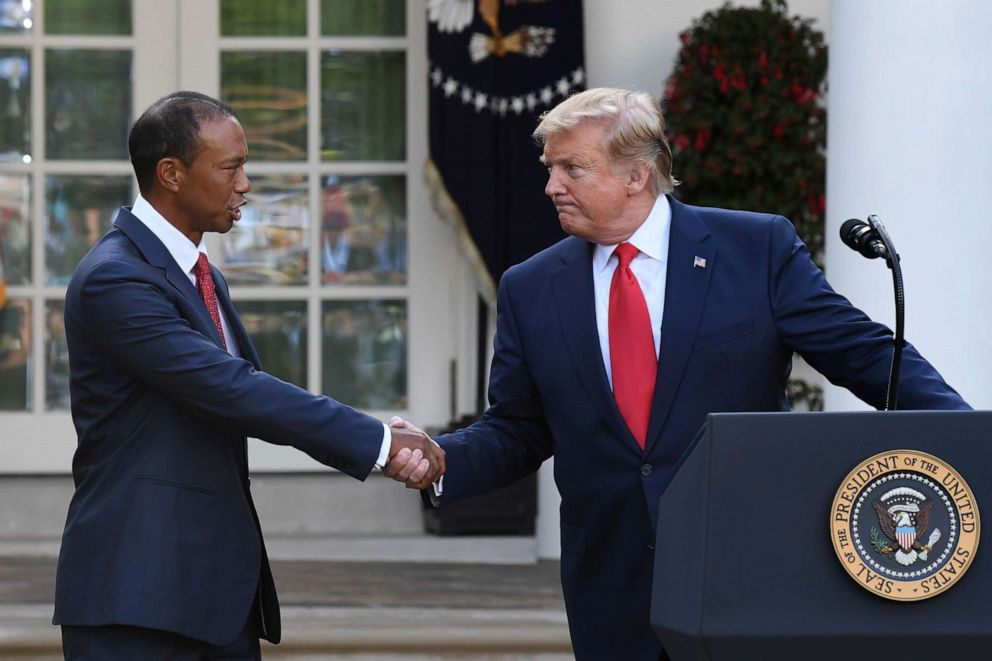 After watching Woods clinch the 2019 Masters tournament on April 14, Trump, an avid golfer, tweeted his congratulations, calling him "a truly Great Champion."
The next day, Trump tweeted that he had called Woods from Air Force One to personally congratulate him, announcing he would honor Woods with the medal "because of his incredible Success & Comeback in Sports (Golf) and, more importantly, LIFE."
Throughout his 24-year career, Woods has captured 81 PGA tournament titles, including 15 majors. Only golfing legend Jack Nicklaus has won more major tournaments, with 18, and Hall of Famer Sam Snead is the only golfer with more tournament wins, with 82.
"In addition to his incredible playing career, Tiger is a successful entrepreneur, to put it mildly, and devoted philanthropist," Trump said, crediting him for his foundation supporting junior golf programs around the country and a learning lab that has helped over 165,000 students pursue dreams in STEM fields. "Tiger we are inspired by everything you've become and attained. The job you've done is incredible. Your spectacular achievements on the golf course, your triumph over physical adversity, and your relentless will to win, win, win. These qualities embody the American spirit of pushing boundaries, defying limits and always striving for greatness."
Woods is the fourth golfer to receive the medal.
"This has been an unbelievable experience and to have the support that I've had for all these years," Woods said, acknowledging his family and friends. "You've seen the good and the bad, the highs and the lows and I would not be in this position without all of your help."
"This is an honor," he said.
Woods' Masters win at Augusta National Golf Club -- his first major championship since the 2008 U.S. Open -- restored his stature as one of golf's greatest champions, completing an unparalleled comeback after he struggled for years to overcome a back injury, as well as move past personal adversity following his divorce from Elin Nordegren, after Woods' rampant infidelity poured out in public.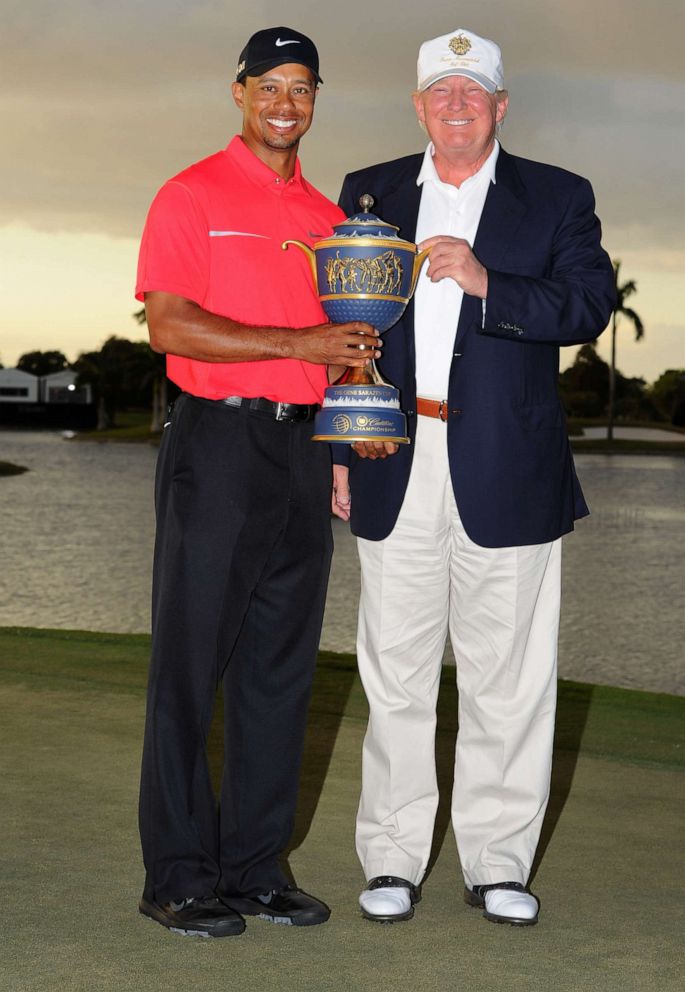 The president and Woods have golfed together at least twice during Trump's presidency, including most recently on Feb. 2 at Trump National Golf Club in Jupiter, Florida, where Nicklaus also joined them for a round on the links.
The next day, Trump successfully predicted Woods "will be winning Majors again."
Trump also golfed with Woods on Nov. 24, 2017, alongside pro golfers Dustin Johnson and Brad Faxon, and he golfed with Woods shortly after the 2016 election. The president has completed at least 139 rounds of golf during his presidency, according to an ABC News tabulation.
Woods and Trump's friendship dates back decades. In 2014, Woods and the Trump Organization renewed plans for Woods to design a golf course in Dubai, though the project is still underway and expected to open at the end of the year.
The New York Times published a story Sunday previewing Monday's award ceremony, contending that Trump is "using his office to reward a business partner."
A president has sole discretion over awarding the Presidential Medal of Freedom, established by President John F. Kennedy in 1963.
Other professional golfers to receive the award include Arnold Palmer and Jack Nicklaus -- who received the medal from President George W. Bush -- and Charles Sifford -- who received the medal from President Barack Obama.