Trump campaign adviser pleads guilty to misleading investigators about Russia contacts; Manafort indicted on conspiracy
Former campaign manager was also indicted on conspiracy charges.
October 30, 2017, 5:36 PM
— -- George Papadopoulos, a foreign policy adviser to Donald Trump's presidential campaign, pleaded guilty this month to making false statements to FBI agents about his correspondence with Russian nationals and attempts to arrange a meeting between the campaign and Russian officials.
News of the plea came Monday morning, shortly after Trump's former campaign manager, Paul Manafort, and Manafort's longtime business associate Rick Gates were indicted on charges including conspiracy against the United States, money laundering and working as unregistered foreign agents.
More details emerge
Papadopoulos admitted to making false statements and material omissions in January to investigators probing interference in the 2016 presidential election, in relation to his contacts with a London-based professor with ties to the Russian government.
As outlined in the the statement of the offense filing, Papadopoulos met with the professor, who put him in contact with a woman who he believed was a relative of Russian President Vladimir Putin's. Papadopoulos later told Trump that he might be able to arrange for him to meet with Putin. One of Papadopoulos' contacts told him in April 2016 that the Russians "have dirt on" Hillary Clinton, after which he told campaign associates he had "interesting messages coming in from Moscow."
In an FBI affidavit dated in July — when Papadopoulos was arrested — an agent noted that one of Papadopoulos' contacts sent him an email saying he "just talked to my colleagues from the MFA [Russian Ministry of Foreign Affairs]. [They are] open for cooperating." Papadopoulos responded and said he was "glad the MFA is interested" and forwarded the email to three senior Trump campaign officials.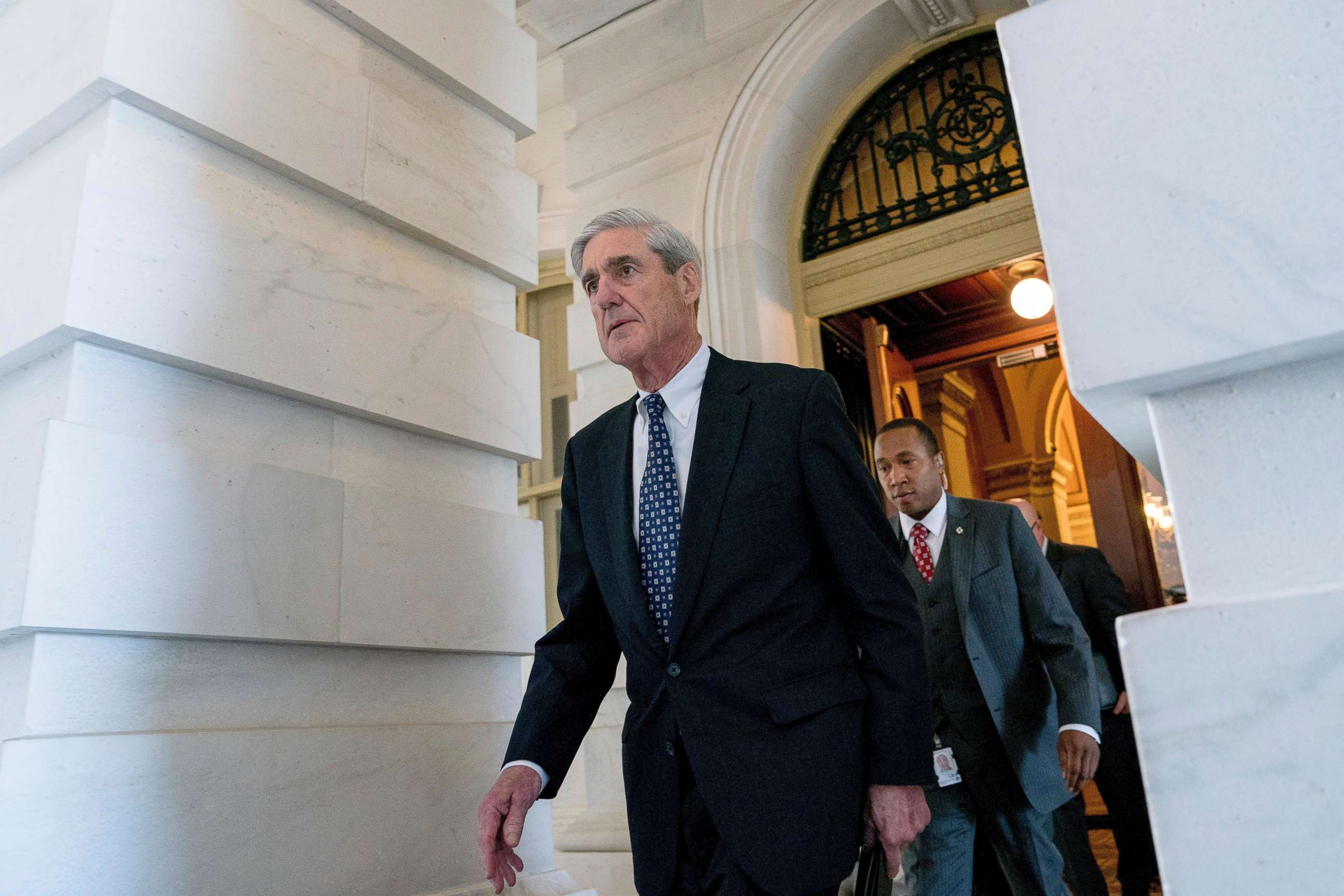 After he was interviewed, Papadopoulos deactivated a Facebook account that contained information about his communications with the Russian contacts and stopped using his then-current cellphone number. Since his arrest, he has "met with the government on numerous occasions to provide information and answer questions," according to the plea documentation.
In a statement Monday, attorneys for Papadopoulos declined to comment on the matter, but said they "look forward to telling all of the details of George's story" when called upon by the court.
Manafort and Gates indicted, plead not guilty
Manafort and Gates pleaded not guilty on all charges stemming from special counsel Robert Mueller's five-month-old investigation into Russian meddling in the 2016 election and possible collusion between Trump campaign associates and Russia.
The two surrendered to federal authorities in Washington, D.C., Monday morning after a grand jury approved charges brought by Mueller on Friday. The indictment, which names both men as defendants, contains 12 counts: conspiracy against the U.S., conspiracy to launder money, serving as an unregistered agent of a foreign principal, false and misleading Foreign Agents Registration Act statements, false statements and seven counts of failure to file reports of foreign bank and financial accounts.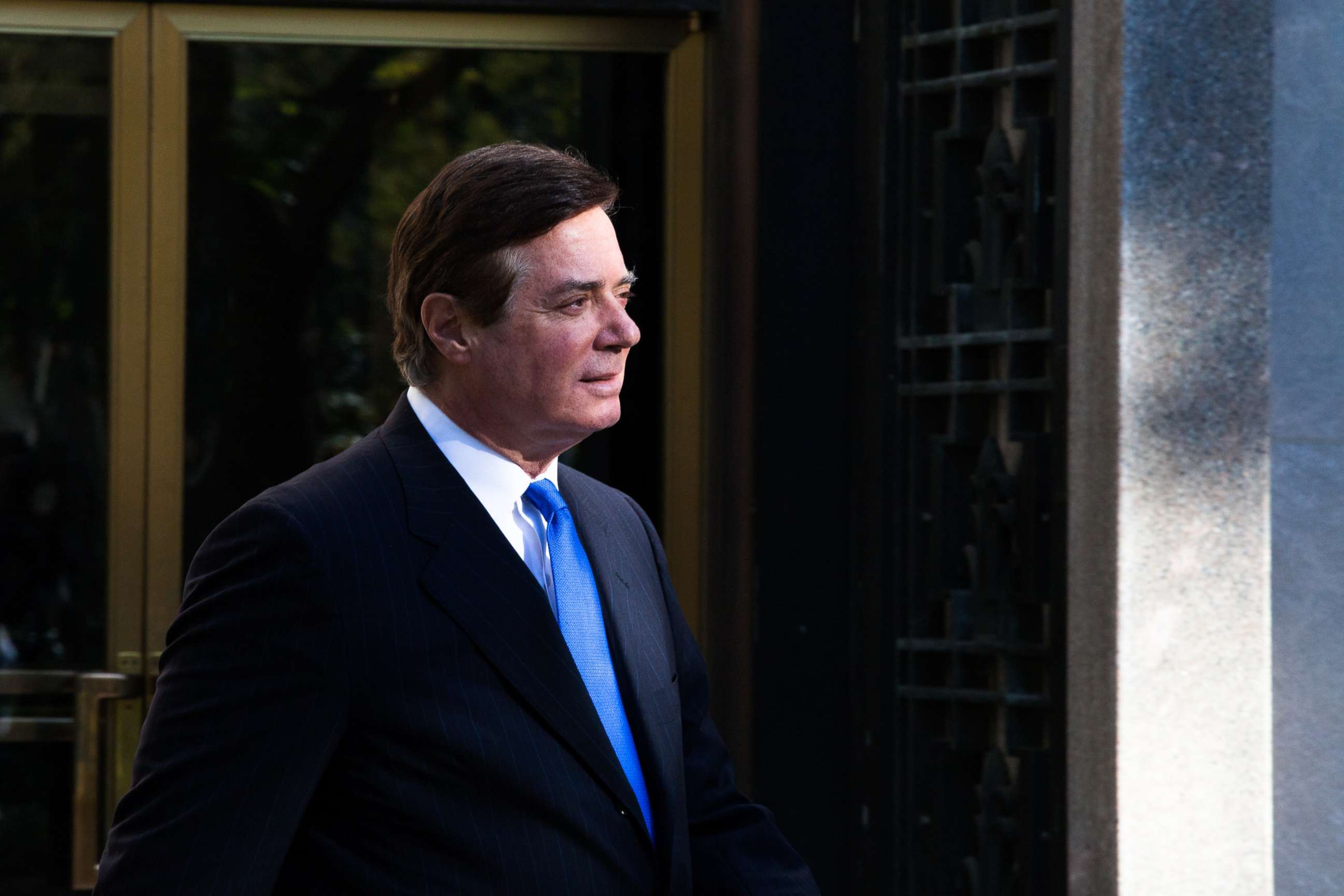 Manafort emerged as a key figure in Mueller's inquiry because of consulting work he did in 2014 on behalf of the Ukrainian government.
In July — the same month he retroactively registered as a foreign agent because of his lobbying work — the FBI executed a search warrant at Manafort's Virginia home, in connection with the Russia investigation. A source familiar with the matter described armed FBI agents' waking Manafort early in the morning as they knocked on his bedroom door.
Manafort, 68, joined the Trump campaign in March 2016 as its convention manager and was promoted to campaign chairman two months later. He was fired from the campaign by then-candidate Trump in August 2016 amid questions about his foreign business ties.
Kevin Downing, Manafort's attorney, on Monday afternoon said there was no evidence of collusion between his client and Russia and downplayed Mueller's pursuit of Manafort under the Foreign Agents Registration Act. Downing labeled the indictment "ridiculous" for claiming that offshore accounts were used as part of a "scheme" to conceal funds from the government.
Gates, 45, joined Manafort's international firm, Davis Manafort Partners, in 2006. Gates' connections to Trump before and after the election include leading the campaign's operations at the Republican National Convention in Cleveland and serving as a top deputy to chairman Tom Barrack on the Presidential Inauguration Committee. Gates later joined America First Policies, a 501(c)4 nonprofit group created after the election that supports Trump positions.
In a statement Monday afternoon, a spokesperson for Gates said he "welcomes the opportunity to confront these charges in court" but would not be providing additional comment until he and his legal team review the indictment.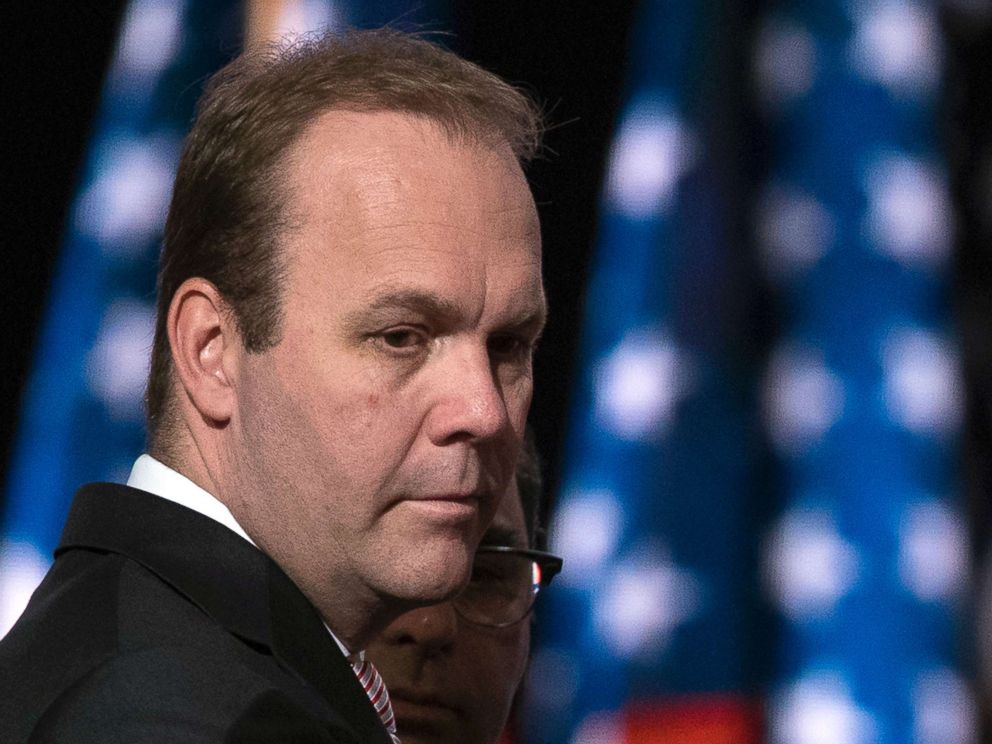 "The fight is just beginning," the statement concluded.
Manafort and Gates were released to home confinement Monday on $10 million and $5 million unsecured appearance bonds, respectively. Under the terms of their release, they had to turn in their passports and may leave their homes only for select reasons, such as meetings with their attorneys and medical appointments.
Mueller was appointed special counsel in May by Deputy Attorney General Rod Rosenstein; Attorney General Jeff Sessions recused himself in March from all matters related to last year's presidential election.
In addition to Mueller's investigation, Manafort has been heavily scrutinized by multiple congressional committees conducting their own investigations into Russian meddling. In August, sources close to Manafort told ABC News that he provided the committees with about 400 documents, including paperwork related to Ukraine.
Trump, White House respond
Trump responded to the news about Manafort via Twitter on Monday, writing, "Sorry, but this is years ago, before Paul Manafort was part of the Trump campaign. But why aren't Crooked Hillary & the Dems the focus?????"
"....Also, there is NO COLLUSION!" he wrote in a subsequent tweet.
At Monday's White House press briefing, press secretary Sarah Sanders said that the announcements had "nothing to do with the president and nothing to do with the president's campaign or campaign activity," repeating that stance more than once.
Pressed on Papadopoulos' actions, Sanders said that he served in an "extremely limited" "volunteer position" and that his cited activities were not done in an "official capacity on behalf of the campaign." She added that the White House continues to expect Mueller's investigation to "conclude soon."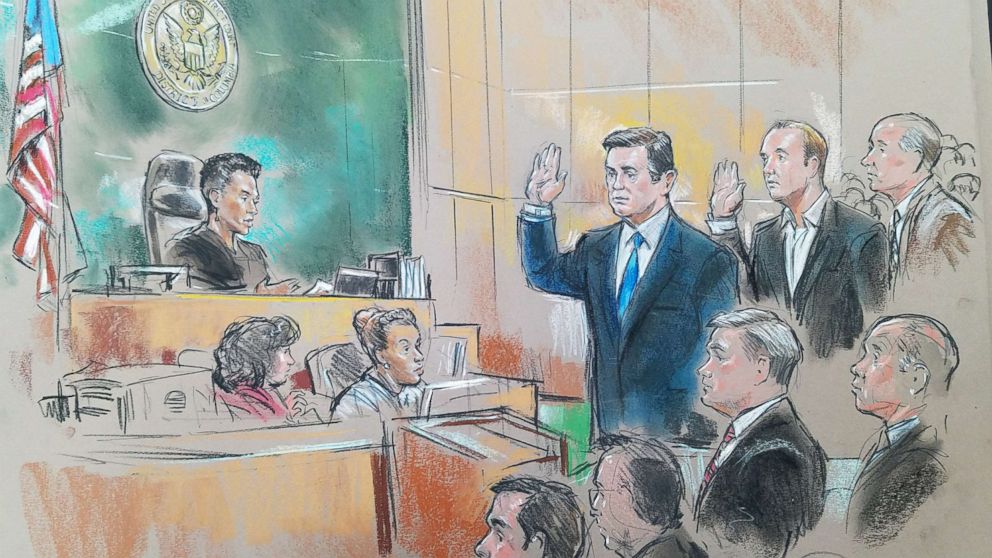 Trump seemed to react over the weekend to a Friday CNN report of possible charges, tweeting, as he has before, that the investigation is a "witch hunt" promoted by Democrats. He seemed to suggest that it was a distraction from items on his administration's agenda, such as a tax overhaul.
White House attorney Ty Cobb later dismissed any connection.
"Contrary to what many have suggested, the president's comments today are unrelated to the activities of the special counsel, with whom he continues to cooperate," Cobb said in a statement over the weekend to the White House press pool.
On Monday, Cobb said that the indictments do not affect the White House dealings with Mueller and that Trump continues to fully cooperate with the special counsel's investigation.
ABC News' Jack Date, Mike Levine and Veronica Stracqualursi contributed to this report.