While visiting the Centers for Disease Control and Prevention in Atlanta on Friday, President Donald Trump addressed concerns regarding the quickly spreading coronavirus. But just hours later, Vice President Mike Pence walked back some of those comments during a press conference held at the White House.
At the CDC Friday afternoon, Trump said "anyone who wants a test can get a test." But later, Pence, who Trump put in charge of the administration's coronavirus task force, clarified Trump's statement, saying "the president's exactly right that for the state laboratories, for the communities that have been impacted, that have concerns about the coronavirus, we have been able to respond to requests for tests."
There have been least 319 reported COVID-19 cases within the United States, and almost 100,000 cases worldwide, according to ABC News' numbers.
Tune into ABC News Live at noon ET every weekday for the latest news, context and analysis on the novel coronavirus, with the full ABC News team where we will try to answer your questions about the virus.
At Trump's side earlier in the afternoon, CDC Director Robert Redfield talked about the threat of COVID-19, saying "at the present time, the risk to the American public remains low." According to Redfield, the CDC's first responsibility was making the tests and then getting those tests out. Redfield did address the fact that certain populations in the United States are being affected more than others.
"We do have some areas where there is significant community transmission," Redfield said. "We've seen it in Seattle and parts of California. We're working hard with the local and state health departments to continue to try to control this infection in that area."
On Thursday, Pence visited Washington state's Emergency Operations Center. Washington is seen as the epicenter of the coronavirus within the United States, with at least 14 deaths and almost 80 cases.
"I do want to commend, Gov. Inslee, your team's effort and the seamless partnership that was forged from the very beginning between our administration and your administration here at the state level," Pence said.
When asked Friday afternoon about Inslee, Trump had a different response.
"Oh, I told Mike not to be complimentary. … That governor is a snake. I said, 'If you're nice to him he will take advantage,'" Trump added. "Mike may be happy with him, but I'm not."
When asked about these comments during his evening press conference, Pence declined to comment.
Inslee was among those who vied to be the Democratic nominee for president in 2020, presumably to take on Trump.
Pence did confirm that 21 people on the Grand Princess cruise ship docked off the California coast have tested positive for coronavirus, including 19 crew members and two passengers.
"Those that need to be quarantined will be quarantined, those that require additional medical attention will receive it," Pence said.
"We will be testing everybody on the ship and quarantining as necessary. But with regard to the 1,100-member crew, we anticipate that they will be quarantined on the ship. Will not need to disembark."
Earlier that day at the CDC, Trump said he'd "rather have them stay on" the ship to avoid spreading the virus.
"I like the numbers being where they are," Trump said. "I don't need to have the numbers double because of one ship."
Trump's visit to the CDC in Atlanta was added back on Friday after the trip was initially called off because of concerns someone there may have contracted novel coronavirus.
White House press secretary Stephanie Grisham informed reporters Friday morning that the trip was back on the president's Friday agenda during a flight from Washington, D.C., to Tennessee, where the president was to tour storm damage after a deadly tornado tore through the Nashville area earlier this week.
Initially, the White House said the visit had been called off because Trump didn't want to "interfere with the CDC's mission."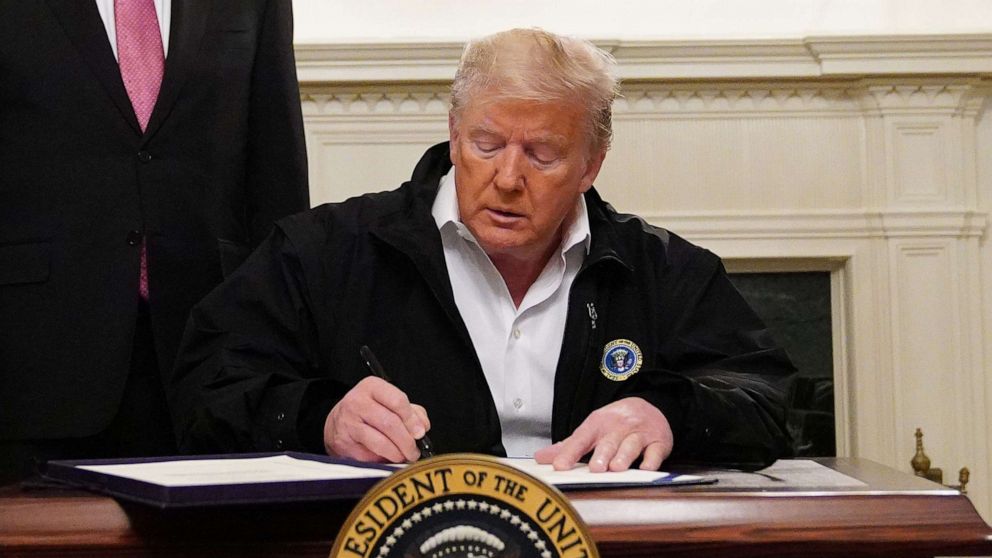 But then the president revealed to reporters there was concern over a possibly infected CDC staffer and that he was hoping to get the CDC visit added back to his schedule.
"We may go -- they thought there was a problem with CDC with somebody who had the virus," he told reporters, adding that the person in question has been tested and it turned out negative.
"They've tested the person very fully and it was a negative test, so I may be going, and we're going to see if they can turn it around," Trump said.
Grisham said the possibly infected person was a CDC employee.
Trump made the remark as he signed the $8.3 billion emergency funding bill, passed Thursday by Congress, in a hastily arranged signing ceremony before departing the White House. Vice President Mike Pence had said Thursday that Trump would sign the measure at the CDC.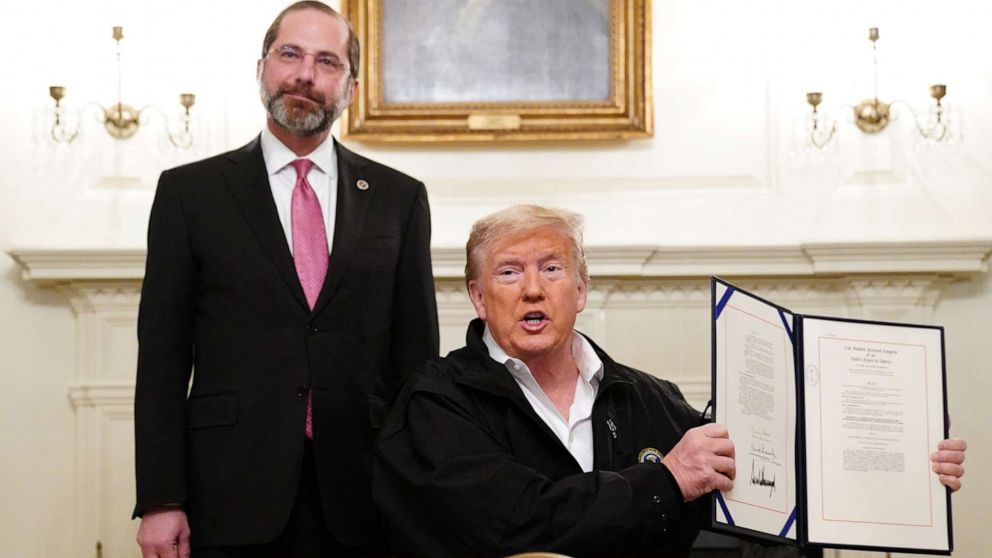 "I asked for $2.5 and I got $8.3, and I'll take it," Trump said as he signed the spending package.
Health and Human Services Secretary Alex Azar stood by the president's side as he signed the funding packing and provided an update on the government's efforts to ramp up test kit capacity. He said the administration has been able to provide California and Washington with all the tests they have requested and that they are on target to ramp up production further, with up to 4 million tests set to be distributed by next week.
ABC News' Avery Miller, Allison Pecorin, and Katherine Faulders contributed to this report.