President Trump took a victory lap in Topeka, Kansas, Saturday night, after the Senate confirmed Brett Kavanaugh to the Supreme Court, relishing in his second appointment to the highest court while urging supporters to vote in November.
"They've always said the biggest thing a president can do is Supreme Court justice. Some have had none. We've had two in less than two years," Trump said, announcing plans to hold an official ceremony for Kavanaugh at the White House on Monday evening.
Kavanaugh, who was confirmed by a razor-thin margin in a 50-48 vote, battled several allegations of sexual assault that emerged after his nomination, including from Christine Blasey Ford. The college professor told the Senate Judiciary Committee she was "100 percent" certain that Kavanaugh tried to sexually assault her at a high school party in 1982.
Kavanaugh has denied all allegations against him.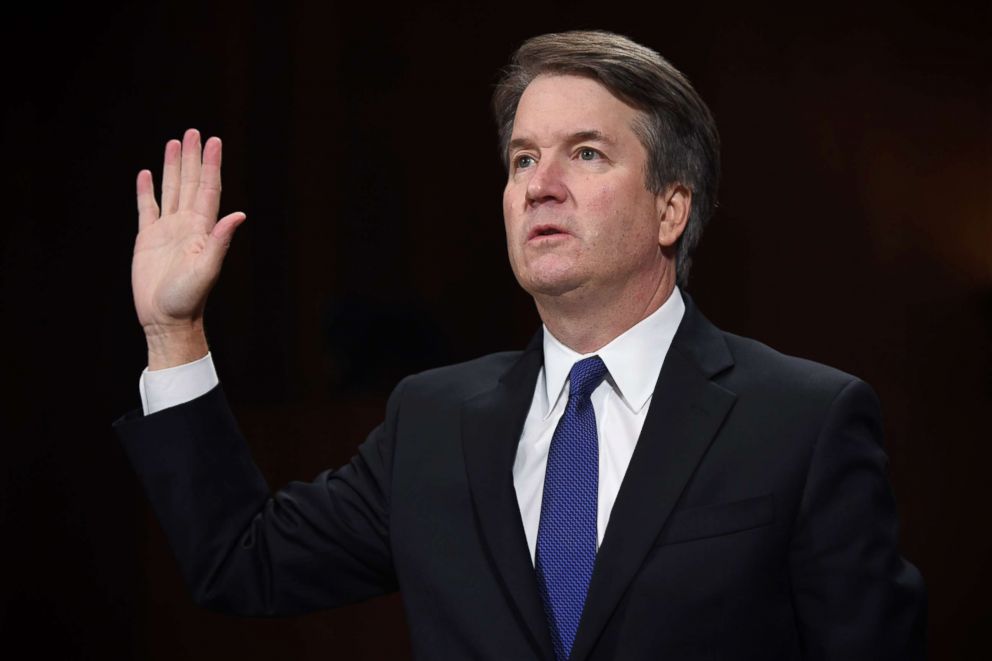 Kavanaugh was sworn in by Chief Justice John Roberts Saturday evening.
"Took a week -- but that extra week was a great thing," he said, referring to the supplemental FBI background investigation into the allegations against Kavanaugh. "It showed no corroboration –- no nothing."
Trump framed the midterm elections as a "chance to stop the radical Democrats" and respond to their "disgraceful campaign" to "delay, demolish and destroy" Kavanaugh.
"Each of you in four weeks will have your chance to render your verdict on the Democrats' conduct at the ballot box," he said.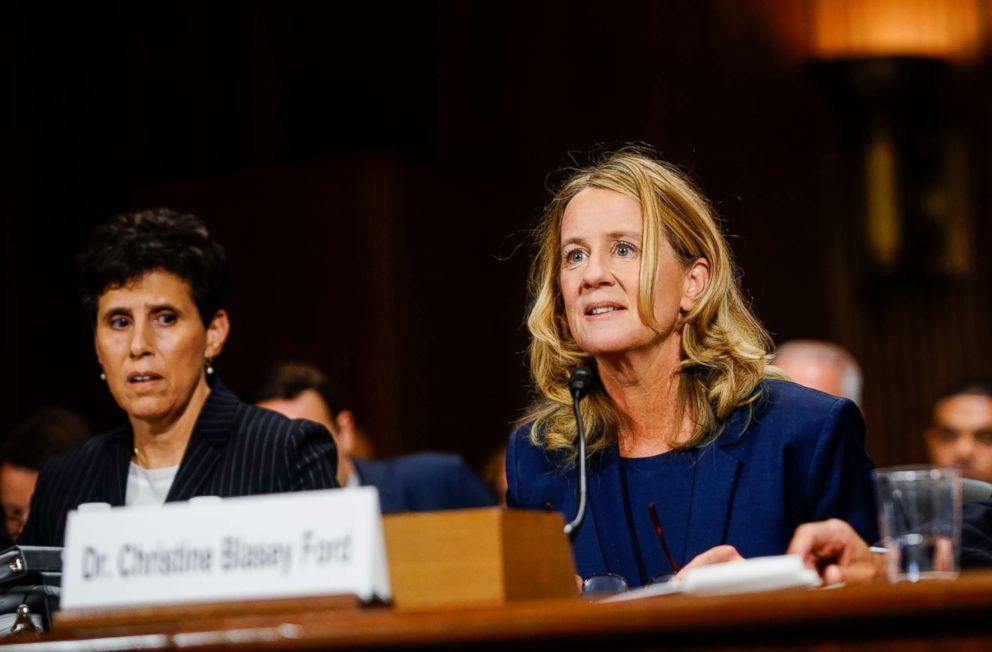 "Just imagine the devastation they would cause if they ever obtained the power they so desperately want," Trump added, prompting "Drain the Swamp" chants.
Trump also claimed Democrats in the Senate have supported an "open borders bill" introduced by California Sen. Dianne Feinstein -- possibly an erroneous reference to her bill to end family separations -- before quickly calling her "Leaking Dianne Feinstein" and mocking her denial that she or her staff leaked a letter from Ford accusing Kavanaugh of sexual assault.
After touting the economy and unemployment, and bringing gubernatorial candidate Kris Kobach and House candidate Steve Watkins on stage, Trump returned to Democrats, attacking potential 2020 opponents and the Democrats on the Senate Judiciary Committee, including one riff where he appeared to imagine beating up Joe Biden.
"You don't want those people in office, folks," he said, referring to Sens. Corey Booker of New Jersey, Elizabeth Warren of Massachusetts and Feinstein.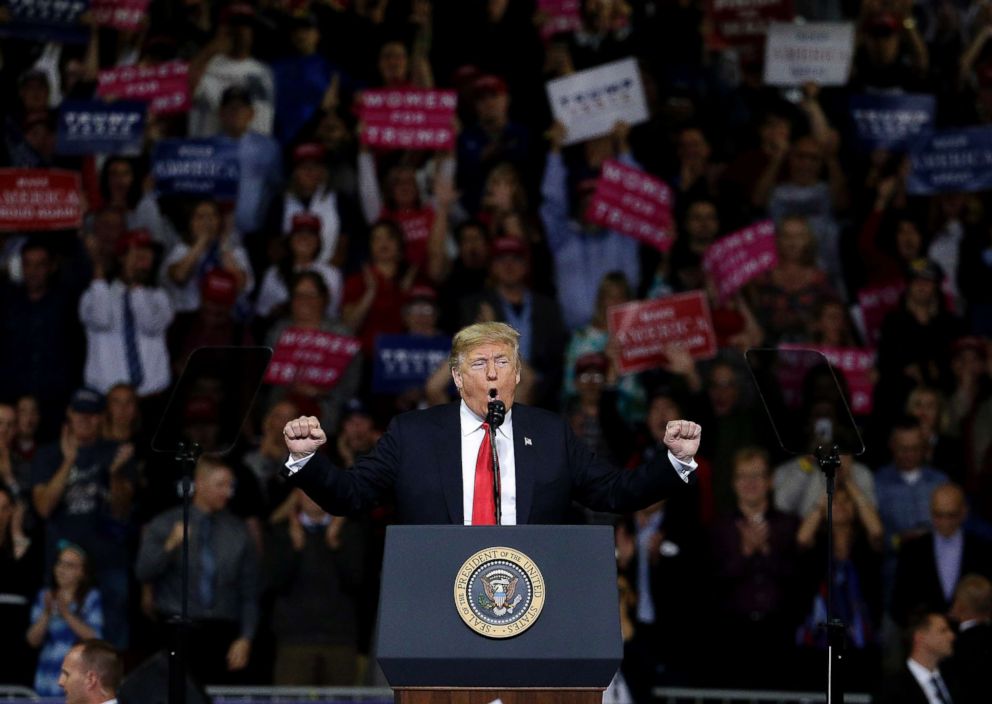 He again called Sen. Richard Blumenthal "Da Nang Dick" for his misrepresentation of his service in Vietnam on the trail in 2010, mocking him for his comments on television Friday about honesty in the Kavanaugh confirmation process.
"I used to think he was a pretty brave guy. But then I found out he was a fraud -- he never went to Vietnam," he said.
Trump personally thanked several Republican senators, including Lindsey Graham ("who did such a great job"), Charles Grassley, Mitch McConnell, and Susan Collins.
"How good was Sen. Susan Collins yesterday?" he said.
"We worked hard, and we got ourselves the finest legal minds, one of the finest human beings," he said of Kavanaugh. "The horror they had to endure from these people like Blumenthal and Booker, who was a disaster as the mayor of Newark."
After roughly an hour, Trump grew looser, riffing on the North Korea talks, the move of the U.S. embassy to Jerusalem, Kanye West and the National Football League.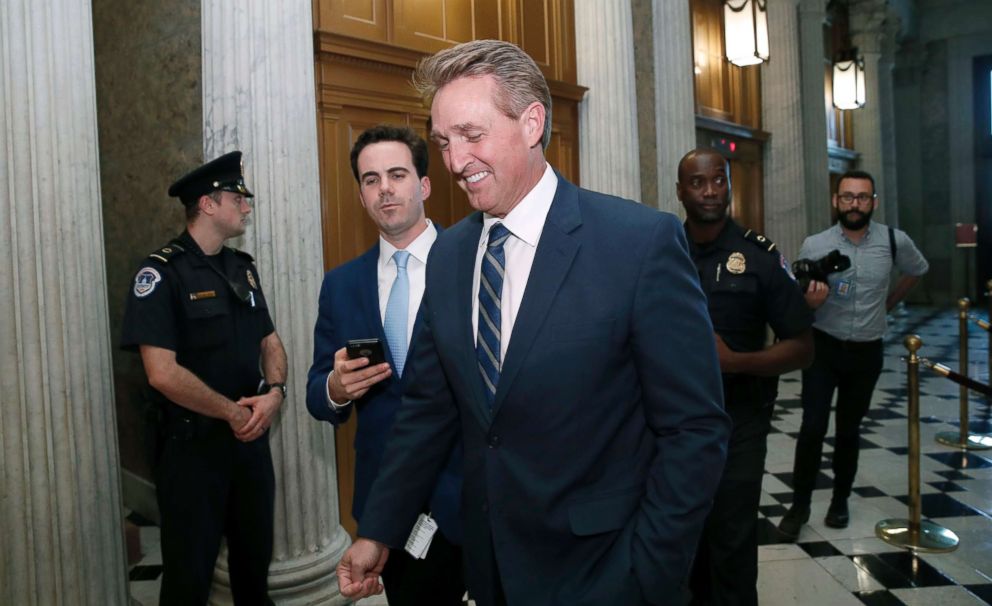 Trump's supporters seemed just as happy as the president to celebrate Kavanaugh's confirmation - and rejected the accusations against Kavanaugh, which Trump did not specifically mention after mocking Ford's testimony at a rally on Tuesday.
Teresa McGuire, 59, a rally attendee from Lawrence, Kansas, said "more should come forward if something happened to them," but said she was skeptical of Ford's claims.
Demonstrators flood Capitol, Supreme Court to protest Kavanaugh confirmation
Activists occupy the front steps of the Supreme Court to protest against the confirmation of Judge Brett Kavanaugh to the Supreme Court, Oct. 6, 2018.
"I think it's unfair to people who have actually been abused, raped and molested, for her to come forward and say that she was, when maybe she wasn't, and all those people that have, it's just a mockery," she said. "Something might have happened to her, yes, and I pray it didn't."
Republican and Democratic strategists expect Kavanaugh's nomination to galvanize their voters ahead of the midterm elections.
Democrats are favored to win back the House and are competing in dozens of congressional districts, including two in Kansas, in their effort to flip at least 23 seats for the majority.
Steve Watkins, the Republican nominee in Kansas's second district, was on hand for the rally. He is accused of embellishing his biography, according to the Kansas City Star.
Rep. Kevin Yoder, R-Kan., planned to skip the event because of a previous commitment in his district, according to his campaign manager, CJ Grover. Democrats consider Yoder one of the most endangered Republicans in the House, and see a prime pickup opportunity in his suburban Kansas City district.