The collapse of Silicon Valley Bank is putting deregulatory reforms implemented under former President Donald Trump back in the spotlight.
The abrupt implosion of the country's 16th-largest bank last week resulted in swift finger-pointing in Washington.
President Joe Biden and many progressive Democrats have blamed, in part, a 2018 law that rolled back some of the Dodd-Frank Act -- a series of federal regulations passed in the wake of the 2008 financial crisis. Republicans, on the other hand, are decrying so-called "woke" practices at the bank as well as government spending and inflation as the culprits.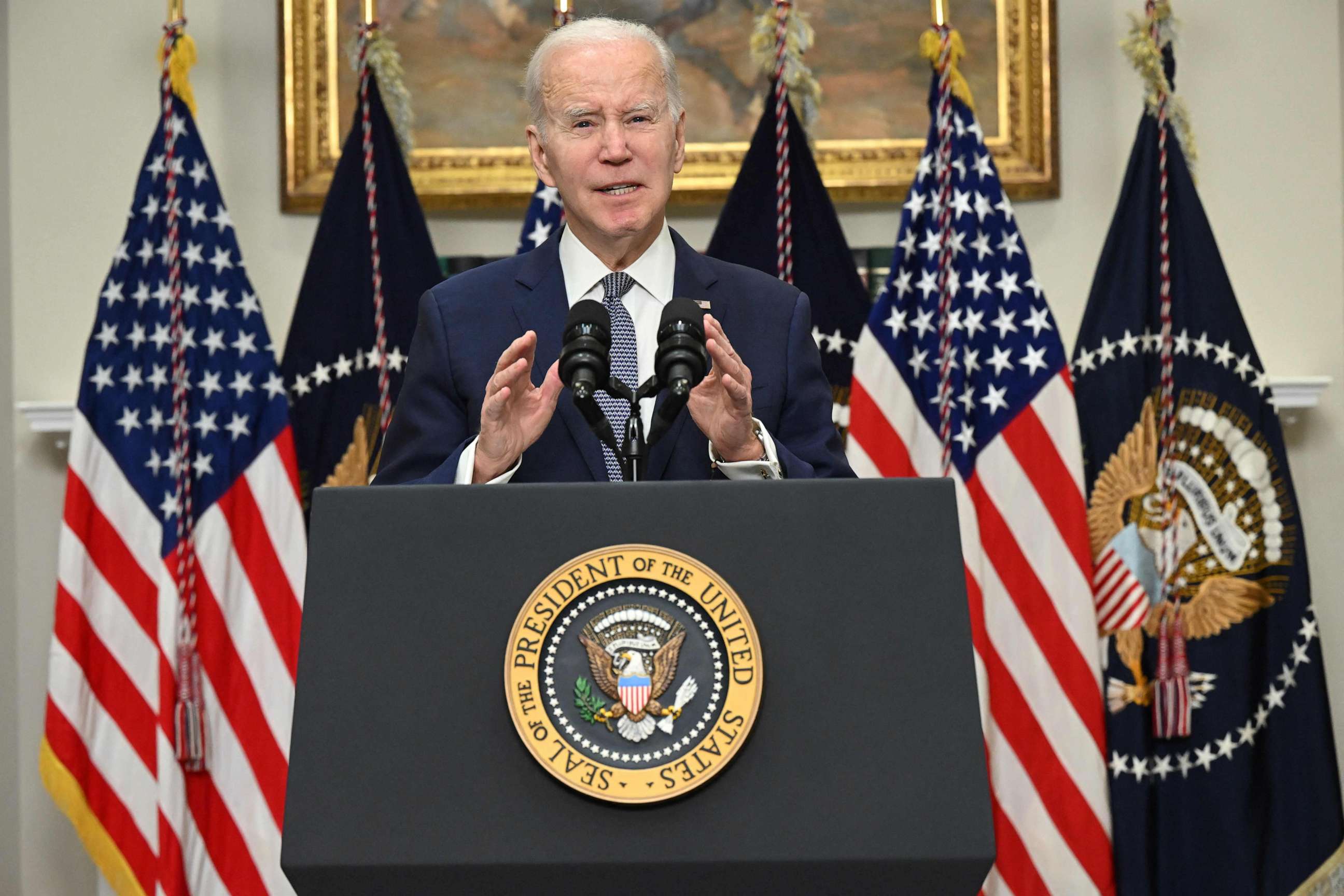 Though there's more to learn about the bank's downfall, several experts told ABC News it was a failure of regulation and supervision.
"The Federal Reserve completely missed major classic red flags at Silicon Valley Bank," said Aaron Klein, a senior fellow at the Brookings Institution.
Here's what you need to know as the political fallout continues.
What is the Dodd-Frank Act?
In response to the worst recession since the Great Depression, Congress passed a sprawling law in 2010 overhauling federal financial regulation.
One of its major provisions was designating any bank with more than $50 billion in assets a "systemically important" financial institution -- or "too big to fail" -- and thus subject to enhanced prudential standards, such as "stress tests" and certain capital planning and liquidity requirements.
"Dodd-Frank massively empowered the Federal Reserve to more forcefully regulate banks, including those where it wasn't the direct bank regulator," Klein said.
What did Trump do?
The Dodd-Frank Act was met with animosity from the industry, which argued the regulations were burdensome and only necessary for the largest banks. Silicon Valley Bank's CEO Gregory Becker was among those calling for lighter regulations.
After years of political pressure, Congress passed a law that rolled back some of those rules for smaller and mid-tier banks.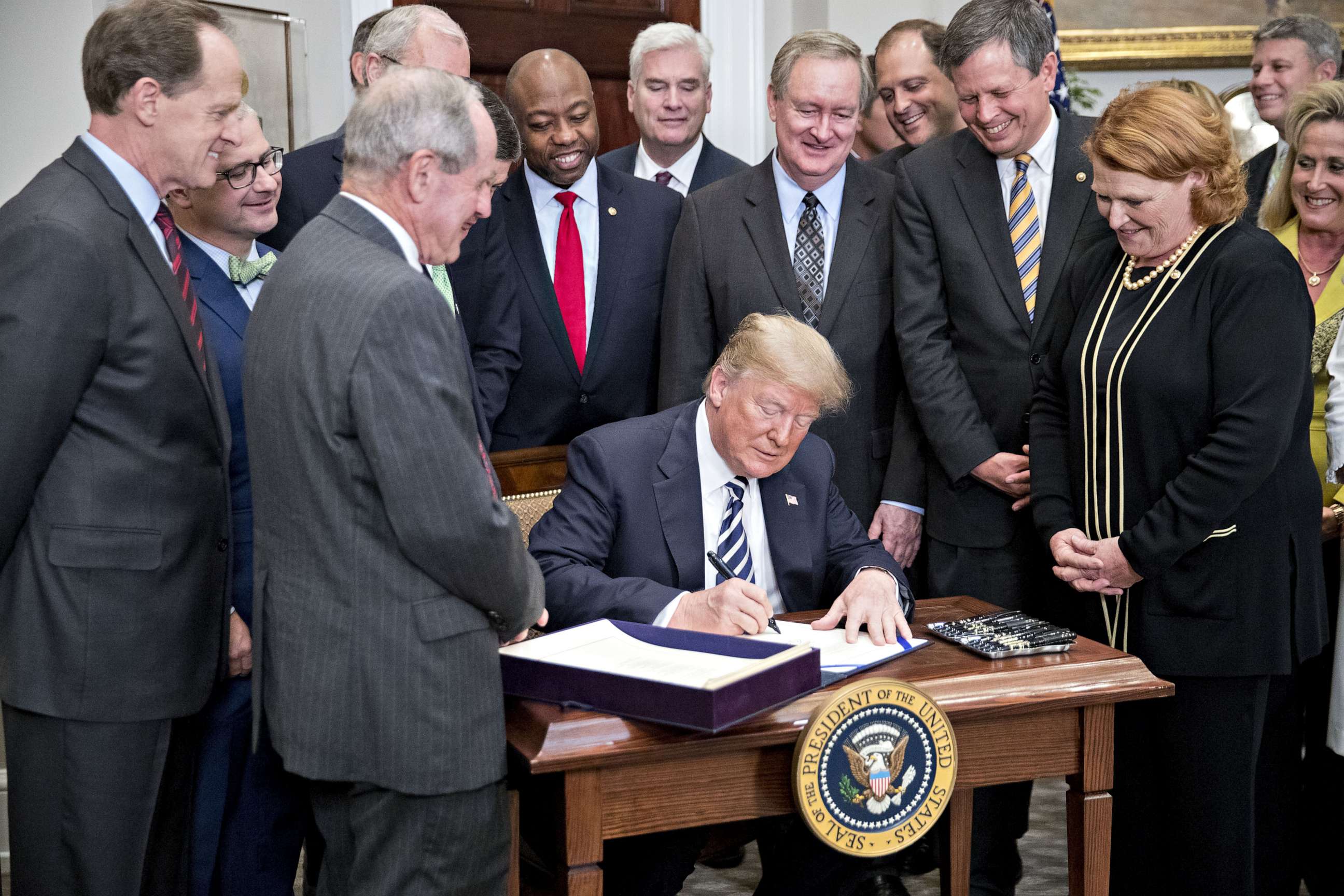 Among the biggest changes was raising the asset threshold for "systemically important" institutions from $50 billion to $250 billion. Under the law, the Federal Reserve still had the right to apply the Dodd-Frank regulations to banks with at least $100 billion in assets if they chose to do so.
Trump signed it into law in May 2018, calling it "big deal for our country." The push to alter Dodd-Frank split the Democratic Party, and ultimately more than a dozen Senate Democrats joined Republicans to support the deregulations.
"It reduced stress testing, it reduced collateral calculations, it reduced the supervisory stress test and it enabled them not to publicly conduct or report their own company-run stress tests," Dennis Kelleher, the president & CEO of the nonprofit Better Markets, said of the 2018 law. "It blew a hole in several of the key financial stability protection rules."
Debate rages over 2018 law amid SVB's collapse
Critics, including Democratic Sen. Elizabeth Warren and independent Sen. Bernie Sanders, have said the law's softening of regulations contributed to Silicon Valley Bank's demise.
Former Democratic Rep. Barney Frank, co-author of the Dodd-Frank Act and a board member of the recently shutdown Signature Bank, told Bloomberg he didn't think the 2018 changes had an impact. Trump, too, defended it, claiming banks were getting "eaten alive" by regulations.
And some Democrats who backed the law are defending it. Sen. Mark Warner told "This Week" on Sunday he thought it "put in place an appropriate level of regulation on mid-sized banks." Sen. Tim Kaine said regional and community banks "really needed" the relief at the time, and that "solutions should wait until there's an analysis of causes."
Amid the debate, experts told ABC News stress tests and other financial-safety requirements may have caught problems at the institution earlier but there were warning signs Federal Reserve supervisors should've seen regardless.
"This was a failure of supervision ... the red flags that were going on at SVB, you didn't need enhanced prudential standards to catch that," Klein said.
Those concerns included the bank's explosive asset growth, its reliance on uninsured deposits and the impact of high interest rates on its long-term bonds.
"Those deregulatory reforms may well have contributed to laxer rather than stricter oversight," Lawrence Baxter, a law professor at Duke University and former executive at Wachovia, said of the 2018 law. "Having said that, I don't think the regulators are entirely off the hook because they still have power to take action when they observe rapid deterioration. And we'll have to find out why they didn't."
What's next?
Biden on Monday specifically cited the Trump-era rollbacks as he addressed the banking system, vowing to work for more regulation.
"I'm going to ask Congress and the banking regulators to strengthen the rules for banks to make it less likely that this kind of bank failure will happen again and to protect American jobs and small businesses," the president said.
Warren and Rep. Katie Porter, D-Calif., have already unveiled legislation to repeal the 2018 rollbacks.
Republicans, so far, have expressed no interest in revisiting the law. Rep. Patrick McHenry, a North Carolina Republican who chairs the House Financial Services Committee, said he has "confidence in our financial regulators and the protections already in place to ensure the safety and soundness of our financial system." Sen. Mike Crapo, an Idaho Republican on the Senate Banking Committee, told Fox News that "nothing in the Dodd-Frank reforms we put together did anything with regard to this crisis."
Meanwhile, the Justice Department and Securities and Exchange Commission are investigating the Silicon Valley Bank's collapse, two people familiar with the situation confirmed to ABC News. The Federal Reserve Board is also reviewing the supervision and regulation of the bank, which is set to be released by May 1.