President Donald Trump bucked globalism in a speech to the United Nations General Assembly, underscored his vision of "America First" nationalism and implored other countries to follow suit.
"If you want freedom, take pride in your country. If you want democracy, hold on to your sovereignty. And if you want peace, love your nation. Wise leaders put the good of their own people and their own country first," Trump said.
"The future does not belong to globalists. The future belongs to patriots."
In his third address to the United Nations as president, Trump touched on familiar go-it-alone themes and made his case on closed borders, trade and foreign policy. The president took specific aim at pressure points around the world, like China, Iran, and Venezuela, but told the assembly despite these tensions, the "United States does not seek conflict."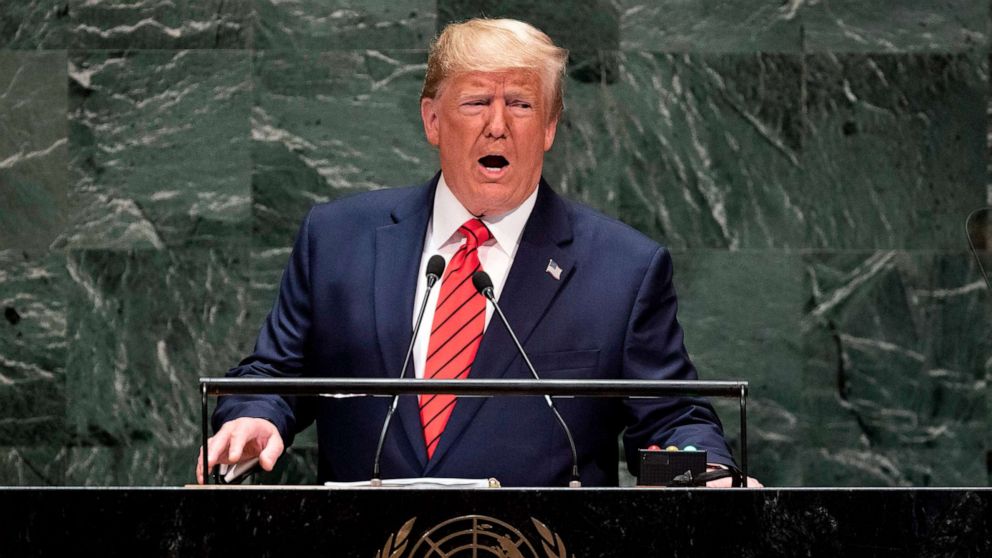 Squinting as he read from a teleprompter, the president, who delivered his address in a notably subdued tone said the U.S. desires "peace, cooperation and mutual gain with all." Then added, "we will never fail to defend America's interests."
The president's speech came as the Democrats drum for impeachment grew louder back on Capitol Hill over a conversation he had with the President of Ukraine in July about former Vice President Joe Biden's dealings with Ukraine while he was withholding aid from the country.
As markets around the world have felt a financial pinch from the president's trade war with China, the president defended tariffs and said China has failed to make economic reforms as part of the World Trade Organization. China joined two decades ago.
Since joining the WTO, Trump said, "China declined to adopt promised reforms, it has embraced an economic model, dependent on massive market barriers, heavy state subsidies, currency manipulation, product dumping, forced technology transfers and the theft of intellectual property and also trade secrets on a grand scale."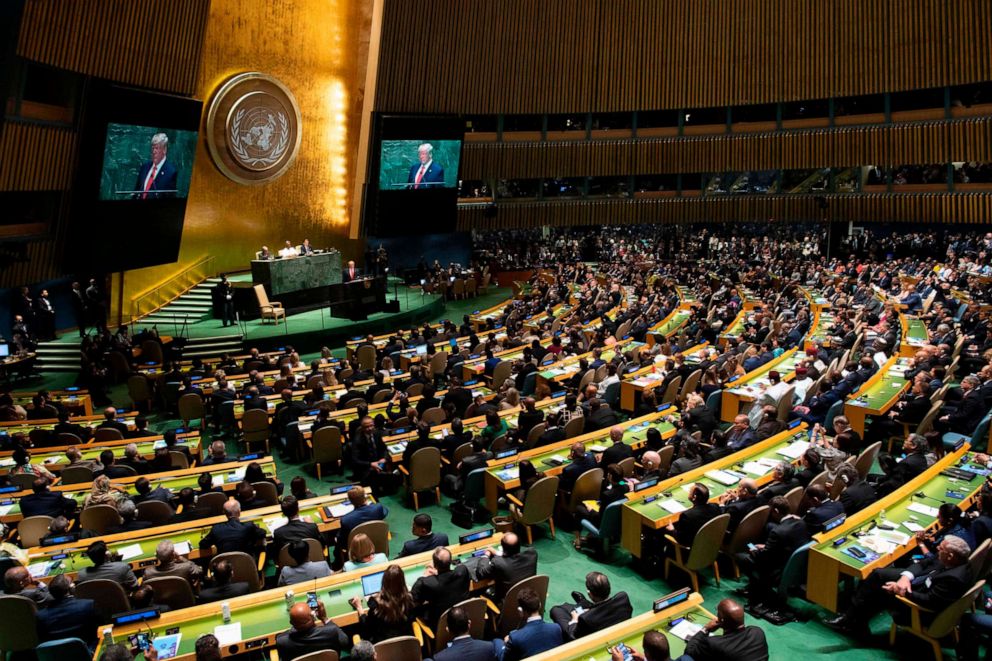 The president, who has largely avoided getting involved in the protests in Hong Kong, said that "how China chooses to handle the situation will say a great deal about its role in the world and the future. We're all counting on President XI as a great leader."
As tensions remain high with Iran, the president said that the United States will not lift sanctions "as long as Iran's menacing behavior continues."
"The regime has escalated its violent and unprovoked aggression, in response to Iran's recent attack on Saudi Arabia oil facilities, we just imposed the highest level of sanctions on Iran's central bank and sovereign wealth fund. All nations have a duty to act. No responsible government should subsidize Iran's bloodlust," Trump said.
Trump slammed Venezuela and recognized the coalition of 55 countries that recognize its "legitimate government of Venezuela," but his criticisms fell on defiantly deaf ears from the Venezuelans -- one delegate read a book about Simon Bolivar from her spot in the U.N. General Assembly hall as the president delivered his speech.
"For the Venezuelans trapped in this nightmare, please know that all of America is united behind you. The United States has vast humanitarian aid to be delivered, watching the Venezuela situation very closely. We await the day when democracy will be restored, when Venezuela will be free and when liberty will prevail throughout this hemisphere," Trump said. "Socialism and communism are about one thing only, power for the ruling class."
On Afghanistan, the president said, "America's goal is not go to with these endless wars, wars that never end."
Saying the U.S. was "pursuing hope of a brighter future in Afghanistan," he said, "We will never stop working to make peace a reality."
Going with his theme of "America First," the president gave a direct message to people crossing the border illegally and called open-border policies "cruel and evil."
"To anyone crossing the border illegally, listen to these words -- do not pay the smugglers. Do not pay the coyotes. Do not put yourself in danger. Do not put your children in danger. If you make it here, you will not be allowed in. You will be properly returned home, you will not be released into our country, as long as I am president of the United States we will enforce our laws and protect our borders," Trump said.
His speech also highlighted his administration's social causes, like their work with women's global development and anti-abortion. But he also called on countries to "stop criminalizing homosexuality." The president, who has attacked social media companies for what he perceives as an anti-conservative bias, gave a warning to social media platforms from the stage.
"We must be skeptical about those who want conformity and control. We see alarming sides and new challenges to liberty. A small number of platforms are acquiring immense power, over what we can see and over what we are allowed to say. A permanent political class is overly disdainful," Trump said. "In the United States, my administration has made clear to social media companies that we will uphold the right of free speech."
Joining the president for his speech was Vice President Mike Pence, Secretary of State Mike Pompeo, Treasury Secretary Steven Mnuchin, U.N. Ambassador Kelly Craft, Commerce Secretary Wilbur Ross and three of his children: Ivanka Trump, who serves as the president's adviser, Donald Trump Jr., and Tiffany Trump.
The president ended his speech by calling on world leaders to follow America's lead of putting country first: "Patriots see a nation and its destiny in ways that no one else can. Liberty is only preserved. Sovereignty is only secured, democracy is sustained, and greatness is realized by the will and devotion of patriots.," Trump said. "The love of our nations makes the world better for all nations...When our nations are greater, the futures will be bright, the people will be happier and our partnerships will be stronger. With god's help, together, we will fast off the enemies and the oppressors of dignity. We will rediscover old truths, unravel old mysteries and make new breakthroughs. And we will find more beautiful friendships and harmony among nations. My fellow leaders, the path to peace and people are freedom begins at home."