After 14 months of talks between the United States and its closest allies, President Donald Trump celebrated the United States Mexico Canada Agreement, or USMCA, a new trade agreement that is poised to replace the North American Free Trade Agreement, or NAFTA.
Interested in
Donald Trump?
Add Donald Trump as an interest to stay up to date on the latest Donald Trump news, video, and analysis from ABC News.
"We have negotiated this new agreement based on the principle of fairness and reciprocity," the president said during a press conference in the Rose Garden. "To me, it's the most important word in trade, because we have been treated so unfairly by so many nations."
Trump once again criticized NAFTA as "perhaps the worst trade deal ever made."
The new deal was struck at the eleventh hour with the country's two biggest trading partners and is a negotiation the administration says will boost manufacturing and lead to higher wages.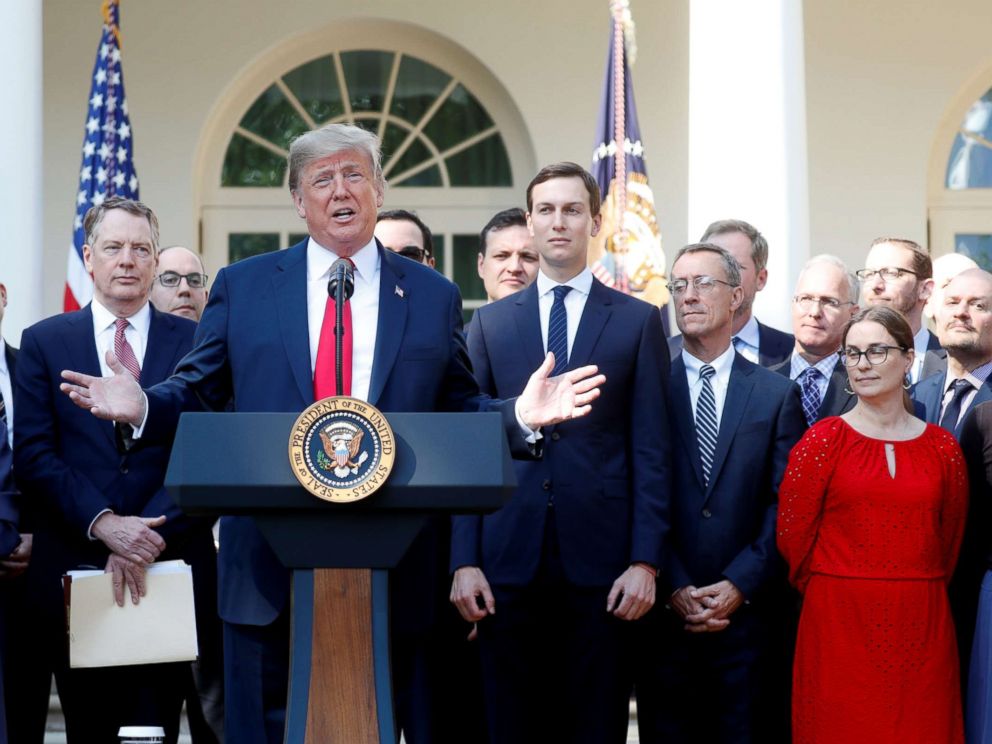 Trump hailed the deal as one that will "give our farmers and ranchers far greater access to sell American grown produce in Mexico and in Canada."
The deal, the president said, includes a substantial increase in American farmers' opportunities to export wheat, poultry, eggs, and dairy, including ice cream and butter.
Trump addressed his at-times strained relationship with Canadian Prime Minister Justin Trudeau, telling the audience at the White House, "I have to certainly give my highest regards to Prime Minister of Canada, Justin Trudeau." Adding, "Lot of stories came out about Justin and I having difficulty together. We did over the trade deal. But I tell you, it's turned out to be a very, very good deal for both. And a very, very good deal for all three."
Late Sunday, the U.S. and Canada announced they reached an agreement on a new deal after months of tense, vacillating rhetoric between Trump and Trudeau, marking a step closer toward fulfilling a signature campaign promise for the president. In August, Trump announced the U.S. negotiated a deal with Mexico.
"Today, Canada and the United States reached an agreement, alongside Mexico, on a new, modernized trade agreement for the 21st Century: the United States-Mexico-Canada Agreement (USMCA)," the U.S. and Canada said in a joint statement Sunday. "USMCA will give our workers, farmers, ranchers, and businesses a high-standard trade agreement that will result in freer markets, fairer trade and robust economic growth in our region."
"It will strengthen the middle class, and create good, well-paying jobs and new opportunities for the nearly half billion people who call North America home," the two countries' joint statement continued.
A Canadian official told the Associated Press the agreement preserves a NAFTA dispute-resolution process that the U.S. wanted to abandon, and exempts tariffs on 2.6 million cars.
Trump praised the agreement early Monday, tweeting, "Congratulations to Mexico and Canada!"
Late last night, our deadline, we reached a wonderful new Trade Deal with Canada, to be added into the deal already reached with Mexico. The new name will be The United States Mexico Canada Agreement, or USMCA. It is a great deal for all three countries, solves the many......

— Donald J. Trump (@realDonaldTrump) October 1, 2018
....deficiencies and mistakes in NAFTA, greatly opens markets to our Farmers and Manufacturers, reduces Trade Barriers to the U.S. and will bring all three Great Nations together in competition with the rest of the world. The USMCA is a historic transaction!

— Donald J. Trump (@realDonaldTrump) October 1, 2018
The negotiations between the U.S. and Canada were roiled by Trump's frequent attacks on the Canadian leader on the world stage. After meetings at the June G7 Summit in Canada, Trump called Trudeau "meek and mild" as he left the meetings aboard Air Force One. Trump also imposed tariffs on metal good from Canada beginning on June 1.
At last week's U.N. General Assembly, the president told reporters he refused to meet with Trudeau one-on-one, after criticizing the prime minister during a freewheeling press conference.
"His tariffs are too high, he doesn't seem to want to move and I've told him forget about it," Trump said. "And frankly we're thinking about just taxing cars coming in from Canada, that's the mother load, that's the big one. We're very unhappy with the negotiations and the negotiating style of Canada."
Trudeau said Sunday was "a good day for Canada & our closest trading partners."
Mexican President Enrique Peña Nieto also affirmed his support, calling the deal as "a win-win-win agreement."
La modernización del acuerdo comercial entre ????México, ????Canadá y ????EU concluye 13 meses de negociaciones y logra lo que nos propusimos al inicio: un acuerdo ganar-ganar-ganar.

— Enrique Peña Nieto (@EPN) October 1, 2018
But reaching the last-minute deal on the eve of the NAFTA deadline was a priority for Trump, who long targeted the Clinton-era deal since his days on the campaign trail.
"I don't like NAFTA, I never liked it," Trump said during the Wednesday press conference at the U.N. "It's been very bad for the United States, it's been great for Canada, it's been great for Mexico — very bad for us."
The new deal will need the approval of Congress, and while lawmakers dig into the fine print of the deal, it won't likely be approved until the next session of Congress in 2019. The top Democrat in the House was not endorsing the deal just yet.
"Democrats will closely scrutinize the text of the Trump Administration's NAFTA proposal, and look forward to further analyses and conversations with stakeholders," House Minority Leader Nancy Pelosi said in a statement.
With control of both the House and Senate at stake in November, it is unclear if Congress will support the deal.
However, Trump was optimistic, telling reporters he thinks it will pass "easily."
"Once approved by Congress, this new deal will be the most modern, up to date, and balanced trade agreement in the history of our country," the president said. "But if it doesn't we have other alternatives. I think if they are fair. The Republicans love it, industry loves it, our country loves it. If it's fair, it will pass easily."
ABC News' Alexander Mallin, Mark Osborne and Ben Gittleson contributed to this report.