As the number of confirmed cases of the novel coronavirus passed 10,000 in the U.S., and the northern border to Canada closed to nonessential travel, President Donald Trump said Thursday at a White House briefing that America is in a "medical war" with COVID-19 -- while his GOP allies unveiled details of "phase three" of coronavirus relief measures.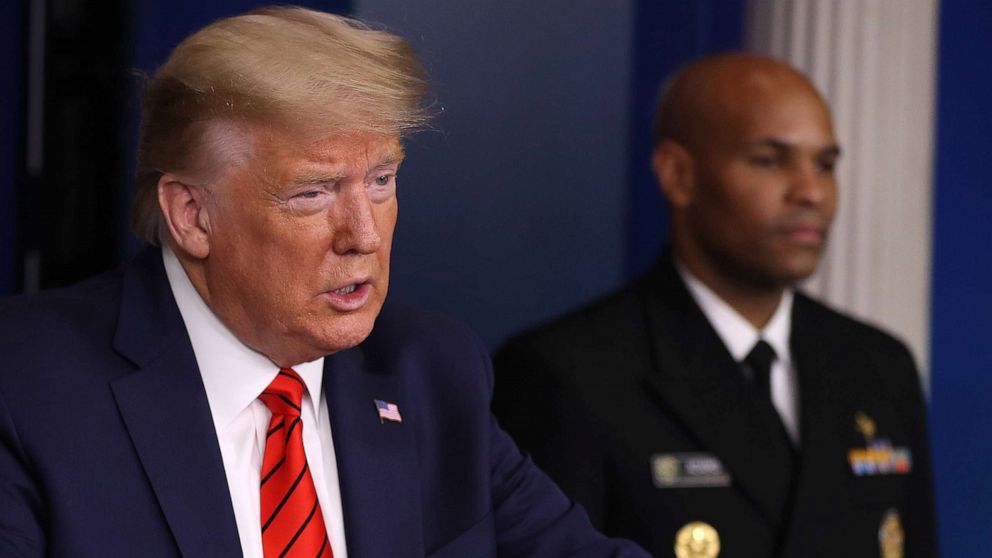 Trump once again appeared at Thursday morning's coronavirus task force briefing, again blaming China for and touting drugs for treatment -- even though they had not been approved for treating COVID-19.
"I think it's going to be a game changer -- and maybe not -- but I think it could be, based on what see," Trump said. "It could be a game changer. Very powerful, very powerful."
Continuing to cast himself as wartime president, Trump called the coronavirus outbreak "our big war."
"It's not a financial war," he continued. "It's a medical war."
During a teleconference with governors at FEMA headquarters in the afternoon, Trump again brought up the two drugs -- chloroquine and Remdesivir -- and mentioned FDA Commissioner Stephan Hahn, who had already walked back the president's earlier comments.
"He got it approved very quickly, I won't tell you how quickly, but let's put it this way, it's approved," the president said.
Trump had returned to the White House Thursday afternoon when Senate Majority Leader Mitch McConnell, R-Ky., unveiled the $1 trillion White House-GOP stimulus package the on the Senate floor.
Republicans are now proposing giving Americans $1200 checks -- up from $1000 as initially discussed -- to Americans who make up to $75,000 a year, scaling down until capping off at $99,000 a year. Those with children would get $500 per child based on a household income of up to $150,000.
The new measures comes as healthcare workers across the country complain of shortages of protective equipment and amid alarming data that the disease is hitting younger people harder than projected.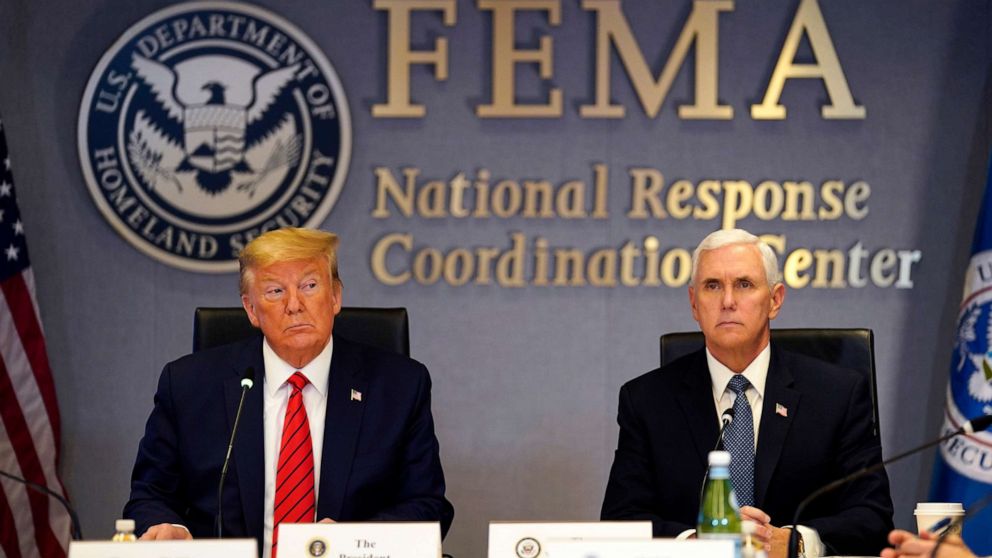 Here are Thursday's most significant developments in Washington:
Trump announced FEMA would take over the government's coronavirus response
Pelosi calls on Trump to invoke Defense Production Act powers: 'There is not a day to lose'
McConnell unveils "phase three" of economic stimulus packages which includes a proposal to send relief checks directly to Americans
At least two members of Congress have tested positive for COVID-19
State Department tells Americans "Do Not Travel" abroad
Here is how developments unfolded on Thursday.

Trump visits FEMA, says he's considering block grants to states

While hosting a teleconference with members of the coronavirus task force and governors across the country from FEMA in Washington, D.C., President Trump said that he's "very strongly" considering "the idea of a block grant to the states to help fill revenue shortfalls."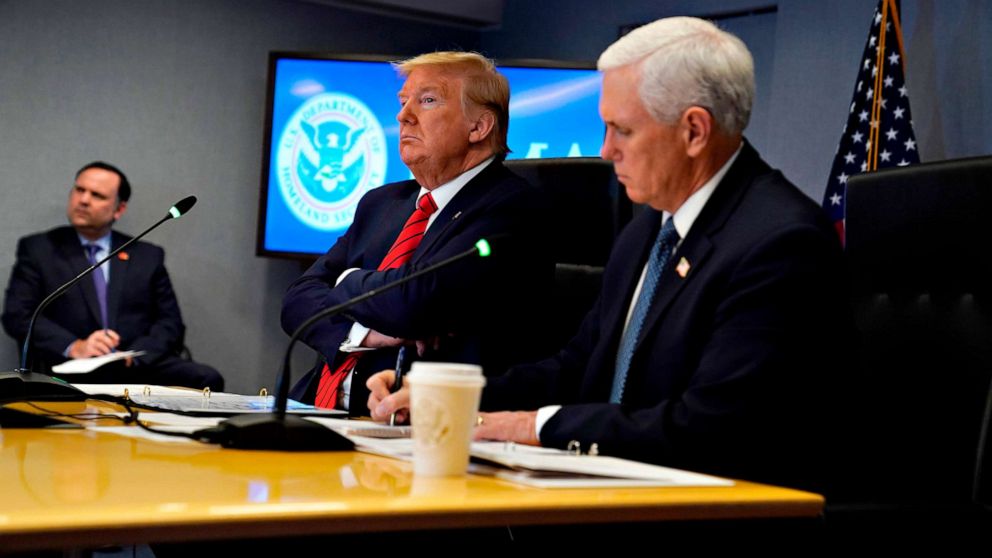 A block grant is money from the federal government given to local authorities to then allocate.
Vice President Mike Pence had announced at the White House briefing earlier that FEMA would now take the lead in the federal government's national response.
"Our nation's response, through FEMA, will be locally executed, state-managed, and federally-supported," Pence said.
Several governors complained on the call that they were having difficulties ordering medical equipment directly from suppliers, as the president had directed they do earlier in the week, with Illinois Governor JB Pritzker even saying he felt his state's ability to test was "monopolized by this drive through program that the federal government is doing."
Massachusetts Gov. Charlie Baker explained to the president that he tried to get supplies for his state on his own but that they lost out multiple times to the federal government.
"We took very seriously the push that you made previously on one of these calls that we should not just rely on the stock pile and that we should go out and buy stuff and put in orders and try to create pressure on manufacturers and distributors," Baker said, "And I've got to tell you that on three big orders, we lost to the fed."
"I got a feeling that if somebody has a chance to sell to you or to sell to me," he continued, "that I'm going to lose every one of those."
Trump replied, "We do like you going out seeing what you can get, if you can get it faster, and prices are always a component of that also. And maybe that's why you lost to the feds, I'll tell you that's probably why."
Republican Gov. Kristi Noem of South Dakota also raised an alarm about her inability to get testing supplies, and before she could raise two other points, her connection cut off.
Trump says FDA is fast-tracking treatment
President Trump also said the Food and Drug Administration was fast-tracking possible treatments.
The president said that chloroquine's use had "had been approved" and "we are going to be able to make that drug available almost immediately." He also said that chloroquine and another drug, Remdesivir, "are out now, essentially approved for prescribed use."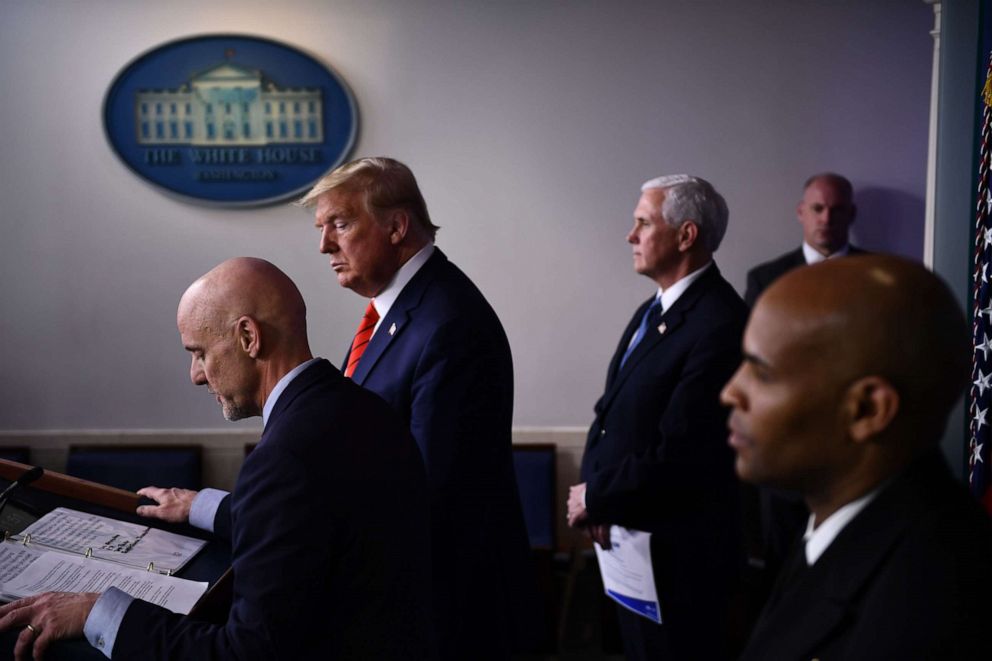 At a visit to FEMA Thursday afternoon, Trump doubled down on his claim that the "game changer" drug was already approved, again saying," let's put it this way, it's approved."
But FDA commissioner Stephen Hahn later clarified at the press conference that chloroquine was not yet approved for the treatment of COVID-19.
Hahn said while chloroquine had already been approved for the treatment of malaria as well as an arthritis condition, it has not been approved to treat the coronavirus -- but it is being looked at as a potential treatment.
"The president's right, with an off-the-shelf drug we do have a lot of information about the side effects of the drug. That really helps in terms of expediting," Hahn explained. "I don't want to speculate about a timeline at this point."
Trump continues shifting blame to China
The president opened his daily news briefing on the coronavirus by again blaming China.
"This is something that happened that was -- some people would say it's an act of God. I don't view it as an act of God. I would view it as something that adjusts the pride of the whole world. If people would have known about it, it could have been stopped in place. It could have been stopped right where it came from, China," Trump said.
A closeup photo from Washington Post photographer Jabin Botsford of the president's briefing notes revealed in a section where the prepared remarks read, "Corona Virus," "Corona" was crossed out and "Chinese" was written in its place, in what appeared to be Trump's handwriting.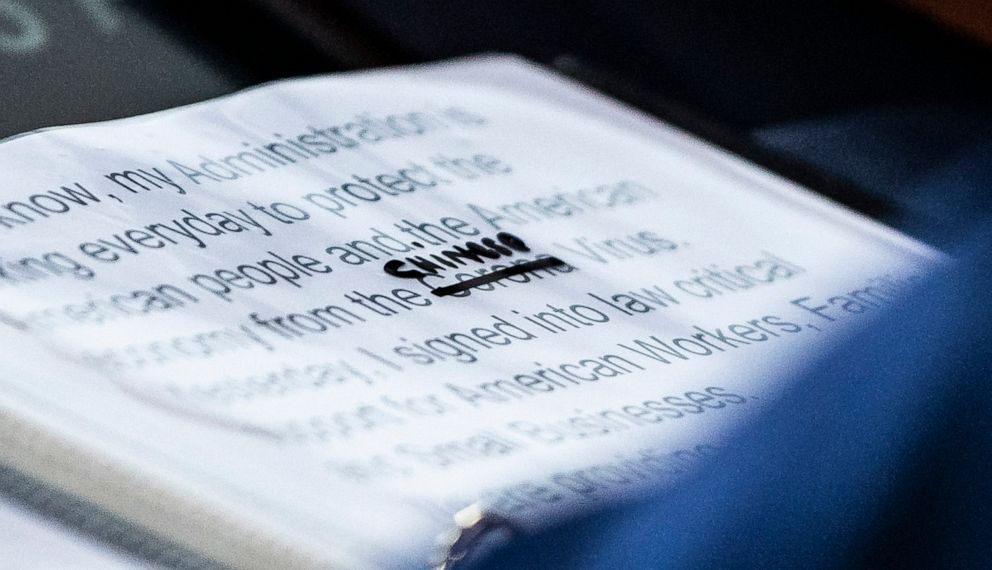 Later, Trump was asked if he has reason to disbelieve China, which reported Thursday that for the first time no new cases had emerged in the last 24-hour period in the hard-hit city of Wuhan.​"It would have been much better if we had known about this a number of months earlier. It would have been contained that one area in China where it started. Certainly the world is paying a big price for what they did, and the world is playing a very big price for not letting them come out," he said.
"As far as believing what they are putting out now, I hope it's true. Who knows? But I hope it's true, I really do."
Trump gives update on state of the stimulus
"More help is on the way as we speak," Trump said at the breifing, referring to the economic damage the crisis has caused.
The president went on to say "our entire team headed by Secretary Mnuchin is on the Hill," as his treasury secretary worked with Senate Republicans on "phase three" of the economic stimulus package.
"I want Americans to know we're doing everything we can," Trump said. "The American public has been incredible. We took the best economy we've ever had and we said, 'Stop, you can't work. You have to stay home.' There's never been a case like this."
Expected to be one of the largest emergency spending packages in American history, the $1 trillion "phase three" that the White House and Republicans are proposing breaks down to: $500 billion for two rounds of $250 billion of direct payments for Americans to go out around April 6 and May 18; $300 billion to help small businesses meet payroll; $50 billion for the airlines; and $150 billion for loans and loan guarantees for other parts of the economy.
ABC News Chief White House Correspondent White House Correspondent asked Trump if he can guarantee that the money the federal government is giving to hard-hit industries like airlines will not go to executive bonuses or to more stock buybacks.
He replied, "It takes many people, in this case, to tango. As far as I'm concerned, conditions like that would be okay with me."
Trump signed "phase two" of coronavirus economic relief Wednesday night after the Senate overwhelmingly passed the House-backed bill. It ensures free COVID-19 testing, paid leave for some workers, bolsters unemployment insurance, increases spending on health insurance for the poor and adds $1 billion in food aid.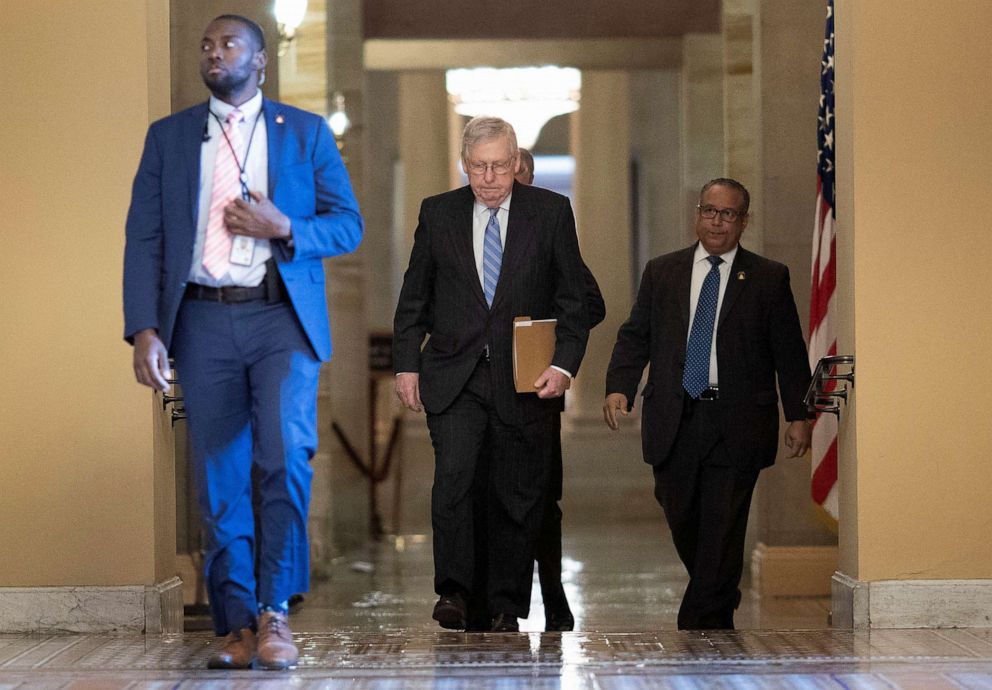 Pelosi urges Trump to use powers of Defense Production Act, Trump points to "next two of three days"
House Speaker Nancy Pelosi, in a written statement Thursday morning before the briefing, called on the president to "immediately use the powers" of the Defense Production Act -- which he signed Wednesday but did not invoke -- to mass produce and distribute critical supplies.
"The President must immediately use the powers of the Defense Production Act to mass produce and coordinate distribution of these critical supplies, before the need worsens and the shortages become even more dire," she said. "There is not a day to lose."
Asked then in the White House Briefing Room why not invoke the Defense Production Act immediately, Trump said it's unnecessary since the nation's governors are supposed to be doing a lot of this work.
"The federal government is not supposed to be out there buying vast amounts of items and then shipping. We are not a shipping clerk. The governors are supposed to be. As with testing, the governors are supposed to be doing it," Trump said.
Trump then said he would know soon if he needed to invoke the measure, pointing to the "next two or three days."
"If we were desperately in need of something, and we, frankly, will know about that very shortly. We want to be ahead -- we don't want to do it as it happens, but before it happens. We will know a lot over the next two or three days. We'll know a lot."
When pressed on the availability of masks given complaints about a severe shortage, Vice President Mike Pence insisted, "they are available now."
"The 3M facility I was at told me that in January they went to full production on 35 million masks ... all 35 million of those that started to be produced at full capacity in January can now be sold to hospitals. That's the distinction here."
He said they should be available "today."
Mnuchin says $1000 checks to most adults + $500 per child
Treasury Secretary Steven Mnuchin gave an update to the White House's proposal to send money directly to Americans affected by COVID-19, saying the White House aims to send $1,000 checks to most adult Americans and an additional $500 per child, in a phone interview Thursday morning with Fox Business's Maria Bartiromo.
"The plan is 500 billion dollars in two tranches. The first one would be $1,000 per person, $500 dollars per child," Mnuchin said. "As soon as Congress passes this, we get this out in three weeks."
Mnuchin went on to say another round of identical payments would be sent out six weeks after that, if the country was still experiencing a national emergency.
It's one part of the trillion dollar plan in "phase 3" of the federal government's economic response to offset COVID-19.
Dr. Birx gets a space in the West Wing
Ambassador Deborah Birx, the White House coronavirus response coordinator, got office space in the West Wing, according to White House deputy press secretary Judd Deere.
Birx raised concerns on Wednesday about reports coming out of Italy and France showing "some young people getting seriously ill and very seriously ill in the ICUs" -- a threat the administration appears to be taking seriously.
"We have not seen any significant mortality in the children, but we are concerned about the early reports coming out of Italy and France," Birx said. "Even if it's a rare occurrence, it may be seen more frequently in that group, and be evident now."
Politico first reported the news this morning.
Trump continues to cast himself as a "wartime president"
In his first tweet of the day, President Trump said, "We are going to WIN, sooner rather than later!"
Trump said in Wednesday's coronavirus task force briefing he is fighting an "invisible enemy."
What to know about coronavirus:
ABC News' Ben Gittleson, Jordyn Phelps, Elizabeth Thomas, Anne Flaherty, and Michelle Stoddart contributed to this report.