TUPELO, Miss. -- President Donald Trump stumped in Mississippi Monday to buoy GOP Sen. Cindy Hyde-Smith's uncertain lead on the eve of a surprisingly tight Senate special election -- signaling the severity of concerns among top Republicans after a series of controversies crippled the incumbent's edge over her Democratic challenger Mike Espy.
Trump traveled Monday to Tupelo, a GOP stronghold in the northern corner of the deep red state, to headline a rally before heading to the Gulf Coast for a second rally in Biloxi. Trump urged the crowd to head to the polls Tuesday.
"Tomorrow the voters of this state will cast their ballots and one of the most important senate elections of your lives," he said. "I'm here to ask the people of Mississippi to send Cindy Hyde-Smith back to the United States Senate."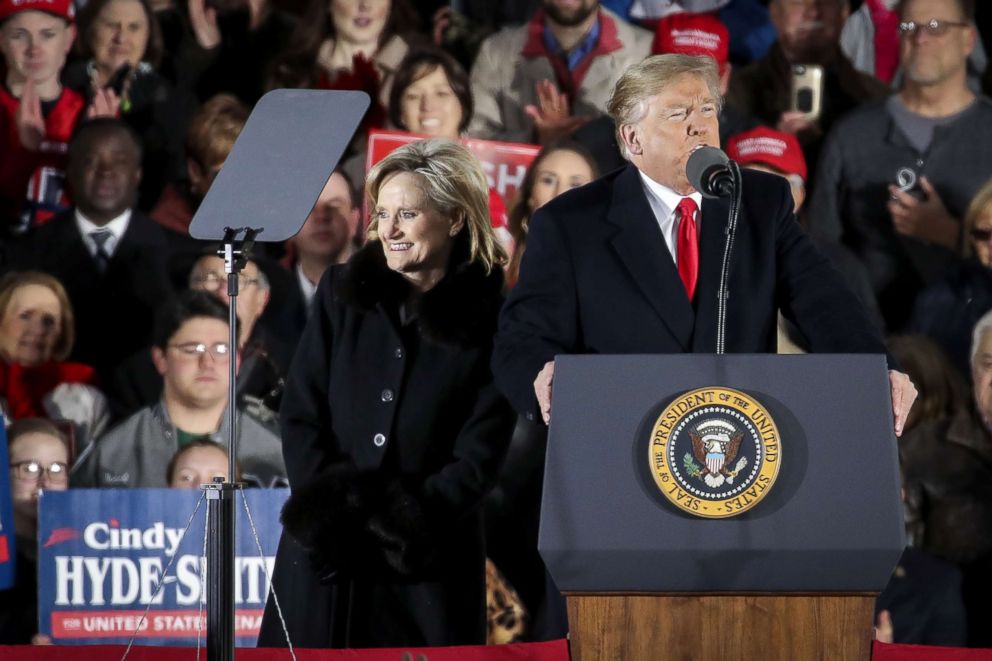 With Air Force One sitting perpendicular to the stage, Trump made clear that the incumbent senator had the full backing of the White House and urged the crowd not take the incumbent senator's lead for granted at his first stop.
"A lot of people think we're going to have a big win," he said. "Don't take any chances. Just assume you have to vote."
Hyde-Smith briefly took the stage with the president to ensure Mississippians that her candidacy is about them.
"I am honored to have Trump's endorsement," she said. "But the endorsement that is most important to me is your vote tomorrow."
Trump returned to the podium to bash Espy, branding him as far too liberal to represent the state.
"How does he fit in with Mississippi," he asked to the crowd. "Cindy's far left opponent, he's far left, he's out there."
Tuesday's runoff was supposed to be a procedural hurdle for Hyde-Smith and for Republicans hoping to expand their Senate majority to 53-to-47 over Democrats and to hold onto former Sen. Thad Cochran's seat. He resigned in April due to health concerns.
But a "jungle primary" format in the special election allowed for multiple contenders from both parties to compete for the open seat for the remaining two years of Cochran's term. Hyde-Smith needed to secure more than 50 percent of the vote to win on Nov. 6, but instead, Espy benefited from the two Republican contenders — Hyde-Smith and state Sen. Chris McDaniel — splitting the GOP vote. Espy garnered 40.6 percent of the vote, only 0.8 percent behind Hyde-Smith, and McDaniel netted about 16 percent.
The eleventh-hour move by the president to try to salvage the campaign of the last Republican candidate of 2018 puts the party's heavyweight at the center of a contest embroiled in racial controversy and comes as Hyde-Smith's lead over Espy is faltering.
In a video released on Nov. 11, Hyde-Smith is seen embracing a supporter in Tupelo at a Nov. 2 campaign stop and then telling a cheering crowd, "If he invited me to a public hanging, I'd be on the front row."
Days later, another video surfaced.
"Then they remind me, that there's a lot of liberal folks in those other schools who that maybe we don't want to vote. Maybe we want to make it just a little more difficult. And I think that's a great idea," she said to a group of supporters in Starkville on Nov. 3.
It wasn't until a Nov. 20 debate that Hyde-Smith apologized for the comments, one which evoked language reminiscent of lynchings and the other which appeared to support voter disenfranchisement.
She called the first comment "an exaggerated expression of regard" and the latter "a joke."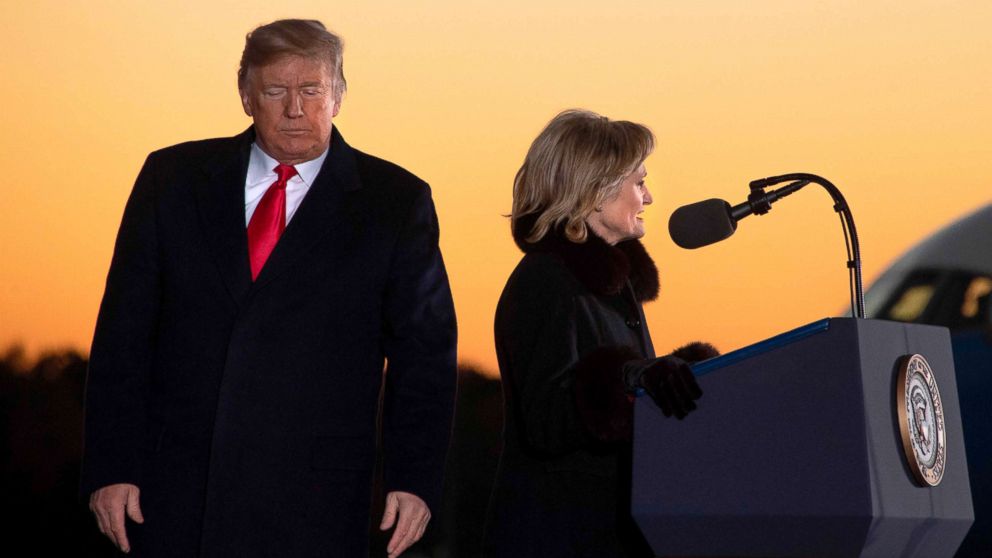 Hours before the debate, however, photos from 2014 surfaced on Facebook showing Hyde-Smith donning a Confederate soldier hat, with the caption "Mississippi history at its best."
Hyde-Smith's campaign declined to comment to ABC News about the photos.
That same afternoon, Trump defended Hyde-Smith and said it was a shame that she is facing criticism over a comment "said in jest" — in a reference to her "public hanging" remark.
"She is a spectacular senator," he said to reporters when asked about her candidacy. "She came in, did a fantastic job in a short period of time. She made a statement which I know that she feels very badly about it, and it was just sort of said in jest. She's a tremendous woman, and and it's a shame that she has to go through this."
In the singular debate in the race, Hyde-Smith addressed the fierce uproar over her missteps, while still seeking to cast Espy — a former Clinton cabinet secretary — as too liberal and partisan for Mississippi.
"For anyone that was offended by my comments, I certainly apologize," she said as she read her notes at the podium. "There was no ill will, no intent, whatsoever in my statements."
"I also recognize that this comment was twisted, and it was turned into a weapon to be used against me," she continued. "A political weapon used for nothing but personal and political gain by my opponent. That is the type of politics Mississippians are sick and tired of."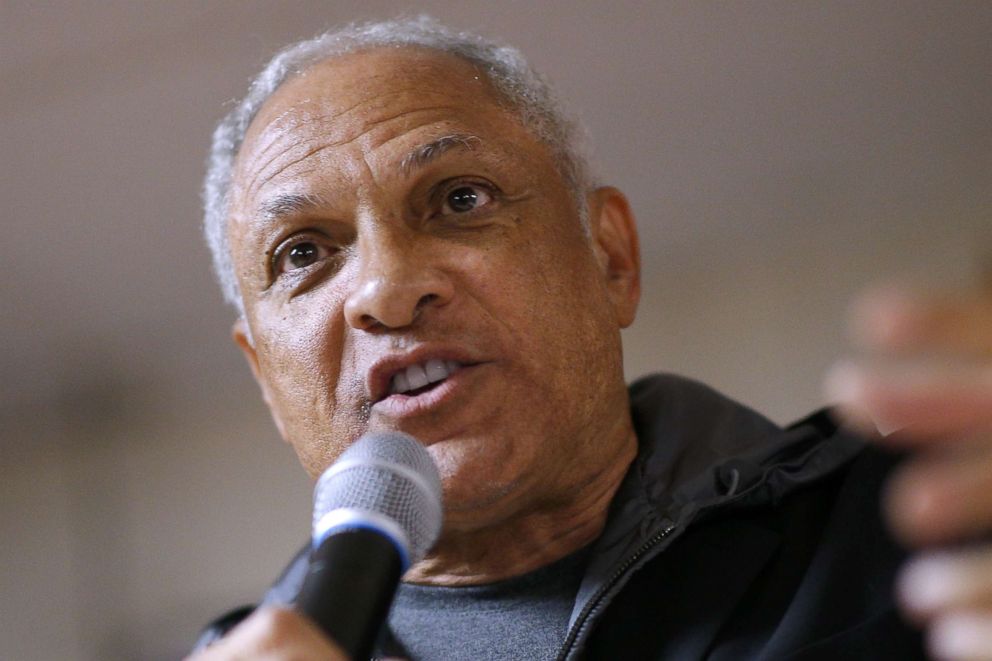 But the former congressman shot back a fiery retort during the most tense part of the debate as he stood only a few feet from Hyde-Smith.
"No one twisted your comments because your comments were live," Espy said. "You know, it came out of your mouth. I don't know what's in your heart, but we all know what came out of your mouth."
"It's caused our state harm," he continued. "It's given our state another black eye that we don't need. It's just rejuvenating those stereotypes that we don't need anymore."
In the safely Republican state, a second visit by the president is unusual. But this straggler race is now suddenly competitive, and Trump's mission on Monday will be to bolster the base that delivered Mississippi by nearly 20 percentage points in 2016 in support of his anointed pick.
"She's always had my back," the president said at an Oct. 2 rally in Southaven for Hyde-Smith. "She's always had your back, and a vote for Cindy is a vote for me."
But in the wake of the miscues and scandals engulfing Hyde-Smith's campaign, an emboldened national Democratic network mobilized behind Espy, buttressing his long-shot bid with support from national party leaders and resources in the final stretch.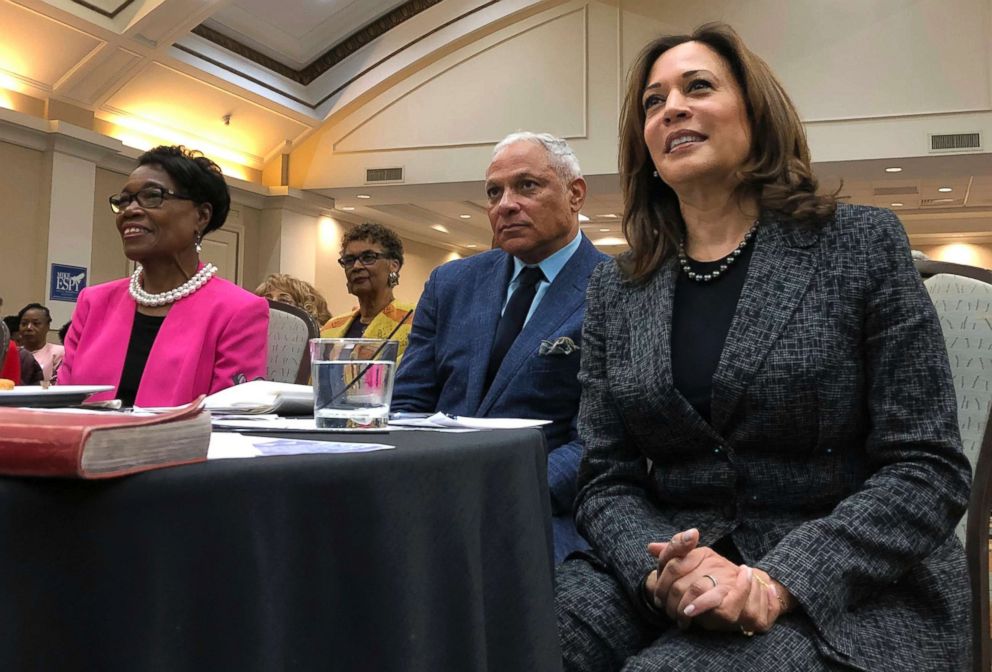 The unexpected shift in tenor of the race in favor of the former agriculture secretary is being boosted by potential 2020 contenders such as Sen. Kamala Harris of California, Sen. Cory Booker of New Jersey and former New Orleans Mayor Mitch Landrieu. They have been traveling to the state to stump with Espy — who hopes to deliver a potential upset similar to Alabama Sen. Doug Jones' seismic victory over Republican Roy Moore.
A loss for Republicans would mean only a one-seat gain for the GOP from the current razor-thin margin that, at times, seemed to hamper their agenda prior to the midterm elections.
In the new Congress, after Democrats flipped nearly 40 seats and gained a comfortable majority in the House, a win in Mississippi is the ending Trump needs to halt Democrats' momentum before his name is back on the ballot in 2020.